Gamble USA strives to improve your online gambling experience. We aim to help you play safely, make informed decisions when gambling, and increase your betting knowledge through our guides.
We adhere to strict editorial integrity; our content may contain links to products from our licensed & legal US partners.
The NFL season is now in full flow and sportsbooks are offering a wide range of NFL touchdown prop bets. This means you can place a bet on your favorite player/s to get a TD at any time in the game.
You pick a player to get a six-point score during the game. Or you can choose a player to get more than a single touchdown in the game. It could be Rashid Shaheed from the New Orleans Saints or Mecole Hardman from the Kansas City Chiefs, or maybe you are a fan of the New England Patriots and Jakobi Meyers.
With Tom Brady recently announcing his retirement, will his supposed heir Patrick Mahomes win his second Lombardi Trophy in super bowl lVII? If you think so, lots of online sports betting sites will provide you with the opportunities to put you money where your mouth is with TD props.
It doesn't matter which player you choose as long as they score at any time.
Anytime Touchdown Scorer Meaning
The following image clearly highlights what a touchdown is in NFL betting.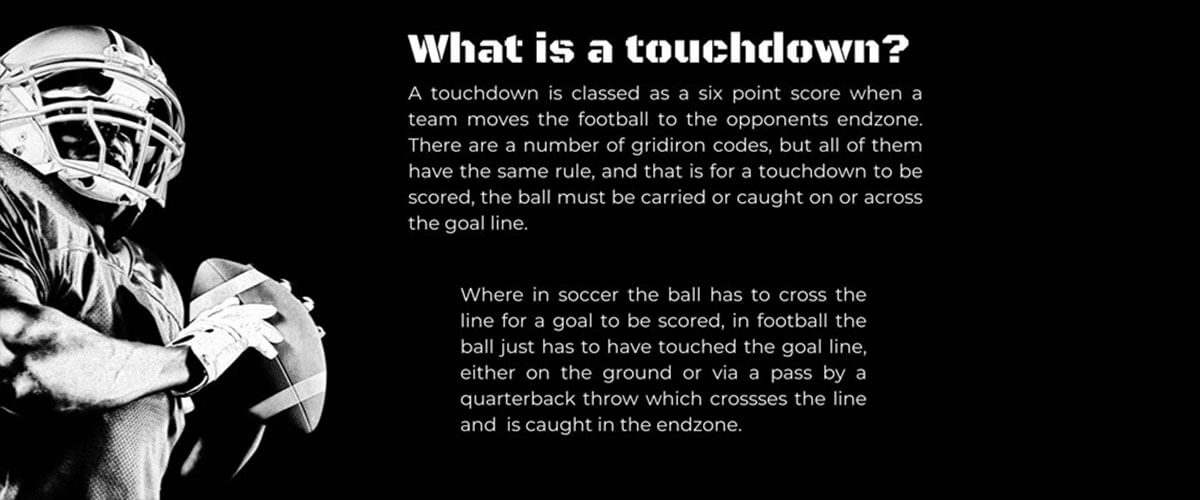 Essentially, a touchdown is classed as a six point score when a team moves the football to the opponent's endzone. There are a number of gridiron codes, but all of them have the same rule, and that is for a touchdown to be scored, the ball must be carried or caught on or across the goal line.
Where in soccer the ball has to cross the line for a goal to be scored, in football the ball just has to have touched the goal line, either on the ground or via a pass by a quarterback throw which cross the line and is caught in the endzone.
You can also bet on a player to score multiple touchdowns inside the opposite endzone, and these can come from a touchdown pass from a quarterback's throw during an offensive play, or by a player rushing the endzone for a score.
Anytime touchdown scorer betting allows you to place a bet and get bigger odds on a player scoring 2+ or even 3+ touchdowns.
It is important to note that a two-point conversion instead of kicking for the extra point does not count in NFL anytime touchdown scorer markets.
See below the anytime touchdown scorer betting interface at BetMGM as an example.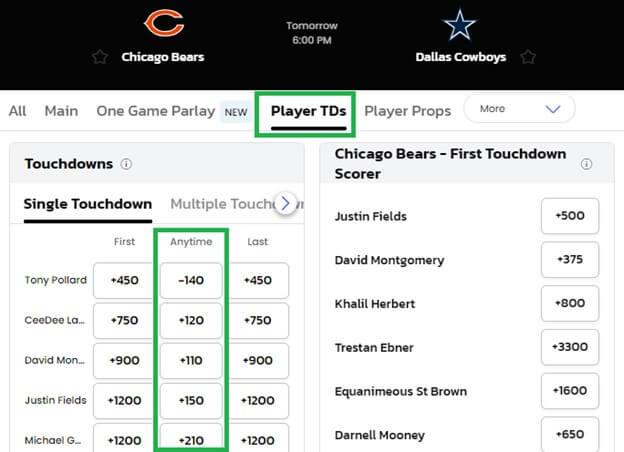 So the above screenshot shows you an example of a recent duel between the Bears and the Cowboys. This is from the BetMGM sportsbook, but most sportsbooks have similar interfaces where you can place your football prop and anytime scorer bets.
You can see the section highlighted in green showing the players and the odds for touchdown scorer bets.
In the example above, you could bet $140 to win $100 on Tony Pollard to grab a touchdown at any time.
Top Sportsbooks for Betting on Anytime Touchdown Scorers
We have been looking at various sportsbooks for anytime touchdown scorers and other types of touchdown prop bets, and of course, our first check is to make sure the sportsbook you bet with is licensed in your state. That is the first thing.
Next is the odds and range of prop bets/markets for anytime touchdown scorer wagers.
Check the list below to find multiple sportsbooks that are the best when placing a bet on football, particularly on an anytime touchdown scorer bet.
Let's dive into each of them in a bit more detail.
DraftKings Sportsbook Anytime Touchdown Scorer
So if you want to place a prop bet on DraftKings at anytime touchdown scorer, then the screen for making your selections is easy to use and find your favorite markets and player props.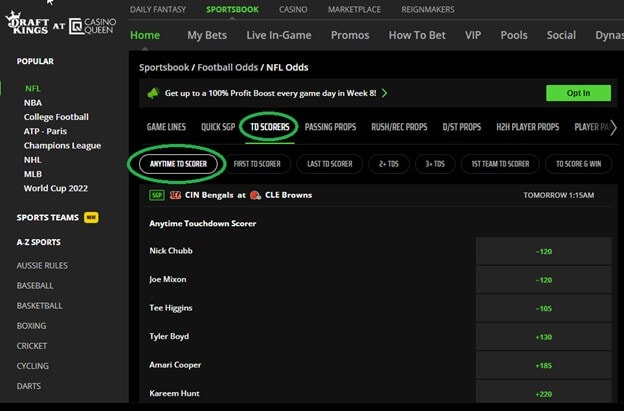 Once you reach the main DraftKings site, you would first navigate to the NFL page, which shows all games taking place.
You will see a tab on this page called TD Scorers. Click on that, and another menu will open underneath, showing all the touchdown markets. You can see from the screenshot above that Draftkings offers Anytime TD Scorer, First TD Scorer, Last TD Scorer, 2+ Touchdowns, 3+ Touchdowns, and First Team TD Scorer. A great selection of touchdown prop bets.
Caesars Sportsbook Anytime Touchdown Scorer
Finding the anytime touchdown scorer market on the Caesars Sportsbook is more challenging than it is on DraftKings, as you need to know how to get to that market.
Step 1 – Click on the NFL Icon from the main menu on the Sportsbook page.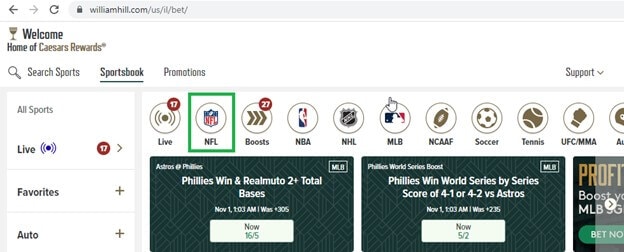 Step 2 – This is where the Caesars interface could be more straightforward. To open up the markets for a game, you have to click your mouse or tap on your mobile device anywhere in the blank area outlined in the screenshot below.

Step 3 – Now, you'll reach the interface you see below.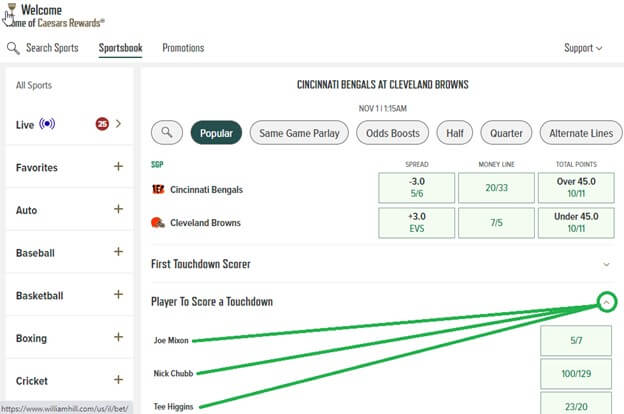 Once you reach this part of Caesars website, it will open up the list of touchdown bets under the main odds section.
Make sure to click the down arrow, which will then expand and show the players and their odds for the Anytime Touchdown Scorer (called Player To Score A Touchdown on Caesars)
Caesars also offers other player touchdown markets, including First Touchdown Scorer, To Score 2 or More Touchdowns, and To Score 3 or More Touchdowns.
BetMGM Sportsbook Anytime Touchdown Scorer
So the BetMGM touchdown scorer interface is better than Caesars but still not as good as DraftKings, as shown in the screenshot below.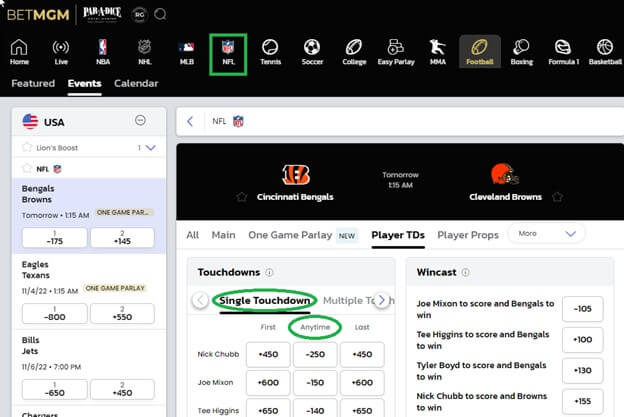 So to find the Anytime Touchdown prop bet market on the BetMGM website, you first need to go to the top main menu and click on the NFL icon.
That will open up a list of games. Select your game, and then you'll land on a page like the screenshot above. We have highlighted the "Single Touchdown" tab, which allows you to bet on the first, last, and anytime touchdown scorer markets.
You will see a second tab above, which is grayed out, and this is where you will go for "Multiple Touchdown" markets, including 2+ touchdowns or 3+ touchdowns.
Pointsbet Sportsbook Anytime Touchdown Scorer
We've left the best till the last, and the winner is Pointsbet.
They have the best user interface and the widest selection of anytime touchdown scorer bets, and a great selection of big odds touchdown scorer props.
It would take too many screenshots to show you all the options, but below, you can see how clear and straightforward the touchdown betting interface is.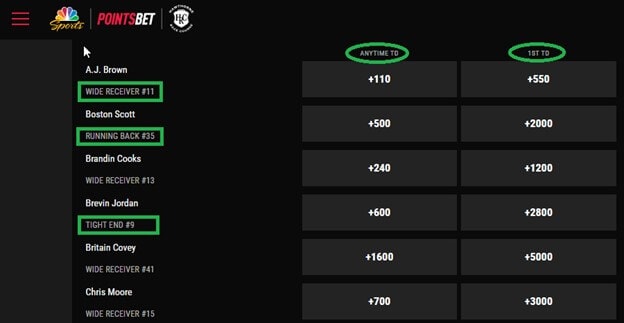 As you can see, the interface is clear and easy to understand, and we love that each player is tagged with their playing position, so it is easy to view if the player is a running back, wide receiver, or tight end. These, of course, are the most likely touchdown scorers.
How to Pick the Best Anytime Touchdown Scorer
Some bettors like to make their choice for anytime touchdown scorer based on playing position, so of course, they might go for an offensive player like a wide receiver or a running back, as we mentioned above.
But there are ways to be more scientific about your approach to these types of bets by using the extensive stats and data for the current NFL regular season at nfl.com.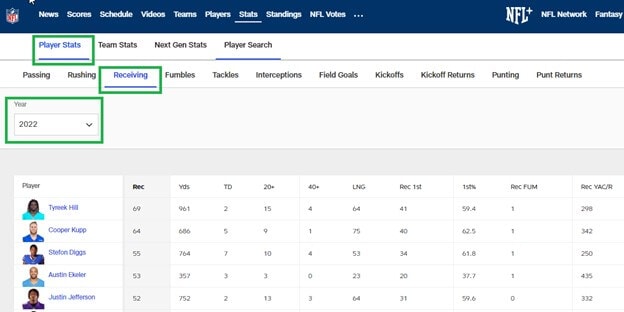 You can use the Player Stats on nfl.com to drill down on data and past performances to find potential value picks for your anytime touchdown scorer wagers. Checking the passing touchdowns and rushing touchdowns stats can help you find solid prop bets.
And, you should also check out the defense stats from the opposing team. If a defense is not performing well, they are more likely to concede a touchdown.
Finally, use the spread odds from the sportsbooks as a guide. If there is a significant point spread on any game, it means the sportsbooks expect a high-scoring game. A high-scoring game means the probability of more touchdowns.
Best Bonuses for Betting on Anytime Touchdown Scorer
There are some great first-bet bonus offers for betting on NFL football. Not only the sportsbook welcome offers but also as football promo codes for prop bets and parlay wagers.
The table below shows our top 5 offers for football fans, including the best welcome offer and the best football bonuses and promotions.
| 🏈Sportsbook | ✍️Welcome Offer | 📜Bonus Code | 🎁Main Football Promo |
| --- | --- | --- | --- |
| Pointsbet | $500 in risk-free bets (5 x $100) | GUSA | Name A Bet Promo |
| DraftKings | 20% matched deposit up to $1,000 | Not Applicable | Free to Enter $5k College Football Comp. |
| Caesars | $1,250 risk-free bet | GUSAFULL | Same Game Parlay Club Free $10 Bet |
| BetMGM | $1,000 risk-free bet | GAMBLEUSA | $25 One Game Parlay Insurance |
| BetRivers | $500 risk-free bet | SPORTS | Sunday NFL Parlay Insurance |
Any parlay insurance bet bonus is always worth looking at. Imagine choosing a moneyline parlay on the Indianapolis Colts, The Arizona Cardinals, and The Dallas Cowboys, and one lets you down by missing six points on the last play. Parlay insurance gives you a free bet.
N.B. Make sure to check the full terms and conditions when signing up for any sportsbook welcome offer.
Other NFL Touchdown Prop Bets
Now that we are off with the basics, it is time to explain the different terminologies and prop bets surrounding anytime touchdown scorer.
Basic Touchdown Prop Bets
The "Anytime Touchdown Prop Bet" bet is just one type of prop bet that fans can wager on, but there are many different touchdown prop bets. We've listed a number of football fans anytime touchdown scorer bets are listed below.
1st touchdown scorer prop.
In this bet, you are making a straight pick on who will be the first player from either side to get the first official touchdown in the end zone. This might be rushing the endzone or receiving a touchdown pass from the quarterback.
Last touchdown scorer prop.
In this bet, you are making a straight pick on who will be the first player from either side to score the last official touchdown in the opposition end zone.
Home team 1st touchdown scorer prop.
In this bet, you are making a straight pick on who will be the first player from the home team to secure that team's first official touchdown.
Away team 1st touchdown scorer prop.
Here, you are making a straight pick on who will be the first player from the away team to score that team's first official touchdown.
To score 2+ touchdowns.
When betting 2+ touchdowns, you are making a straight pick on whether a player will have two or more official touchdowns scored.
To score 3+ touchdowns.
With this, you are making a straight pick on whether a certain player will score three or more official touchdowns.
Both players to score a touchdown.
In this bet, you are selecting two players (can be from either side) to grab at least one official goal-line touchdown each.
Advanced Touchdown Prop Bets
And for those football bettors looking for big odds and even more excitement, then the following touchdown prop bets can pay big dividends.
All three players must cross the goal line and score a touchdown.
In this bet, you are selecting three players (can be from either side) to score at least one official touchdown each.
Player to score and the team to win.
A favorite bet for many football fans. You can choose a player to score the first touchdown and who will be the winning team, or you can choose a player to secure a touchdown at any time and the team to win.
Anytime touchdown scorer and winning margin.
In this bet, you are selecting a player to score a touchdown at any time and forecasting the winning margin of the highest-scoring team.
Anytime Touchdown Scorer/Moneyline/Total Points.
This wager is one of the most advanced touchdown prop bets but can pay out at big odds in any given game. Here you are choosing a player to score a touchdown at any time, choosing the team that will win, and forecasting the total points scored by both teams in the game.
Armed with the meaning of all anytime touchdown scorer bets and the best books to wager them, off you go with some free bets and parlay insurance on us!
Can you parlay NFL Touchdown Props?
If you feel confident betting on a slate of NFL week game options and are comfortable reading NFL betting odds, you may feel a parlay bet is the ideal choice. The potential returns is one of the most appealing aspects of any player prop or touchdown bet. For example, apart from the heavy favorites, you will typically get positive touchdown scorer odds for an anytime touchdown scorer prop. This gives you the opportunity to double your money or make even more money betting on games, whether it is an NFL playoff game or the Super Bowl.
You also have the option to include touchdown props or other NFL player props in parlay bets. This can be done in a same game parlay or single game parlay in addition to regular parlays that can include numerous matches. If you choose to go down the parlay route the winnings can quickly escalate to become extremely lucrative, however there is a catch.
All parlays dictate that to win all of your selections must be accurate. If you place a five leg parlay and just one leg fails, the whole wager will lose and you will also lose your initial stake. Consequently, you should carefully consider placing a parlay before hitting that submit button. Yes, you may feel confident that the San Francisco 49ers or the Dallas Cowboys will score over a certain amount of yards or George Kittle will score a TD, but just one little mistake will see the whole bet fall down.
If you are ok with losing your stake with the long odds due to the potential winnings you can generate, then parlays are an excellent route to go down.