Gamble USA strives to improve your online gambling experience. We aim to help you play safely, make informed decisions when gambling, and increase your betting knowledge through our guides.
We adhere to strict editorial integrity; our content may contain links to products from our licensed & legal US partners.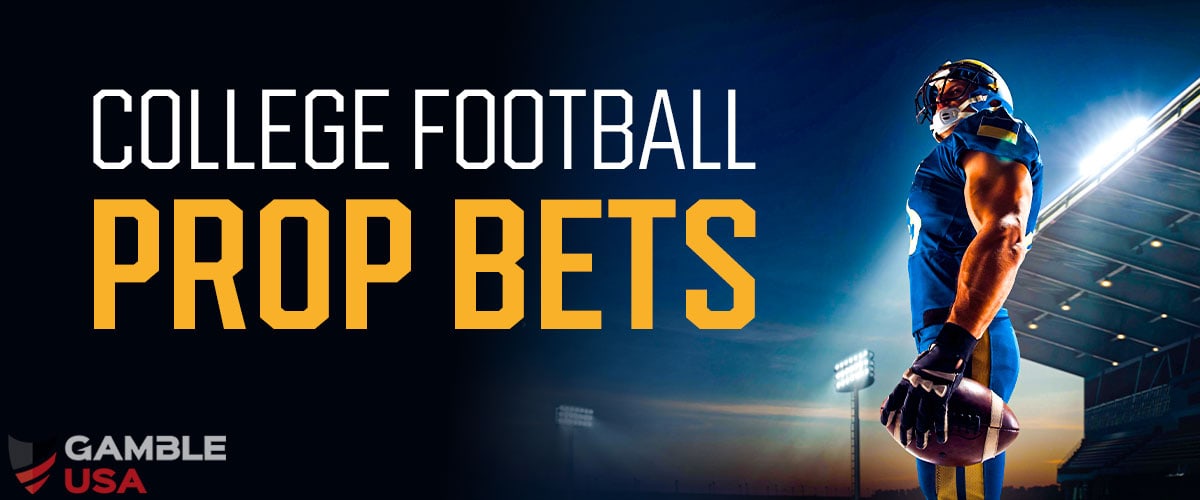 From opening week in late August to the Army-Navy game in early December that wraps up the regular season, and then the post-season bowl games and playoffs culminating in the championship game, college football offers bettors incomparable excitement. Moreover, betting on which team will win a particular game is only one of your many options. This article will introduce you to another type of bet that is very popular and which all of the top licensed US online sportsbooks offer in abundance – college football props.
Much like in other major sports like the NFL, MLB, and college and pro basketball, virtually all college football games that you can place wagers on offer these exciting extras. You can even add them to parlays. College football prop bets not only make watching and betting on a college football game more fun and exciting but also give you many more ways to win.
If you are new to sports betting, trying to decide on the best selections for a particular game from the tremendous number of prop betting options available to you, including college football player props, can be a bit overwhelming. However, this article contains the important basic information you need to help you start the long college football season on a winning note, using prop bets to your advantage.
College Football Best Props
College football prop bets are side bets that do not depend on the final score of the game. They include a variety of bets on a particular team, player, or other specific outcome of that game that you can make either with or without other bets, such as a bet on the team you think will win the game outright or cover the point spread.
As with any other type of bet, college football prop bets come with preset odds. The odds on some props, particularly those involving lesser-known players and/or multiple outcomes, might appear extremely generous. However, the prospect of a high payout does not necessarily make the wager a smart bet, especially if the probability of winning is very low.
For example, FanDuel Sportsbook was offering odds of +1390 on the following 5-leg same game parlay (SGP) on the Notre Dame-Navy Game:
Notre Dame to cover the point spread (win by more than 20.5 points)
Mitchell Evans Over 23.5 Receiving Yards
Chris Tyree Over 31.5 Receiving Yards
Chris Tyree Anytime Touchdown Scorer*
Audric Estime Anytime Touchdown Scorer*
*The person who carries or receives the ball into the end zone, not the quarterback throwing the ball to another player.
More than 10,000 gamblers found the enormous odds too irresistible to pass up. But was this a good bet? Five specific outcomes all had to happen.
Alas, even though the Fighting Irish were in complete control of this one-sided game from start to finish and trounced the Navy Midshipmen by a final score of 42-3, only three of the five legs of this parlay hit. So, the only one to profit from what in retrospect turned out to be a too-good-to-be-true offer was the sportsbook!
On any given Saturday during the regular college football season, all of the major sportsbooks offer a tremendous variety of college football prop bets. A few are prominently displayed on the Promotions page, but you will find many more by simply clicking on the specific game to which they apply.
Taking advantage of good values is important in any form of betting, so we highly recommend comparing what different sportsbooks have to offer. For example, the over/under line on the total number of passing yards that Notre Dame QB Sam Hartman would make against Navy on varied. Consider these differences.
📖Sportsbook
Sam Hartman Total Passing Yards
Odds
FanDuel
Over 250.5
Under 250.5

-114
-114

DraftKings
Over 236.5
Under 236.5

-115
-115

While the odds at the two sportsbooks were virtually identical, the over/under lines were not. Those who liked the 'Over" were getting better value at DraftKings. Those who liked the "Under" were getting better value at FanDuel.
Another way to get enhanced value on college football prop bets is to take advantage of odds boosts and profit boosts. For example, FanDuel Sportsbook offers a 100% Profit Boost on any college football game taking place on selected days. The offer covers both straight bets and parlays (but not SGPs) and often doesn't exclude prop bets.
The bottom line is that the best college football props provide a combination of good value and a high probability of winning. That generally means sticking to simple bets rather than highly specialized ones with multiple longshot outcomes.
Understanding College Football Props
College football props are offered as different types of bets and can include Game Props, Team Props, or Player Props, as well as parlays incorporating a combination of different types of props. Game props include outcomes that you can bet will occur in a particular game irrespective of team or player performances. For example, in the recent Notre Dame-Navy game, FanDuel Sportsbook offered a prop bet that there would be 4+ touchdowns scored in each half. Which team and which player did the scoring did not matter.
Alternatively, every game also offers a wide range of team props and player props. We provide a few examples below to illustrate the many different kinds of bets you can make in these categories.
College Football Team Prop Bets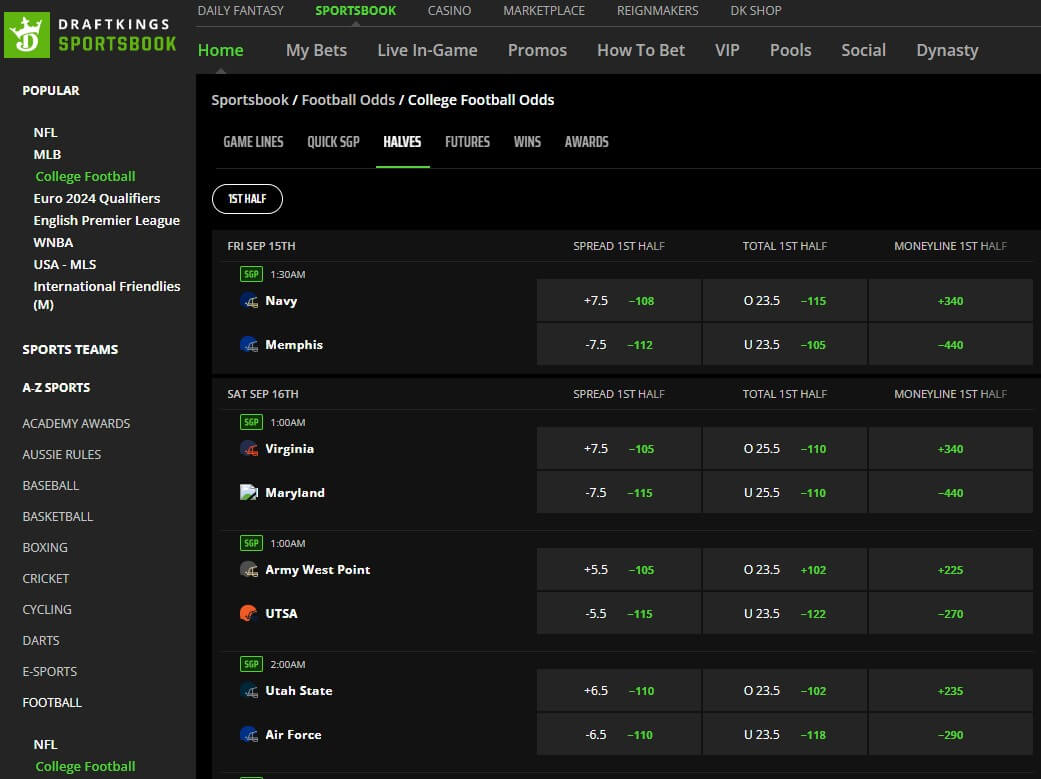 Team Props are betting outcomes that either pertain to one team only or need to occur for both teams but do not depend on the performance of a particular player. Here are a few possible examples:
Will the team score in its first possession? Yes or No
Will the total number of touchdowns scored by the team be over or under a certain number?
Both teams will score in every quarter.
College Football Player Prop Bets
Many college football prop bets center around the performance of a particular player in a particular game. College football player props involve such outcomes as passing yards, receiving yards, rushing yards, and touchdowns.
For example, the long list of college football player props just for a team's starting quarterback might include over/under bets on all of the following:
Pass completions
Passing attempts
Interceptions
Passing yards
Passing touchdowns
Other commonly offered college player props pertain to other important positions such as running backs, receivers, tight ends, kickers, offensive and defensive tackles, and linebackers. So, you can expect to find over/under lines for particular players on all of the following as well:
Rushing yards
Rushing touchdowns
Receiving yards
Receiving touchdowns
Field goals
Longest field goal
Tackles
Sacks
Adding College Football Props to a Parlay
Some college football props can be added to parlays combining multiple selections into one bet. This type of college football prop bet is very popular due to the very large, sometimes astronomical payout if the parlay should hit. However, the only way to cash your bet is for every part of the parlay to be correct. Otherwise, the whole parlay loses.
The example given earlier was a losing five-leg same-game parlay that FanDuel Sportsbook offered on the Notre Dame-Navy game. The parlay included one team prop and four player props.
Alternatively, if the option to add college football props to a parlay appeals to you, you might want to consider a simpler parlay with fewer components. The potential payout might be a lot less, but the probability of winning increases considerably.
Some sports betting sites such as DraftKings include parlays with college props recommended by contributing professional handicappers. For example, Mike Golio of the GOJO Show recommended the following winning SGP on the Notre Dame-Navy game. It was available to DraftKings customers exclusively at +265 odds.
Notre Dame -19.5
Audric Estime to score
Sam Hartman: Over 224.5 passing yards
In addition, many sportsbooks offer parlay cards, particularly on days when many games are scheduled. They contain a preselected list of college football props with a minimum and maximum number that can be combined in a parlay. Or, if you are feeling creative, some sportsbooks like DraftKings, bet365, and PointsBet let you build your own SGPs including college football props. The sportsbook will show you the odds and the amount of money the parlay will pay for your chosen bet size if you win.
College Football Events Providing a Wealth of Props
By now it should be apparent that college football events offer an abundance of props of every type imaginable. At major sportsbooks, on any given Saturday, every bettable college game on that day's schedule typically includes hundreds of props. So, whether your personal betting preferences are game props, team props, player props, or parlays they are all covered.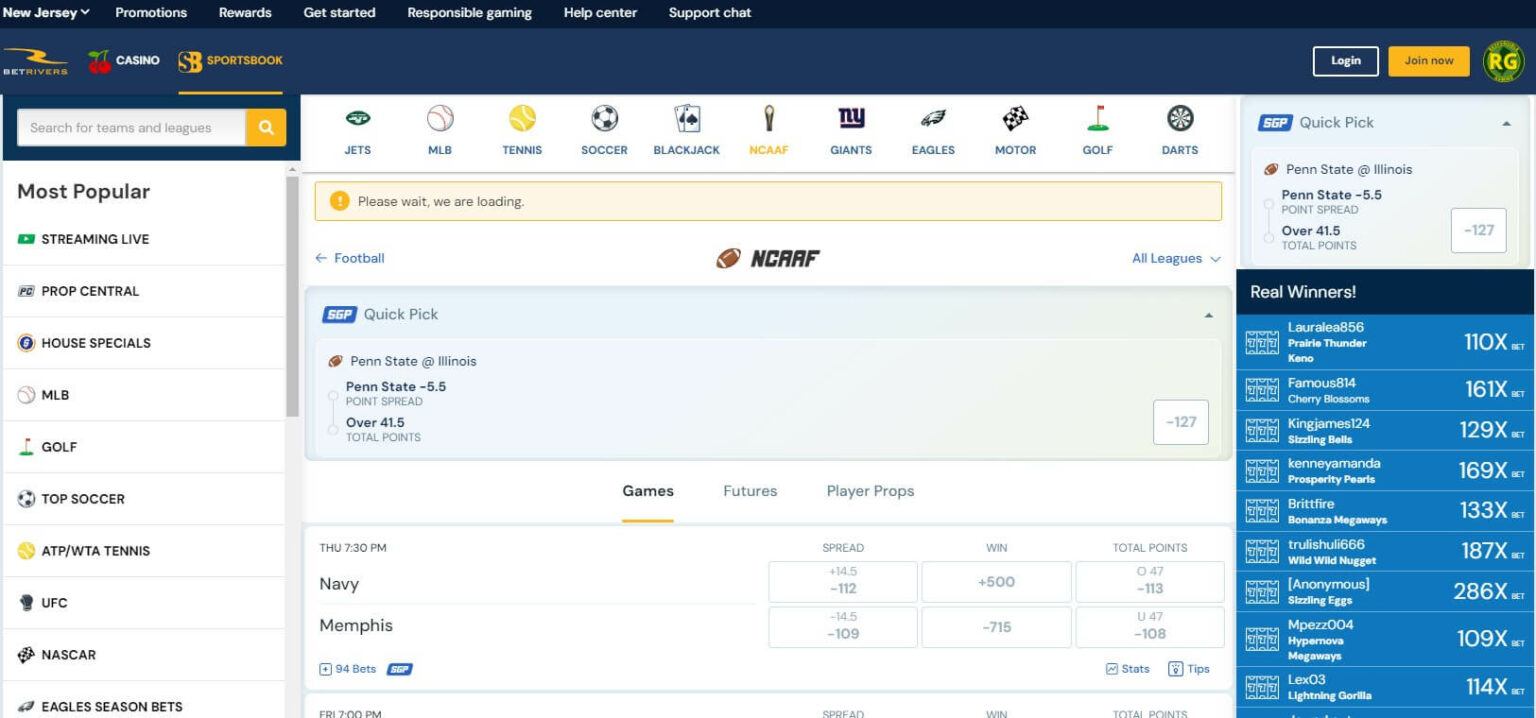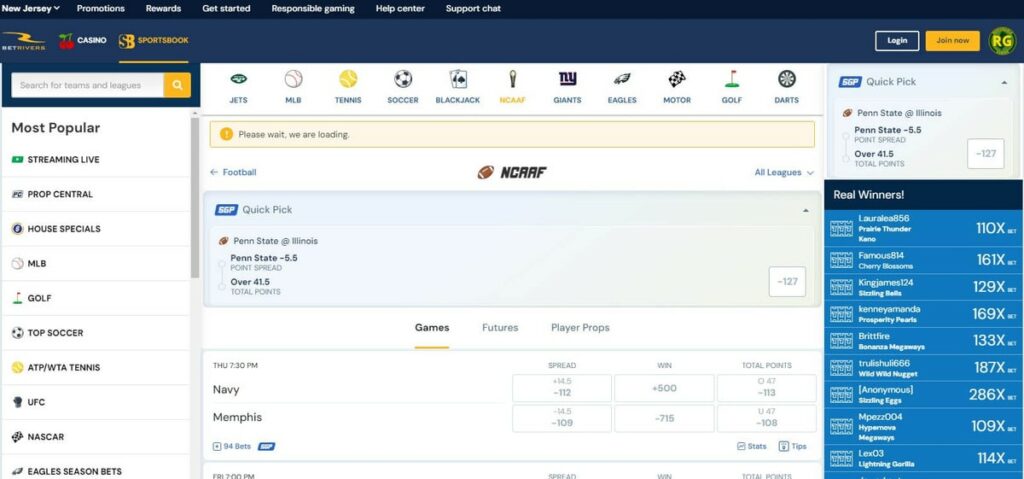 But if the above seems to you like a staggering number of choices, wait till you see what the sportsbooks have in store during the postseason. The most popular times of year for college football prop bets are the postseason college bowl games, playoffs, and the national title game.
The national championship game, much like the Super Bowl in the NFL, is notoriously one where college football prop bettors who are so inclined can go to town. Sportsbooks will gladly take their bets on everything from the coin toss to first-half props to the color of Gatorade poured on the winning coach.
It is important to be selective and not go overboard on prop bets. They add a lot of excitement to any game you are watching and betting on, but sportsbooks make huge profits from them because the vast majority of these bets are losers. Because these kinds of wagers are so readily available and also very tempting due to the generous odds, they can easily contribute to or exacerbate a gambling problem. If you think you might have a gambling problem, the best thing you can do for yourself is take a breather from sports betting and, if you need further help, call 1-800-GAMBLER.
Steps to Bet College Football Props Online
NCAA betting rules vary for different states, so familiarizing yourself beforehand with which types of bets are permitted and not permitted in the state where you are registered to play is imperative. Some states do not allow any player prop bets. Others do not allow any bets on in-state teams or involving games taking place in that state. Other states do not have any restrictions on NCAA prop bets.
The following table shows at a glance what types of betting on college sports are currently allowed and not allowed in seven major legalized state-run sports betting markets: Arizona, Colorado, Michigan, New Jersey, New York, Pennsylvania, and West Virginia. Readers who place bets in other states are advised to check the applicable rules in their state.
| 🇺🇸 State | 🏈In-State College Teams and Games | 👨Player Props |
| --- | --- | --- |
| Arizona | ✅Yes | ❌No |
| Colorado | ✅Yes | ❌No college prop bets of any kind |
| Michigan | ✅Yes | ✅Yes |
| New Jersey | ❌No | ✅Yes |
| New York | ❌No | ❌No |
| Pennsylvania | ✅Yes | ❌No |
| West Virginia | ✅Yes | ✅Yes |
If the college football prop bet that you wish to make is allowed in your state, here are the steps that you need to follow to place your bet.
Log into the sportsbook or join one of the listed operators and create an account.
Navigate to Football>NCAAF.
Look at the upcoming matchups, and select the game that you want to bet on.
Review the moneyline odds for each outcome.
Make your selections, decide the amount you wish to wager, and complete your bet slip
Submit your bet slip.
When Do College Football Prop Bets Get Released
During the regular season, depending on the bet, college football prop bets are posted anytime from four days before the game to the day of the game. Team props typically become available before player props. If a particular player's status is questionable, props involving that player will not become available until it is known that he will probably play.
Strategies for College Football Prop Betting
As with any other form of sports betting, the best strategies for successful college football prop betting entail doing your homework and taking the time to be well-informed about the teams and players so you can stay one step ahead of the oddsmaker.
Here are some specific suggestions that can go a long way toward making betting on college football props a profitable activity.
Be selective. The vast majority of your plays should be straight bets. Do not get sucked in by inflated odds on longshot props with very little chance of winning.
Don't overthink the obvious. For example, Notre Dame, a highly ranked team whose quarterback acquired from Wake Forest was a Heisman Trophy candidate, was playing in Dublin where it was a heavy fan favorite. Meanwhile, its opponent was an inexperienced Navy team with a new coach and lingering quarterback uncertainty. Notre Dame was favored by nearly three touchdowns for good reasons.
Stay up to date not only on past performances but on recent developments. Be well-informed about any health concerns, injuries, or other circumstances that might affect a key player's performance. Michigan is a good example. With the head coach suspended for the first three games and running back Blake Corum having undergone surgery in December 2022 for a knee injury, perhaps there were too many unknowns to trust the highly-ranked Wolverines as a heavy favorite early on.
Check opening lines. If you see good value, bet early before the line moves.
Compare the odds and betting lines at different sportsbooks. If a sportsbook's line seems off to you, try to determine why. Or, if it looks like the sportsbook is offering a bad line, you might want to take advantage of it as soon as possible.
Don't overlook the possible effect of other players on a quarterback's performance. Many player props focus on the quarterback. However, if another key player such as the top wide receiver or running back is out or injured, the quarterback's passing yards could be adversely affected.
Take advantage of odds boosts and profit boosts. They are some of the best promotions that sportsbooks frequently offer on select college football prop bets.
Best College Football Sportsbook Promotions
Although this point could be part of NCAAF props betting strategies, it's worth additional consideration. Sportsbooks promo codes for new users are applicable to these bets, but existing players might also find unique offers for upcoming bets, including props. Always monitor bonus bets and insurance bets before submitting your NCAAF prop betting ticket.
Conclusion
College football props are exciting side bets that can make a significant addition to your winnings if you make your selections wisely. There is no need to wait until the postseason to take advantage of them. There are many good betting opportunities all season long. Simply hit our page links to discover the latest college football prop betting odds.