Are you a fan of Prop bets? Or maybe you have heard of them but not used a prop bet before?
Whichever category you fall into, we have you covered with our breakdown of what they are, why they are great for bettors and sports betting players, and, more importantly, how you can place them when betting at DraftKings Sportsbook.
It does not matter if you like NFL, College Football, NBA, MLB, NHL, or another sport, we'll share some tips and tricks and show you different examples and how they work on the DraftKings sportsbook app and website.
Up To $1,000 Deposit Bonus
21+. T&C Apply
21+. T&C Apply
The best sportsbook
Amazing odds & offers
Awesome betting app
What is a Prop Bet?
Sometimes known as proposition bets, they are an exciting bet type that you can place on any of your favorite sports events, team, player, or game. These wagers put the power back in the hands of the sports bettors and handicappers.
There are many offers of props bets that you can wager on. Almost anything in any sports event is available.
From which post gate will the winner of the Belmont Stakes come from, to will Keven Durant score over or under five three-pointers in the entire game, to something as crazy as will there be no touchdowns in the first quarter of the Super Bowl?
These are about you and are based only on your opinion.
Sports bettors have hundreds of options to choose from on DraftKings Sportsbook on most game events. It can be way more profitable way to bet on DraftKings than the standard moneyline offers, generally fixed price betting. Team props, game props, and player props are available to wager on nearly every sports event. Let's check these in more detail using screenshots.
How to bet on Props on DraftKings?
Placing a prop bet on DraftKings is just the same as you would when placing a regular moneyline bet.
Some easy steps to find a prop bet for a game.
First, go to the

DraftKings

home page.
Look at the left-hand menu, and you'll find Popular, Sports Teams, and A-Z Sports, and selecting any of these will open up events in those sections. We'll use the second one as an example.
So select Sports Teams from the left sidebar menu, and you'll see a screenshot like the one below.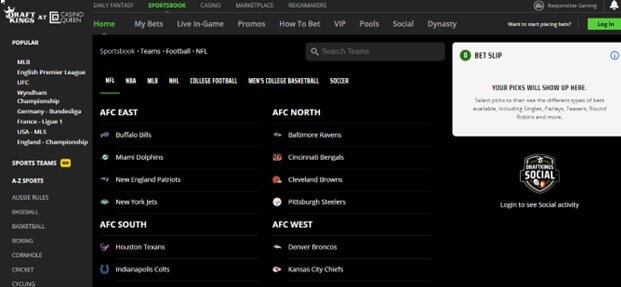 Above, we have selected Sports Teams, and now the page opens, and you'll see that the menu item NFL is underlined in green, and below, you'll see all of the divisions and competitors in those divisions looking for Super Bowl glory.
So let's click on one of these, let's choose the Miami Dolphins, and you'll then see the next game that the dolphins are playing.
Scroll down until you come to the section which says Odds & Stats, and there you can see the various props offered. It's highlighted in the screenshot below.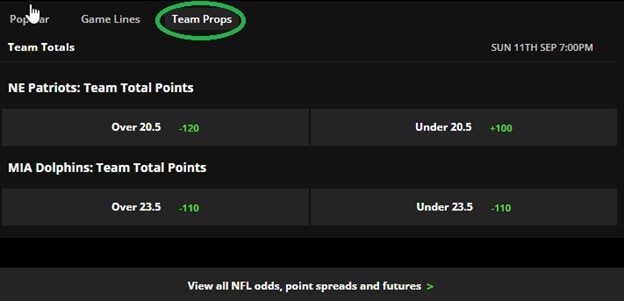 Clicking here will show you any wagering available on that particular club or game. We cover Team Props in more detail further down, so check out that section for more details.
DraftKings Prop Builder Tool
Does DraftKings have a Prop Builder tool?
Unlike many competitors, DraftKings has a tool you can use: their Parlay builder. Other sportsbooks have the Parlay Builder but only allow moneyline selections, whereas DraftKings will let you build a Parlay using any number of props as lines in your bet.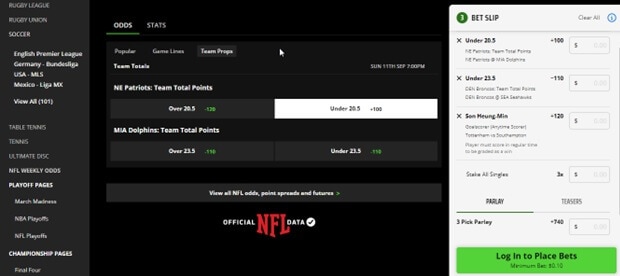 In the bet slip example above, we have added props from the NFL and combined that with a player prop from an English soccer game from the Premier League.
This tool allows players to pick their parlays using specific game, team, and player props from any sport and league.
Player Props on DraftKings
With the NFL season not due to kick off until early September, there are no current player props up on the site, so let's use the MLB (Major League Baseball) as an example.
Sports have different player props, with baseball having batter and pitcher props. These are broken down further, with wagers available for each player's performance.
Batter Props
Home Runs
Hits
Total Bases
RBI's
Runs Scored
Stolen Bases
Singles
Double
Triples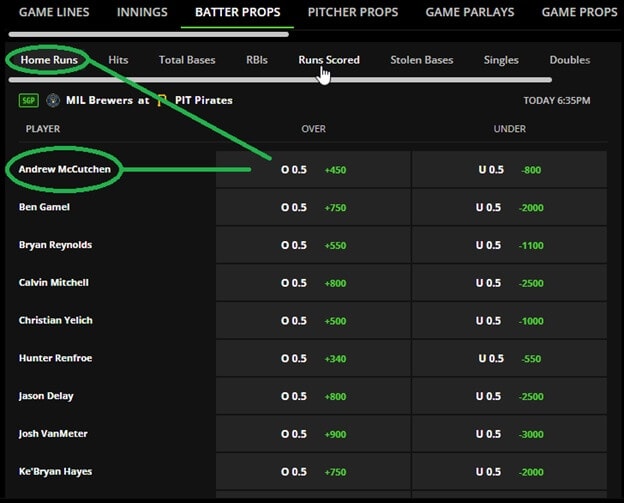 Using the example above, you can see that Andrew McCutcheon is priced at +450 to hit over half a home run and -800 to hit under half a home run.
Pitcher Props
The props for pitchers are, of course, very different and include:
Strikeouts
Outs Recorded
To Record a Win
Hits Allowed
Walks
Earned Runs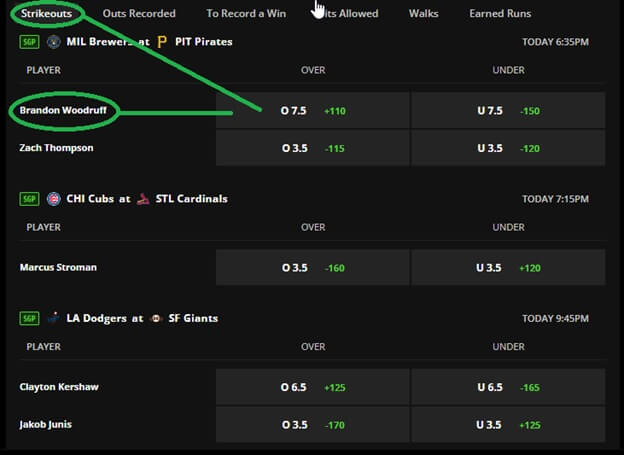 In this example, we are looking at Brandon Woodruff and the odds for him on strikeouts in the game, and you'll see he is a decent wager at +110 for Over 7.5 and -150 for Under 7.5.
DraftKings Sportsbook Team Props
Here are a few examples of wagers you might place on DraftKings.
In this example, we are looking at an NFL game between the Kansas City Chiefs and the Arizona Cardinals.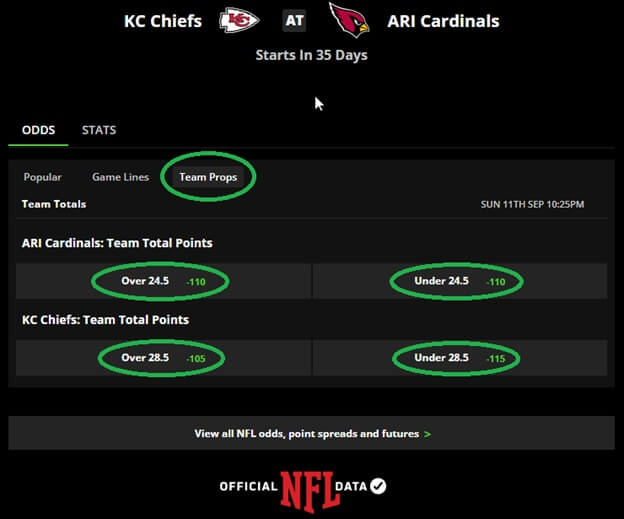 So answering the question, what is a prop bet? The most straightforward explanation is where you make a simple YES or NO decision.
In this example, you can wager on Over/Under at 28.5 points for The Chiefs or Over/Under at 24.5 for The Cardinals.
Using your skill as a handicapper, you might look at historical stats and data between the two rivals, and you might look at the current AFC West standings if you are a Chiefs fan.
Then make your decision on that, or you might know that a key player is in or out of form or maybe injured and think that will affect the overall game result and, therefore, the points tally and who might win.
Props bets put the power in your hands, and this type of wager can provide a profitable betting strategy.
Other Prop Betting Options
As we looked at earlier in our DraftKings Parlay prop bet, you can mix and match many options, but let's look at a selection of other prop betting options.
Tennis: Let's take a women's match, which could be three sets as a maximum. The maximum number of games the winner can get would be 14 (7-6 7-6) if it was a 2-0 win and both sets went to a tie break.
Most matches will, however, end with the winner having won 12 games. It means you will see player props on games that usually offer two markets.
Under/Over 12 games or Under/Over 12.5 games.
Boxing & MMA: There are many prop betting opportunities in boxing and UFC, which mostly revolve around the fight result.
So you'll see offers to go the distance, the winning method, fighters to be knocked out, and many more.
One of the reasons that DraftKings is one of the more popular sportsbooks is because they offer all of these different props wagers.
Horse Racing: Gone are the days when you can just bet on the Tote and the regular morning line odds. There are now lots of prop bets for the big races to choose from.
Some fun ones include who will finish last, will the winning time be over or under X, and will the winning distance be over or under two lengths, for example.
NFL: There are so many types of wagers you can make on the big Monday night football game, but in terms of props, you might want to look at the likelihood of a field goal being scored in the first quarter or a field goal not being scored at all.
Players who follow a specific sport and class themselves as experts can now place wagers with a much higher chance of winning and making a profit on DraftKings Sportsbook.
Up To $1,000 Deposit Bonus
21+. T&C Apply
21+. T&C Apply
The best sportsbook
Amazing odds & offers
Awesome betting app
Strategies & Tips to Bet on Props on DraftKings
Here are our 7 top tips and betting guide for betting on props and how you can make your betting more profitable.
Make sure to focus on a particular sport, team, or players from a specific group.
Use data in making your decisions. We all have a gut feeling, and nobody wants to bet against their favorite club. For example, the New York Mets win 64% of the games at Citi Field.
Set yourself a separate betting bank and points stake for props wagers compared to moneyline and other fixed sportsbook odds wagers.
If you are focusing on a single sport, mix up your parlays with a combination of team, player, and game props to produce more significant potential returns.
Always check the rosters and injuries lists for players. Betting on a team with a critical player missing through injury means you should look for larger odds.
Make your props bets fun by pooling your wagers with your buddies on game day. It's more fun with friends, and you limit the risk when you lose and still get plenty of upside when you win.
Gamble responsibly. Only bet with leisure money and what you can afford to lose.