Gamble USA strives to improve your online gambling experience. We aim to help you play safely, make informed decisions when gambling, and increase your betting knowledge through our guides.
We adhere to strict editorial integrity; our content may contain links to products from our licensed & legal US partners.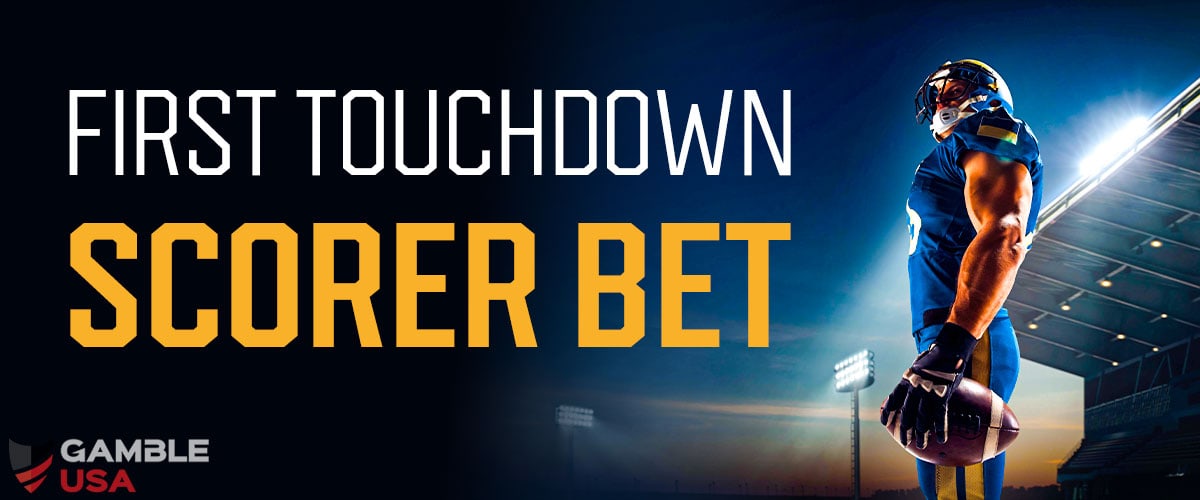 Football is probably the most popular sport in the US, which is why making bets on this game has gained immense popularity among US bettors. Among the most intriguing bets is the First Touchdown Scorer.
This prop bet option allows bettors to predict which player will score the first touchdown in a football game, adding an extra layer of anticipation to the action. It's a favorite among both seasoned sports bettors and newcomers, offering a unique way to engage with regular season or playoff games and potentially win big with the Super Bowl.
In this guide, we will explore the ins and outs of the First Touchdown Scorer betting option, providing strategies and insights to enhance your football punting experience. Stay tuned for expert tips and advice on making informed decisions when placing your prop bets.
What is the First Touchdown Scorer Bet?
Simply put, the first touchdown scorer bet is a form of football prop bets that predicts which player will score the first rushing or passing touchdown in a game or, in other words, be the first to carry the ball into the end zone.
To place a first TD scorer bet, you are required to choose a player from either team, who you believe will be the first to cross the goal line with the ball. In most cases, this is an offensive player, such as a running back, wide receiver, or tight end. The bet is then settled based on the player who scores the first rushing touchdown, regardless of the team they play for.
First Touchdown Scorer Bet Example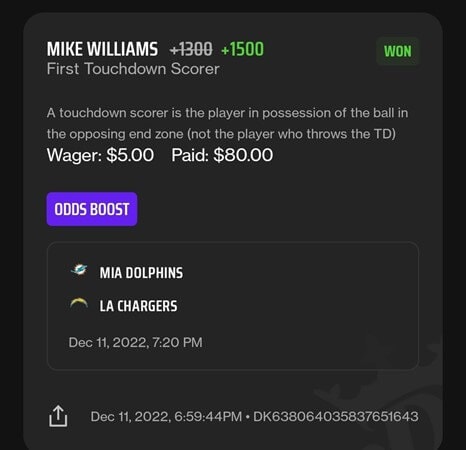 The image shown above represents a $5 wager on wide receiver Mike Williams being the first to score a touchdown in the NFL game that took place between the Miami Dolphins and Los Angeles Chargers in December, 2022. The selection turned out to be an inspired one as Williams went ahead to score the game's first touchdown, fetching a handsome return of $80!
The first TD scorer bet focuses solely on the first touchdown of a football game. Subsequent rushing touchdowns by the same player or passing touchdowns scored by other players during the same game do not affect the outcome of this particular bet.
Anytime Touchdown Scorer Bet Explained
In addition to the bet on the first scorer of rushing or passing touchdowns, another exciting variation of touchdown props that sports bettors can explore is that of anytime touchdown scorers.
This form of prop betting allows you to predict whether a specific player will score a touchdown at any point during the game, regardless of whether it's the first or subsequent touchdowns.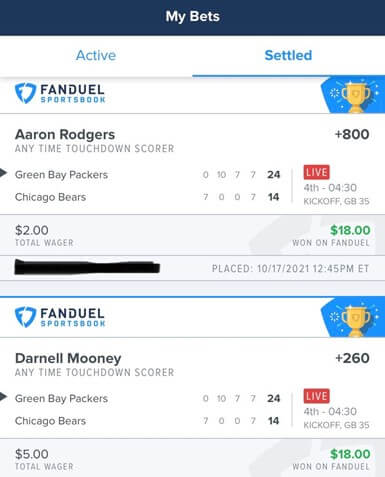 The example shown above depicts two separate bets that were placed on Aaron Rodgers and Darnell Mooney to both score touchdowns at any point during the NFL match between the Green Bay Packers and Chicago Bears. This anytime touchdown scorer bet paid dividends, as both players went on to score for their respective teams at different points during the game.
Unlike the First Touchdown Scorer line, which focuses solely on who is first to carry the ball into the end zone, the Anytime TD Scorer bet provides more flexibility and opportunities to win, as it covers all potential touchdowns scored by the selected player.
First Touchdown Scorer Betting Rules
Understanding the rules of first scorer lines on sportsbooks is important to ensure a seamless gambling experience for sports bettors during the regular season.
That said, here are the general guidelines for wagering on who scores the first TD in an NFL game, with the rules on FanDuel and DraftKings used as examples:
Eligible Players: Only offensive players, such as running backs, wide receivers, and tight ends, are eligible for the First TD Scorer bet on FanDuel. Quarterbacks, kickers, and defensive players are generally excluded.
Inactive Players: If a player that is tipped as an option to score the first TD is unavailable for the game, DraftKings will void the bet, and your stake will be returned.
Overtime Scores: In the event that a game goes into overtime, any touchdowns scored during the additional period will count towards your bet.
Bet Settlement: Both DraftKings and FanDuel settle first and anytime TD Scorer bets based on official NFL statistics. Any changes or corrections made by the NFL after the game has concluded will not impact the settlement of these bets on most sportsbooks.
Substitution Rules: If the selected player is substituted or leaves the game due to injury before the first rushing TD is scored, FanDuel will typically void the bet. However, if the player scores the first touchdown and then leaves the game due to injury, the bet will still be settled as a win.
Where to Place First Touchdown Scorer Bet?
There are several reputable sportsbooks that offer touchdown props, each with its own unique features and advantages. Below is a list of some sportsbooks with enticing bonus offers and the best odds, that we consider to be the best options for first TD scorer betting:
First Touchdown Scorer Odds
The betting odds associated with first touchdown props represent the likelihood of a specific player being the first to cross the goal line in a game. Here's a summary of the types of odds that sports bettors can expect to find in this market during the regular season:
Favorite Player Odds: The favorite player, typically a star player or a prolific scorer, is the player with the highest chances of winning the first rushing TD. As a result, their odds will be relatively lower, with a general range of between +500 to +700 across sportsbooks.
Underdog Player Odds: Less prominent players, such as running backs and tight ends will have odds that are typically priced as high as +1000, thus presenting opportunities for sports bettors to win higher payouts during the NFL season.
Field/Any Other Player Odds: Certain sportsbooks offer lines on unlikely options such as depth receivers, second straight tight ends and non-rushing quarterbacks being the first to score a TD. These lines can get as high as +2000 since they encompass a wider range of potential outcomes.
First Touchdown Scorer Tips and Tricks
When placing First Touchdown Scorer bets, having a solid strategy can increase your chances of making successful predictions. Below are some valuable tips for sports bettors to keep in mind before wagering on a player to score the first touchdown in a football game:
Research Player Performance
Consider factors such as recent form, scoring records, and playing time before selecting your scorer props. These will help you identify players with a higher likelihood of being first to score rushing touchdowns.
Analyze Team Strategies
Some teams may heavily rely on specific players or have unique play-calling tendencies near the goal line. Analyzing offensive strategies can give you insights into which players are more likely to be targeted for scoring opportunities or passing TDs.
Consider Matchup Factors
Look for favorable matchups where a player's skills align with the vulnerabilities of the opposing team's defense. This can provide an edge when betting on potential first touchdown scorers.
Pay Attention to Red Zone Efficiency
Teams with a strong red zone offense tend to have players who are more likely to score the first rushing TD. Conversely, teams with a struggling red zone offense may present opportunities for underdog players to shine.
Follow Injury Reports
Stay updated on injury reports and any last-minute lineup changes. Also keep an eye on key players who may be nursing injuries or returning from injury, as these can affect their effectiveness in finding the end zone.
FAQs
Does the first touchdown scorer include defense?
No, this form of prop bet typically does not include defensive players. Rather, TD scorer props focus on offensive players who have more potential to be the first to reach the end zone in a game.
Who scored the first touchdown in Super Bowl LVII?
Philadelphia Eagles quarterback, Jalen Hurts was the first to drive the ball into the end zone and score a TD in Super Bowl LVII.
What does no touchdown scorer first mean?
This refers to a specific betting prop where you are predicting that the first points scored in a football game will come from a field goal, safety, or any other scoring method besides a touchdown.
What's the difference between first and anytime touchdown in football betting?
The first touchdown scorer betting option predicts the player who will score the first TD of a football game, while the anytime touchdown scorer bet focuses on whether a specific player will score at any point during the match.
Is no touchdown and first touchdown the same on FanDuel?
No, these options are not the same on FanDuel. "First touchdown" refers to a bet on which player will be the first to cross into the end zone in a game, while "no touchdown" predicts there won't be any touchdowns scored in a game.
What are the rules for first touchdown scorer betting on FanDuel?
For first TD scorer props on FanDuel, eligible active players are included, while inactive or injured players are not. Overtime doesn't affect the settlement, and in a dead heat, the odds are divided among the winning selections.