Gamble USA strives to improve your online gambling experience. We aim to help you play safely, make informed decisions when gambling, and increase your betting knowledge through our guides.
We adhere to strict editorial integrity; our content may contain links to products from our licensed & legal US partners.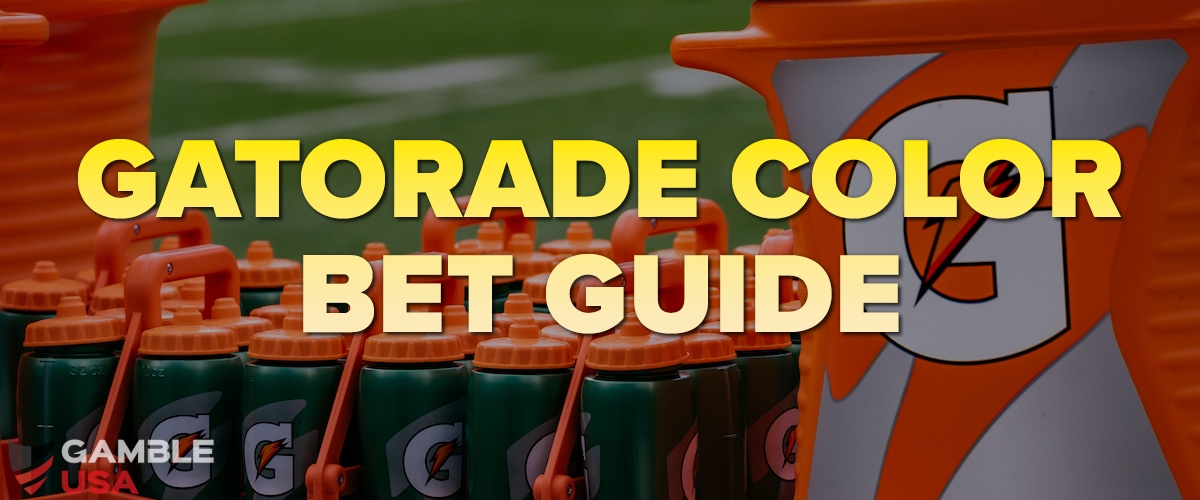 Showering a coach in ice cold Gatorade has become synonymous with the NFL. The epitome of a winning moment, the first Gatorade bath came back in the 1980s when New York Giants Linebacker Jim Burt dumped an ice cold bucket of America's favorite energy drink over Giant's Head Coach Bill Parcells when they beat arch NFC East rivals the Washington Redskins.
Now a Super Bowl tradition, every year the winning Head Coach finds himself drenched in Gatorade before he goes onto hoist the famous Lombardi Trophy.
With the Gatorade shower being recognized as a significant Super Bowl event, it wasn't long before several of the US's leading sportsbooks opened up markets where bettors could specifically bet on Gatorade color odds.
A hugely popular bet to place, this article will break down everything you need to know about the Gatorade Color bet and how you can place one in the future.
Gatorade Shower Prop Betting Explained
The world of sports betting is constantly evolving, and bettors now have hundreds of choices when it comes to placing a bet on their favorite sports.
The rise of prop bets allows bettors to back specific players, predict game milestones and even place bets on niche events such as the coin toss.
Markets can get even more focused when it comes to the Super Bowl, and there are a huge range of Super Bowl props that can be accessed. One of the most popular is the Gatorade color market.
A relatively new bet, it was DraftKings that first provided Gatorade odds back in 2019, and since then many of America's biggest sportsbooks such as FanDuel and BetMGM have followed suit.
A simple bet to place, bettors are presented with a choice of Gatorade colors with each color having different odds applied.
Surprisingly, the betting odds of the different Gatorade colors can range dramatically as over the years there have been more popular colors than others.
The color market odds can also often be skewed towards the colors of the participating teams in the Super Bowl. Last year's Super Bowl Champions the Kansas City Chiefs, opted to shower Andy Reid in Purple Gatorade which provided a bit of an upset, with many believing they would have chosen Red Gatorade to match their uniforms.
Steps to Bet Gatorade Color on the Next Super Bowl
Betting on the Gatorade color for future Super Bowls couldn't be easier.
Visit the sportsbook that you are a member of – if you haven't yet registered for a sportsbook you will need to ensure you are registered with one before you can place the Gatorade Color bet
Once logged in, locate the NFL or Super Bowl betting tab
When you have found the Super Bowl odds, you probably won't immediately see the Gatorade color market odds. To find this bet you will need to select the 'more wager' or 'more bets' option
Once in this section you should be able to find the Gatorade color odds. It might be under a section entitled 'exotic props' depending on the book.
When found, you will be presented with the different range of Gatorade colors. Choose the color you want to back, alongside the stake you want to place and once happy, confirm your bet.
Gatorade Color Super Bowl History
One of the best elements of the Gatorade Color Guide is that its results can be easily tracked which in turn can help you make a better informed betting decision.
Since 2001, Orange Gatorade has been the most popular color of choice, with five winning coaches being showered in the color. Next comes Blue Gatorade, Clear Gatorade and Purple Gatorade who are all tied on four dunks apiece. Yellow Gatorade comes next and has been the color of choice three times.
One of the most surprising stats is that Red Gatorade hasn't made a single appearance since 2001. Gatorade's Fruit Punch has been recognized as America's second most popular Gatorade color, but hasn't been chosen for a Gatorade bath for well over twenty years.
Betting on Gatorade Shower Color
As we have explained above, betting on the Gatorade shower color is incredibly easy and most sportsbooks now provide Gatorade Color odds.
To find the specific Gatorade odds, you might need to do some searching as it won't be one of the immediate bets that you see.
DraftKings were the originators of the bet and in order to find the Gatorade color odds, DraftKings bettors had to click on the Super Bowl LVII tab, and then locate the Novelty Props section. Within this section, bettors could see the Gatorade market alongside other unique bet types such as the coin toss and halftime show.
If you bet with another sportsbook, the journey might not be exactly the same, to see if your sportsbook runs the Gatorade bet, use the search functionality which should take you straight to the bet.
Gatorade Color Trends
Thanks to the abundance of data since 2001, below are some of the most interesting Gatorade Color trends.
Orange Gatorade has been the most popular color of choice. It has been used five times since 2001.
The 2023 Super Bowl champions Kansas City Chiefs snapped a streak of Blue Gatorade being used as the dunking color of choice. Three of the past five Super Bowl Champions have used Blue Gatorade with the Chiefs breaking that cycle with Purple Gatorade.
Red and Green Gatorade haven't been used once since 2001.
The New England Patriots have been the most dominant team in the last twenty years but perhaps have been the most boring. In their six Super Bowl wins since 2001, they have chosen not to dunk Bill Belichick three times.
No official Super Bowl Gatorade Bath has happened four times since 2001 with the Patriots contributing 75% of these. The only other team who decided not to dunk their coach were the Baltimore Raven who decided not to give John Harbaugh an icy bath back in 2013.
Despite often being the most popular betting choice, Yellow Gatorade has made very few appearances in the last fifteen years. Only the 2009 Pittsburgh Steelers and 2018 Philadelphia Eagles have showered respective coaches Mike Tomlin and Doug Pedersen in the color.
Since 2001, the New York Giants, New England Patriots, Kansas City Chiefs, Tampa Bay Buccaneers, Pittsburgh Steelers and Baltimore Ravens have all won the Super Bowl more than once. With the exception of the Patriots choosing not to shower Bill Belichick in Gatorade, no other multiple winner has dunked their coach in the same Gatorade Color.
Gatorade Color Odds
When it comes to the Super Bowl Gatorade Color odds, they can wildly vary from one sportsbook to another, although all of these bets pay good dividends.
Here is what you can expect on the big five US sportsbooks offering gatorade bath odds for the next Super Bowl:
Yellow or Green +165
Orange +300
Blue +400
Red or Pink +450
Clear or Water +500
Purple +750
No Gatorade Bath +1000
How to Bet on Gatorade Color – Tips & Tricks
There are a couple of things to watch out for when placing your Gatorade Color bet.
Recent seasons – take a look at what recent colors have been used, orange is the all time Gatorade leader but blue seems to be rising in popularity and has been chosen in three of the last five years.
Color streaks – since 2001 only on two occasions has the same color been used over consecutive years. Between 2005 – 2008 the Gatorade bath was clear or water and in 2021 – 2022 blue was the chosen color. The Kansas City Chiefs chose to dunk Andy Reid in purple which might make it an unpopular choice in 2024.
Yellow and green – the combination of yellow and green are often positioned as the favorites. However, if choosing to back these colors, be cautious. Green hasn't been used once since 2021 and yellow was last used back in 2018.
Team uniforms –  it could be worth choosing a Gatorade color that matches the participating team's uniforms. The last instance of this was back in 2021 when Head Coach Sean McVay was dunked in blue, matching the color of the LA Rams uniform.
Where to Place Gatorade Color Bets Online?
There are multiple sportsbooks that house Gatorade Color Bets and various other Super Bowl props, such as:
DraftKings
DraftKings was the first sportsbook to launch the Gatorade Color bet market. Considered one of the best sportsbooks in the US, DraftKings has an abundance of betting markets across the NFL.
Up To $1,000 Deposit Bonus
21+. T&C Apply
21+. T&C Apply
The best sportsbook
Amazing odds & offers
Awesome betting app
Up To $1,000 Deposit Bonus
21+. T&C Apply
21+. T&C Apply
FanDuel
FanDuel is another top destination should you wish to place a bet on the Gatorade Color bet market. Another hugely popular sportsbook, FanDuel offers a comprehensive sports package across all of America's most watched sports.
No Sweat First Bet Up To $1,000
21+. T&C Apply
21+. T&C Apply
Convenient banking
Massive choice of sports
No Sweat First Bet Up To $1,000
21+. T&C Apply
21+. T&C Apply
BetMGM
MGM is one of the most respected names in Vegas, and their online sportsbook has garnered a brilliant reputation with bettors across the US. As well as offering a brilliant betting service, BetMGM bettors can take advantage of MGM Reward loyalty points that can be used across MGM properties and hotels across America.
Promo Code: GAMBLEUSA
Up To $1,500 In Bonus Bets
21+. T&C Apply
21+. T&C Apply
Promo Code: GAMBLEUSA
Super fast payouts
Live streaming
Promo Code: GAMBLEUSA
Up To $1,500 In Bonus Bets
21+. T&C Apply
21+. T&C Apply
States Where Super Bowl Gatorade Bath Betting is Legal
Exotic prop bets aren't legal in the same states sports betting is. Certain restrictions are placed on odds that seem more like gambling than betting, and the Gatorade shower bath bet is classed as such.
Although you will find odds for this Super Bowl prop bet on offshore books, we warn you against taking them for various reasons. For one, you might not get paid your winnings.
The legal betting sites highlighted above offer this prop bet in the following states:
West Virginia (permitted one hour before the start of the Super Bowl)
Gatorade Color Bet Predictions
The Gatorade Color Bet is one of the most fun bets you can place on a Super Bowl Sunday.
We have seen in recent years that predicting the winning color isn't the easiest thing to do, but there are some trends that can help predict the winning color ahead of the next Super Bowl.
As it's a combination of colors, both yellow and green are bound to be popular with bettors once again. Blue can't be discounted as recent trends indicate that it has been chosen in three of the last five years. It's rare that colors repeat, so the 2023 winning color, purple, might be best avoided.
Considering its popularity across America it's surprising that red hasn't been used once since 2001. Reflecting a decent price, red could be worth a gamble if you believe its twenty year drought can come to an end.
FAQs
What is the Gatorade color bet?
The Gatorade Color bet is where you place a bet on which color of Gatorade will be poured over the winning coach at the end of the Super Bowl.
How to place the Gatorade color bet?
Offered as a Super Bowl prop bet, bettors will be provided with a range of Gatorade colors that they can pick. Sportsbooks such as DraftKings, FanDuel and BetMGM all have Gatorade color betting markets.
How to bet on Gatorade color on FanDuel?
Visit the 'prop' market. Here you will see the Gatorade color odds. Simply choose your color of choice and enter the stake you wish to bet. When these have been decided, your bet will be placed.
Where to place the Gatorade color bet?
DraftKings, FanDuel and BetMGM are three of the most popular sportsbooks to place the Gatorade color bets.
What are the odds on the Gatorade color bet?
Different odds are applied to the different Gatorade colors. Favorites are usually yellow and green, with orange and blue ranking next. 2023 saw a shock, with Purple being the color of choice offering returns of +1000.
Is it legal to bet on Gatorade shower?
Yes, betting on the Gatorade shower within permitted states is 100% legal. Currently, NJ, WV, and IN allow this bet.
What was the Super Bowl gatorade color in the last 10 years?
There have been a range of colors seen in the last ten years. Blue has been the most popular with four, orange comes next with three showings, no shower has occurred twice and yellow just once.
How to bet on Gatorade color on DraftKings?
Visit the 'exotic prop' market after logging in. Spot Gatorade color odds and select your preferred color. Enter your desired stake, and if the winnings reflect your expectations, lock your bet. Now sit back and wait for the Super Bowl to begin.