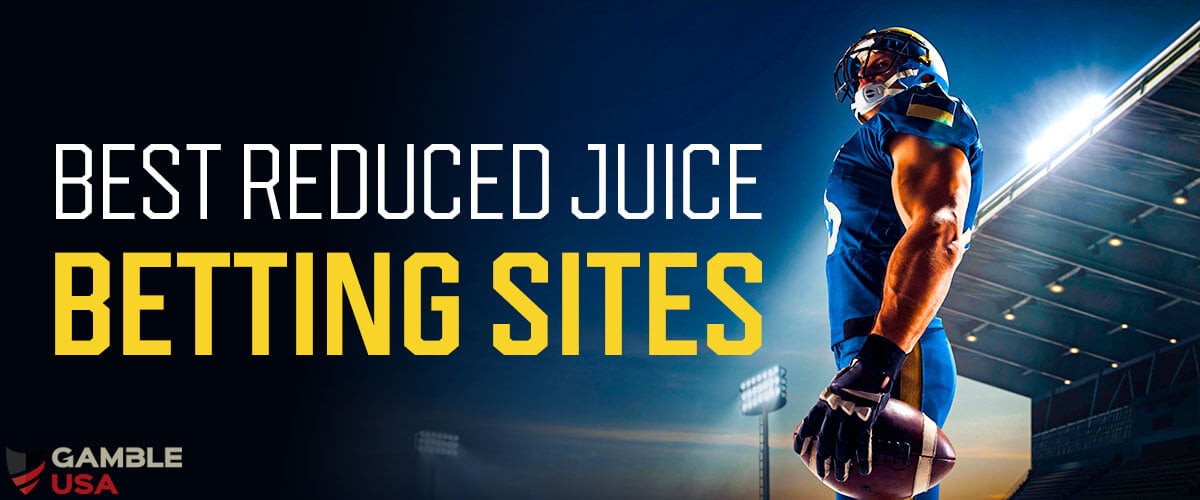 There are a lot of reduced juice sportsbooks in the United States, and this guide will give insight into the top sportsbooks that every savvy sports bettor needs to sign up for.
There are multiple options to choose from in the legal sports betting market. Online betting has grown massively in the US, and you no longer need to visit Las Vegas to get your gambling fix with the introduction of mobile sports betting. After reviewing several candidates, I have narrowed my list to the five best currently available.
Throughout this page, I will explain what reduced juice is compared to standard juice, how it benefits sports bettors, how to identify reduced juice sportsbooks, tips on how to use them properly, and warnings against sketchy offshore sites.
What is Reduced Juice in Sports Betting?
If you've read up to this point and have no idea what juice is, don't worry, I'll explain. Juice is the same thing as a vig or vigorish, which is the fee built into the odds of each bet that a sportsbook charges for their service of accepting the bet. This commission is essential to sports betting because it's how these sportsbooks earn their money.
Reduced juice is a pretty basic concept as well. It means that the fee in the odds is reduced, which means that you'll have slightly better odds. Think of the coin flip bets at the Super Bowl with a 50% chance for either heads or tails. Even though the odds are 50/50, the odds are -110 rather than +100 because of the juice from the sportsbooks being added in. Click the following link if you aren't sure what + and – mean in sports betting.

To identify lines with reduced juice, look at the odds of point spread bets on an online sportsbook. The industry average for odds of point spread bets is -110, which means a spread bet offering -105 odds is listed at reduced juice.

For this example, a bettor would need to bet $110 to win $100 at regular odds and $105 to net $100 with a winning wager at reduced juice. While it may not sound like a big difference, it is still less money on the line, which should be taken advantage of because it's a simple and easy way to cut costs. You can check the bet $1 and win $100 for some interesting examples.
Another way to bet on reduced or increased juice is through line shopping. This is the practice of taking alternate spreads at reduced or high odds, effectively buying or selling points, to win more money or lose less often. For example, if the Dallas Cowboys were favored tonight by -6 at -110 odds against the Pittsburgh Steelers, you could take an alternate line of the Cowboys at -8 with +110 odds, giving you a less likely chance to win but more money if you do.

Reduced juice betting apps are hard to come by but should be taken advantage of when found. Most online betting sites don't offer reduced juice betting lines; however, alternate lines are provided on most sportsbooks in the US. Sharper lines are incredibly beneficial for a volume gambler so keep your eye out for reduced juice lines if you gamble on sports frequently.
Five Top Reduced Juice Betting Sites
The following list has my five favorite sports betting websites that offer online sports betting with low vig on specific lines. Some of these books provide reduced juice as a promotion instead of odds boosts for users because they are essentially the same amount earned for the user or sportsbook but differently.
Tap on the banners above to get started with a free bet bonus and risk-free bets to further your odds, or click below to learn more about each bookie:
Continue for a roundup of the odds and juice on the lowest juice betting sites.
#1 PointsBet Sports

PointsBet Sports is an Australian sportsbook created in 2015 that offers a decent amount of reduced juice and is one of the largest books globally to date. They offer close to the same number of reduced juice lines, but not as many as the first three in this list.
PointsBet is similar to BetMGM and FanDuel because they offer NBA spread odds at -105 and NHL bets at -165 for reduced (or increased in the case of the NHL bet) juice bets. Here you can save money on your NBA spread betting when you bet on the favorites and earn more money when betting on the spreads of NHL games.
PointsBet might offer the best sign-up bonus on this list because of the overall value that it can be used for. If you use this link (or use promo code GUSA) during sign-up, you will receive two risk-free bets worth up to $2,000, double the amount of the other bonuses on this list.
✅Pros
Several reduced juice NBA lines
Best sign-up bonus in the business
Two risk-free bets worth up to $2,000
Great daily and weekly promotions
Stats and live tracker offered
❌Cons
Limited reduced juice outside of basketball
None for MLB
#2 BetMGM Sportsbook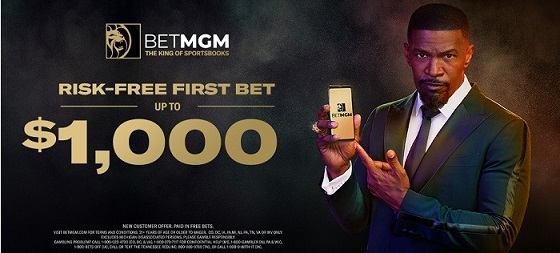 We can't talk about a reduced juice sportsbook without talking about BetMGM. Since becoming an online sportsbook in the United States in 2018, BetMGM has become one of the best-reduced juice sportsbooks that offer the best lines and best odds. There are no betting limits on their reduced juice sports betting, and they accept wagers for most major sports.
Bettors can find reduced juice betting lines typically on NBA, NFL, and MLB betting lines almost every day. While most sportsbooks offer reduced juice on specific, more meaningful events (like the beginning of March Madness), BetMGM offers them regularly.
Users of BetMGM can most often find reduced juice bets in live bets, which can be incredibly useful. If you're like me and a fan of live betting sites to make the games you watch more entertaining, then keep an eye out for reduced juice live bets because over time, you'll essentially earn yourself with "free bets no deposit," so to speak, from the money you've saved.
If you want real free bets, on the other hand, use the promo code "GAMBLEUSA" or click the link here for a risk-free bet of up to $1,000 for your first bet after signing up.
✅Pros
Tons of NBA, NFL, and

MLB parlays

reduced juice lines and alternate spreads
Great sign-up bonus (risk-free bet of up to $1000)
Live bets typically have less juice than standard bets

MGM Debit card

deposits
❌Cons
Offers reduced juice on limited sports
#3 DraftKings Sportsbook

Like BetMGM, DraftKings is one of the top reduced juice sportsbooks in the country and has several events at reduced juice for bettors to make wagers on. DraftKings has more sports with reduced juice and has these wagers more frequently than BetMGM, but unfortunately doesn't have as good of lines on live betting.
DraftKings has reduced juice lines on not only the NBA, NFL, and MLB, but also the NHL and much more. The most significant benefit of using this sportsbook for reduced juice betting is that it isn't available in specific sports.
DraftKings offers a great sign-up bonus of a 20% deposit sports bonus worth up to $1,000 on your first deposit when creating your account by clicking this link. With most sportsbooks moving on from deposit bonuses, DraftKings is one of the last remaining books offering this sign-up bonus.
✅Pros
Reduced juice for almost every sport
Deposit Bonus
Tons of stats available
Alternate spreads for line shopping are available
❌Cons
Juice on live bets is typically standard
#4 FanDuel Sportsbook

FanDuel Sportsbook is another reduced juice betting site that is a titan of the sports betting industry here in the US with several different betting options with lower (and sometimes higher) juice. They offer reduced juice on many of their NBA lines, but the odds are only -108 instead of -105.
One of the main problems with the juice on the FanDuel Sportsbook is how bad it is for NHL favorites spread betting. While the spreads are the same, the odds are at a horrible -170 for the favorite, over one and a half times the regular rate for spread betting.
Do not use this site for lower juice on NHL favorites bets because you won't be able to reach a break-even point if you lose a few times. However, if you're looking into betting the NHL underdog, then take a look at FanDuel's odds because the juice will likely be incredibly low.
FanDuel has an identical sign-up bonus to BetMGM with a risk-free bet worth up to $1,000 if you use this link here. It's worth it and a perfect way to practice betting with reduced juice.
✅Pros
Offers reduced juice on college sports
$1,000 risk-free bet after sign-up
Great promotions and daily odds boost
Live Streaming
❌Cons
Bad odds for alternative spreads
Bad NHL spread favorite odds
#5 Unibet Sportsbook

The Unibet Sportsbook offers different options for reduced juice betting that are more frequent but less cost-effective, similar to FanDuel. In basketball, for example, several spreads have -109 odds, saving the bettor $1. Similarly, Unibet offers NHL spread bets with reduced juice (compared to the other books on this list) at -118 odds.
This book is on the list for two reasons, and the first is because of how frequently these lower juice lines appear in their spreads. The second is the $250 risk-free bet given to users as a sign-up bonus that you can claim by clicking the link here before signing up.
✅Pros
Frequently reduced juice for basketball
50% daily

parlay odds boost

users can add to any parlay
Better NHL juice than the others on this list (other than BetMGM)
❌Cons
Minimal stats
No live stats
Tips for Spotting Reduced Juice Lines
The biggest tips I can give you for spotting reduced juice betting sites are to look daily at their point spread betting lines. Not every sportsbook that has reduced juice betting offers it every day, and some only offer it as a promotion.
To find the best sports lines with the most reduced juice, I generally check the events that are currently live and go from there. While most regular spread bets don't have better odds than -105, live bets frequently offer bets at +100 odds, which means there's no juice. Odds these good are hard to come by. However, they are easier to find on live spread betting.
If you're someone who live bets frequently, you know that rhythm and momentum dictate a lot in sports like basketball and football. You also understand that late-game situations in these sports can be very sporadic and volatile, which can be detrimental to wagers.This volatility generally makes sportsbooks offer live spreads at reduced juice due to the fact that they are constantly changing.
Differences between Reduced Juice and Bonuses
All sports betting sites offer new customers a welcome bonus of some kind to reward them for creating an account. The best online sportsbook will also offers sportsbook bonuses that reward returning players for their loyalty through promos such as odds boosts and more. However, it is important not go get the perks of a bonus or promotion and reduced betting juice mixed up. Think of the major difference between the two surrounding how you want to receive and spend your bankroll.
A player signing up for an account on a platform with the best sportsbook bonus will initially have a bigger bankroll. Although this larger bankroll may give you more confidence, checking your balance on the sports betting site and noticing it coming down quickly will not encourage to come back for more.
When you consider that the point spread basically makes the event 50/50 you should always have in mind that sports betting by its very mature is unpredictable. It would be a wise decision to start smaller with your bankroll and try and be smart by saving money on each wager. For example, you may just want to have fun so betting a small amount on player props is a good choice to begin with.
Benefits of Reduced Juice Sportsbooks
I know this might not sound like a big deal for most sports bettors because it isn't that big of a difference. However, it is beneficial for bettors in the long run. Finding a sportsbook that offers wagers at reduced juice is essential because of how scarcely they are seen.
While many sportsbooks offer reduced juice, they don't provide it frequently enough to matter. However, if you've found a sportsbook with regularly reduced juice, use it to compile the money you could have lost to save it for future wagers.
You're not always going to lose your bet; hopefully, you never do! But if you fail, this technique helps you limit your losses. Another way to limit your losses is line shopping, which any user can do to get more or less juice on a bet. If you know Costa Rica is going to Blowout Mexico in the World Cup and the spread is only -.5, then why not get better odds and take them at -1.5?
Stay away from Offshore Betting Sites with Reduced Juice
There are a lot of sportsbooks out on the world wide web that will try to lure you in with significantly reduced juice odds regularly but be careful. Look out for offshore betting sites and double-check to ensure that your state's local gaming commission licenses them.
These sportsbooks have a history of advertising themselves as reduced juice sportsbooks but don't trust them. Most trustworthy sportsbooks generally don't offer reduced juice all that often, but more as sports betting bonuses that occur as promotions. Relying on gamble-usa.com for where to place bets is the best route to take.
Bottom Line
The bottom line is reduced juice betting is perfect… for people who bet on sports a lot. It is always beneficial to risk less when sports gambling and will always save you money when betting less, but it won't have a noticeable effect unless you gamble frequently.
Gambling frequently isn't always a problem, and sometimes people even do sports betting professionally because of how good they are. If you are a high-volume gambler, then this is something you need to keep an eye on because of how much money you save. It isn't all that noticeable when it's five to ten dollars a month, but it is hard to miss when it's upwards of $100 a month.
However, if you do have a problem gambling, please go to this link here. It is a severe problem that affects all kinds of people, and only you can seek help.
FAQ's
Are vig and juice the same in sports betting?
Yes! Juice is a term used instead of vig, which is short for vigorish, that is, the basic fee a sportsbook applies in their odds in exchange for their services.