Gamble USA strives to improve your online gambling experience. We aim to help you play safely, make informed decisions when gambling, and increase your betting knowledge through our guides.
We adhere to strict editorial integrity; our content may contain links to products from our licensed & legal US partners.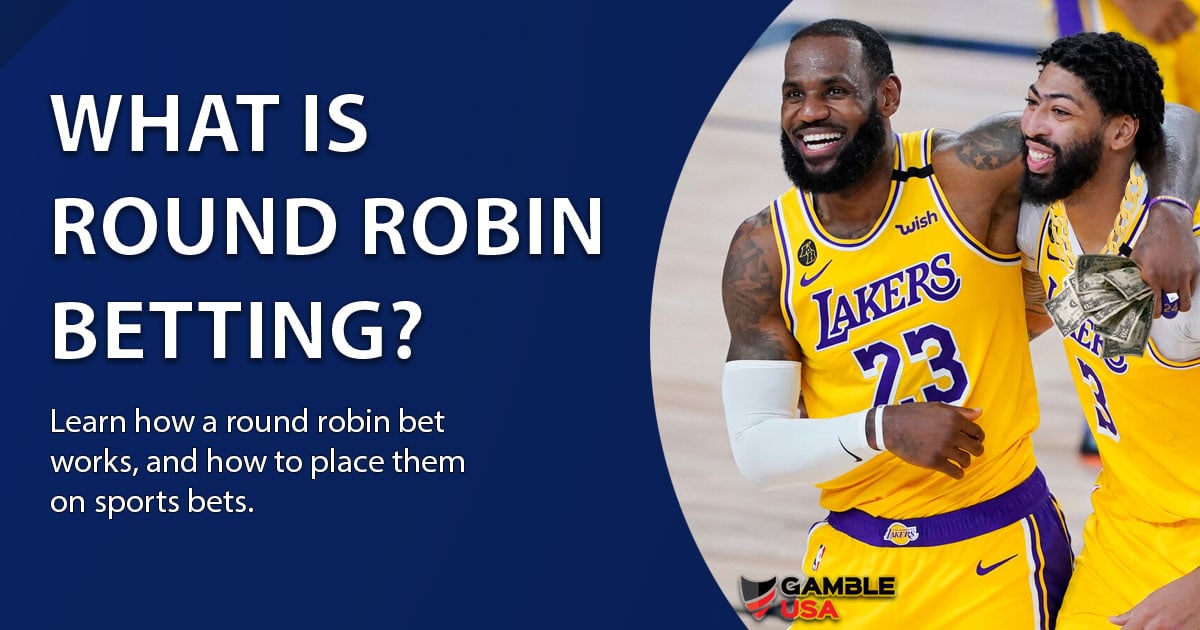 Round Robin wagers are among the most valuable types of bets in sports gambling today and should be taken advantage of by any sports bettor looking to keep their losses to a minimum. If you enjoy parlay betting and haven't heard of Round Robins, read this guide to learn why they're one of the best bets on most sportsbooks.
With sports betting now expanding far beyond the Las Vegas strip to states like New Jersey and Arizona, bettors are looking for more exotic wagers. Prop bets or a teaser bet are becoming more popular than a straightforward moneyline bet. The same can be said for Round Robins. However, you may know how to place a prop bet but have no idea on what to do regarding round robins.
This betting guide will walk you through a Round Robin bet, how they are won, strategies to win these bets, why they are helpful, and an in-depth look into the complexity of a large Round Robin bet example. Enjoy the class and see the best betting apps and sportsbook sites accepting round robin bets below. Let's look at round robin betting explained.
Understanding Round Robin Bets
Most online sportsbooks offer Round Robin bets because of how popular they are among their users. Round Robins are a type of parlay wager that breaks down the legs of a specific parlay into smaller two-team (or larger) parlays. They can be more exciting than just betting on the moneyline for the Super Bowl.
Round Robin sports betting combines the legs of a parlay (minimum of three-team parlays and maximum of ten on most sportsbooks) into all of the possible combinations of the parlays to limit your losses. Round Robin bet payouts are determined by how many teams of the bets win, which means that if two out of three teams win, you'd still receive some money back.
The more teams in the bet give more Round Robin options to choose from when betting. A three-team Round Robin would make three separate two-team parlays, while a four-team Round Robin could create six two-team parlays or four three-team parlays. The options continue to change based on the number of selected games and are a great way to get away from single bets without being as risky as betting on large parlays.
Round Robin Parlays
Round Robin betting is a great way to mix things up from traditional parlays for massive payouts by combining smaller parlays that they automatically create. Choosing a Round Robin instead of a single three-team parlay turns it into three bets that are two-team parlays.
If a bettor decided to make a three-team parlay consisting of moneyline bets, all three teams would need to cover for the parlay to win. For example, if the Round Robin consisted of the Dallas Cowboys, the Philadelphia 76ers, and the Nashville Predators, the three parlays would be;
Cowboys + 76ers
Cowboys + Predators
76ers + Predators
As long as two of your three teams cover the bet, you are still a partial winner, like hedging for parlay betting. Now for the fun part of sports betting, winning!
Winning a Round Robin Bet
Winning Round Robins is more manageable than winning larger parlays. You can either win less than your original bet, more than your initial bet, not the total payout, or the full payout. If you've bet one three-teamer, you'll need all three teams to win to be positive but can still win a little of your money back.
If all the parlays to the Round Robin hit, you will win more than a normal parlay. However, there are drawbacks to a Round Robin wager. To win more money than a traditional parlay, you must wager more money because of the smaller parlays.
If each leg of the example above had -110 odds, the total payout would be $596 from a parlay and $992 from a Round Robin parlay. The negative side of this is that you will risk more due to betting multiple parlays.
For our example above, if you want to win $992, you'll need to bet $300. Each two-team parlay in your Round Robin would have $100 on it, compiling all winnings from the multiple bets.
Conversely, if you wanted only to spend $100 on the example above, you'd have to wager $33.33 on each two-team parlay. This Round Robin bet would result in the potential payout being $264, which would be less than the payout of the parlay but still more significant than your original wager. However, if only two of the teams were to cover, you'd only win $88, which is better than a parlay. It is an exciting sports bet as you can see those winnings build as each leg comes in. Any multiple bet option has greater total risk than a single bet due to its nature; it is high stakes high reward.
Now that you understand what Round Robin betting is and how to win, let me show you some examples of them in sports betting.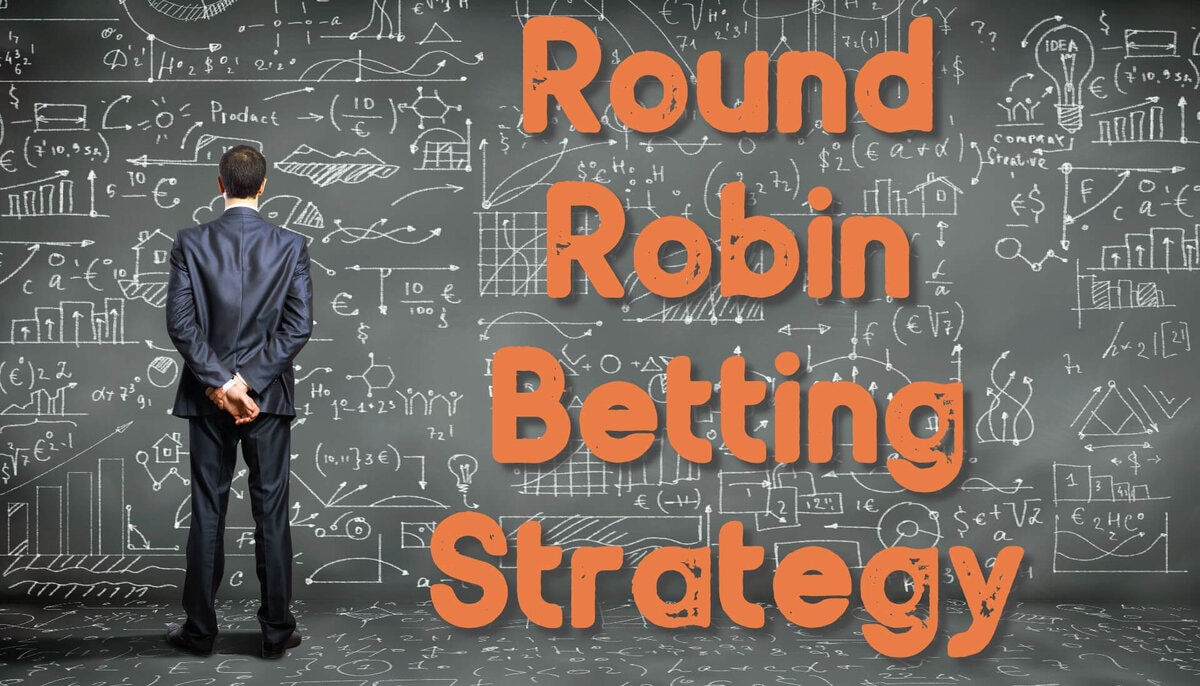 Round Robin Bet Examples
While I've mostly been explaining Round Robins consisting of two-team parlay combinations, many sportsbooks offer more varieties for the number of legs in the bet slip. Doing so is known as each way Round Robin betting.
For example, a four-team Round Robin would consist of eight total betting combinations. Four combinations consist of three-team parlays, three composed of two-team parlays, and one with them all. The possible parlay combinations of this Round Robin are listed below.
1 2 3 4
1 2 3
2 3 4
3 4 1
4 1 2
1 2
2 3
1 3
1 4
2 4
3 4
The number of possible combinations only gets bigger with the more legs you add in a Round Robin parlay, giving you a larger chance to win, even if all of the picks don't. So, if team A wins but team C doesn't, you can still win. Round Robin gets the name each way because of a popular betting strategy in horse racing where a bettor chooses a horse to win, place, and show, giving them a larger chance at their bet winning.
Round Robin Betting Strategies and Tips
Everyone wants a betting tip or guide to get more information before they start betting. I use Round Robins because they are better than single wagers but are safer than parlays. If a big parlay hits, then it's a lot of fun, but they don't win as much as I want, and a straight bet won't net me as much profit. Therefore, I choose to bet five teams in a Round Robin than a parlay to fulfill those needs. For any combination bet, I feel it is good to have a minimum of five teams to increase the payout, rather than a two team parlay for example. An entire round robin bet pays a big sum after all.
One of my most significant issues with parlays is I like to bet on big parlays. However, betting big has its faults because you don't always win. You lose more than you win. Round Robins are a way to counteract that.
One of the best strategies that I've used so far for Round Robin betting is always to use them to bet my longshots. I always do my research, and I tend to find bets that I know are more likely to win. However, I am not perfect and can be unsure with a few.
If I have a longshot bet, I use Round Robins to cover all of my bases. If I am sure of four chances and unsure of the fifth, I use Round Robins and seek out specific parlay combinations. In this context, I would specifically seek out parlays with two and three teams to ensure that the bets I am more confident in have more chances to win.
Another tip for Round Robins is to bet as many legs as possible (that you have researched) in two-team parlay combinations to have the best chance at winning more money than you bet, even if some lose some of the legs. This will always depend on the odds, but you would have + odds in each parlay if you choose spreads, meaning you'd only have to win half to get your money back.
My last tip for Round Robin betting is to create your own by manually creating multiple parlays and mixing and matching the most likely winners so that you can use more than one type of parlay. Doing this allows the user to choose from the different two-team and three-team parlays available without committing to them blindly.
Manually creating your Round Robins takes more time and a little more research, but the payouts are more frequent. While this isn't a traditional Round Robin that could be found in the bet slip, it does apply the same principles. Correctly reading the betting odds and understanding sports betting symbols is essential to managing the above round robin strategies.
Should you place Round Robin bets?
A lot of new sports gamblers ask how Round Robin betting works. As long as you follow some of the strategies I've outlined above (and don't have a gambling problem, if so, go here), they are something to look at next time you're about to make a single wager or regular parlay. Betting the point spread or placing a moneyline bet are good choices, but following the Round Robin betting strategy on this page can net you big wins.
Many people start Round Robin betting on turning their "what if" parlays into a payout. They do this by using multiple parlay combinations to create a total positive stake, even if they don't all win. The larger the Round Robin parlay is, the more it has a chance to net you positive money.
For example, if a bettor knows they have three betting lines that are a good bet but want to throw in a fourth for a parlay and aren't 100% sure, they should make their wager a Round Robin. This gives a bigger payout and the possibility to go positive if one bet loses!
How to bet Round Robins at US Sportsbooks
Most sportsbooks such as DraftKings and BetMGM (both offer a great welcome sportsbook deposit bonus, click the links) offer Round Robin betting because of how popular it has become among bettors. They make placing these bets as simple as they do parlays, with the option for Round Robins typically on the bet slip at the bottom. Additionally, just like a parlay bet, you could use a Round Robin bet calculator to see how much you could potentially win before placing the wager. Most sportsbooks offer a Round Robin calculator and they are simple to use.
To start a Round Robin bet, click on your chances and add them to your bet slip as if they were a parlay. After this, go to the bottom of the bet slip and press on "Round Robin," where it will open up a window with your possible parlay combinations.
Opening this window will show you separate boxes for the number of parlays available, giving you the option to bet two-team parlays, three teams, four teams, etc. The last option would be to take all wagers, which would include every pick as a large parlay and all of the parlay combinations (such as the example above). You then make your selection and hope your parlay combination is successful. 
Most sports betting sites have Round Robin betting, but if you're participating in the US, you'll want to make sure it is legal and fully licensed by the state to protect yourself and your money. To do this, Google to see if the local state gaming regulators certify your sportsbook or see our legal states guide. Our parlay calculator can also help you know what to expect when betting on legal betting sites.
Sports betting legal sites will generally have information on their website to verify that they are licensed and backed by the state. On the other hand, some will not, meaning that they are not legal sports betting websites and should not be used! This could result in your private information being stolen, which leaves your identity at risk! Before you place any sport wager on an online sportsbook, whether it be an individual bet or a 2 team parlay, always make sure it is fully licensed. To get started safely, see our dedicated guides to placing round robins on the best US betting sites:
Round Robin Bets Types and Terms
As I've mentioned throughout this Round Robin betting guide, these bets have several different types, which results in several additional terms. The different types of Round Robins depend on the number of legs added to them. It can sometimes be confusing with all of the different terms surrounding how a round robin bet work for you.
The number of legs allows for different types of parlays, which means that there are nine different types of Round Robins total since, traditionally, sportsbooks have a ten-leg max. As I mentioned before, there are each-way Round Robins, which are every combination available, while the rest are the different number of parlays open for the bet. There is no mixing and matching of the different varieties, so you must bet all parlays of a single type when using Round Robin betting (see under strategies for ways around this).
Some of my favorite terms for some types of Round Robin betting are patent, Canadian, and Lucky 127. A Patent is a Round Robin bet where the player decides to add individual single bets to the end of the parlay combinations. Next, a Canadian is a fancy term for an each-way on five teams (something I do frequently) with 26 different parlays with five teams consisting of ten two-teamers, ten three-teamers, five four-teamers, and one five-teamer. Lastly, a Lucky 127 is a bet consisting of 127 different parlay combinations, an each-way Round Robin bet with the maximum number of legs.
Round Robin Parlay Strategy
If you find a sportsbook that has several bets on the odds board that look appealing, parlay is an attractive option. However, if you miss out on one leg, the parlay bet loses. However, that isn't the case with a round robin as if you place a four-team round robin wager and three teams within the bet cover, you will still win some cash.
For example, if you bet on the LA Lakers, Chicago Bulls, Brooklyn Nets and Miami Heat, and the Nets lose but all the others win, you will still finish the wager on the plus side.
Round Robins will usually require a bigger investment that a typical parlay bet, but this means the potential profits will also be larger while removing the chance of a complete loss. Round Robins also provide bettors with the opportunity to minimize losses and hedge bets. If you hedge your bets properly, which means picking the other side of the wager, you will mitigate your losses. If you do this right consistently you can start making a steady stream of money.
You can include ten teams in a round robin wager but bear in mind that each time you add a team you are adding more bets and consequently the investment can rise quickly. Bigger round robins can also include more than 2 teams per leg, but the best strategy for these types of wagers is to keep all round robin parlays to two legs apiece. Remember this advice the next time you use your free bet to place a round robin.
Pros & Cons of Round Robin Betting
Whether you are placing a money line, parlay or prop bet, there are pros and cons to each bet type. Let's take a look at some pros and cons for round robin wagering.
Pros
Your chances of winning improves when used with correlated selections
You can secure the profits of a round robin bet with hedge betting.
If you win a round robin bet you are likely to get a big payout.
Cons
When placing a round robin bet, you typically need a larger bankroll.
Some sportsbooks have limited market options for round robin bets.
Some users may find round robins hard to track compared to single bets.
If you know how robin betting work, you should have no problem in placing this type of wager and following its progress. As long as you do some prior research, find some competitive parlay odds and bet on a market you know well, you have a fair chance of making some good money.
Round Robin Bets Vs. Parlays
Before embarking on what you believe is the best parlay strategy, you must know how they differ from other multiple bet formats such as parlays. Parlay betting involves a series of wagers or legs, but if any one of those selections loses, the whole parlay loses. An entire round robin wager also involves a series of wagers. However, they are a little less risky as you don't have to worry about losing any potential profits from your remaining picks if one of them loses. This is why many bettors feel round robin bets worth trying as you aren't running the rusk of one choice letting the whole wager down.
Instead, with round robins, you can still generate some nice profits from the legs that do win. For example, let's say you place a round robin consisting of 4 legs, and 3 of them win with one losing. In this scenario, you will still add to your bankroll and you will also have the opportunity of numerous winning combinations of bets.
Doing this allows you make the most possible amount from your single bet, whereas with parlays there are limits on the amount of cash you can win, even if the odds are appealing. This all depends on how much money you are willing to lose and as ever with betting, how much risk you are willing to take. If you don't mind losing some cash for a huge reward, then parlays may be the way to go. However, if you want a less risky option but still have the potential of making some big money, then round robins are an excellent choice. Additionally, if you follow some of our round robin betting strategy tips on this page, you will soon see that bankroll boosted.
Round Robin Betting FAQs
How do you win a Round Robin bet?
To win a round robin bet, you must choose a minimum of two correct outcomes from your overall selections. These selections could be a team parlay or single Moneyline outcomes. So, if teams A and team B win in your parlay, you Round Robin bet will be successful. A Round Robin bet work well and pays out huge sums when you win.
What does round robin mean on FanDuel?
A round robin FanDuel wager is the same as on other US sportsbooks. You can bet on multiple games in the Champions League if you are a soccer fan or major domestic sports leagues like the NBA and NFL. FanDuel has numerous attractive boosts that promote bettors selecting the round robin option.
Is round robin a good bet?
Are Round Robin Bets Worth it? Round robin parlays offer a bigger top payout and a better chance to mitigate losses. But it's not always the top choice. A $100 bet on a three-team point spread parlay wager can win you roughly $600.
How do round robin payouts work?
How Does a Round Robin Bet Pay Out? A round robin bet pays out based on the total winnings of each parlay in the entire round robin wager. For example, a $15 three-team round robin bet with each team lined at -110 would pay out a total of $39.67.
What is a 3 pick round robin?
A round robin (RR) is simply a nickname for a type of parlay wagering strategy. You take a group of three or more selections and put them in combinations of individual parlays. You could enter these parlays individually, but many sportsbooks allow you to select a round-robin option and do it automatically.
How many bets is a round robin?
The 'Round Robin' bet contains 3 selections which amount to 10 individual bets within this bet type. These bets are as follows; 3 doubles, 1 treble, and 3 single-stakes-about bets (which contain 2 bets within each), all of which amount to 10 individual bets.
Are round robins better than parlays?
Lots of sports bettors prefer round robin betting to parlay wagering. This is simply because when you lose a wager in a round robin you still have a chance, whereas with a parlay if one bet loses, the entire wager is unsuccessful.