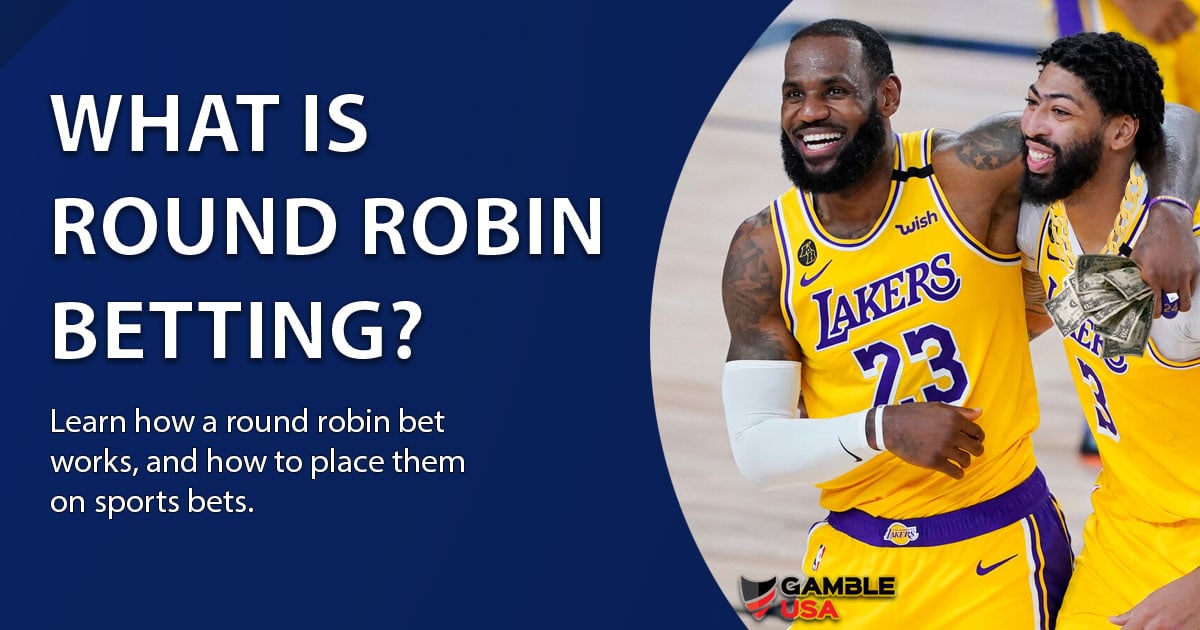 Round Robin wagers are among the most valuable types of bets in sports gambling today and should be taken advantage of by any sports bettor looking to keep their losses to a minimum. If you enjoy parlay betting and haven't heard of Round Robins, read this guide to learn why they're one of the best bets on most sportsbooks.
With sports betting now expanding far beyond the Las Vegas strip to states like New Jersey and Arizona, bettors are looking for more exotic wagers. Prop bets or a teaser bet are becoming more popular than a straightforward moneyline bet. The same can be said for Round Robins. However, you may know how to place a prop bet but have no idea on what to do regarding round robins.
This betting guide will walk you through a Round Robin bet, how they are won, strategies to win these bets, why they are helpful, and an in-depth look into the complexity of a large Round Robin bet example. Enjoy the class and see the best betting apps and sportsbook sites accepting round robin bets below. Let's look at round robin betting explained.
---
Understanding Round Robin Bets
Most online sportsbooks offer Round Robin bets because of how popular they are among their users. Round Robins are a type of parlay wager that breaks down the legs of a specific parlay into smaller two-team (or larger) parlays. They can be more exciting than just betting on the moneyline for the Super Bowl.
Round Robin sports betting combines the legs of a parlay (minimum of three legs) into all of the possible combinations of the parlays to limit your losses. Round Robin bet payouts are determined by how many teams of the bets win, which means that if two out of three teams win, you'd still receive some money back.
More teams in the bet give more Round Robin options to choose from when betting. This is because it creates more cross parlay betting combinations that can add more insurance. The key thing to remember here is that round robin bets do not bring more money than parlays. Instead, they give you a lot more insurance, and you can even turn a small profit if one or more of your selections fail to win. It all depends on the number of selections you have, what odds each bet has, and the type of round robin you opt for. Don't worry, on this page we will explore all your options so that you know exactly what you are getting into.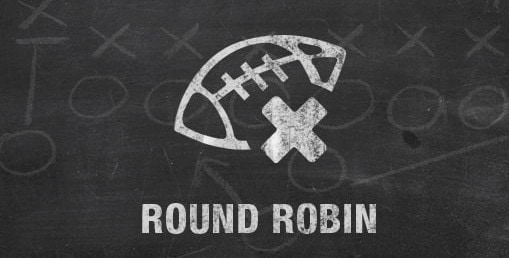 ---
Round Robin Parlays
Let's start with three selections. If you have three wagers you can combine them into either a 2/3 round robin bet, Trixie bet, or Patent bet. The 2/3 round robin bet consists of three double bets. Trixie bet uses three double bets and one threefold bet for a total of 4 intercrossing parlays. The patent bet has 7 intercrossing parlays, using the three double bets, one threefold bet, and three single bets.
For example, let's say you bet on the following teams to win their games:
Jacksonville Jaguars at odds +115
Tampa Bay Buccaneers at odds -145
Indianapolis Colts at odds +130
Only one of these is an underdog, and not a long one at that, so it is not the riskiest bet to place, but it is still a nail biter all the same.  Going in with $30 in your pocket, here are your round robin betting options, compared with what you could expect from a parlay.
Betting Combination (Parlay, RR)
Combination of Selected Bets
Stake (up to $30)
Odds
Potential Winnings
3-Selection Parlay
Combined 3 Selections:
+ +
1 x $30 Stake
+735
$250.66
2/3 Round Robin (3x Double Bets)
Combined 2 Selections:
+
+
+
3 x $10 = $30 Stake
+315 (approximation)
$124.64
Trixie Bet
(3x Double Bets 1x Threefold Bet)
(4x Bets Total)
Combined 2 Selections:
+
+
+
Combined 3 Selections:
+ +
4 x $7.50 = $30 Stake
+420 (approximation)
$156.16
Patent Bet
(3x Single Bets, 3x Double Bets 1x Threefold Bet)
(7x Bets Total)
Single Bets:



Combined 2 Selections:
+
+
+
Combined 3 Selections:
+ +
7 x $4.20 = $29.40 Stake
+285 (approximation)
$113.23
Now, to make things interesting, let's look at how much you stand to win in some scenarios where one or more of your selections fail to win.
Betting Combination (Parlay, RR)
Payouts:
✅
✅
✅
Payouts:
❌
✅
✅
Payouts:
✅
❌
✅
Payouts:
✅
✅
❌
Payouts:
❌
❌
✅
Payouts:
❌
✅
❌
Payouts:
✅
❌
❌
3-Selection Parlay
$250.66
0
0
0
0
0
0
2/3 Round Robin (3 cross parlays)
$124.64
$38.86
$49.95
$36.33
0
0
0
Trixie Bet (4 cross parlays)
$156.16
$29.15
$37.09
$27.25
0
0
0
Patent Bet (7 cross parlays)
$113.23
$33.08
$39.46
$31.38
$9.66
$7.10
$9.03
From this, we can read quite a bit into how round robins work. While the parlay bet in this case can bring you nearly twice what you could expect with the parlays, it relies on all three teams to win. Should one fail, you have lost your $30, but that is not the case with the round robin bets, where you are cutting your losses to a minimum, or even in some cases, still making a profit.
Of course, it all depends on which bets fall through, as if any should fail to come through, you will be wishing they are the ones with the shortest odds. As long as two of your three teams cover the bet, you are still a partial winner, like hedging for parlay betting. Now for the fun part of sports betting, winning!
---
4 Selection Round Robin Bets
There are four types of round robin bets if you are going to pick four selections. These are the 2/4, 3/4, Yankee and Lucky 15 bets.
Betting Combination (Parlay, RR)
Combination of Selected Bets
If 1 Team Loses:
If 2 Teams Lose:
If 3 Teams Lose:
4-Selection Parlay
1x Four Leg Bet (4F)
0
0
0
2/4 Round Robin
6x Double Bets (DB)
3x DBs Win
(3/6 Total Wins)
1x DBs Win
(1/6 Total Wins)
0
3/4 Round Robin
4x Three Leg Bets (3F)
1x 3Fs Win
(1/4 Total Wins)
0
0
Yankee
6x Double Bets (DB)
4x Three Leg Bets (3F)
1x Four Leg Bet (4F)
(11x Bets Total)
3x DBs and 1x 3Fs Win
(4/11 Total Wins)
1x 3Fs Win
(1/11 Total Wins)
0
Lucky 15 Bet
4x Single Bets (SB)
6x Double Bets (DB)
4x Three Leg Bets (3F)
1x Four Leg Bet (4F)
(15x Bets Total)
3x SBs, 3x DBs, 1x 3Fs Win
(7/15 Total Wins)
2x SBs and 1x DBs Win
(3/15 Total Wins)
1x SBs Win
(1/15 Total Wins)
It is a bit more complicated than 3 selection round robin betting options, but the theory remains the same. You can give yourself more insurance with bigger round robin bets. With the Lucky 15 bet, you can even receive some money if 4/5 of your selections fail to win, but you will probably not make a profit. Unless that bet came with gigantic odds to cover what you lost on your other bets.
As you build bigger parlays, you will find that the number of selections jumps from 11 and 15 with 4 bets, to a whopping 26 (Canadian) and 31 (Lucky 31) with 5 selections. Those numbers jump up massively when you go for 6 or more selections, but round robin betting is not all about adding more selections to your bet. They may add more insurance than a parlay, and so will prompt you to dare to add more wagers, but is that really wise?
Because while more selections can increase your payload, odds are what can really make round robin bets a game changer.
---
Maximizing Round Robin Betting Profit: Odds VS Selections
One question that keeps popping up is which is better for round robin betting: long odds bets or more bets? With the added insurance, you can really swing for the fences with your round robin bets. So without further ado, let's try out a few selections and see how you can fare with longer odds and more selections.
For the purpose of the exercise, we have selected four types of round robin bets: Trixie (4), Patent (7), Yankee (11) and Lucky 15 (15). The shorter odds bets are all point spreads (-110) and the longer odds bets use +150 (underdogs in sports games, but high favorites for racing bets such as horse racing).
Type of Bet (Selections)
Stake (Up to $50)
Length of Odds
Payout if All Selections Win
Payout if 1 Bet Loses
Payout if 2 Bets Lose
Payout if 3 Bets Lose
Payout if 4 Bets Lose
Trixie Bet (4) 3 Selections
4 x $12.50 = $50
-110
$223.65
$45.56
0
0
-
+150
$429.69
$78.13
0
0
-
Patent Bet (7) 3 Selections
7 x $7 = $49
-110
$165.33
$52.24
$13.36
0
-
+150
$293.13
$78.25
$17.50
0
-
Yankee Bet (11) 4 Selections
11 x $4.50 = $49
-110
$283.42
$80.51
$16.40
0
0
+150
$625.78
$154.69
$28.13
0
0
Lucky 15 Bet (15) 4 Selections
15 x $3.30 = $49.50
-110
$233.04
$77.94
$24.63
$6.30
0
+150
$491.91
$138.19
$37.13
$8.25
0
Canadian Bet (26) 5 Selections
26 x $1.90 = $49.40
-110
$375.82
$119.67
$33.99
$6.92
0
+150
$972.27
$264.22
$65.31
$11.88
0
Lucky 31 (31) 5 Selections
31 x $1.60 = $49.60
-110
$331.75
$112.99
$37.79
$11.94
$3.05
+150
$838.75
$238.50
$67
$18
$4
Ok, there is a lot to take in from this chart, but as you can see the profits suddenly jump massively when you pick 4 selections or go up to 5. The difference between the odds is not massive, and you can always go with even longer odds. We thought +150 is just about as much as we can get away with in the example because it is still underdog odds, but not too far out of reach.
To make the comparison, we have to take into account that the difference between the odds are not massive, so we can compare the -110 Canadian bet against the +150 Trixie bet. Both do not have single bets, so if you only win one of your selections in either, you have still lost your bet. Onto the winnings, you can make a considerable profit on the -110 Canadian bet, at over $375. This is more than seven times your bet, and the risky Trixie bet will only bring over $429. With the longer odds, there is a good chance you will lose one of your +150 selections in the Trixie, so you may have to look at the $78 as a more viable return. The Canadian bet has safer odds, but should one selection fail you can still get over $119 back, and if two fail you are still making an almost $4 profit.
NFL, MLB, NHL, MLS and NBA Round Robin Bets
For NFL, MLB, NBA, MLS and NHL fans, it is probably better to go for more selections and bet on favorites. Let's face it, longer odds are just too risky.
Horse Racing Round Robin Bets
If you bet on horse racing, or other types of racing sports, then you don't need as many selections, as the odds are long anyway. +150 is quite short on a horse in a race, and you can even find favorites sometimes priced at +200 or more. If you thought the -110 to +150 difference made a difference on the chart, then you are in for a massive surprise when you add some +200 or longer odds to your selection. It is a different ball game entirely.
---
How to Bet Round Robins at US Sportsbooks
Most sports betting sites have round robin betting, but if you're participating in the US, you'll want to make sure it is legal and fully licensed by the state to protect yourself and your money. To do this, Google to see if the local state gaming regulators certify your sportsbook or see our legal states guide. Our parlay calculator can also help you know what to expect when betting on legal betting sites.
Sports betting legal sites will generally have information on their website to verify that they are licensed and backed by the state. On the other hand, some will not, meaning that they are not legal sports betting websites and should not be used! This could result in your private information being stolen, which leaves your identity at risk! Before you place any sport wager on an online sportsbook, whether it be an individual bet or a 2 team parlay, always make sure it is fully licensed. To get started safely, see our dedicated guides to placing round robins on the best US betting sites:
---
FanDuel Sportsbook Round Robin Betting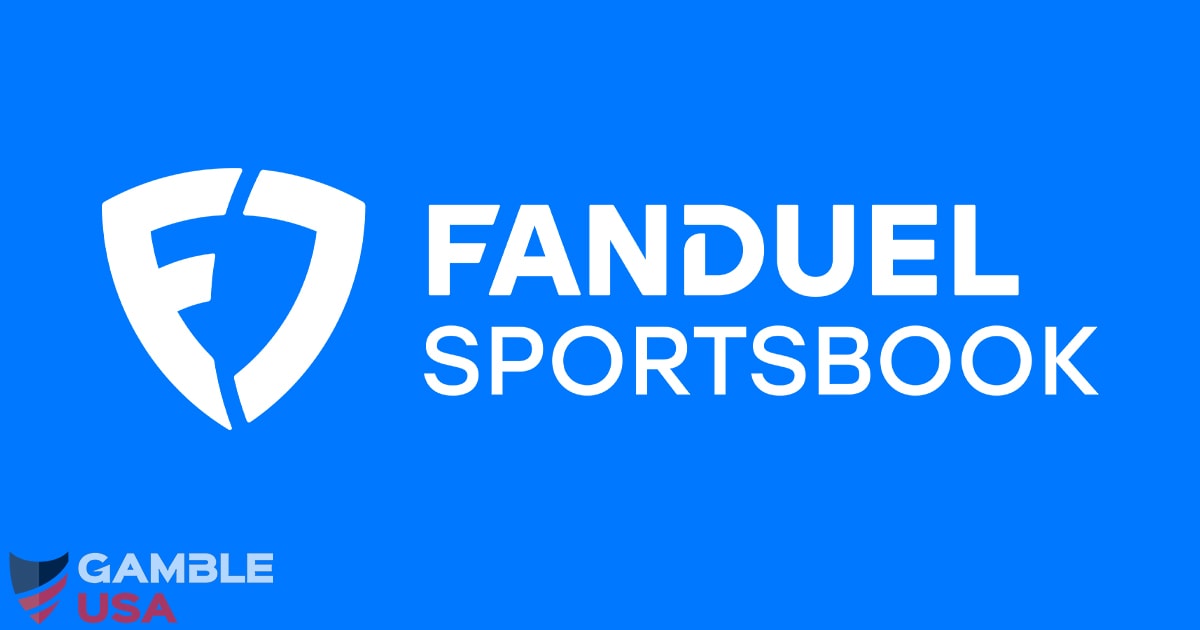 FanDuel Sportsbook has enjoyed massive success in the US. There is a FanDuel Sportsbook and Racebook, and both provide ample coverage of sports and events in the US and abroad. The sportsbook has lots of great promos such as profit boosts, bonus bets, and a massive no sweat bet newcomer bonus. As a parlay or round robin bettor, it is worth checking out FanDuel's Parlay Hub, where you can check out what parlays other members of the FanDuel are placing.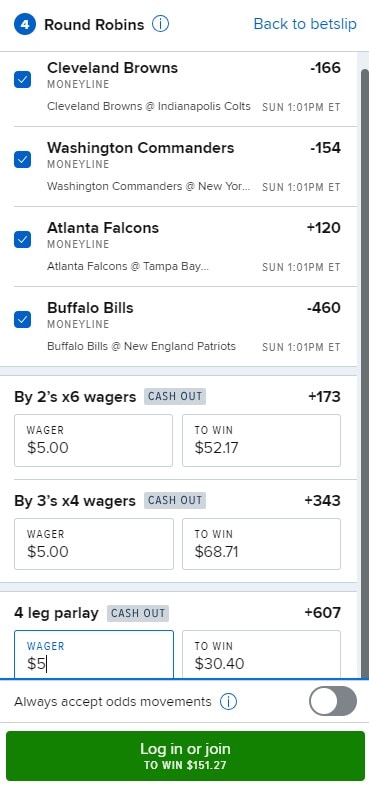 For round robin betting, FanDuel lets you place up to 18 bets on your bet slip, and you can pick between 2's, 3's, 4's up to 17's. For example, if you pick 4 selections, you can make 2's (Doubles) for a 2/4 bet, or 3's (Threefold) to make a 3/4 bet. This goes all the way up to 17/18.
If you want to make a Yankee bet (4 Selections 7 cross parlay bets), then simply place a stake on the 2/4, 3/4 and 4 leg parlay bet, like in the example image.

---
DraftKings Sportsbook Round Robin Betting
DraftKings is a truly regal sportsbook, boasting thousands of betting markets for the top American sports. You can really bet on just about anything at DraftKings, and the platform is renowned for its smooth interface, innovative SGP combinations and sheer volume of props bets. Promotions come in big and often, so you will always have someething to look forward to as a member of DraftKings.

The bet slip at DraftKings lets you pick up to 12 selections, which is not as many as you can fit on at FanDuel. However, it does come with more round robin betting options, as you can get doubles, threefolds, etc, and also the sportsbook offers you the option to make special round robin bets such as Trixie, Patent, Yankee, Lucky 15, and so on.

---
BetMGM Sportsbook Round Robin Betting
BetMGM is a sportsbook with competitive lines, long odds, and rewards its customers with tremendous bonuses. The sportsbook has one of the biggest newcomer bonuses, and is available in over 20 states. The platform has excellent betting options and covers a large range of sports. To mix things up a bit, there are loads of tournaments, contests and free-to-play games. BetMGM also has a fantastic loyalty program, bringing longtime customers great prizes that only get better the longer they play at BetMGM.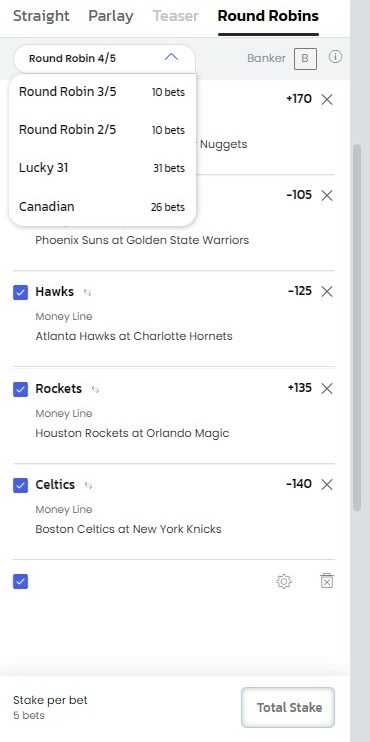 Parlay bettors can pick up to 20 selections in their bet slip, but round robin bettors can only go up to 8 selections. However, do not be disheartened as BetMGM provides all the types of parlays you can need. The bet slip is easy to use and informs you of how many ways your bet will be split with each of the types of round robin bet. Then, you can simply add in a stake, which will be multiplied that many times. For example, in the image where a 4/5 NBA round robin bet is placed, there are 5 cross parlays, so if you put $5 then you will need to pay out $25 to make the round robin bet.

---
Caesars Sportsbook Round Robin Betting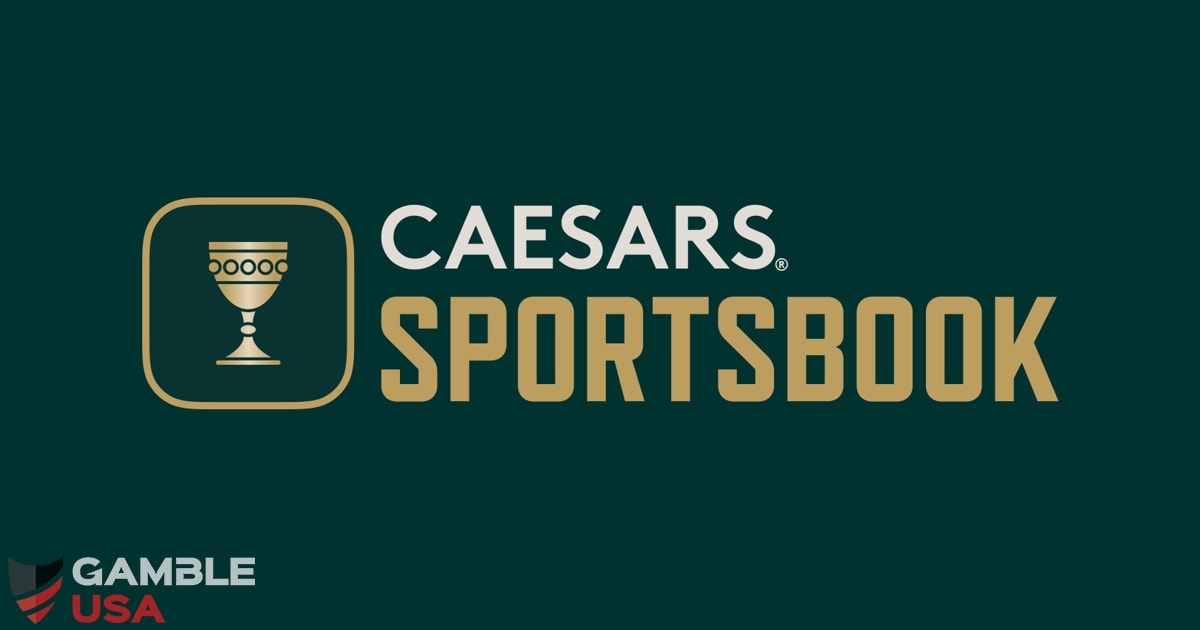 Sports bettors from all over the country have praised Caesars Sportsbook for its extensive betting markets and quality odds, as well as its unique loyalty program. Caesars Sportsbook regularly offers bonuses such as profit boosts for SGPs and parlays, bonus bets, and epic giveaways. You can win massive cash prizes or even VIP luxury packages in the Caesars Las Vegas casino resort, and much more. The sportsbook also has some excellent live betting options, and even streams NFL games live – a massive plus for football fanatics.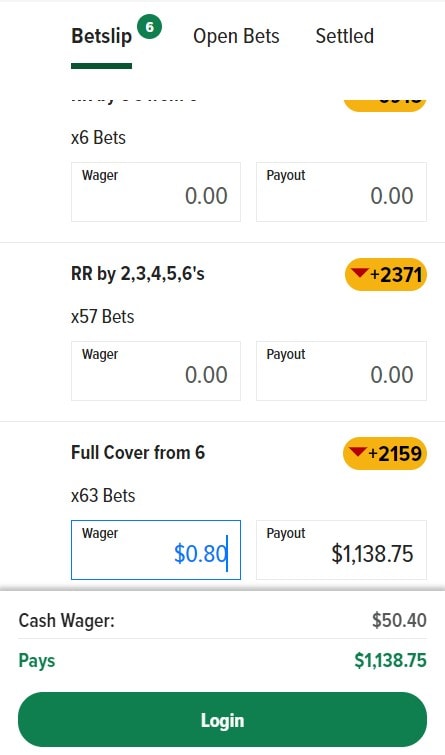 The maximum number of bets you can put into a parlay is 25, which is really the best you can get. Not that you will be making 25 selection parlays all the time, but who knows, it is a very welcome feature. As a round robin bettor, you can go up to 6 selections with all the options (including the cross parlays with singles). After that, you can mix up your parlays but without singles. This means 6/7, 7/8, 8/9, and so on. The biggest round robin bets you can place is 24/25, which is truly awesome.

---
And More!
FanDuel, DraftKings and BetMGM are the three sportsbook we like the best for round robin betting, but you can also form your advanced parlay betting options at any one of these sportsbooks too. They all come highly recommended and have their own special features and promotional offers.
---
Round Robin Bets Glossary [Terms and Types]
As I've mentioned throughout this Round Robin betting guide, these bets have several different types, which results in several additional terms. The different types of Round Robins depend on the number of legs added to them. It can sometimes be confusing with all of the different terms surrounding how a round robin bet work for you.
One term you will hear in conjunction with round robin betting is Full Cover Round Robin Bets. These are basically the round robin bets in which you also have singles, such as the Patent, Lucky 15, Lucky 31, and so on. For the full, and definitive, list of round robin bets, check out our chart below.
Number of Selections
Round Robin Bet
How Many Cross Parlays
Breakdown
3
Trixie
4
3x Doubles
1x Threefold
Patent
7
3x Singles
3x Doubles
1x Threefold
4
Yankee
11
6x Doubles
4x Threefold
1x Fourfold
Lucky 15
15
4x Singles
6x Doubles
4x Threefold
1x Fourfold
5
Canadian
26
10x Doubles
10x Threefold
5x Fourfold
1x Fivefold
Lucky 31
31
5x Singles
10x Doubles
10x Threefold
5x Fourfold
1x Fivefold
6
Heinz
57
15x Doubles
20x Threefold
15x Fourfold
6x Fivefold
1x Sixfold
Lucky 63
63
6x Singles
15x Doubles
20x Threefold
15x Fourfold
6x Fivefold
1x Sixfold
7
Super Heinz
120
21x Doubles
35x Threefold
35x Fourfold
21x Fourfold
7x Sixfold
1x Sevenfold
Lucky 127
127
7x Singles
21x Doubles
35x Threefold
35x Fourfold
21x Fourfold
7x Sixfold
1x Sevenfold
8
Goliath
247
28x Doubles
56x Threefold
70x Fourfold
56x Fivefold
28x Sixfold
8x Sevenfold
1x Eightfold
---
Round Robin Parlay Strategy
One of the best strategies that I've used so far for Round Robin betting is always to use them to bet my longshots. Round robin betting is especially prevalent in horse race betting circles, and it is easy to see why. When you have smaller races, with 5 or 6 horses, then the odds on the favorite are usually around +150 or higher. Exploring a little further, the races with 10 to 12 horses (like the Breeders' Cup meetings) have even longer odds on the favorites, but the competition is much higher. These are the odds that not only increase your maximum potential winnings, but can still cover you if you only win 4 out of 5, 3 out of 5 or maybe even 2 out of 5 of your selections.
Manually creating your Round Robins takes more time and a little more research, but the payouts are more frequent. While this isn't a traditional Round Robin that could be found in the bet slip, it does apply the same principles. Correctly reading the betting odds and understanding sports betting symbols is essential to managing the above round robin strategies.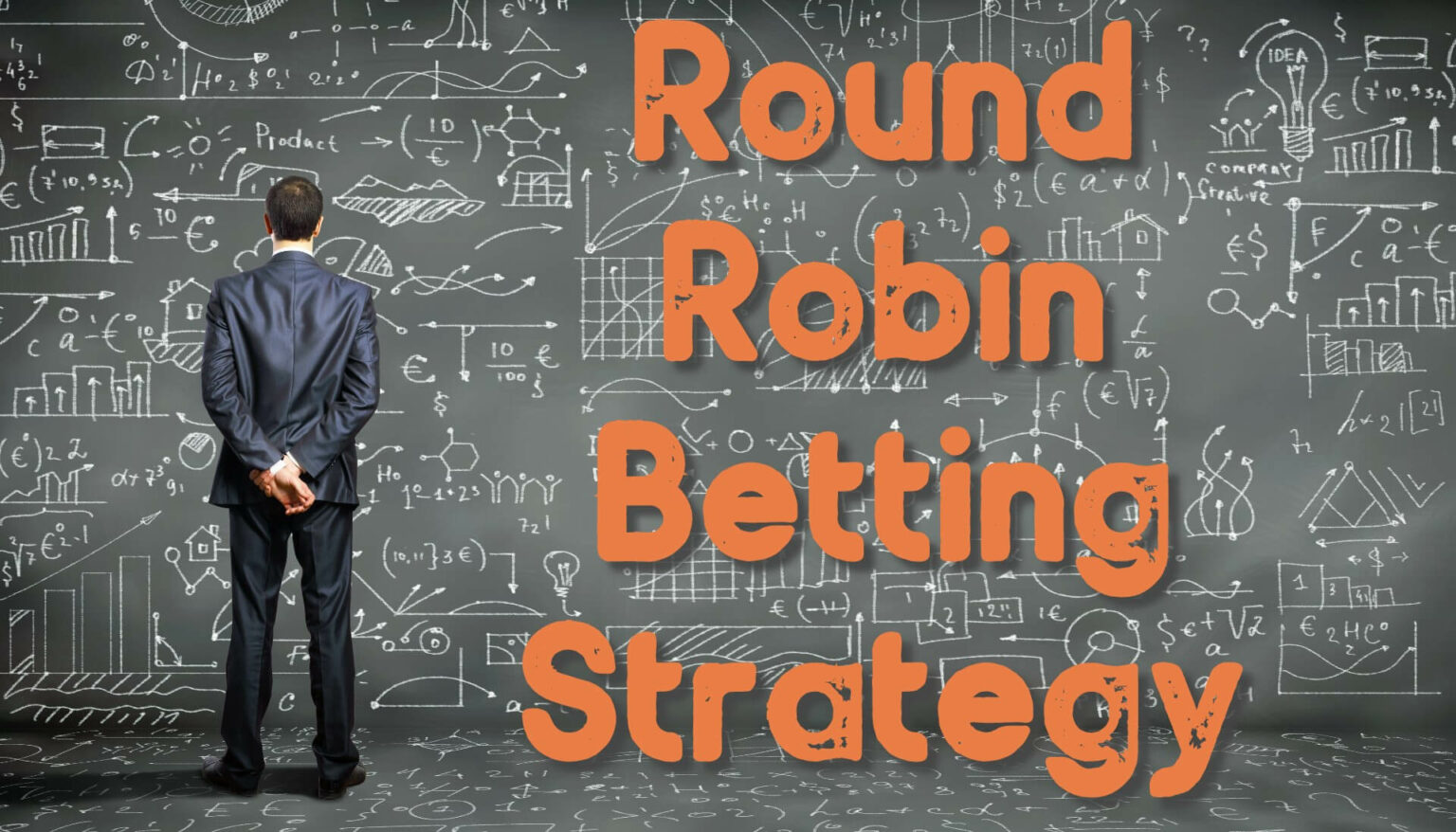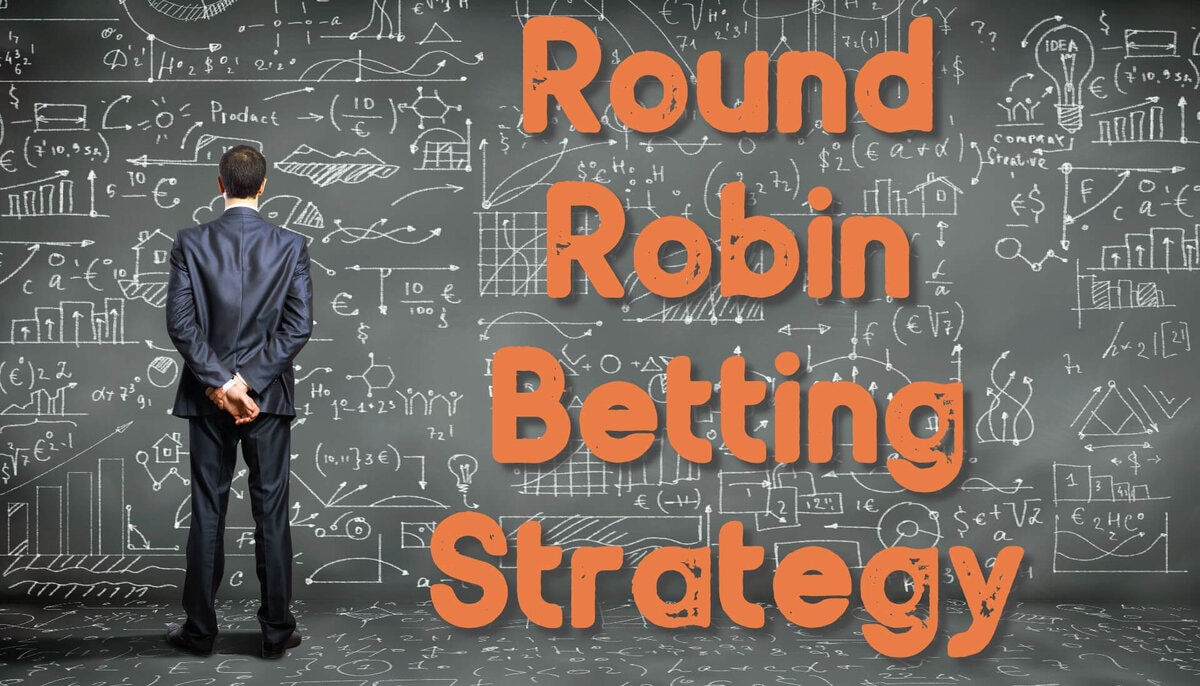 Other Round Robin Betting Strategies
It is not easy to win via round robin betting. In a 6 leg parlay only one pick needs to lose and the whole wager is a write off. However, there are certain instances where this bet type can give you massive rewards and we've included some tips that allows you to try and take advantage of that.
Focus on favorites: You should prioritize the strongest teams and individuals who come with the lowest odds in your parlay bets. If you focus on the favorites, your chances of winning individual parlays improve. The payouts may be lower but you still have more chance of getting something back.
Cover all different combinations: Include all possible combinations of parlays with your chosen teams. For example, if you have a four-team parlay (1,2,3,4) you could create six two-team parlays (12, 13, 14, 23, 24, 34) and the you could add four three-team parlays (123, 124, 134, 234). This covers everything but you will need to place a larger stake because you are betting on every combination.
Broaden your sports market horizons: Instead of just focusing on a single sport or event, expand your round robin bets across numerous different sports. This will mean you are spreading the risk out and also allows you to take advantage of several wagering opportunities. By choosing teams from other sports, there is the potential to offset any losses in one sport from wins gained in another.
---
Pros & Cons of Round Robin Betting
Whether you are placing a money line, parlay or prop bet, there are pros and cons to each bet type. Let's take a look at some pros and cons for round robin wagering.
Pros
Your chances of winning improves when used with correlated selections
You can secure the profits of a round robin bet with hedge betting.
If you win a round robin bet you are likely to get a big payout.
Cons
When placing a round robin bet, you typically need a larger bankroll.
Some sportsbooks have limited market options for round robin bets.
Some users may find round robins hard to track compared to single bets.
If you know how robin betting work, you should have no problem in placing this type of wager and following its progress. As long as you do some prior research, find some competitive parlay odds and bet on a market you know well, you have a fair chance of making some good money.
---
Round Robin Bets Vs. Parlays
Parlays will make you more money, but you have to be prepared for the fact that it can all fall apart if one selection fails. This can especially hurt when you have parlays with lots of legs. It is a tough decision to make, whether to sacrifice your maximum winnings for some coverage.
In general, its better to maximize your profit on the bets you are more sure about. If you have a strong hunch on two to four bets, then you can hit the parlays to get the most out of your wager. Should you have only a couple of legs that you are sure about and a few others you would add in, at a risk, then its probably better to make a round robin bet. That way, if your favorite bets come through, you are not losing all your money. Should the riskier bets come through, you can take home your deserved winnings.
---
Round Robin Betting FAQs
How do you win a Round Robin bet?
To win a round robin bet, you must choose a minimum of two correct outcomes from your overall selections. These selections could be a team parlay or single Moneyline outcomes. So, if teams A and team B win in your parlay, you Round Robin bet will be successful. A Round Robin bet work well and pays out huge sums when you win.
What does round robin mean on FanDuel?
A round robin FanDuel wager is the same as on other US sportsbooks. You can bet on multiple games in the Champions League if you are a soccer fan or major domestic sports leagues like the NBA and NFL. FanDuel has numerous attractive boosts that promote bettors selecting the round robin option.
Is round robin a good bet?
Are Round Robin Bets Worth it? Round robin parlays offer a bigger top payout and a better chance to mitigate losses. But it's not always the top choice. A $100 bet on a three-team point spread parlay wager can win you roughly $600.
How do round robin payouts work?
How Does a Round Robin Bet Pay Out? A round robin bet pays out based on the total winnings of each parlay in the entire round robin wager. For example, a $15 three-team round robin bet with each team lined at -110 would pay out a total of $39.67.
What is a 3 pick round robin?
A round robin (RR) is simply a nickname for a type of parlay wagering strategy. You take a group of three or more selections and put them in combinations of individual parlays. You could enter these parlays individually, but many sportsbooks allow you to select a round-robin option and do it automatically.
How many bets is a round robin?
The 'Round Robin' bet contains 3 selections which amount to 10 individual bets within this bet type. These bets are as follows; 3 doubles, 1 treble, and 3 single-stakes-about bets (which contain 2 bets within each), all of which amount to 10 individual bets.
Are round robins better than parlays?
Lots of sports bettors prefer round robin betting to parlay wagering. This is simply because when you lose a wager in a round robin you still have a chance, whereas with a parlay if one bet loses, the entire wager is unsuccessful.