Gamble USA strives to improve your online gambling experience. We aim to help you play safely, make informed decisions when gambling, and increase your betting knowledge through our guides.
We adhere to strict editorial integrity; our content may contain links to products from our licensed & legal US partners.
Betfair Exchange disrupted the traditional sports betting/sportsbook model. The peer-to-peer betting exchange eliminated the sportsbook, providing bettors with the chance to create their bets. In a short time, Betfair became one of the best online sportsbooks available to customers.
Betfair Exchange launched in 2000 and was one of the early betting websites in the United Kingdom. Andrew Black and Edward Wray founded the company. Since its creation, Betfair Exchange has become one of the UK's leaders in online sports betting.
Customers can play casino games, slots, live casino games, bingo, and much more at Betfair. The online betting site has a traditional sportsbook along with its exchange. All major sports are available to wager on, and customers can receive cash bonuses.
All of these areas make Betfair an industry leader. The company claims to have more than 4 million customers, with around 1 million active gamblers.
Although Betfair offers a unique gambling experience, it is important to have alternative sites. This article will explore some of the Betfair alternative websites available to punters.
Why You Need Betfair Alternatives
There are a few reasons why you need Betfair alternatives. It is important to remember that online sportsbooks and exchanges differ. Traditional sportsbooks have many customers. You bet against a sportsbook and hope to beat the house.
You bet against another punter when using a betting exchange. Betting exchanges are peer-to-peer betting apps. You may not have a bettor to match your bet on Betfair. Fellow bettors may not be available, or there could be a lack of punters to match your bet.
Betfair's commission is another reason you need an alternative. The exchange takes a commission for matching you with another bettor. The commission is different from traditional online sports betting websites. Betfair will take between 5% and 7% commission for connecting customers. The commission can be a real turnoff and cut into your profits.
You may need a betting exchange alternative, depending on your country. Betfair is not available around the globe, and an alternative site is needed to wager on popular sports. The good news is that the betting industry has innovative alternatives available.
Prophet Exchange is one of the most well-known online betting exchanges available for US customers. It is the ideal alternative to Betfair.
Legal US Betting Exchange Sites Like Betfair
Bonus Bet up to $250
First legal p2p sports betting exchange
Backed by Caesars
Betfair Casino and Betfair sports betting exchange are available to customers in the United States. However, the sports betting service and online casinos are only available in New Jersey.
Customers wanting to bet on sports outside New Jersey need an alternative website. One of the most popular sports betting exchange sites in the US is Prophet. The exchange is ideal for American sports bettors. It focuses on the top US sports betting leagues, including Major League Baseball, the NFL, and NCAA college football.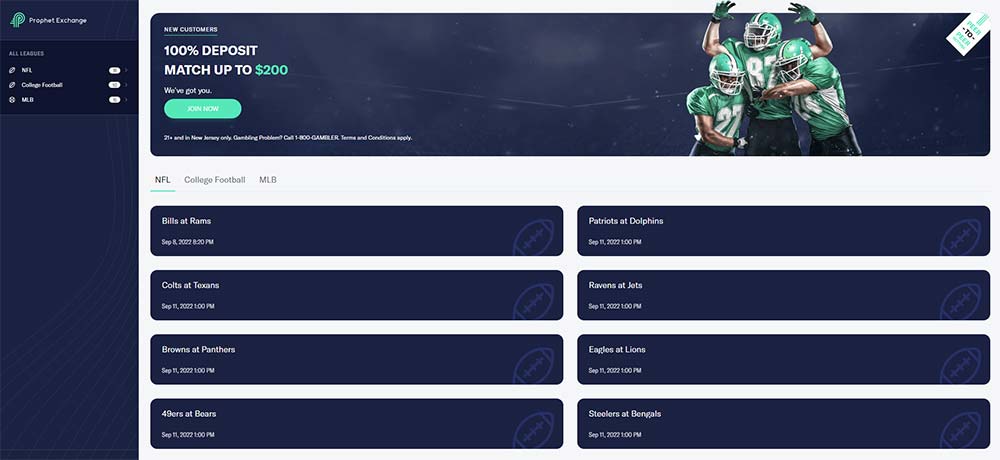 Prophet is the only legal US peer-to-peer betting exchange. While the sports covered by Prophet aren't as extensive as other sites, it offers US-based customers a fantastic service.
Prophet has several key features, including competitive odds, a betting app, and, most importantly, no commission. US customers get a bet bonus of up to $50 in free bets for referring a friend. There is also a welcome bonus. Prophet's 50% deposit bonus ensures you receive plenty of free bets. It is one of the best deposit bonuses online.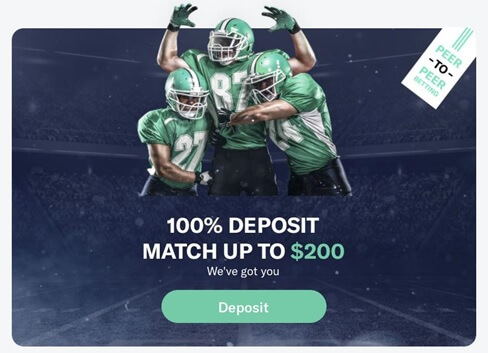 Other Alternatives to Betfair Exchange
Prophet isn't the only alternative to Betfair Exchange. However, it is the only legal sports betting exchange in the US.
Exchanges have become popular in Europe. Sports betting sites such as Smarkets, Betdaq, and Orbit operate in the United Kingdom. These exchanges offer customers a different experience from traditional bookmakers. You can generally expect the experience to be less in your face.
Orbit is actually "powered" by Betfair. The Orbit experience isn't too dissimilar from Betfair's. Smarkets is an industry leader and processes billions of dollars in trade volume yearly. The Smarkets mobile app provides odds that disrupt the market.
Betdaq is one of the largest betting exchanges. Its sports betting exchange market coverage is around 7%. The odds offered are competitive. Betdaq is renowned for its liquidity, which is critical when choosing an exchange.
However, all of these exchanges make money similarly to Betfair. They take a commission from customers for connecting bettors. The fees customers pay may differ.
Some provide live betting on European soccer and other events. Some focus on upcoming events and pre-game wagering. Customers can accept wagers from other bettors on these exchanges. Betting sites like Betfair are becoming more popular. You can see why thanks to the experience they provide.
Overview and Quick Facts About Betfair Betting Exchange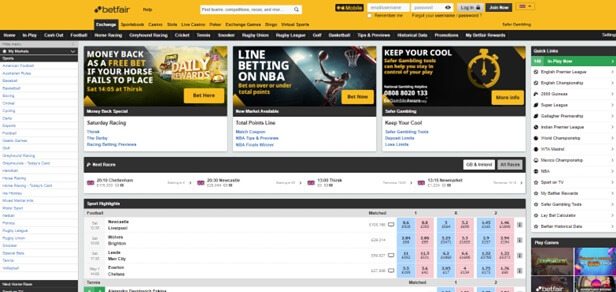 Betfair was launched in 2000 by Andrew Black and Edward Wray. The pair were avid sports bettors and used their experience to create the company. Betfair Casino was launched alongside the sports betting exchange and traditional bookmakers.
The exchange is Betfair's most popular offering. Takes away the traditional role of the sportsbook. Instead, customers have the power to set lines and make bets against other punters.
Black and Wray wanted punters to have more sports betting options. The ability to create odds and set lines gives bettors more power.
Every bet has a back and a layer. The backer believes an event will occur. For example, if the LA Lakers and Boston Celtics are playing in the NBA, the backer believes the Lakers will win the game. The layer doesn't believe the Lakers will win. The layer may believe the Celtics will be victorious, or the game will finish regulation in a tie.
Betfair Exchange provides matched betting by connecting these bettors. The two parties are then able to make a bet. The ability to connect bettors is one of the key factors in Betfair being a top online sportsbook.
What features does Betfair offer?
Customers have a lot to love about Betfair. The website and mobile apps offer some of the best odds online. There are generous welcome bonus code offers. Promos are also given out from time to time. You will need to make a qualifying bet to receive a bonus.
The amount of bonuses and offers available makes Betfair one of the best betting sites online. It isn't just one of the best betting exchanges, as there is a lot to the company.
The exchange's customer support is available 24/7 via live chat. Betfair provides timely responses to questions, and bettors can search the FAQs to get important information before contacting customer support.
The minimum deposit for Betfair is $5 to make your first bet. The betting exchange offers odds boosts on certain markets. You can choose your payment method from direct deposit to PayPal. Once you make your deposit, you can enjoy placing bets on sports at highly competitive odds.
Betfair was one of the first sportsbooks to offer the bet builder feature. This allows you to make multiple bets on a single event. The website and app offer betting tips to punters, helping them make smart wagers.
There is a dedicated mobile app available for download. Customers can explore the large selection of sports. Over 25 sports are available to wager on.
Some of the most popular sports available on Betfair include:
Soccer
Basketball
Motorsports
Darts
Handball
Volleyball
Rugby and more
Customers can watch events via live stream and use the in-play betting feature. The odds are competitive and are often more lucrative than at a traditional sports betting site. Betfair is dedicated to responsible gambling, and customers have the chance to opt out if they have played too much.
Why You Should Avoid Betfair if Based in the USA
Betfair is not available in the USA. Several American states have legalized sports betting in the USA. However, not all sportsbooks and betting exchange sites are licensed or permitted.
Prophet is the only legal betting exchange in the USA currently. The online betting platform provides customers with great options for betting on sports.

You will be blocked from accessing Betfair in the USA. You can get around this by using a VPN. However, even then, you may not be able to get your winnings.
Bettors using a VPN may be able to access Betfair and register an account. They may even be able to make a bank transfer and place bets. Betfair's Know Your Customer policy ensures customers verify their accounts.
You need a passport, driver's license, and proof of address to verify the account. Betfair will learn your location. Verifying your account may prevent you from receiving profits after placing bets. Unfortunately, this means you will have wasted your money.
There is the option to use a bet broker. These are companies that are "powered by Betfair." Essentially, these companies offer betting markets to customers to wager on Betfair. These companies are not necessarily the most reputable. Customers have lost money using these "white-label companies." It is important to gamble aware in these instances.
Bonus Bet up to $250
First legal p2p sports betting exchange
Backed by Caesars
Betfair Alternatives Summary
Making bets on a betting exchange is exciting. Creating the odds or laying a bet on an exchange is a fantastic betting experience.
There are some great alternatives to Betfair. However, the only legal option in the USA is Prophet Exchange. The online exchange provides customers with an incredible betting experience.
While the sports markets are limited to just NFL, NCAA college football, and Major League Baseball (for now), customers will be able to create their own odds and make peer-to-peer bets.
The company's liquidity is also a major selling point. New customers will receive bonuses, and the mobile version of the website allows you to bet on the go. So, what are you waiting for? Check out Prophet today as an alternative to Betfair in the USA.