Gamble USA strives to improve your online gambling experience. We aim to help you play safely, make informed decisions when gambling, and increase your betting knowledge through our guides.
We adhere to strict editorial integrity; our content may contain links to products from our licensed & legal US partners.
As online sports betting continues to expand across the United States, choosing where to bet online in the USA is challenging.
Sports wagering has snowballed since the New Jersey sports betting market launched. Although there are many sports betting sites available, not all of them can be trusted which creates problems when you are betting for real money. Betting sites like MyBookie and MyBookie sister sites have given people an option to bet on sports, although they are not entirely safe. Fortunately, there are legal US sportsbooks that provide a safe alternative, and bettors in the US have an incredible amount of choice when it comes to wagering at the best sports betting sites.
MyBookie is among a number of offshore online sports betting sites such as Bovada and BetOnline. However, as bettors become more knowledgeable, they are looking out for MyBookie alternatives and Bovada alternatives as they search for an online sports betting site that can provide them with an excellent online betting experience in addition to a safe one.

Based on extensive research and reviews carried out by our team, we have listed the best online sportsbooks like MyBookie.ag the US on this page. We believe these sites are better than MyBookie as they offer the same betting options (in most cases, more betting opportunities), but your information and money is also protected. Consequently, you can wager on events like the Super Bowl without the typical worries you would find at an offshore sportsbook. With that said, let's take a look at why it is a dangerous game to sign up and play at offshore online betting sites.
5 recommended MyBookie alternative sites & operators
if you want to wager with a licensed US sportsbook that is like MyBookie, then we can recommend these legal sportsbook operators:
The above brands are some of the best online sportsbook sites across the United States. Legal sports betting is thriving in the US, and if you are looking for a betting option that provides generous bonuses, speedy payment options and numerous sport betting markets, you won't go wrong with any of these sites.
Is MyBookie Legal?
One of the most common questions people will be asking about an online sportsbook that isn't licensed in the US is, are they safe? Many people will come across MyBookie sportsbook offering generous bonuses and free bet promotions, but asking, is MyBookie legit and safe?
Before getting into the detail of the operator's legitimacy, it is worth pointing out the US federal laws which are currently managing the online gambling activity. There are three significant laws in the United States on a federal level that addresses online sports betting in the US. The federal law which was the biggest obstacle to overcome was the Professional and Amateur Sports Protection Act from 1992. This was removed in a landmark decision by the US Supreme Court in 2018.
When this law was removed, every state was given the necessary authority to create a gambling industry on its own terms. In other words, each state was given permission to legalize online sports betting.
The law that targets sites such as MyBookie is the Unlawful Internet Gambling Enforcement Act. This specifically looks at the offshore betting industry by disrupting the finances of unregulated, non-licensed offshore operators such as MyBookie. Consequently, it is a criminal offense for banks, payment processors, and companies to process transactions of any nature to and from offshore, illegally operating sites.
It is for this reason why you should not use sites such as MyBookie Casino. Because the operator does not hold a license of any kind, it cannot guarantee its customers that their money is safe. The best online sports betting sites offer superb odds and lines but also guarantee that your money is safe and secure.
So, when somebody asks, is MyBookie a legit site? Our answer is a firm no, as US bettors can choose the best betting sites while also ensuring their money is safe.
Our top 5 Alternatives to MyBookie
So let's break down in a bit more detail the operators that you should use over MyBookie
BetMGM Sportsbook
BetMGM has emerged from the competition as one of the best places to bet on sports online in the US. The brand name has helped, with the MGM Resorts title synonymous with gambling. The company has also embarked on an aggressive marketing strategy to help establish itself at the top of the pile of US online betting site options.
There is plenty to like about the BetMGM sportsbook app and regular desktop site. BetMGM has a wide range of sports to wager on, as well as all the types of bets you could imagine. Additionally, an extensive live betting section adds a high degree of excitement to the whole online gambling experience.
New customers are entitled to a risk-free bet of up to $1,000 as part of the welcome bonus at betmgm.com. This is one of the best sports bonuses around and feels even better knowing you are fully protected unlike a reload bonus or deposit bonus at an offshore betting site. That offer, alongside the many other perks of BetMGM, certainly makes this a better sportsbook to MyBookie.
BetMGM is currently available in New Jersey (NJ), Pennsylvania (PA), Indiana (IN), Colorado (CO), Nevada (NV), West Virginia (WV), Iowa (IA), Tennessee (TN), Virginia (VA), Michigan (MI), & Washington DC (DC).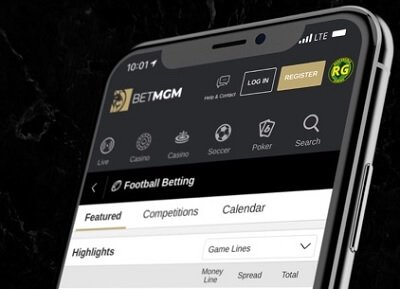 DraftKings Sportsbook
DraftKings is known globally for its daily fantasy sports contests and is one of the best football gambling sites available. DK has established itself as one of the market leaders in several states, and it appears the operator is far from finished there, as it looks to continue expanding. The list of available markets will only grow in the coming months and years, so expect to see the DraftKings name appear more frequently.
DraftKings Sportsbook is a much safer and more viable alternative to MyBookie as it is highly regarded and licensed in numerous states. The company prioritizes safety, user experience, and technology, and it shows with how it ranks compared to other online sportsbooks. Any online sports bettor will likely have come across DK before, and the brand also has a casino site where you can play your favorite casino game.
New players have the chance to experience one of the best online sportsbooks with bonus offers of up to $1,000 at sportsbook.draftkings.com. These include free bets, which all sports bettors love!
DraftKings is currently available in AZ, CO, CT, IL, IN, IA, MI, NH, NJ, NY, PA, TN, VA, WV, & WY
PointsBet
PointsBet is one of the new kids on the block, having launched in 2017 in Australia. However, the brand is quickly expanding across the US and is currently live in seven states, with more expected to launch in the coming months.
One of the standout benefits of using PointsBet compared to an offshore site such as MyBookie is its excellent sportsbook app. The mobile app is free for iOS and Android and is one of the fastest sportsbook apps in the industry today.
Additionally, one of the things that really sets PointsBet apart from the competition is the generous welcome offer of up to $2,000 available at pointsbet.com and includes PointsBetting. PointsBetting is a type of bet that is exclusive to PointsBet. It is different from traditional betting as your odds are fixed, meaning you know exactly how much money you are wagering and exactly how much you can win.
PointsBet is available in New Jersey (NJ), Indiana (IN), Iowa (IA), Colorado (CO), Illinois (IL), & Michigan (MI).
Caesars Sportsbook
If you have ever had even the slightest interest in gambling of any form, you will have heard of Caesars. The company has been linked to the bright lights of Las Vegas for a long time. However, the brand has decided to branch out and is looking to attract the attention of sports bettors. Caesars sportsbook is available both online and via app in several states, with more expected in the future.
The sportsbook itself is a dependable and solid platform, which makes it better than MyBookie instantly, as users can feel safe when they make their first deposit. It contains a host of sports betting markets and also has some of the most generous promotions available.
Emphasizing the promotions factor, new users can get started with a first bet on Caesars up to $1,250 at caesars.com/sportsbook-and-casino. In addition to competitive odds and a fantastic mobile betting platform, Caesars is one of the top sports betting sites in the country and a great alternative to MyBookie.
The Caesars sportsbook is available in AZ, CO, IA, IL, IN, LA, MI, NJ, NY, TN, VA, WV, and WY.

FanDuel Sportsbook
Alongside DraftKings, FanDuel is considered half of the 'big two' regarding online sportsbooks in the US. There are several reasons why that is the case. The online sportsbook provides a straightforward and user-friendly platform while still offering plenty to keep you busy.
That is not an easy task to accomplish, but FanDuel has done it very well. When you visit the website, you will notice there are plenty of sports to bet on including the NFL, NBA and horse racing in addition to some innovative features like same-game parlays. It is the types of bets FanDuel particularly excels in, with so many different wagering options marking it out as one of the top sports betting sites around.
Any new sportsbook customers joining up at sportsbook.fanduel.com today and receive a risk-free bet of up to $1,000. The bonus amount for players in Pennsylvania, Michigan, and West Virginia is a $2,000 bonus with a risk-free bet valued up to $1,000 for the sports betting site and $1,000 in credits at the online casino. There is no bonus code required for either offer.
The FanDuel sportsbook is available in AZ, CO, CT, IL, IN, IA, MI, NJ, NY, PA, TN, VA, & WV. FanDuel also offers a live casino in some states.
As you can see from our guide, there is now a lot of choices available to bettors who are looking for alternative sites to MyBookie and want to play at a safer, licensed US Sportsbook. When looking for a sports betting option, always ensure the site is licensed to operate.
How to choose MyBookie Alternatives
Choosing the best sports betting site that meets all of your needs should never be rushed. You may be looking for a specific betting market, a site with the most generous betting odds or a sportsbook that specializes in prop bets. When we rank sports betting sites, that are some critical factors we consider. Make sure you follow the below before you register with the online sportsbook of your choice.
Bonuses & Promotions
We all love a generous sports betting bonus. The good news is, all of the sites listed on this page reward new users by giving them some form of welcome bonus, whether that is a risk free bet or matched deposit offer. With the competition so fierce in the online gambling space, bookmakers must do all they can to try and attract new customers to their platform. This means the bettors are the winners as they can choose which offer suits them best before committing. Additionally, once you have signed up, keep an eye on the promotions tab as you will notice regular odds boosts and other promos to keep you engaged.
Banking Options
Of course, there is no better feeling when you have won your bet and it is time to withdraw your winnings. It is important you find a sportsbook that provides your preferred payment method, whether that is by PayPal or a credit/debit card. You don't want to be waiting around for a while to get your cash so you should always choose a site or app that provides a straightforward, hassle-free and quick withdrawal process. You are playing these casino games or betting on sports to earn some extra bucks, so it is essential this is an efficient experience. MyBookie is no stranger to player reports about unpaid casino winnings.
Betting Markets
We would expect any online sports wagering site to provide multiple options on big domestic sports leagues such as the NFL, NBA, MLB and NHL. But we also think there should be odds and sports that perhaps some might consider as more niche. For example, if you enjoy cycling, does that site have a market for the Tour De France? When checking out the various sportsbooks available, be sure to filter through the sports markets available on the platform. There should be plenty of international sports available in addition to domestic options.
Customer Service
If you ever run in to any issues when gambling, it is vital that your issue can be resolved quickly and efficiently. All of the operators on this page provide multiple ways you can get in touch with their respective customer service teams, such as email, telephone and live chat. The quickest way to communicate with a sportsbook is via the live chat feature, so make sure whatever sportsbook you choose provides that option. With multiple online gambling betting sites available, you should have no problem finding reliable customer support while sports betting online.