The DraftKings Casino is proving to be a popular addition to this gambling company's suite of products. It's sleek and stylish and works like a dream when called into action. Well, not quite!
For all the positive accolades we can throw the online casino app, there have been times in the past – and there will be times in the future – when your DraftKings Casino app isn't working.
It could pop up when a game is already in progress, or you may already have the app open but only the DrafKings live dealer games do not work, or any other number of problems. Here, our team reviews the different types of DraftKings Casino app error messages and what you can do to fix each one.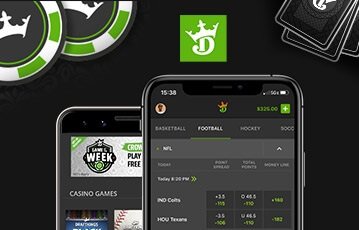 If you have been plagued by problems when playing at DraftKings casino and want to try your hand elsewhere, we can highly recommend the BetMGM Casino app. You can even try the operator today for free with a $25 no deposit bonus & a $1,000 matched bonus at casino.betmgm.com.
Promo Code: GAMBLEUSA
$25 On The House + $1,000 Matched Bonus
21+. T&C Apply
21+. T&C Apply
Promo Code: GAMBLEUSA
Awesome $25 Casino Bonus
Huge Games Library
Promo Code: GAMBLEUSA
$25 On The House + $1,000 Matched Bonus
21+. T&C Apply
21+. T&C Apply
---
How to Fix the DraftKings Casino When it's Not Working
This article covers the most common issues players have reported to use when using the app. This guide below which will resolve 9 out of 10 problems and glitches when the DraftKings Casino or the app isn't working. The fact is, the problem could be one of many things, and as a customer wanting to play your favorite slots or table games, all you can do is quickly work your way through the checks listed below until you locate the reason for the app being out of action.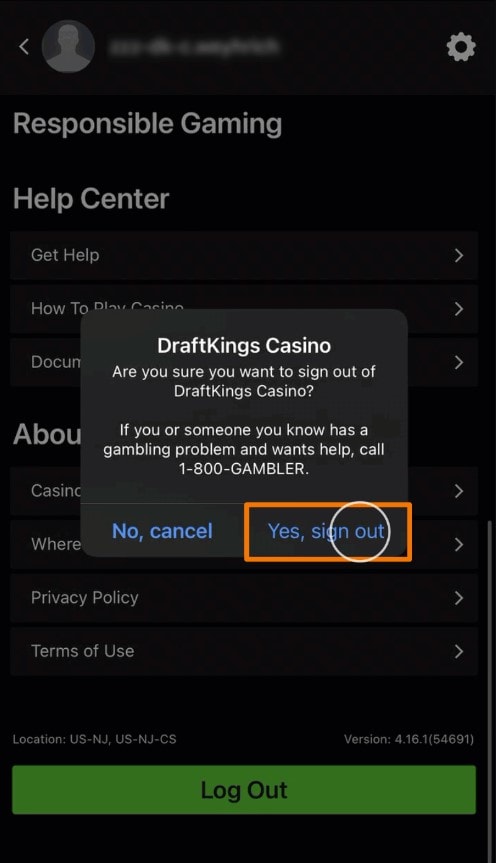 Is DraftKings Casino down?
Nothing is perfect in this world, and DraftKings Casino is no exception. It can happen that at the exact time you want to play, the entire DK Casino is suffering an outage.
Let's roll it back; you try to log in, and either the app appears to freeze, or you get a message saying that it's temporarily unable to connect to the casino. Is it your app, or is DraftKings down today?
The first thing to do is open your web browser and try to log in via the web-based casino at casino.draftkings.com. Immediately, you'll know if DraftKings is down on all fronts or if the issues may be something directly related to your app. Of course, if it is the former, there is nothing you can do other than wait or use an alternative mobile casino – we've listed a few suggestions further down this page.
Are you in a legalized state?
Online casino gambling is spreading across America, but there are still many states where this activity is not legal. In a nutshell, DraftKings Casino is licensed and regulated in a handful of US states, and you can only play real-money games if you are physically located in the state – New Jersey, for instance – where you want to bet.
You can only play at the casino in one of the DraftKings legal casino states, which are Connecticut, New Jersey, Pennsylvania, West Virginia, and Michigan. If you are outside of one of these states and want to play casino games, you can have a look at these sweepstake casinos.
The DraftKings sportsbook is available in a lot more states. Since 2018, the book is now available in these DraftKings sportsbook states: AZ, CO, CT, IL, IN, IA, KS, LA, MA, MD, MI, NH, NJ, NY, OH, PA, TN, VA, WV, and WY.

A common issue here is when you are within state lines, but the app keeps displaying a restricted location message. Typically, this is simply a problem with the location settings on your device. Have a look to see if you are allowing the app to access your present location. If not, then give it permission to do so. Also, it's worth refreshing your location settings by switching them off and on again.
If you are in one of the states where DraftKings casino is available and having trouble confirming your location, see our separate guide to fixing casino geolocation issues.
DraftKings casino not showing up
Do you have the app installed on your phone, and when you open it up, the casino does not show? This could be that you aren't in a state where the casino is not available. As we mentioned above, only a few states allow you to play on the real money casino. If you are keen to play games, a great way to get around this is to use one of the new sweepstake casinos. These use sweepstake rules to offer real money gaming in states where online casinos are not yet available. You can play all the same games, including slots, table games, and more safely, securely, and legally.
Has DraftKings updated its casino app?
The leading US mobile casinos are constantly adding new features to their apps to enhance the customer experience, which they hope will lead to you using them more frequently. In some situations, older apps will be made obsolete because the operator wants to push all customers over to the updated version. Developers knock out app updates all the time to improve stability, usability, and player experience. If you are using an older app, you may not get the same benefits as the latest release.
Normally, the DraftKings Casino iOS app will inform you if an update is available, or you can easily check in the App Store. However, for Android users, the DraftKings app isn't available in the Play Store in all states, so you don't have the same luxury (as Apple). The only option available is to uninstall the application and download the APK file again from the DraftKings casino website casino.draftkings.com and re-install it again.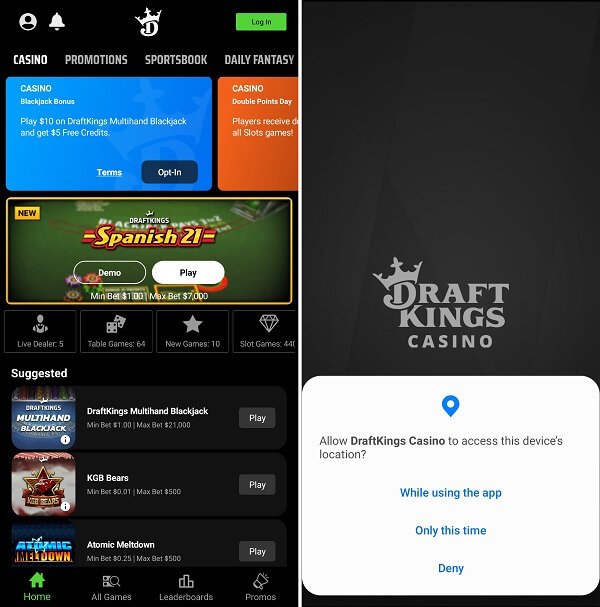 DraftKings Casino Games Not Loading
If you are a big slots fan and trying to play on some of the best slots on DraftKings casino, and they keep crashing or freezing, this is not what you want. Different game providers on the platform have struggled with games freezing and not performing the way they should. This can be very annoying if you are playing on Gonzo's Quest and the game just stops. It can happen on games including slots, table, and poker, from all developers, including SG Digital, IGT, and NetEnt.
If you are in a game and it freezes or crashes, log out of the account if you can, and then close down the app. You can then re-open the app and log in. Your place in the game may have been saved, but you may also have lost the game, and possibly funds. If this has happened, reach out to support and explain the situation.
You may get the error on DraftKings casino saying a game is already in progress which will prevent you from starting another game. The app basically thinks you are playing in a current game and won't let you start a new game. If this happens, log out of your account to end all game sessions and then log back in. This should fix the glitch and allow you to start a new game.
DraftKings Casino login issues
A problem with DraftKings login can be as simple as using an incorrect username and/or password. If you haven't used the site in a while and you're uncertain of the password, it's best to hit the 'Forgot Password' link. The reason is if you continually try to log in and keep using the wrong information, DraftKings will block the app as it may appear like someone is trying to hack their way into the account.
We have sometimes been able to log in on the mobile site at casino.draftkings.com but not on the app. No idea why this happens. Try to log in from the mobile site, set a new password, and then log in via the app.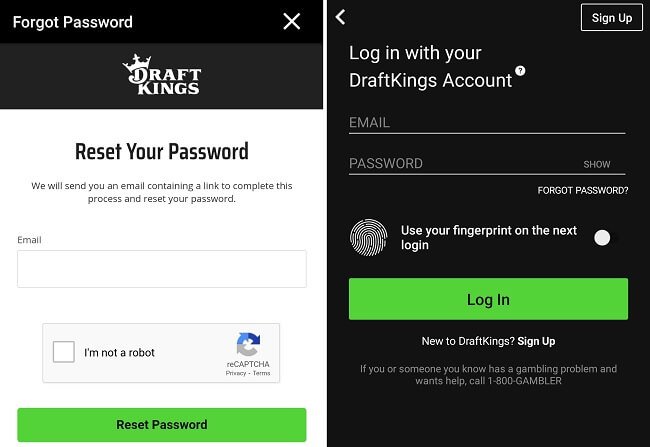 Poor/No internet connection
There are times when you think the DraftKings Casino app isn't working, but the issue is a poor internet connection. This is something that can affect people who are traveling while playing in the casino. A glance at your signal strength will tell you if you have a poor connection or no internet at all. This also applies to WiFi connections.
We have found that the internet can stall on some older devices. There's no particular reason for this – it just happens. If you're struggling with connection issues, sometimes restarting your device does the trick. It serves as a mini system reboot, and things tend to go back to normal.
DraftKings live dealer not working
The DK casino has an amazing live dealer games option. When it works. Several times we have logged in to the app, headed to the DraftKings casino live dealer games to try a hand at blackjack, and the games just won't load. A glitch just stops and of the games from opening. We have managed to log out and back in, and sometimes this has fixed the problem. On other occasions, no matter how many times you log out and back in again, the live dealer games just won't load.
There is no permanent workaround to this that we have found, and have reported the issue a few times. The casino (desktop and app) uses several game providers, and the live dealer games are done through Evolution Gaming. Now Evolution Gaming is normally very good and reliable, and we haven't had issues with them in the past. Hopefully, DK sorts this out soon.

---
Still Not Working? Other Tips, Tricks, and Advice
Having gone over the most likely reasons, you should hopefully have resolved the issue. However, here are a few extra things to take note of.
Avoid using a VPN: We all know the benefits of using a VPN as they help us view restricted websites, so there is a temptation to use a VPN and the DraftKings mobile casino. You cant use a VPN to play at a legal US casino to try and trick, spoof, or change your location. If the operator finds out you have been using a proxy or VPN, they will instantly suspend your account, which could mean having any winnings you've acquired confiscated.
DraftKings Casino down Twitter: When DraftKings is fully down – apps and websites – then the best place to go for information is Twitter or one of DK's other social media outlets. Many casino players try to contact support, but there are not enough customer service agents to deal with the flood of questions.
Dormant accounts: If you haven't used the casino in over a year, the operator has the right to close your DraftKings account. It's easy to avoid this, as you only need to log in every now and then to keep the account in an active state.
---
DraftKings Casino Bonus Code Not Working
If you are joining the casino as a new player and trying to use the DraftKings Casino Bonus Code, but it won't work, don't throw in the towel just yet. Like any code or coupon, these can be a bit tricky to use. Operators issue new codes and offers all the time, so it may be your code has expired, is invalid, or it may have even been used too many times.
The first step to claim the bonus is to clear your cookies, use a private browser or incognito window, then go to casino.draftkings.com. The great thing here is that the new $50 free play & $2,000 bonus doesn't actually require a code, so you can just sign straight up, and the free play will be in your account. Opening a DraftKings account is quick and easy to do.
You do need to be a new customer to the casino to claim the offer or use a code. If you have an account already, don't panic. There are lots of other operators offering awesome bonuses when using a casino bonus code.
---
Alternatives / Additions to the DraftKings Casino App
If the DraftKings Casino isn't working the way you need, you might start thinking about alternatives. However, why wait until the horse has bolted before closing the gate? These are some of the other top US mobile casino apps you could consider as backup (or an alternative) to DraftKings Casino.
A distinct advantage of joining another casino is that you'll be offered a wider variety of bonuses and promotions. This allows you to pick and choose the offers that are most appealing. For example, if you only play slots, then waiting for free spins no deposit bonuses is the way to go. Furthermore, you may discover that the terms and conditions are better at one casino (compared to the other), so you get more value, too.
Problems with the app aren't unique to the casino side, players also come across issues with the DraftKings sportsbook too, which equally has its own problems preventing customers from using it properly.
---
DraftKings Casino App – Technical Issues
DraftKings Casino openly states in its help pages that customers can experience technical issues from time to time, with the most common problems being:
Issues with the app's display and functionality
Problems with payments – both depositing and withdrawing
Logging in issues
Unusual and/or unexpected error messages
Broken links within the app
If you encounter any of these problems, you should contact customer support for further assistance.
---
DraftKings Casino App Troubleshoot FAQs
Why isn't the DraftKings Casino app working?
There are several reasons why your DraftKings casino app is not working, but the most common issue is connectivity. If you are playing on the casino app, then sign out of your account and then close the app. Then, you can reopen it and sign back into your account, and hopefully the app should run normally. If there is still an error, then you may have to reach out to customer support.
Why is DraftKings Casino not showing my deposit?
Deposits are usually instant, but if there are any issues then the transaction processing time will be longer. First and foremost, double check that you have the funds you want to send to your account, and make sure that you include any fees from the payment service provider. If you have enough funds, then there may be an issue with the payment service. In any case, you should inform customer support at DraftKings and the payment service provider. If the money has been sent, request proof of payment and you can submit that to DraftKings customer support.
What to do if the DraftKings app crashes when a game is already in progress?
Contact customer support immediately, as they will be able to quickly assess your situation. That is your best chance to redeem your stake if the game crashed halfway through a round or during play.
Why is the DraftKings casino not loading on browser?
This may be due to your internet connection or there may be a problem with the servers at DraftKings. Check that you have a stable internet connection, and then clear your data cache. If you are running any proxies such as a VPN or Hotspot, turn these off and then try to run the browser again.
Is my account at DraftKings casino blocked?
You will know when your account is suspended as you will receive a message saying your account is locked or on hold. If you do not receive a message like that, then your account is not blocked.