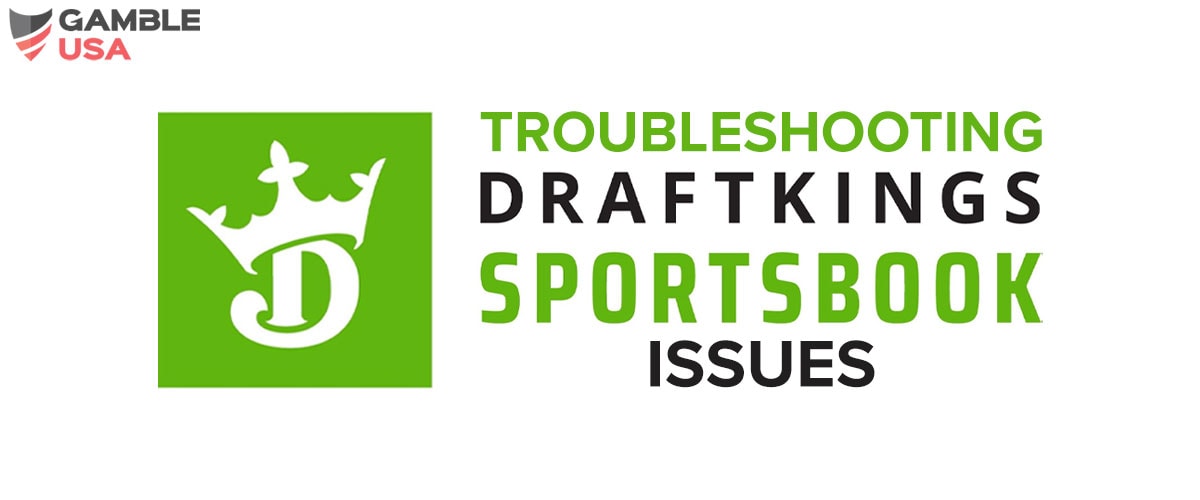 If you are having problems using your DraftKings sportsbook or the mobile app, you want to know what steps you can take to get back to being able to bet. Our guide is here to help fix any problems you may be experiencing with the online platform, or the Android & iPhone apps.
We have all been there. Wondering where your sports betting activity will lead to that day, but technical issues on the DK app get in the way. So, what could have gone wrong, and more importantly, how can you fix it so you can get back to the important stuff and lock in that bet? It could be that the DraftKings mobile app not working, DraftKings not updating, DraftKings Casino not working or just DraftKings running slow.
The DraftKings sportsbook is one of the most prominent online betting sites and sportsbook apps, but that doesn't mean you are guaranteed not to encounter any problems when you download DraftKings. This can be very tiresome and frustrating for a lot of bettors, especially if you are trying to place a bet right in the middle of the big game.
If you are having issues using your DraftKings betting app, we want to help you sort them out. We understand many people may have taken to reddit to vent their frustrations, but we are here to help.
This isn't an article suggesting we don't like using the DK sportsbook. DraftKings always has amazing promos and odds, and we love its daily fantasy sports contests and its free bet offers. Additionally, if it came down to a FanDuel vs. DraftKings battle, we would always take DK straight from the bat. But, as we said above, many bettors come across issues when placing bets on numerous apps.

However, we frequently receive feedback from people revolving around the DraftKings crashing, or they are having a similar problem with the FanDuel app not working. Additionally, as more smart devices are used, we see complaints suggesting the DraftKings not working on Apple Watch and other smartwatches. If you feel these problems are consistently hindering you, there are some alternatives to DraftKings sportsbook. We can thoroughly recommend the below two sportsbooks, and they only take a few minutes to join.
How To Fix Your DraftKings Sportsbook & App
There could be several reasons why DraftKings isn't working. Once you have searched social media asking, Is DraftKings down today? And discovered it is just not working on your device; there are numerous things to look out for. We have listed some of the best fixes below to get you back on track.
#1 – Make Sure There Is Money In Your Account
This seems like an obvious thing to state, but always ensure you actually have funds in your account. On all Android and iPhone apps, you can log in and check your balance. If there are no funds in your account to wager, you must add some via the deposit option from the cashier's tab.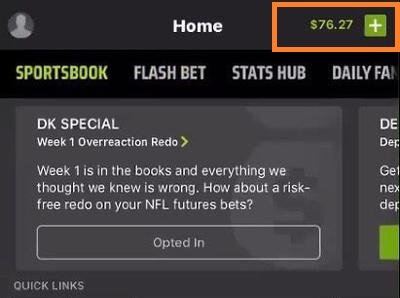 If you have recently added funds, it may take an hour or so to clear in your account. If it's been a while since you made a deposit and it's not showing then reach out to customer support.
#2 – You Must Be In A Legal State
DraftKings is now available in most legal sports betting states, but not all. There are some states that do not allow mobile betting, and customers can only wager in person at a retail sportsbook. If you are in a legal state such as New Jersey, you may have a DraftKings location error or problems with geolocation. If you come across a software error message stating 'DraftKings location not found,' check out our geolocation sportsbook guide.
Check that you have allowed the book to access your location so you don't receive this error message. You can do this by accessing the location services tab on your device.
The DraftKings sportsbook legal states include: AZ, CO, CT, IL, IN, IA, KS, LA, MD, MI, NH, OH, NJ, NY, PA, TN, VA, WV, and WY.
#3 – Make Sure You Are Using The Latest Version Of The App
Software developers are frequently tweaking apps and improving them. Getting rid of glitches and speeding the interface up. If you are running an older version of the app, you may come across issues as it may not be supported. To check you are using the latest version of the app, iPad and iPhone users can go to the iTunes app store and check for an update. Android users can check the Google Play Store for any updates or go to sportsbook.draftkings.com to check.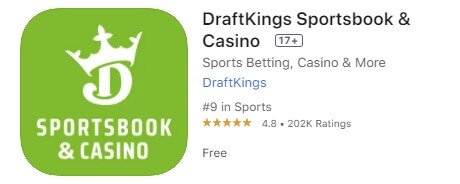 If you have found that lines and odds don't update as you expect, then you may be using an old version of the app. Updating to the latest version should fix any problems with DraftKings not updating odds and scores. We have always found DK to be slightly slower than say FanDuel sportsbook that updates more frequently.
#4 – Your Account Must Still Be Active
Before you check the DraftKings sportsbook status page and DraftKings FAQ, always check your account settings. A player experiencing account problems is standard with any sportsbook. Your account may have been closed, inactive, or you could have asked permission for it to be shut down in the past. You may need to get in touch with customer support, send over your details, including your username and password, and ask them to check if your account is still active. If you have forgotten your login details, you can request for them to be reset.
You may have had your account locked or restricted. If this is the case, there are steps you can take to see why your DraftKings account has been restricted and how to fix it.
#5 – DraftKings running slow
We don't like slow. Slow service, slow games, slow internet, and definitely not slow sportsbooks. If your DK sportsbook is running slow, it can be for several reasons. If there is a big game happening and a lot of customers are betting on the app and mobile site, the server can go under increased pressure and not be able to handle all the traffic (this happened during the Super Bowl). You can wait a few minutes to see if it speeds up, or try another app.
It may be that your internet is running slow and this can cause the app's interface to lag. Check you have good coverage and try again. Also, make sure you have updated to the latest version of the app. You can do this in iTunes, or in Google Play via the links on the mobile site on  sportsbook.draftkings.com.
If you have a few apps open, your phone's memory may be at capacity and cant process the app requests. Shut down all your apps and see if that fixes the problem.
#6 – Remove The App & Download Again
Before removing the app, you should first try and force stop the app. Do this and then try and open it again. If your iPhone is jailbroken, you may have problems downloading and running the app as it requires accurate location settings which won't always work if a device has been jailbroken.
We are sure you have heard the classic line 'have you tried switching it on and off again.' That applies here as well. Just uninstalling the sportsbook app then reinstalling it can actually fix all your issues. This process is straightforward; simply hold down the icon on the screen and press uninstall. To re-download the app, head to sportsbook.draftkings.com.
#7 – Ensure There Is Good Internet Connection
If you are not connected to the internet, online gambling isn't possible. You may encounter a connectivity issue which means the DraftKings sportsbook won't work as it can't connect to the network. You can perform a test via your browser. Can you access and load other pages? If you can load pages, then the problem is with the app. If you can't, you can attempt to connect to WiFi or check your 4G/5G signal.
#8 – DraftKings Login Problems
We have experienced issues on the site and app where you have entered your login credentials correctly, but you still cannot move past the login screen. This is hugely frustrating when you are trying to place a bet quickly, and you keep coming up against obstacles. You may notice the error message "Service unavailable; please try again later." This means there could be a problem with DraftKings servers which are preventing you from login into the app. If this is the case, there is nothing you can do apart from share your issues with them, so they are aware and wait for a response.
#9 – Are You Betting At DraftKings Using A VPN?
You are only permitted to wager at DraftKings in a state where sports betting is legal. Trying to trick the system by using a VPN to lie about your location won't work. If you get caught, your account will be suspended, and you will be banned from using the platform in the future.

#10 – Have You Tried The Mobile Site?
If the app or desktop site is persistently causing you to throw stuff around in anger, try logging in on the mobile site at sportsbook.draftkings.com. If you can log in via this method, then the issue is with the actual DraftKings app not working. Make sure your mobile device is updated and using are using the newest version of the app. Alternatively, you can try restarting your phone. These common issues occur in both the Android and iPhone versions of the DraftKings app, so they are not specific to one type of operating system.
If the mobile site is down, there could be a DraftKings outage which will make the app, mobile, and desktop site unusable until service is restored.
#11 – DraftKings app keeps crashing
We have always found DK to have one of the most stable and reliable wagering apps, but even the best sometimes break and crash. If you open the app and it keeps crashing at the login screen, 1st make sure you are using the latest version of the app. Remove the app and download the latest version of the application. Clear your phone's memory by closing all the apps and launch the app. If there is a huge game on, a lot of bettors will be using the app and this overload of people can cause it to crash for everyone.
These issues aren't unique to sports betting with the operator, there are also lots of reported problems with the DraftKings Casino app which prevents customers from being able to play in the casino as well.
DraftKings Fantasy Sports won't load
Lots of people download the Draftkings sportsbook app to enter their daily fantasy sports contests. In addition to the online sportsbook offering an excellent welcome bonus and multiple betting options, the operator initially launched as a DFS provider. Millions of people enjoy entering these contests to play against friends and family, pitting their wits and putting their sporting knowledge to the test. DFS contests are a serious business and every second counts as you finalize your roster before the action gets underway. It is even more frustrating, then, when the DFS side of the sportsbook won't load or freezes, and you miss the deadline to submit your final roster.
This could lead to you losing that particular matchup and in doing so, losing lots of potential money. Unfortunately, this happens occasionally. If you find the app freezes, quickly log out and log back in. If the issue persists, uninstall the app then reinstall. This should do the trick and hopefully you won't have missed the chance to make any late roster moves!
Look For An Alternative Sportsbook
If you have gone through all of the above steps and still can't open the app, it may be time to move on. You can try one of these fantastic DK sportsbook alternatives:
DraftKings remains one of the most prevalent online sportsbooks among US bettors. However, we hope they can provide fast solutions to the app login problems that seem to happen.
These issues don't happen with the DraftKings sports betting app, they can also happen with the DFS app too. If you are experiencing an issue with the DFS app, then you can also try the steps above too.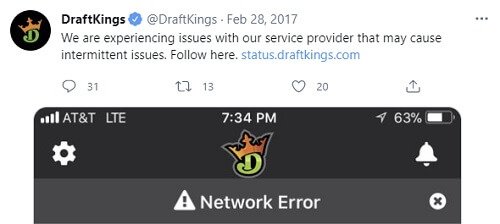 Why won't DraftKings let me bet?
If DraftKings sportsbook won't let you place a bet, this can be for any number of reasons. It may be that they cant confirm your location in a legal state, bonus abuse, your account may be restricted, suspended, or compromised. There may even be a problem with the software the operator uses, any of these reasons can stop you from placing a wager with the book.
If you are on a roll and racking up some big wins, it's not uncommon for a sportsbook to limit your account or stop you from betting on certain events or markets. Yes, this is not cool but all operators do this, not just DK.
If this happens, there is no getting around it. The only way you can overcome this is to bet with another operator. You can see all your options on our sports betting state guide page.
If you are trying to place a parlay with the book and can't then there is normally a good reason. Parlay betting with DraftKings has always been notoriously difficult, especially when it comes to player parlays. DraftKings even state on the site that they reserve the right to restrict betting on certain parlays, especially those with linked outcomes. For example, a bet on the Seattle Seahawks to win the NFC West parlayed with the Seahawks to win the NFC and progress to the Super Bowl would be deemed as too closely related for a parlay to be accepted.
If you are a fan of parlay betting, then you may want to try Caesars Sportsbook who we have always found a better option when it comes to parlays.
DraftKings Sportsbook Promo Code Not Working
DK offer one of the biggest risk free bet offers going for any new player. If you have been trying to use the latest DraftKings sportsbook promo code and can't get it to work, it could be for a number of reasons. First off, the offer is only available to new players, so if you have already created a DraftKings account, you will need to use another sportsbook. Most will offer a new player bonus, and you can claim these using one of these sportsbook promo codes.
If you are a new player and still having problems, try these steps. Make sure you clear your cookies, or use an incognito or private browser and go to sportsbook.draftkings.com. The good news here is you can actually join and claim the risk free bet without the need to enter a code. Just sign up as usual and head to your account and make a deposit.
DraftKings Cash Out problems
The latest issue with the app comes from the cash-out option, or lack of it to be more precise. A lot of players are getting in touch to say their DraftKings cash out button is frozen and greyed out so you can't actually cash out a bet. This problem seems to come on the latest update on the app. There is a way to fix it. First, try and clear your cookies and cache on the app. If this doesn't work, see if you can zoom in on the button and press it. Also as mentioned above, make sure you update to the latest version of the app.
If you want to know more about Cash-Out and how it works on DraftKings, or if there are better cash-out apps, have a read of our sportsbook cash out guide.
DraftKings bet slip won't open
There are few things less annoying in betting than trying to place a wager and the bet slip won't open. This has happened a few times when trying to place a bet with DK. You have your picks and have added them to the betslip, click on My Bets and the page won't load. Fortunately, this doesn't happen all the time. When it has happened, we have been able to log out, close down the app, then reopen it and it worked. Only on a handful of times have we not been able to open the betslip to place a bet and have had to jump over to FanDuel to place the bet.
Common Error Terms
Some common terms you may see when you having problems with the mobile app are:
Error code 0-11-0
DraftKings location error
DraftKings network error
For security purposes, you are required to turn off any applications that can tamper with your device's location
DraftKings error code 5-0-2-503
The issue may well also be an issue with the Draftkings website or app, so it is worth checking DownDetector for DraftKings, to see if other users have reported the same issues or error codes as you are having. It is also worth looking on DownDetector if you notice the DraftKings app running slow, be it the android app or the iOS app.
FAQs
Does using a VPN Work for DraftKings Sportsbook?
As we mentioned above, using a VPN to access a sportsbook is not allowed. If you are playing in a state that doesn't permit casino gambling or sports betting, and you attempt to use a VPN, you could get caught. If this happens, your account will get suspended, and you will not be able to place a bet.
I'm having problems, how do I contact customer support?
If you have looked at articles advising how to fix DraftKings sportsbook issues but would rather speak to them directly, there are numerous ways you can get in touch with the operator. You can email or access the live chat feature, which is available 24/7. This is the quickest way to resolve any issues with the Draaftkings app you may have.
Can I use DraftKings abroad?
No, you must be located in the United States and a state where the sportsbook legally operates to be able to wager on your favorite sports. If you attempt to get around this, you risk account suspension or even permanent bans.
Where is DraftKings sportsbook legal?
For the DraftKings Sportsbook app to function, you must be located in one of the following states:

Arizona

Colorado

Connecticut

Illionois

Indiana

Iowa

Kansas

Louisiana

Michigan

New Hampshire

New Jersey

New York

Oregon

Pennsylvania

Tennessee

Virginia

West Virginia

Wyoming