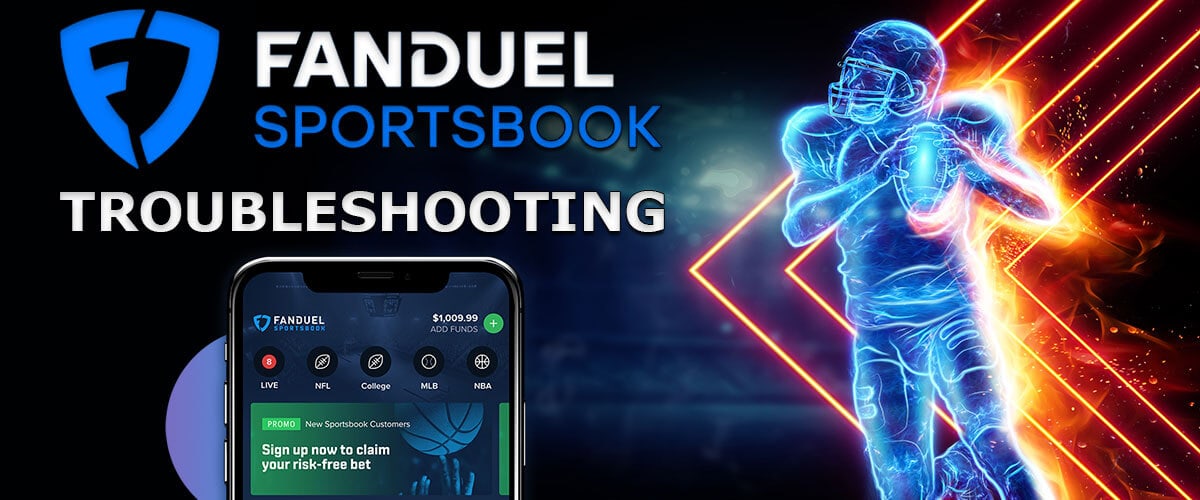 The game is about to come on, you have got a beer in your hand, and you're just about to place a wager. Then you see the Fanduel Sportsbook troubleshooting error message.
It's happened to a lot of us. So what could be wrong and more importantly, how can you fix it so you can get back to the game and get that winning bet on? It could be that FanDuel is down. It may just be an issue with your betting app.
FanDuel Sportsbook is one of the most popular US sports betting apps and online betting sites, but it is becoming increasingly problematic for a lot of bettors. This can be very frustrating and really annoying, especially if you are trying to get your bet on in a hurry.
If you are having problems using the FanDuel sportsbook website or casino app, we want to help you get back on track so you can get back to placing that wager down.
---
Top Alternative Sportsbooks To Try Out
Don't get me wrong, it's not that we don't like using the FanDuel sports betting app and exploring its range of betting markets. We do. We just get a lot of feedback from people saying they are having problems with the app. The easiest way around it is to use a better alternative sportsbook. If you keep getting the null user id FanDuel message, we can highly recommend either of these sportsbooks instead:
It only takes a few minutes to sign up at either book and download the app. You can even bag yourself a hefty new player bonus package as well, which can be used as site credit. Let's take a look at some common FanDuel sportsbook issues and what to do if you encounter any.

---
What To Do When the FanDuel sportsbook is Not Working [10 solutions]
The FanDuel Group is one of the most well-known gambling brands in the United States. Its online sportsbook attracts a large number of customers thanks to its Daily Fantasy Sports contests and a huge range of sport markets and bet types. As a FanDuel bettor, you could bet on the Super Bowl, FanDuel Fantasy, Monday Night Football, parlay an NFL week or take advantage of odds boost promos for your favorite sport. However, this isn't a FanDuel review and we are looking at what happens when you can't access all of the options we have just mentioned.
It is extremely frustrating when betting apps are not doing what they should. There could be a number of reasons why your FanDuel and their betting app isn't working.
Whether you want to bet on Monday Night Football, the Dallas Cowboys, Aaron Judge, play Daily Fantasy Sports or just bet on a regular NFL week, the site going down is annoying. Whenever an online sportsbook closes betting markets or won't accept wagers, there is nothing more frustrating for a sports bettor. It is even more frustrating when you have no idea why there are problems.
Here we have listed some of the best fixes to get you back on track. It's not just the sportsbook that throws up glitches. There are lots of reported problems with the FanDuel casino app not working properly too.
#1 – Make Sure You Are in a Legal State
Whilst FanDuel is now available in most legal sports betting states, it is not available in all. Some states do not allow online or mobile betting and only let you bet at a retail sportsbook. If you are in a FanDuel legal state, you may have geolocation or player location check problems. If this is the case, see our geolocation sportsbook guide.
Make sure you have allowed the app to access your location, so you don't see the FanDuel geocomply token error.
The states you can legally bet with FanDuel in are: AZ, CO, CT, IL, IN, IA, KS, LA, MD, MI, NH, NJ, NY, OH, PA, TN, VA, WV, and WY.
If you are looking to play on the FanDuel casino, the operator is currently available in these FanDuel casino states: Connecticut, Michigan, New Jersey, Pennsylvania, and West Virginia.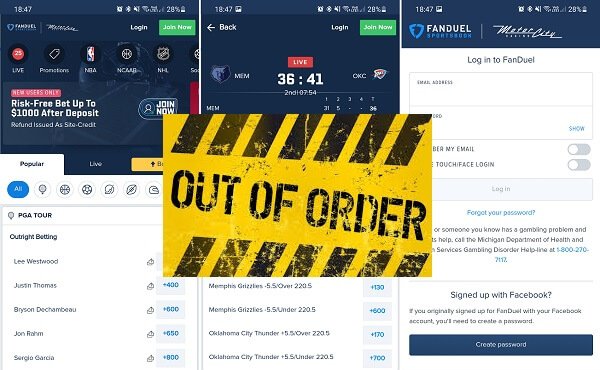 #2 – Make Sure Your Account Is Still Active
One of the main reasons you may have problems with the FanDuel not working is account issues. It may be that your FanDuel account is suspended, inactive, or has been closed. You may have asked for it to be closed in the past under self-exclusion and forgot about it. You may need to contact FanDuel support, give them your username and details and get them to check your account is still active. If you still can't log into the FanDuel sportsbook, you also need to make sure you are using the right username and password. If you can't remember your credentials, try a password reset at sportsbook.fanduel.com/sports.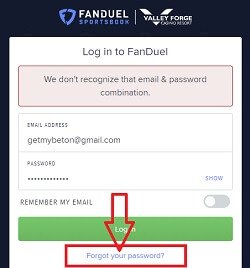 #3 – Make Sure You Have Funds in Your Account
Now, this may sound like a no-brainer, but make sure you actually have funds in your account. If you can log in, you can check your balance. Do you have funds in the account to make your wager? If not, top up your account in the deposit option from the cashier's tab.
If you have only just made a deposit at FanDuel, it can sometimes take a few hours to show, depending on your method. If after a couple of hours it is still not there, get in touch with the customer support team.
#4 – Have You Got Good Coverage on Your Device?
If your mobile is not connected to the internet, then you won't be able to place a bet. You may see a connectivity issue which means the FanDuel app won't work as it can't connect to the network. Try and search in your browser. Can you access and load other pages? If you can, then the problem is with the app. If you can't, you can try and connect to WiFi or check your 4G/5G signal.
#5 – Are You Using the Latest Version of the App?
Developers are always updating and tweaking apps and improving them. Sometimes if you are running an older version of the app, it may no longer be supported. Check you are using the latest version of the app. If you are using the FanDuel iPhone app, or iPad app, go to the iTunes app store and check for an update. FanDuel sportsbook for Android is soon to be available in Google Play Store; until then, you can check the latest version on the Android mobile site at www.sportsbook.fanduel.com.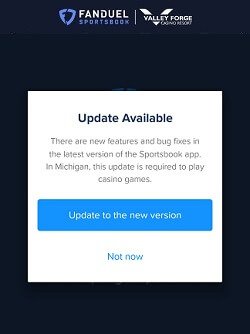 A lot of players have said that once they updated the app, they had a problem where a message saying FanDuel seamless login error or error 1085 would flash up, particularly if they had a jailbroken iPhone or iPad. This only seems to be on the latest version of the app. The only way we have gotten around this is by having to wait a while before trying to log in again. Annoying.
Older versions of the app are now throwing up a FanDuel error code 414, which effectively renders the app useless until you can update it. If this keeps happening, it may be time to have a look at another betting app.
#6 – FanDuel Login Problems
We have seen problems on the app and site where you can enter your username and password correctly, and you just can't get past the login screen. This is so annoying when you are trying to log in on FanDuel and keep getting problems. You may see the error message "Service unavailable, please try again later". This may be a problem with FanDuels servers which are preventing you from login into the app (see this reddit post and this one). If this is the case, the issue is on their end, and you will just have to wait it out until they fix it. Send them a tweet @FDSportsbook, as they may be unaware.
Alternatively, your FanDuel betting account may be suspended. This will not happen without due warning, but if it does get closed for any reason, then you must immediately get in contact with customer support and try to find out why they deactivated your account.
#7 – Can You Use the Mobile Browser Site?
So forget the app and try logging in on the mobile site at sportsbook.fanduel.com. If you can successfully log in and bet on the mobile site, the issue is with the FanDuel app not working. Make sure your phone is updated, and you are using the latest app version. You can always try restarting your phone. We have seen issues with both the Android and iPhone versions of the FanDuels sportsbook app, so these problems aren't specific to one type of operating system.
#8 – Uninstall the App and Try Again
Sometimes something as simple as installing the sportsbook app, then reinstalling it can fix all your issues. It's simple to uninstall the iPhone & Android version of the app. Just hold down the icon on the screen and press uninstall. You can then re-download the app from the mobile site at www.sportsbook.fanduel.com.
Before hitting the uninstall button, you may want to use the force stop option on the app to see if that sorts the issue.
Android devices – Settings » apps » select FanDuel sportsbook » Force Stop
iOS devices – Double press the home button » open app switcher » swipe up to quit the app
#9 – Is FanDuel Down? FanDuel Outages
This problem may not be unique to you. Several cases of the server going down and causing widespread outages for all bettors. Luckily this downtime has never lasted too long, but it can be annoying when you want to get your wager down. The operator may be having issues across all platforms and be down everywhere. This is another good reason to have a few sportsbook accounts to avoid this issue at critical moments.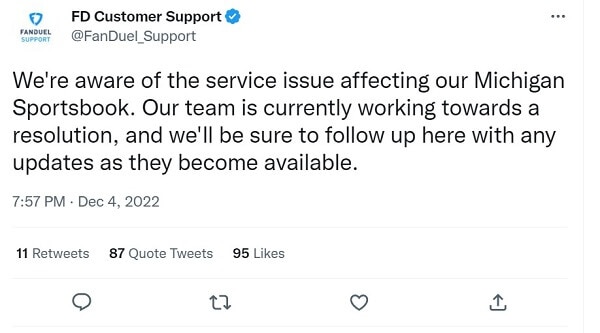 #10 – Are You Trying to Bet at FanDuel Using a VPN?
You can only wager using FanDuel in a state where sports betting is legal. Trying to bluff your location with a VPN or a proxy won't work. If you get caught, you will have your account suspended and won't be allowed to wager with the book in the future.
---
How About Using an Alternative?
If you have tried all these steps and you still can't get the FanDuel sportsbook to work, then you may have to consider an alternative sportsbook. This is not saying that the problem will not be fixed, but there may be a game coming up and you have no way of fixing the problem at FanDuel. A lot of bettors have betting accounts at multiple sportsbooks for this very reason. It can also be useful for picking up enhanced odds and other types of promotions. While you will have plenty of great bonuses at FanDuel, it could be worth taking a look at what is on offer at some of these FanDuel sportsbook alternatives:
FanDuel will continue to be a sportsbook that we use, and it will always be one of the most popular books for US bettors. But, we sure hope they can fix the log-in problems that seem to happen. The FanDuel sportsbook not working does no favors to the company or the customer, so let's hope things get back on track soon.
---
Other FanDuel Sportsbook Technical Issues [8 Issues]
Maybe you can enter the FanDuel Sportsbook but are facing some other difficulties. Generally, the FanDuel site and app run smoothly, and you should have no problems making bets, picking up promotions and cashing out your winnings. However, we have also seen various technical issues that can really spoil the betting experience at FanDuel Sportsbook. Hopefully, you have never encountered any of the following, but if you have, then read on to find out how to fix the issue.
#1 – FanDuel Won't Let Me Bet
We will be real with you here, sportsbooks can and do limit successful bettors. If you are on a winning streak and keep winning, you may find your account restricted, and you can't bet with FanDuel. Now, if the app or site won't let you place a bet, this can be for any of the reasons listed above, it could also be that your account has been suspended or restricted, or it may have been accessed by someone else. if you have been found to be abusing a bonus, this can also stop you from betting.
If your account is restricted because you are winning too much, there is no way to get around this other than to use an alternative sportsbook to FanDuel. You can contact customer support who can check your account status if you believe there shouldn't be an issue with your account.
One of the main issues we get when trying to place a wager with them is FanDuel not updating scores or odds. It is like there is a lag on anything being updated, causing a delay in us being able to place a bet. Most of the time, this is a network issue, and things do update eventually. This can be a real issue when trying to wager in-game, and we have often had to use an alternative operator to place our bet.
#2 – The FanDuel Sportsbook App Keeps Crashing
If you can open the app and on the login screen it crashes, you will want to launch your phone. Developers are always updating and improving apps. If you are using an older build of the app, this may have been updated just for this crashing problem. Make sure you have the latest version installed. Restart your device and try and open it again. Sometimes a connection issue can stop your cell from talking to the server, and this can cause the app to lag and then crash.
Only on a handful of occasions the sportsbook has done this to us, and this was when an update was due on the app. We updated the app, restarted our phone, and managed to log in without a problem.
#3 – FanDuel You Are Not Registered in This Context
One of the most common problems affecting the sportsbook (online and app) is the "you are not registered in this context" message. It can happen to new accounts but also seasoned FanDuel customers. We have contacted support for guidance on this, but so far, they have all come up short. The problem seems to be a geolocation error that they are aware of but can't pinpoint the problem and it seems to be affecting a lot of players.
As annoying as it is, the only option we found to get the bet down was to switch to another book while the issue gets sorted. We never had this problem with BetMGM or Caesars sportsbook app.
#4 – FanDuel Not Sending Verification Code
If you are trying to sign up to FanDuel and keep requesting the verification code and it's not being received, you may feel like hitting your head against a wall. This seems to be happening more often, and you wonder if there is even a problem with your cell or mobile. Relax, it's normal. We have friends who have had the same issue, and it's a problem on FanDuel's end, not yours. For whatever reason, the system just won't send the text.
Is there a fix? Not that we know of, but we have told FanDuel about this, and it's reportedly being investigated. So what can you do? Not a lot other than use another operator till it's fixed. Try BetMGM sports app or the Caesars Sportsbook app if you're in a rush to get your bet down.
#5 – FanDuel Sportsbook Promo Code Not Working
The FanDuel sportsbook promo code is one of the most generous betting promo codes available. Over the years, there has been a ton of codes sent to players and found on websites. Some of these may have expired or been removed as the offers change. If you can't get the FanDuel bonus code to work, try these steps below. You can only use the code once, so if you already have an account and are trying to open a 2nd account, this isn't allowed.
To use the FanDuel promo code, we always suggest clearing any cookies you may have in your browser or using an incognito tab or private tab. Go to fanduel.com/sportsbook and create an account. The new promo from the sportsbook doesn't actually require a code to be used, so just log in, head to the my account area and make a deposit and the book will match it.
Additionally FanDuel run regular promos such as no sweat first bet for NFL games and also offers targeted at major events such as the Super Bowl. Once again, there is no FanDuel promo code required for these offers, just keep an eye on the promotions tab.
#6 – FanDuel Mobile App Running Slow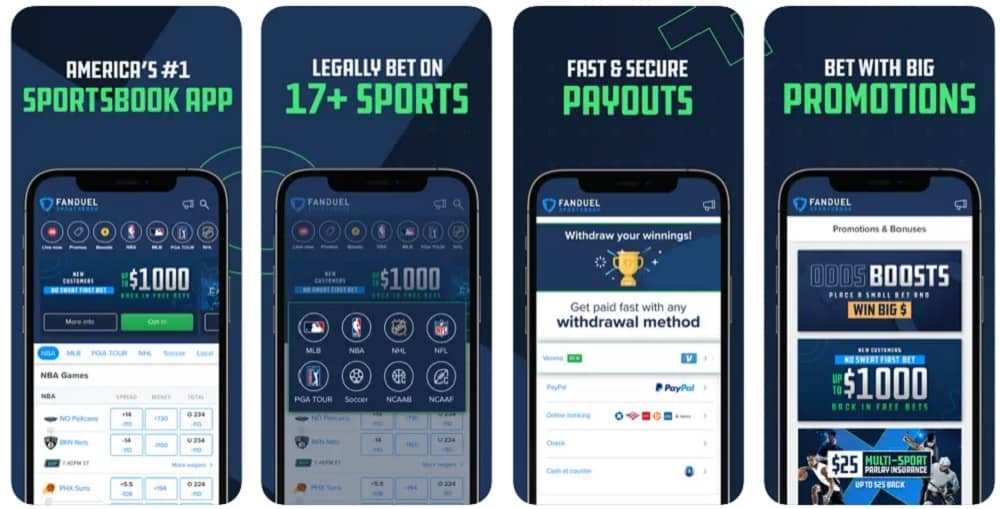 Occasionally we have been using the app fine without a glitch, it just runs at the speed of Isaiah Thompson. Obviously, this is no good. The FD app running slow on Android or iPhone can mean you miss placing that bet in time. The first thing to check is that you have downloaded and are using the most recent version of the app. Go to the Google Play app store or iTunes and check for updates. You may need to uninstall the old app, download the new one and log in again.
Your mobile may also have memory issues. If you have FanDuel, Instagram, Safari, Weather app, live scores, and 4 or 5 other apps running in the background, your phone may not be able to process all the requests. Close down all the apps and clear the memory. You also need to make sure you have a good signal. We have found FanDuel runs best with zero other apps open and having 3 or 4 bars of coverage.
#7 – FanDuel Active Bets Not Showing
One of the most frustrating aspects of betting online is when something goes wrong on your management tools tab. Most online sportsbooks have options such as settled bets or active bets, so you can keep track of your progress and manage your bankroll. It is always helpful to look back at previous wagers and see where you have won or what type of bets you have made losses on, as this can influence how you bet moving forward.
Another useful tool is being able to track active bets. For example, if you place a 6 leg parlay, it is important to know how it is progressing as you many want to cash out or let it ride. However, from time to time, you may notice the your active bets tab on FanDuel isn't working.
When this happens it is usually because there is a technical fault with the betting site. If you log in and can't see any active bets, the first thing we suggest you do is contact the FanDuel customer support team. They may suggest logging out and logging back in or even uninstalling the app and then re-installing if you are using the app to bet.
Another reason why active bets are not showing is that your account could be suspended. You may not have been notified of this beforehand but the operator may have placed restrictions on your account. Typically, if your account has been suspended you will know when you attempt to log in, but sometimes you can access your account before you notice the restrictions. Once again, if this happens, get in touch with customer support and they will be able to assist you.
#8 – Eligibility Issues FanDuel
Users may occasionally be greeted with an eligibility error message when trying to log in to their FanDuel account. It will state that your address has not been verified. This seems to be particularly common for FanDuel New York customers who are playing in New York state. Any New FanDuel account member must accurately enter their address when signing up, so the operator can verify your details. As FanDuel has not been live in New York for too long, it may sometimes think New York players are still gambling in a restricted state.
To get this issue resolved, contact FanDuel customer support, and they will pass your details to the account team. As long as you aren't playing in a restricted state, everything should be back up and running quickly. We have received reports of this getting solved within a few hours once you have contacted the support team.
If you have tried this (or are sick of seeing the problem), then DraftKings and Caesars are great alternatives.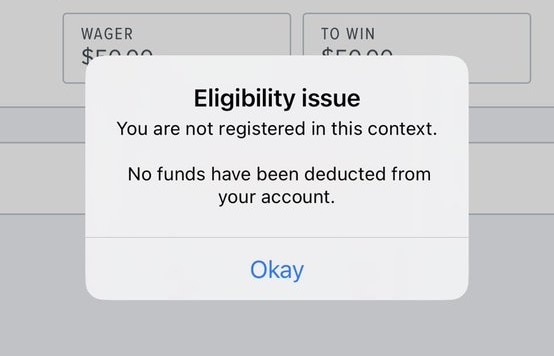 ---
Common FanDuel Error Terms
If you are an avid sports bettor, you will likely recognize some common terms if things aren't working correctly. If you keep getting the FanDuel error processing your request message, it means there is a problem with the FanDuel server. This is very common and not account-specific. Luckily when we have seen this message, we tried again in a few minutes, and it's been fine. Other times we have had to give up and switch to another sportsbook app so we didn't miss getting the bet down.
Another growing issue we get is the code FanDuel price is not valid, and Bet Rejected. At first, we weren't sure about this, but after some investigation, it turns out to be a delay in the odds updating leading to the problem. If we have been sitting on a bet or betslip for a while and come to place the bet and the price has changed, either up or down, you will see the Bet Rejected – Price Not Valid message. If you keep getting this error, do yourself a favor and swap to BetMGM Sportsbook or DraftKings Sportsbook.
Even once you have accepted the new odds and press accept, you still can't get your wager down. Annoying, isn't it? For whatever reason, we can't place the bet, and we are yet to find a way around this. Even logging out and back in again doesn't work, as it's a glitch on the platform that seems to happen on specific markets and bets. We have funds in the account, a good connection, and can place bets on other markets.
We contacted customer support and were told it was a technical error stopping the bet from being placed. It seems it is quite common if you are on a winning streak of delaying live bets.
As a bettor, ideally you should spend less time worrying about FanDuel Sportsbook troubleshooting and more time reading up on how to hone your betting skills and make more money from your predictions. Once you have solved the issue, or if you choose to head on over to another top betting site and bet there, you can spend more time on learning about new and interesting betting strategies. Be sure to check out some of our other betting guides to pick up a few new tricks.
If you have any questions or feel we have missed any pointers, then feel free to hit us up on Twitter @Gamble_USA.
---
FAQs
Why is my bet black on FanDuel Sportsbook?
Sometimes you may notice your bet becomes greyed out or black. This is likely because the game you bet on went into overtime and didn't end in regulation.
Why are my FanDuel active bets not showing?
This is a technical issue regarding the FanDuel site; you can attempt to run through our troubleshooting guide, but if you head to your account tab and check through the transaction history, you should see the bet IDs of your currently active bets listed there.
How to fix FanDuel Sportsbook Error Code 414?
To resolve this particular 414 error code, you need to accept the latest updated terms and conditions.

Until this has been done you will not be able to use the FanDuel Sportsbook.
Fanduel Sportsbook is giving me a status code 502 error
This error code typically signals errors on FanDuel's side, but you may still succeed by attempting to log in multiple times. If this fails, it's a case of waiting for them to fix the issue or using an alternative Sportsbook.
I forgot my FanDuel promo code, what should I do?
If you have forgotten your promo code or did not enter it but want to redeem it now, then contact customer support. Ideally, you need to do this within 48 hours of making your first deposit, which you wanted to redeem the promo with, and you should explain what promotion you want to use. The support team should be able to manually apply the promo code and then you will receive your bonus. If you do not reach out or leave it too long, there is a chance that you may lose your chance to redeem that promotion.