Parx casino was one of the first casinos to launch an online casino and app in Pennsylvania. When it first went live, we loved playing on the mobile app.
However, over the years, the app seems to have got worse and we have run into increasing problems with the Parx casino app not working the way it should. And normally when we are in the middle of a game.
The problems with the app have ranged from us not being able to log in, to the games not loading to us not being able to make a deposit. Some of these problems are impossible to cure, other times we have been able to kick start the Parx casino PA app and get it to work.
So what can you do if you find the Parx mobile casino and the desktop site doesn't work? Well, you can try these tips and tricks below to get the app working again. The casino has some really good games and a pretty decent sports betting app, but what's the point in playing and betting there if it doesn't work most of the time? If you have decided enough is enough with the problems, you can try BetMGM online casino with $25 free, or if you are a sports betting fan, DraftKings, or FanDuel are great alternatives. The Parx promo code is also not a match to the above apps.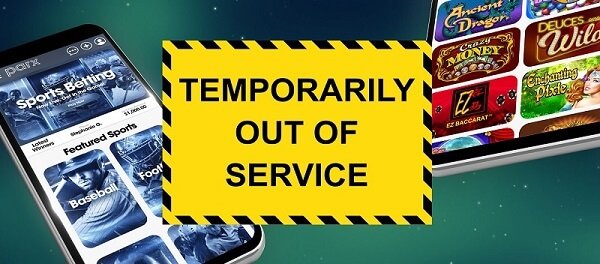 Troubleshooting the Parx Online Casino & app
Normally when things go wrong online there is a simple and easy fix. Glitches happen all the time on websites and apps (how many times does Twitter & Facebook go down…..). Sometimes these things are out of your control, other times there are steps you can take when your Parx casino app isn't working.
Location, location, location
Parx online casino is not available in every US state. Whilst legal sports betting is rolling out to most states, online casino gaming is not as widely available. In order to be able to play real money games with Parx Casino, you need to be in one of the states where the operator is licensed online. Currently, these are New Jersey, Pennsylvania, and soon-to-be Michigan.
If you are in one of these states and having trouble confirming your location, then you have geolocation problems with the online casino. If you are close to a state border, near a body of water, have a faulty GPS receiver, or poor WiFi or cell signal, this can all lead to problems confirming your location. There is no way to spoof or change your location so you can play at Parx in another state.
Geolocation and player location checks are a legal requirement at any online casino or sportsbook. Proving you are physically in a state is done this way and there is no way to trick it. Unfortunately for players, Parx Casino geolocation is one of the most unreliable and problematic we have come across and has stopped us from playing on many occasions. We have always found Borgata online casino and BetMGM Sports app to be far more reliable and caused far fewer headaches.
Parx games not loading
Games freezing or not loading has always been a problem with Parx online. This has been the case on the mobile app and desktop browser games. You can be playing roulette, or Parx Casino slots games, and the game just stops. Nothing. Nada. Zilch. The game just freezes and you have to force stop the app. If this happens and you can log out, do so to end the current game session. If you can't navigate, then the only option is to close the app, re-open it and try again. Yes, it's annoying.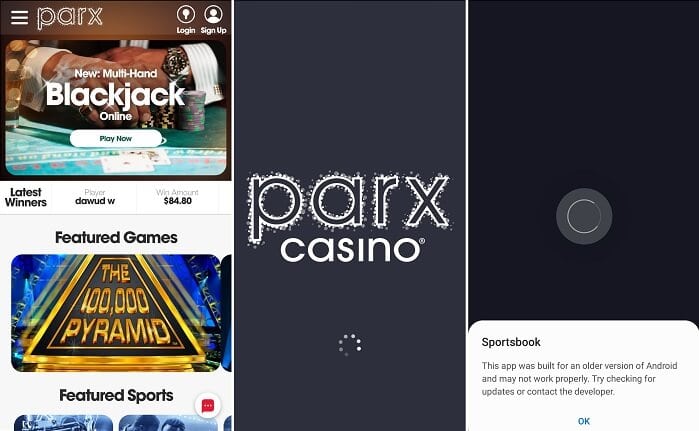 Downloading the Parx casino app
In order to play at Parx casino, or wager on the sportsbook, you need to do this on the app, you can't do it on the mobile site from your cell. You can download the app from parxcasino.com/apps for both the iPhone and Android.
If you are having problems with the Parx casino or sportsbook app, the first thing you should do is make sure you are using the latest version of the app. Uninstall the old app, then go to the mobile site, select your operating system, and press download.
Older versions of the Parx mobile app froze regularly, crashed often, timed out, and wouldn't even open. We could look past this sometimes as the exclusive games were good and there wasn't a huge choice when it came to real money PA mobile casinos. Since then, a few more operators have come to the fold and have produced better, faster, and more reliable apps so it's not that often we play at Parx now.
Parx Casino app won't update
We always suggest as a best practice to update any app, not just casino and sportsbook apps. If there is an update available to the app then you should accept it and carry out the update. But what do you do if the app just won't update? Make sure there is enough memory available on your mobile (you may need to uninstall some apps if you are short on space), then uninstall the current app. Head to the Parx site and download the latest version. On Android, this will mean downloading the new Parx Casino APK and using the package installer. iOS users (iPhone & iPad) can get the latest version of the app from iTunes.
Can't log in to Parx online account
We have come across a problem where we can open the app, but cant actually log in. You can click login but cant add your username or password. Fortunately, this is was a major issue on older versions of the app but the never-released update seems to have cured this. If you can't log in, make sure you have the newest version of the app and try again. If you are still having problems, try a password reset. It may be something as trivial as you adding in the password wrong.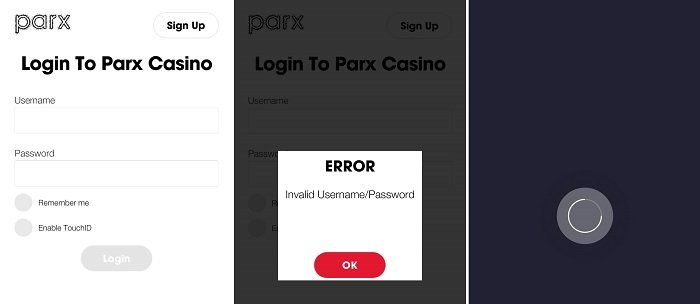 Is your account funded?
Before you can bet or play any games, you need to have cash in your account. You may have won and withdrawn and forgot about the withdrawal and trying to play without a balance. Sign in to your account and view your balance. If you feel you should have funds in there, reach out to support who can look into the issue.
Is your Wifi or Cell signal working?
Playing any of the games or having a wager on the weekend's football requires your cell to send and receive data to Parx. If you have a poor signal or connection then you can't do this. Try and browse the internet or use another app like Twitter to make sure your cell signal is sufficient. If you are reading this we presume you have internet access so this is probably not the main reason your Parx mobile app won't work or load.
Is Parx Casino & Sportsbook down
No matter how big a company is, how much they spend on technology, servers, and infrastructure, things always go wrong. Facebook, Netflix, Twitter, Apple, they all go down and it can happen to Parx as well. If there is an issue at server level, the whole of Parx online could be down. This can stop you from playing or betting, or even just browsing games and markets.
If this happens, you can wait it out until service is resumed, or jump to another operator. For this reason alone, we like to use a few casino apps and sportsbook apps, so if one is down and we need to get a bet on, there is always a backup.
If you try all these methods to fix the Parx casino app and it's still not working, maybe it's time to look for an alternative? Why not give BetMGM Casino or Hollywood Online Casino a go, we are sure you won't be disappointed.
Parx Casino running slow
Be it a Saturday evening during the wind-down, or Sunday during the big game, online sportsbooks and casinos get busy. As more players are now heading online to play real cash games or have a bet, servers get clogged up and can run ridiculously slow. During the Super Bowl, several operators went at a snail's pace and some even crashed due to the number of people using the app and website. Parx is notoriously slow during busy periods and seriously needs to up their game in this respect.

If Parx casino online or the app is running slow, make sure you have a good internet connection first. Then try to log out of the app and close it down. Open the app, sign in, and hopefully, this should cure the problem. Often when apps run slow, they normally get back up to speed within a few minutes.
Alternatives to Parx Online sportsbook & Casino
Sometimes, no matter what you do, the app and site just won't work. All you want to do is play blackjack, spin some reels or have a game of roulette. We loved Parx when it first hit the scene in 2019 but since then, it hasn't really improved a lot. Sure the games are good but there are better elsewhere, and better bonuses, and existing player promos.
If you have had enough of playing at Parx, we have found the BetMGM casino app far less problematic and has much better games and interface. You can even try it out with a $25 completely free play at casino.betmgm.com.
Other alternative online casinos for NJ & PA you may want to consider instead of Parx
We hope this guide has helped you fix the problems with the Parx app, but if you have exhausted all options, there is now some real healthy competition to the operator available.