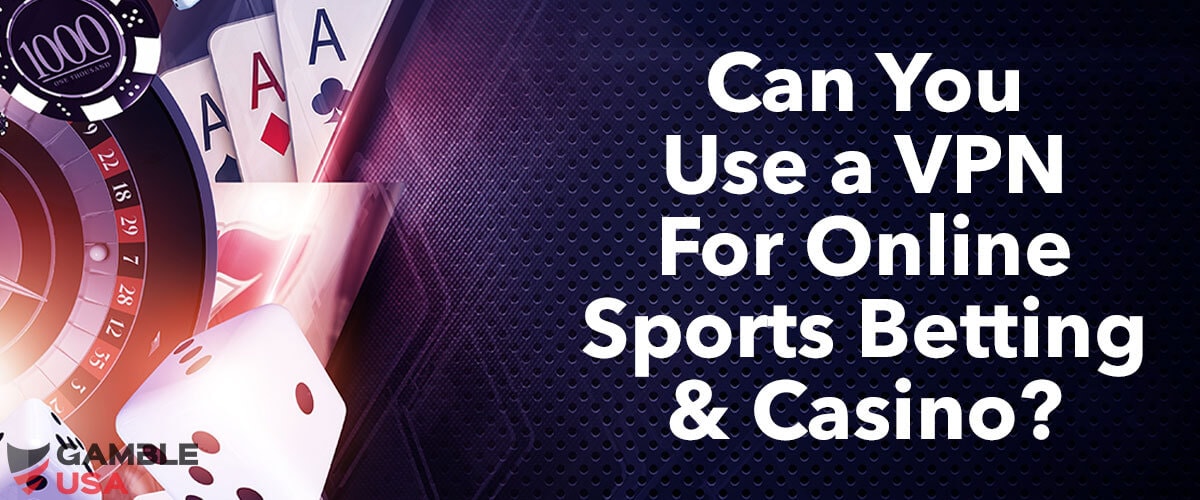 More states across the US are now legalizing sports betting and online casino gaming; however, there are still many states where online gambling is not allowed.  One question that pops up a lot is what is the best VPN for sports betting? The answer is quite complicated.
As you probably know, sports betting is not legal in all US states, and while many are legalizing betting apps, a lot of states are still lagging behind. If you are in a state where online & mobile sports betting or online casinos are not allowed, you may feel a tad frustrated that many fellow gamblers in other states can bet.
But is there a way to get around this and use a VPN for sports betting? Can you use an internet proxy service to spoof your location? Will a VPN work with a legal sportsbook? Can you still claim deposit promos and bonuses still in other states? Can I use a VPN to gamble online? These are all questions keen gamblers regularly ask.
We just want to throw this out there from the bat, any operator you find on our Gamble USA site is fully licensed and legal to operate in the US. We do not work with, nor advise you to play at any offshore sportsbooks or casinos. All online gambling sites must be licensed. You can play or wager at any of these casino sites or sportsbooks safely, securely, and legally. With many states now legalizing sports betting, you no longer have to wager at dubious offshore sites like Bovada.
See which legal sportsbooks are available in your state: AZ | CO | CT | DE | IA | IL | IN | KS | LA | MA | MI | MS | NH | NJ | NV | NY | TN | PA | VA | WV | WY
---
Using a VPN to Bet on Sports in the US
Sports betting and casino gambling is a very popular pastime. You only have to look at how popular destinations like Las Vegas and Atlantic City are. Drawing in millions of visitors every year, not just from the US, but from all over the globe. We love the action, the thrill, the atmosphere, the lights, and of course, the gambling. Over recent years, gambling sites have increased in popularity.
Technology now allows us to be in more places than ever before. We can email, chat on FaceTime, make WhatsApp video calls, explore new places using Google Earth, and use a VPN to change our internet location. But can you use a VPN to sports bet at a legal US sportsbook, or play in one of the licensed US online casinos?
Using a VPN for sports betting has been seen as a way to access online sports betting in a state that doesn't allow any gambling site to operate. This has led to many bettors looking for the best VPN or a free VPN as they look to access a sports betting website to wager on the Super Bowl or the World Cup. While fantasy sport wagers are permitted in many states, betting real money on sporting events is still banned in numerous locations.
In 2018, the repeal of PASPA meant that states were able to decide if they want to allow sports betting in the state. Many states including New Jersey, Pennsylvania, and Indiana jumped on the chance to legalize sports betting. A lot of Americans were betting anyway with offshore sportsbooks and the states were losing a lot of tax revenue abroad to places like Curacao.
---
Concerns About Sports Betting with VPN
So what happens if you aren't in a legal state that allows sports betting and want to wager? Can you use a VPN or private internet access to spoof or fake your location and wager in one of the licensed sportsbooks? In short, no. There are lots of VPNs available in the market and they all do a very good of placing you in another location. You can be in Maryland for example and try to bet at DraftKings sportsbook, which is available in a neighboring state, New Jersey. You can use a VPN to place you in NJ, you may even be able to access the DraftKings site and even sign up, but when you come to actually place a wager, it is blocked.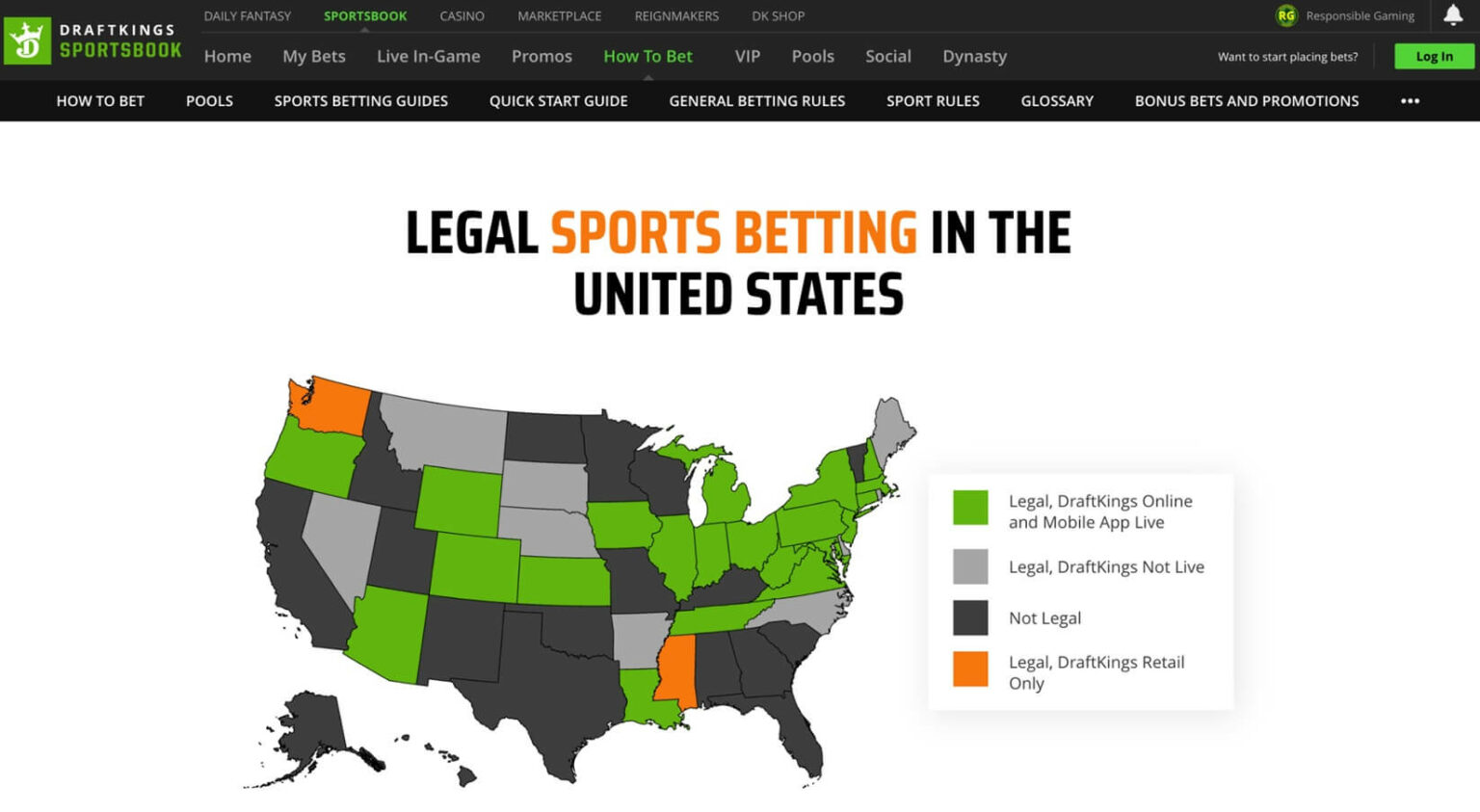 It doesn't matter if you have a Cyberghost VPN, Express VPN, Atlas VPN, Surfshark VPN, or any VPN provider. A licensed gambling website is well aware that some people will attempt to access their features via a VPN server. Consequently, a top sports betting site will have measures in place to limit the chances of anyone securing a VPN connection to their platform.
Operators have security and technology in place that can detect the use of a VPN or a proxy and will block you from placing a bet, or playing games in the online casino, or playing poker. You may even find there are some licensed operators that you can use a VPN with to place your wager with, but, if this does happen and you are caught, your account will be suspended and closed. You can even lose your money if you win and try to withdraw your funds.
Using a VPN in itself is legal and they are very good as they can also protect your data. A virtual private network (VPN) protects your data by creating an encrypted tunnel for the data you send when growing online. They are excellent to protect your online identity, and they do this by hiding your IP address from potential attackers. But they can't be used at a licensed US sportsbook.
Regulated sportsbooks in the US are bound by state laws to only accept wagers or players that are physically located in the state. As part of the agreements operators sign, they agree to not allow players from out of state to play, even those that use a VPN to appear in the state. If a licensed operator like BetMGM, DraftKings, or FanDuel was ever found to be accepting players and bets using a VPN, they would have their license revoked.
Sites like bet365, Borgata casino, FanDuel, and WynnBET all use an advanced and complex system of triangulation to stop players trying to use a VPN. They use a combination of IP addresses, along with geolocation and other data, to work out exactly where you are located. As much as a VPN will try to spoof this, the operator will know. This is intended to stop anyone out of New Jersey, or any other state not offering legal sports wagering from online gambling in the state.
There have been many discussions on forums, reddit, and other such social sites with players trying to seek a way to use a VPN to wager on an out-of-state sportsbook and they have all come to the same conclusion that it's an impossible task. It really isn't worth licensed operators taking this risk and that is why they have such strong, advanced technology in place to stop VPNs or a proxy from accessing the service.
Sports betting VPN use may be ok in other parts of the globe, but in the US, operators do not allow using it because of the strong gambling laws in the different states.
If you are in a state where sports betting is yet to be legalized, then you should consider using PrizePicks as a great alternative. The operator is the closest thing you can get to sports betting and is available in 30 states as well as Washington, D.C.
Promo Code: GAMBLEUSA
$100 Instant Bonus 100% Match Rate
21+. T&C Apply
18+. T&C Apply
Less competition than on FanDuel & DraftKings
Best alternative to real money sports betting
Promo Code: GAMBLEUSA
$100 Instant Bonus 100% Match Rate
21+. T&C Apply
18+. T&C Apply
---
VPN & Sportsbook problems
If you have a proxy or Virtual Private Network (VPN) running on your mobile device or your computer, you will not be able to place a bet. You will need to shut the programs down and make sure they are not running on your device. There is no way to correctly disguise the server location.
Anyone frantically searching for a VPN for New Jersey will be able to find lots of providers who can offer an NJ VPN and NJ IP address, but come to place a bet and it just won't happen. If you are wondering how you can bypass FanDuel location, you won't find any suitable fixes. There is no way to "unblock a sportsbook" using a proxy, tor, or a VPN.
---
Mobile VPN apps & services
When you use a mobile device to place a bet, operators use geolcation technology to confirm your location. Using a VPN app on your mobile to change your location won't work when it comes to geolocation either. Operators will still be able to tell and block access to the site or app. It does not matter if you use free VPNs or paid ones. Even if you are using any of the top VPNs such as:
NordVPN
Surfshark
ExpressVPN
CyberGhost
IPVanish
If the sportsbook or casino that you are registered at detects any kind of suspicious activity, it is fully within its rights to close your account and confiscate any funds you may have on it. This is because with licensed casinos and sportsbook, using a VPN for betting or gaming in a state where you are not based is a direct breach of the terms and conditions.
---
How to Gamble Online in the US
It is legal to bet online in the US, you do however need to be in a state where online gambling is legal. As not all 50 states have legalized sports betting yet, you physically need to be in a state where it is legal. To place a bet online, just make sure you are located in one of the legal states, and sign up to a sportsbook. You can do this online, or from your mobile. You can see which operators are available in your state on the links below. You do not need to be a resident in the state, just be aged 21 and above, and be present in the state.
When signing up to an operator, you will need to provide your name, address, cell number, DOB, email, and the last 4 digits of your SSN. You may be required to send in documents to confirm your ID and approve your account.
---
Benefits of Gambling in a Licensed State
There are multiple benefits from gambling in a licensed state, with the most obvious one being safety. For example, if you are of legal age and live in New York, you can sign up for an account on the many online sportsbooks available in the Big Apple and you will be protected while betting real money. Every online sports betting site must adhere to the rules and regulations laid out by the state's gaming authority. This helps to prevent fraud and ensures fair play, meaning you can gamble knowing your personal details will not be passed on to a third party.
You also won't need a VPN to do this. The registration process will be seamless and once your account has been verified you will be up and running within minutes. Each licensed online gambling site will offer some form of welcome bonus, whether it be bonus cash or deposit bonus. You can use any of these promos to extend your funds and bet on your favorite sports and leagues, from the Super Bowl to the MLS, international sports and more.
If you don't live in a state with legal online betting and you don't mind traveling it could be worthwhile crossing the border. This will avoid having simultaneous connections and worrying about everything other than placing your bet. This is particularly important if you are new to online gambling in and just trying to find your way. It is best to concentrate on navigating your way around the site or app over worrying that your VPN is working and how to get around the state restrictions of each online sportsbook.
---
Playing Casino Games in a State Where iGaming is Not Available
There are now over 5 states where online casino gaming is legal. These are New Jersey, Michigan, Delaware, Pennsylvania, Connecticut, and West Virginia. Many other states are looking at legalizing online casino games but as of yet, the uptake has been slow. If you look at the number of states that have legalized sports betting, this dwarfs the number of legal casino states.
In the same way an online sportsbook can detect if you are using a VPN, an online casino can too. Unless you are in a state where online casino games are legal, you won't be able to sign up and play. The only way to play at a regulated, licensed online casino is by physically being in the state. If you are keen to play slots, table games, and classic casino games, you may want to consider a sweepstake casino. They offer a great alternative in states where online casino gaming for real money is illegal. Sweepstake casinos use a sweepstake model to get around traditional casino legislation. They are legal, safe, and accessible in nearly every US state.
---
Is Using a VPN Illegal?
VPN usage is on the up and VPNs and using a VPN is completely legal. But, is using a VPN to gamble illegal? There hasn't been much publicized on the legality of using a VPN and trying to gamble with a licensed sportsbook or casino. What we can say is that it is not allowed for a player to try and trick their location to use a legal sportsbook. The only way you can wager legally is by physically being in a state where sports betting is allowed.
If you sign up to a sportsbook or casino and use a VPN to mask your location, if (and when) caught, you risk having your account suspended and closed, and you can lose the funds you deposited and winnings (if you ever got that far). Legal sportsbook and casino operators must adhere to very strict laws in the US to only allow players physically located in the state to bet or play. It is simply not worth an operator allowing players outside of the state and in a non-regulated state to play.
If an operator was ever caught doing this, they would lose their license and the potentially millions of dollars of revenue that would come with it. So, as you can imagine, operators do everything they can to stop out-of-state players from using the online platform unless they are located in the state.
---
VPN alternatives?
If you are wondering what your alternatives are to using a VPN or VPN software so you can bet with one of the licensed sportsbooks, your only real solution is to visit the state. On game day you used to see hundreds of cars in NJ car parks just outside of New York. Bettors had to leave the state, enter NJ, place their bets, and then drive back across state borders. Now that New York has legalized online betting and there are several NY sports betting apps, this generally doesn't happen as much now.
Is there any other solution? Unfortunately not. Other than physically being present in the state, there is no other way you can place a bet with a licensed, regulated operator or betting site.
---
Problems in a Licensed State
You may be in a state where sports betting is legal and trying to bet online but is being blocked. This may be because you are using a VPN and have forgotten to deactivate it. You may be in a location very close to the state border, and as such, your IP is listed in a neighboring state. If this happens, you need to contact your internet service provider so they can investigate and set your IP correctly. There could be several reasons why you are facing sportsbook geolocation problems. If you are, our guide can help fix the most common problems.
---
Licensed US Sportsbooks vs Offshore Operators
US citizens have been betting on offshore sportsbooks and betting sites for over 20 years. An offshore sportsbook won't protect you the way a regulated and licensed US operator will. You are not protected when wagering with an offshore sportsbook like Bovada, Intertops, or GT Bets. They are not located in the US, don't pay tax, and offer no protection to players, or problem gambling.
Use only a licensed and trusted sportsbook or operator if you are gambling online in the US. Many big gambling names such as Wynn, MGM, Caesars, and Rivers Casino, now have online sites and sports betting apps you can use safely, in a growing number of states, with more on the way.
---
How does a VPN work?
A VPN is a very clever piece of technology. They work by routing your device's internet connection through your chosen VPN's private server rather than directly through your internet service provider (ISP) so that when your data is then transmitted to the internet, it comes directly from the VPN rather than your computer.
The VPN acts as an intermediary as you connect to the internet, thereby hiding your personal IP address – which is the string of numbers your ISP assigns your device and thus, protects your identity. Furthermore, if your data is somehow intercepted, it would be unreadable until it reaches its destination. In a sense, the VPN creates a private tunnel from your device to the internet and hides your vital data through something that is known as encryption, in which the information is concealed by altering it so that it appears to be random data.
---
How to Bet on Sports in Vegas From Another State
If you want to place a sports bet on a sport that is happening in the gambling mecca of Las Vegas from another state, unfortunately you can't do so, even with a gambling VPN. Vegas is the hub of all gambling activity, so naturally you may want to get involved in action, but unless you are within state borders, VPN users, even when employing a reliable VPN, will be blocked. However, there is one way you can get involved on action by using a new online gambling platform.
Prize Picks is a newcomer to the Daily Fantasy Sports market. It is attracting new and experienced players thanks to its quick and snappy approach to DFS. The principle is you pick the over/under on how many fantasy points a player may score in an upcoming match. This simplifies the whole process and alongside a clean mobile design and easy payout rules it is becoming increasingly popular.
Prize Picks is also widely available across the United States, and if you sign up today you can claim a welcome bonus consisting of a 100% deposit match worth up to $100. There is also regular promotions on the site and we would recommend anybody looking to get involved with Vegas odds and DFS contests from another state to give this online gambling website a try.
---
Safety Tips for Betting Online
When considering questions such as can you use a VPN to sports bet, it is important to know how to gamble safely online. As we have mentioned above, although using a VPN for online gambling is not illegal, it can have implications when you want to access licensed gambling sites. Before you try and sign up and bet with an online sportsbook using a VPN, you should be aware that certain operators may ban or restrict your account if they detect a VPN has been used. If this happens, any funds you have in your account could be frozen and it could be a complicated process to get them back.
The good news is, there are some steps you can take to try and minimize your risks. The first is to make sure you are located in a state that legalizes online gambling. If you have to travel over a border or take a short journey, it is worth if you want an uninterrupted gambling experience with no risk of your account being frozen.
You should also always register with a licensed and legal online sports betting site. Using an offshore site will not protect your information and your details are at risk. If the site withholds your funds for any reason, there is no legal route you can take to try and get them back. Ultimately, there should be no reason for you to need to use a VPN to make a sports wager as if you are betting in a legal and licensed state there will be no roadblocks.
---
FAQs
Can I use a VPN to play online poker?
No, you can not use a VPN to play poker at a licensed US poker site. You need to be in NJ, NV, MI, PA,  and DE.
Is it illegal to use a VPN to gamble?
It is not illegal to use a VPN to gamble online, but you will be blocked by operators if you are trying to access the site through a VPN service. This applies for all licensed betting websites. If you sign up to a site such as FanDuel, there will be no need to wonder can I use a VPN to sports bet.
Can I use DraftKings sportsbook with a VPN?
No, you can not bet at DraftKings sportsbook through a VPN.
Can Betfair detect VPN?
Yes, they can. All legal US online gambling websites and casinos, including Betfair, can detect the use of a VPN and will stop you from playing. Beetfair, along with other top operators in the US have the latest technology to detect if their customers are using a VPN, and then may restrict your account and freeze your funds.
Can FanDuel detect VPN?
Yes, FanDuel can detect if you are using a VPN to access the site or app, the same as most online gambling sites. You can still access the site using a VPN, but you can not place a bet or play any of the games with the VPN turned on.
Can I bet in another state?
Yes, you can bet in a state you are not living in, as long as that state allows online gambling. Gambling online is growing in popularity across the US, and most states want to benefit from that boom. This means online betting sites are frequently launching in more and more locations.