Gamble USA strives to improve your online gambling experience. We aim to help you play safely, make informed decisions when gambling, and increase your betting knowledge through our guides.
We adhere to strict editorial integrity; our content may contain links to products from our licensed & legal US partners.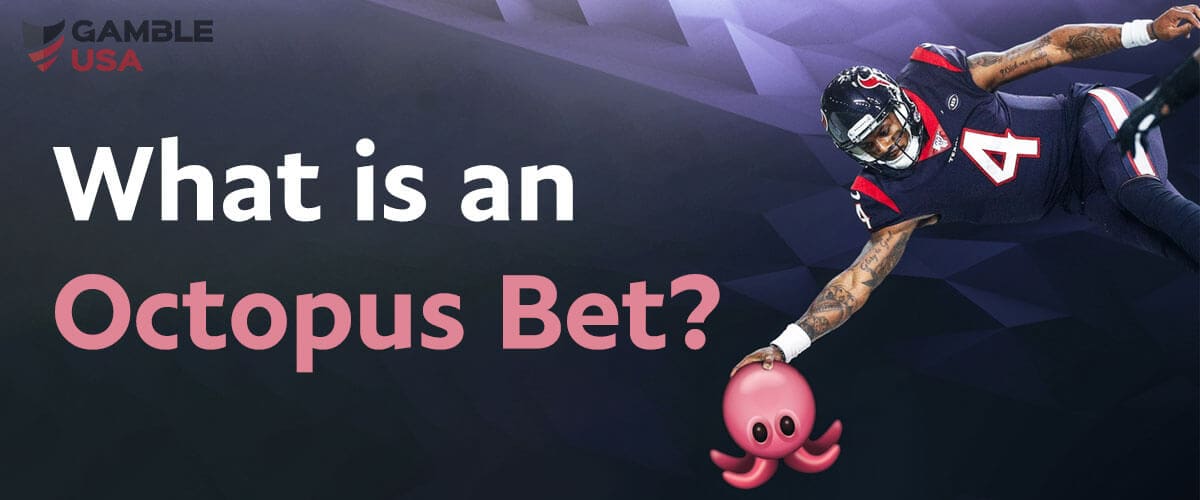 The holy grail of NFL and football sports betting; the Octopus Bet! The concept was coined in 2019 by Sports Illustrated Sportsbook and has become an active novelty bet opportunity. It's been quite scarce in NFL history but now might be the best time to get involved.
You've come to the right place if you haven't heard of it yet. Throughout this page, we'll be running through exactly what this bet means and just how you can wager on the outcome. We'll also take a look at which teams and players frequently achieve the feat and who you can expect to do it next.
How the Octopus Prop Bet Works in Football
A proposition bet, or prop bet, is one of the less-used betting formats on the market. These bets will have odds available for a specific event to take place. For instance, 'Who will win the coin toss' is a common bet that is on offer before football matches. It's got nothing to do with the actual winner of the match, you're just worried about heads or tails.
The Octopus prop bet is a little more complicated. Here you'll be betting on any player to score both a touchdown and the two-point conversion of that specific touchdown. With most sportsbooks it's simply a yes or no question, will there be an octopus?
You'll find the odds of selecting 'No' are usually incredibly high, anywhere around -10,000. The real opportunity is predicting when there will be one. Betting on 'Yes' has remarkable payout odds; mostly around +1,000. The Octopus football betting odds can vary significantly depending on the game, so do your research to find the ideal opportunity.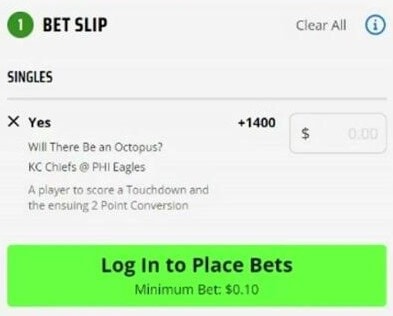 It's important to keep the terms of this bet in mind. You'll need to first consider which player from a team is likely to score a touchdown. After that, take a look at which teams have a history of going for two-point conversions. Couple those two data points and you'll have the best chances of predicting an octopus.
Background Insights of the Octopus Bet
The Octopus has been a reality since the NFL introduced the two-point conversion back in 1994. This allowed a team the option of either kicking for the standard one-point conversion after a touchdown or risking another set of play from the two-yard line to get into the endzone once more. The player to reach the endzone would score an additional two points for their team and if they were the one to score the initial touchdown, that'd total up to eight points, that's why it's an octopus.
With less than 10% of teams opting for two-point conversions in the NFL, the probability of this happening is incredibly low. But then again, the most rewarding bets always have lower odds and they might be worthwhile in certain circumstances.
Throughout NFL history, there have only been around 170 octopi. That's a figure that's been accumulating for nearly 30 years since the two-pointer was introduced. If you're a numbers guy, you might think that's around six a season. Well, each season has 272 games so you're working with a percentage probability of around 2%.
Teams & Players with Recorded Octopus
There are many teams and players that have the privilege of recording the octopus stat and some of them have done it more than once. There are currently two teams at the top of the octopi rankings; the Green Bay Packers and the Los Angeles Rams. Each of them has recorded the stat 11 times to date and is closely followed by the Steelers, 49ers, and Eagles.
In terms of players, Todd Gurley leads the race with a remarkable four octopi in his career. Randy Moss finished his career close behind with a total of three. Unless either of them is planning a dramatic return for the Super Bowl, we don't expect those records to be extended. Instead, there are a couple of players who are currently achieving the feat. To get frequent updates, we recommend following this tracker that tweets each time a player scores an octopus.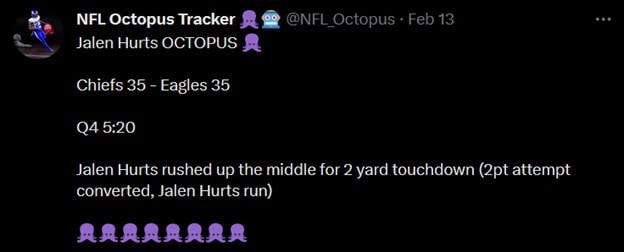 To make the most informed football bet possible, we recommend first seeing how teams perform in the build-up to the next Super Bowl. You might get a feel for a player that's after the title of scoring an octopus and that'd be your best bet for the season. Currently, there's no real stand-out player but it won't be long before someone challenges Gurley's prime position.
Octopus Bet Odds
As we mentioned before, a rough estimate of the chance of an octopus happening in an NFL game is around 2% but that's only working with the data we have up to now.
Since the last NFL season began, we've seen an increase in teams going for two-point conversions. Needless to say, this will also increase the odds of an octopus in years to come. Below is an example of the betting odds that were advertised by DraftKings props for the Super Bowl LVII.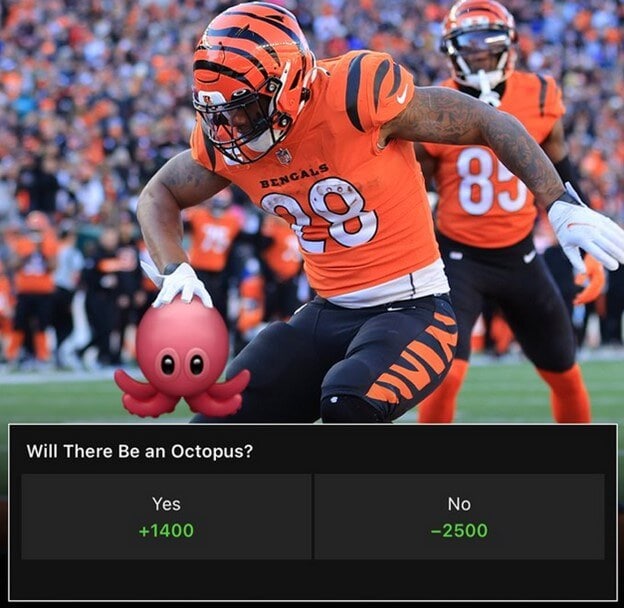 These are very rewarding when compared to the rest of the industry as the 'No' selection is only -2,500. 'Yes' of course has the massive odds of +1,400. You should be aiming to find an offer similar to this one.
Other Obscure NFL Props
Besides the elusive octopus, you can also keep an eye out for other NFL props that are available throughout the season. Let's take a look at some of the recurring offers:
Coin toss
We've already given mention to this offer but a coin toss bet is usually available with most of the top betting sites. You can simply place a bet on either heads or tails and hopefully double up your money.
DraftKings usually have the best odds for this bet during the Super Bowl with either option having fair odds of +100. Other sportsbooks get close to this if you prefer to use another service but don't settle for any odds less than -105.
Gatorade
Another unique option for sports bettors is the Gatorade color that the winning coach is dunked in. BetMGM has put together a detailed analysis of this option if you'd like to go through some of the histories behind the bet but it's as simple as picking a color. Of course, the odds on each color do vary but you never know if it'll be Riptide Rush or Fruit Punch.

Scorigami
Finally, the Scorigami bet offer. This prop is one of the better betting options as you simply never know when it will pop up. The term was coined by Jon Bois and involves a game ending with a final score that has never been seen in Super Bowl history. There's a database of the games that have yet to happen which you can find here.
An example of a score that's never been a result is 32-19. While we'd like to provide you with some mathematical insights, there's just no way to predict when this scoreline will show up. One recent offer from the FanDuel sportsbook is shown below.
Is Octopus a Good NFL Bet?
It can be. The chance of it happening is usually very low but you'll find that some teams have placekickers who love to reach the endzone. If you're careful in your selection and do your research beforehand, you might find the perfect NFL game to make the bet.
The NFL has also recently shifted the distance of a one-point conversion to the 15-yard line which will definitely have more teams opting for the two-pointer. Naturally, we will be seeing an increase in Octopi so it might be worthwhile to place this bet soon if you are feeling lucky.
However, if you're simply looking to put some money down on a bet that doesn't involve the winner, we'd recommend something with more realistic odds, such as the coin toss.
FAQ's
How many Octopi have happened in the NFL?
The Octopi has now happened in NFL games 175 times since 1994.
How can I bet if an octopus will happen?
You can bet on whether or not a football octopus will happen by wagering on the prop bet "Will an octopus happen?" at most online sportsbooks. Generally, the odds of winnings this bet are very low, often over +1000.
Can I make Octopus prop bets on the Super Bowl?
What is the Super Bowl Octopus bet meaning?
It is a prop bet exclusive to football matches as it requires the same player to score a touchdown and the ensuing two-point conversion.