Gamble USA strives to improve your online gambling experience. We aim to help you play safely, make informed decisions when gambling, and increase your betting knowledge through our guides.
We adhere to strict editorial integrity; our content may contain links to products from our licensed & legal US partners.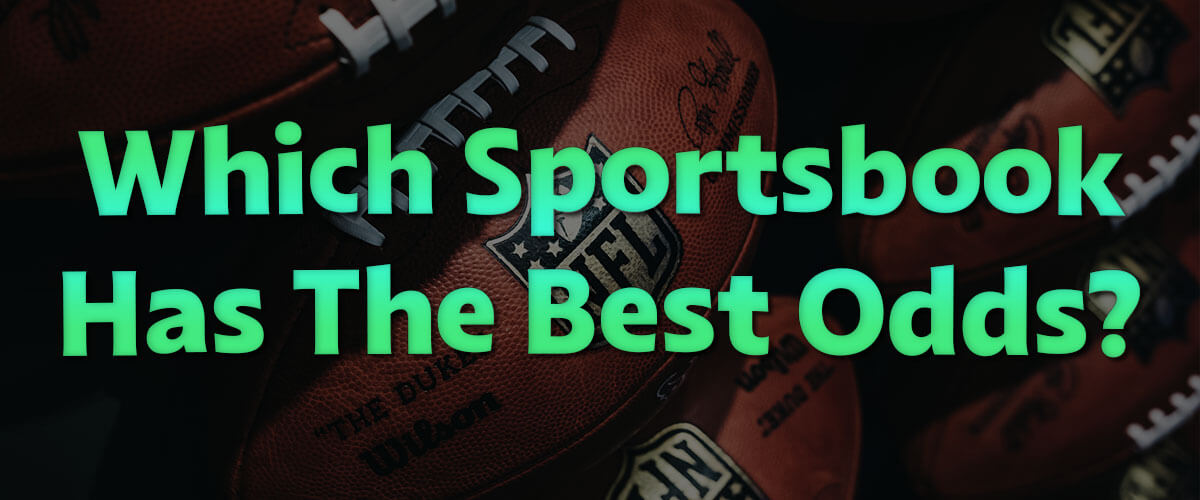 More than half the country has legalized sports betting since 2018, with a handful more states working on sports betting legislation to ease online gambling regulations by the end of the year. Many of which have awesome sports betting apps.
As additional states adopt legal sports betting and more online sportsbooks move in for a piece of the action, there has been a push by sports betting sites to work towards moving more parts of their operation in-house or partnering with up-and-coming linemakers to differentiate from the competition, a big win for sports bettors.
Casual bettors may still be happy to participate in legal online sports betting, but there is no reason to leave money on the table. Getting the best online sports betting odds is the first step in taking the advantage back from the house. Finding generous odds is as important as looking for the best bonus bets. As part of your research as a sports bettor, when looking for the best mobile sports app, it would be helpful to know which sportsbook has the best odds.
Below you'll find the top sports betting sites for locking in the best odds and a better betting experience.
5 Best Legal Sportsbooks with High Betting Odds
Along with a clean layout, the FanDuel sportsbook always has some of the best online betting site lines going on favorites.
Other legal sports betting frontrunners like DraftKings and Caesars often counter FanDuel's odds by offering some of the best lines on the opposite. The above-mentioned online sportsbooks are 3/5th of the top five online sportsbooks by state availability.
PointsBet advertises having the best lines; this will often be the case. Unibet is always in the mix, along with online betting sites BetMGM and BetRivers. Both bet365 and betway names pop up occasionally, but their online sports betting sites are each only available in a handful of state.
Online sportsbooks can only do so much when it comes to line deviation, but the best sports betting sites also give back to bettors by offering prop bets profit boosts on select wagers. Usually, these odds boosts range from a few ticks to an extra 50 percent based on upcoming events. All of the top online sportsbooks listed below offer this sportsbook bonus.
Online casino access may be available for Connecticut, Michigan, New Jersey, Pennsylvania, and West Virginia residents. DraftKings, Caesars, and PointsBet users will be automatically enrolled in their rewards programs.
#1 DraftKings Sportsbook – most betting lines
Along with being an option in more states than any other online sportsbook, the DraftKings sportsbook also has the most options with 26 sports.
Finding betting lines you can't get at other sportsbooks is a benefit in itself. These sports bets sometimes get less attention from oddsmakers, providing occasional opportunities for an easy come up.
Not to be outdone in the battle of best online sportsbooks, DraftKings has prop bets aplenty.
DraftKings does an excellent job of providing ongoing promotions to keep sports bettors engaged. Boosted odds can be found at the top of each main page of a particular sport and on the side menu with a small green bullhorn icon.
The online betting site has recently held parlay promos for a 20 percent profit boost on an MLB yes run first inning combination, a 25 percent odds boost on UFC 274 bets, and an NBA same game parlay 34 percent payout increase from former player Paul Pierce who wore 34.
Speaking of a boost, the DraftKings deposit bonus could use one. The online sportsbook only gives new users a 20% bump up to $1,000. A minimum bet of $5 is required. The sports betting site releases $1 in bonus funds for every $25 played. Users will have 90 days to complete the playthrough requirements. There is no bonus code required for this offer.
For sports fans new to sports betting, DraftKings also features a how-to bet on DraftKings guide with betting tips located in the tabs at the top of the homepage.
#2 FanDuel Sportsbook – best odds for favorites
Does the FanDuel sportsbook have the largest user base in the country because it offers competitive odds more often? Or does having the largest user base allow them to list lines on the lower side more frequently? Either way, with 17 sports to choose from and a clean layout, FanDuel is a good place for sports bettors to start.
The online sports betting site can be found in 15 states and features consistent promotions, including bonus bets and Fanduel Odds Boost. These wagers often have different requirements to qualify. FanDuel's affinity for offering better odds on favorites may be of particular interest if tennis is your thing.
Pioneers of the same game parlay, FanDuel offers more entertaining ways to wager on individual events, making it the best online sportsbook for prop bets. The sports betting sites' success has forced the rest of the sports betting sites to follow suit.
Boosted odds options will be listed on the online sports betting site in a side-scrolling fashion above the main page of a particular sport and listed third on the sidebar's popular section towards the top,  identified by the yellow lightning icon.
Horse racing is not listed but is offered through their partners at TVG. By clicking the racebook tab at the top of the screen, users will be redirected to TVG, where they'll need to create a separate account and bankroll. The online betting site makes it worth your while by offering a bonus first bet up to $200.
To welcome new users, FanDuel is offering a no sweat first bet of up to $1,000. The bet insurance will apply automatically after a deposit of $10. Losing wagers will be refunded in free bet credits within three days. Sports bettors will have two weeks to use or lose their credits. Stakes on wagers will free bets will not be included in the payout. A one-time playthrough is required before withdrawing any free bet winnings.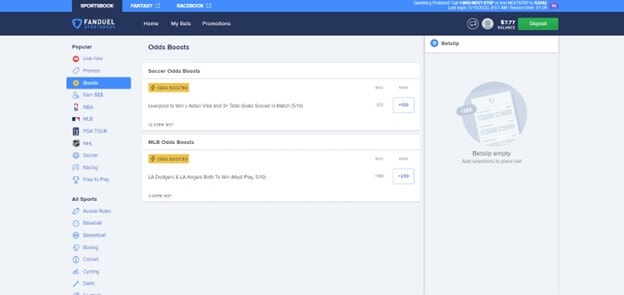 #3 Caesars Sportsbook – best overall sportsbook
While DraftKings and FanDuel hold the top two positions in online betting site usage, the Caesars sportsbook has quickly closed the gap after launching in 2021.
Branching out from brick-and-mortar sports betting in Las Vegas, the new online sportsbook is now in 12 states and has 20 sports to pick from.
Caesars might not be the best online sports betting site in a particular category, but they do everything well. Choosing the online betting site means competitive odds on just about everything and some of the best app betting lines on baseball.
Located in the promo section, the online sports betting site offers recurring 33 percent profit boosts on NHL, NBA, and MLB parlays. The max bet of $50 must be four legs and odds of +400 or higher and can't be combined with other odds boosts. Caesars has made the process a breeze by adding these odds boosts to the bet slip. Any player prop bets with boosted odds will be displayed before the game lines.
In addition, hockey bettors will appreciate the NHL parlay app insurance up to $25 going on from time to time. Wagers must have four legs and odds of +400 or greater to qualify. MLB bettors may find a 25% profit boost on player prop bets involving home runs depending on the week.
Any additional odds boost for a specific sport will be listed above the primary sports listings or below if on a specific event. Profit increases can also be found by selecting the odds boost tab. Caesars Sports will often target promos for all the major events such as the Super Bowl, the World Series, or the NBA playoffs.
To attract new users, the sports betting site is offering a first bet on Caesars up to $1,250. Use the Caesars sportsbook promo code GUSAFULL when creating and loading your account, and the promo will automatically apply on your first wager. Free credits will be added within two days if the bet goes belly up. Users have two weeks to use their free bets.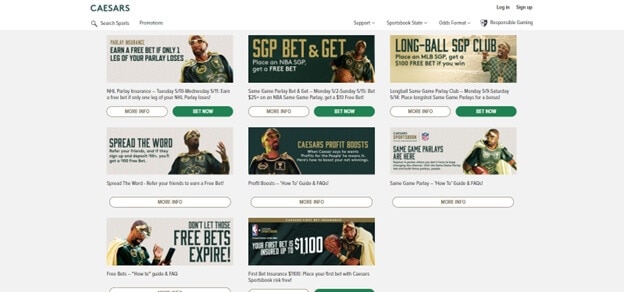 #4 PointsBet Sportsbook – best odds for underdogs
With competitive odds, 17 different sporting types, including an entertainment section, and 5 x $250 second chance bets, the PointsBet sportsbook is making a real play to solidify itself as one of the best online betting sites.
Already available in 10 different states, PointsBet offers the best welcome bonus with 5 second chance bets up to $50 eacg. New users' first point spread wager will be covered up to $250. No minimum is necessary, and they've removed any rollover requirements. Be sure to use the PointsBet sportsbook promo code GUSA when creating an account.
The online sportsbook recently had the best odds on significant boxing underdog Dmitry Bivol vs. Canelo Alvarez at around +400, who ended up winning.
Like the competition, PointsBet also offers occasional boosted betting lines, which can be found in the sidebar on the left of the screen, listed second on the featured list towards the top.
PointsBet bettors can get two free parlay boosts to use every day. One for a traditional parlay and one for a single-game parlay. After logging in, booster tokens' daily availability is easily checked on the right side. After creating a three-leg parlay or more, click the lightning icon in the betslip to add the increase.
Sports bettors in Illinois, Indiana, New Jersey, New York, Pennsylvania, Virginia, and West Virginia can plead their case to the Karma Kommittee to reverse a bad beat, whether it be a season-ending injury or bad call, or otherwise. If approved, the loss will be refunded in free bet credits.
#5 Unibet Sportsbook – best odds among upcoming books
A lesser-known online sports betting site making a US name for itself, the basic interface on the Unibet sportsbook and surprisingly generous betting lines can be found in six states. With gambling operations in more than 100 countries, Unibet has been in the sports betting industry for nearly two decades.
The top beginners sports betting app recently took a detour from focusing on the major sports leagues and added table tennis to its lineup, giving the sportsbook ten sports to choose from.
Unibet always has strong soccer lines, including Major League Soccer, the Champions League, and La Liga. The sportsbook also had the best odds on recent boxing favorite Canelo. He may have lost, but you would have lost less money. That's kind of a win.
Along with up to a 50 percent parlay boost as many times as you want, Unibet has been improving its promo opportunities to keep up with the best sports betting sites. Parlays must be at least three legs and have odds greater than -200 (-150, +150, etc.). The wager max is $100. Unibet recently had profit boosts from 15-25 percent available for the MLB, NBA, Tennis, and UFC betting.
The online sports betting site offers new bettors a second chance bet up to $250 on any $10 or more wager. When registering, new users must select the "NEW PLAYER OFFER | $250 Second Chance Bet" in the select your bonus section. Bets must be wagered and settled at odds of -300 or higher (-200, +100, etc.) to contribute towards any bonus wagering.
Odds enhanced using a profit boost will only contribute to any bonus wagering at their original price. Free bets will be credited within three days. Bettors will have one week to roll over the credits one time.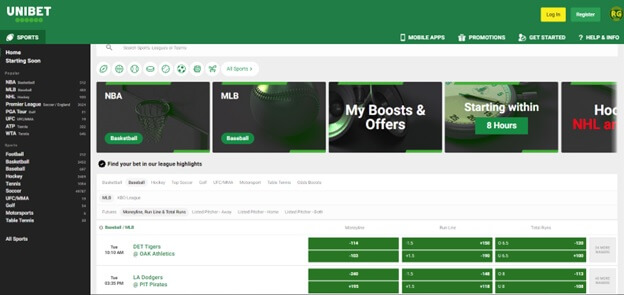 Other notable sportsbooks that offer excellent betting options and competitive odds include BetRivers Sportsbook, Bally Bet and Barstool Sports.
Getting the Best Betting Odds for Every Match
Juice is the cut the online sportsbook takes for facilitating the wager, but just because the house starts with an edge, it doesn't mean bettors can't gain it back.
An advantage similar to the house edge on casino games, online sportsbooks with high odds apply margin to their prices to make money. The margin size is what matters when it comes to finding value.
These minor online sports betting market variations, usually up to five percent or $5 on a $100 bet, add up over time or quickly, depending on the size of the wager.
Sports bettors will need to create accounts at multiple sportsbooks to take advantage of reduced juice betting sites and the lowest vig sports betting apps on every game. On top of the five sportsbooks with the highest odds, Barstool Sportsbook and FOX Bet app do well in that regard. The sportsbook with best odds will also have a wide range of markets to choose from, and those mentioned on this page cover all of the popular domestic and international leagues and tournaments.
Finding the Best Sportsbook for Totals & Spreads Lines
A simple search for odds trackers will bring up plenty of free options to help you cross-reference what online sports betting sites' prices are on a specific event.
There are faster, more expansive options charging a fee, but it's best to get familiar with the free options first.
Websites that have odds in their name provide such services, and many have clean layouts, intuitive interfaces, and data from top online betting sites to make a more informed wager.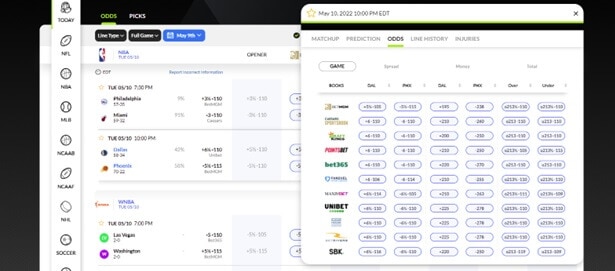 Alternative Betting Odds on the Same Sportsbook
Like a teaser, the availability of alternative points and totals wagers and the distance from the original number vary greatly by sports betting site.
FanDuel and PointsBet will have the most customization of the top online sportsbooks, giving sports bettors the ability to adjust NBA spreads by more than a dozen points. FanDuel leads the charge with more than a 20-point swing. DraftKings scale stopped at 7.5 in either direction. Caesars will have the least options of the listed online sports betting sites.
These alternative bets can be found by clicking on the primary contest or more wagers link usually listed nearby. Using alternative lines or teasers to get key numbers is another step in taking the advantage back.
Understanding Betting Lines Numbers
Oddsmakers and bettors alike are keen on key numbers of typical results. Getting a half-point under or over could make the difference between a push and a pile of cash.
Knowing what numbers to place bets around will help add to your online betting winning percentage.
Key numbers differ by sport, with soccer and hockey being the easiest to bet because each goal is significant. For American football, standard finishes include three and seven.
Basketball is not easy to peg, but 6.5/7 points represent a three-possession game and a good time for the losing team to call off the dogs. For baseball, it's more about run totals, with seven and nine being proven sticking points for betting markets.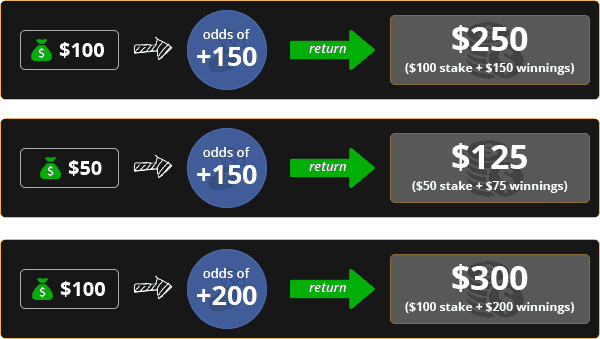 Are Sportsbook Bonuses Superior to Betting Odds?
Most sports betting welcome bonuses, and ongoing promotional offers from online betting sites will trump any odds offsets on smaller bets. At best, saving on lines will only net around $50 on a $1000 wager.
If betting that type of cash, pair that extra paper with a bonus first bet from Caesars, FanDuel, or PointBet.
Be sure to save some bankroll for new promos that might arise. The best sports betting sites are always coming up with new ways to draw action.
Best Sportsbook Promotions for Increased Betting Odds
Along with boosted odds, the best online sports betting sites are doing what they can to entice users by throwing around buzzwords like vig-free and reduced juice, which means the sportsbook reduces the margin or removes juice for certain popular events.
Quality online sportsbooks that offer horse racing may offer the best odds guaranteed. If you place a bet before the race and the price ends higher, the better odds automatically count for your wager.
The Challenge of Live Betting with the Best Odds
Live betting has become a standard feature for any online sports betting site worth its salt but constantly changing odds and program delays make it hard to cross-reference lines and execute a bet, especially for those using live mobile sports betting apps.
The small live in-game betting window doesn't leave much time for research before live betting odds change or lock.
Research should be done before to know how the lines move during live betting at different online sports betting sites to know what online sportsbooks are best.
It's recommended that more complex live in-game betting online be done from a browser for a better betting experience.
Different types of Odds Formats Explained
All sports betting odds formats represent the same thing, and online sports betting sites usually allow you to switch between them. American odds (-150 or +500) are standard for US online sportsbooks. If the number is positive, like +500, it shows the pure profit for a $100 wager. If the number is negative, like -150, it shows how much money you must bet to win $100. A bet of $100 would net $50 in profit.
Decimal odds are the most popular format used by sports betting sites outside the US. The odds look like 1.40, 2.50, 4.20, etc. The number shows the total return per dollar staked, so a $10 bet on 2.0 would return $20 ($10 initial stake + $10 in profit).
Fractional odds may be the most complicated sports betting format of odds to calculate. The 1/5, 6/2, or 10/12 type look is often seen in horse racing and is mainly offered in the UK. The formula for fractional odds is stake * (first number/second number) = profit.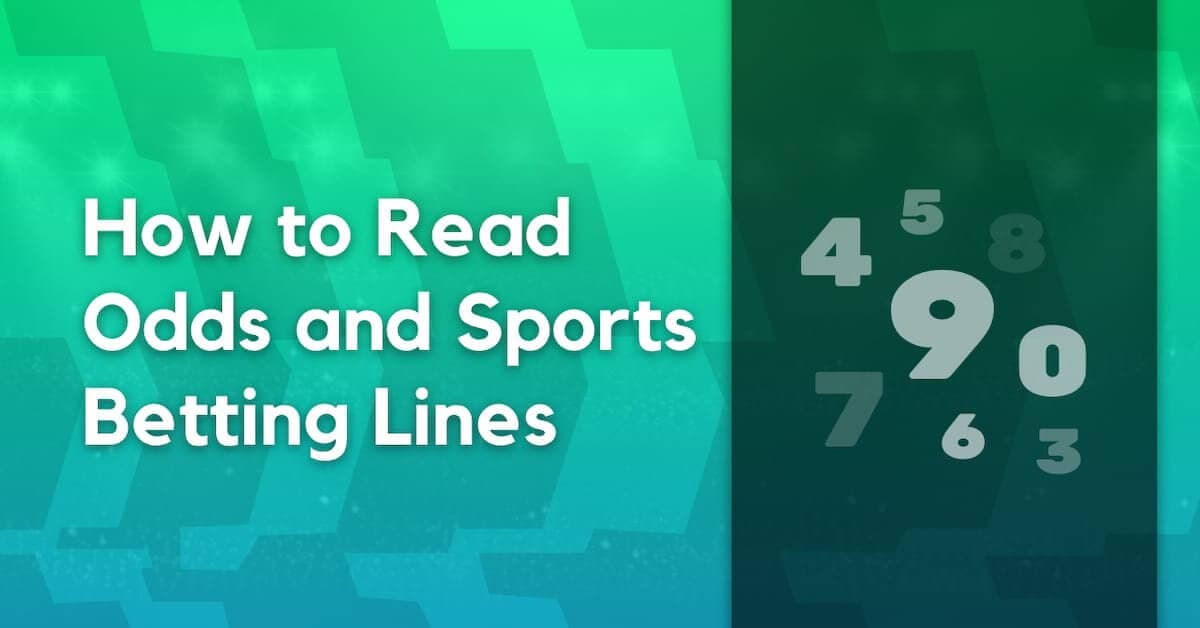 How do sportsbooks set their betting odds?
Sports betting sites are trying to keep the action even.
Oddsmakers use large sets of data and various tools to calculate the initial probabilities for every sports betting market offered, including record and expected distribution of money.
Online sportsbooks adjust sports betting lines for expected outcomes to attract users to place bets. The steps that online sportsbooks take to calculate their odds typically include:
Predicting cash distribution: Sportsbooks try and estimate the expected distribution of the money. The operator will adjust the odds based on records and will duly lower the odds for the outcomes that are expected to draw in the most cash.
Calculating probabilities: Each online sports betting site has traders and people who compile the odds that use huge sums of data to calculate the initial probabilities for all of the betting markets they offer.
Adding margin: Even if you come across the best online sportsbook that has the highest odds they will still apply margin to their prices because ultimately they want to make money. They want to carry some advantage similar to the house edge in an online casino game. The biggest thing to consider is the size of the margin when looking for the most competitive odds online.
Why do Sportsbooks Odds Change?
Once the prices are posted, online betting sites track wagers placed and the latest news. Depending on wagers and news coming in, the sportsbook may adjust lines to meet the movement.
A high volume of wagers on a particular outcome or important breaking news related to the event could move the line quickly. Jumping on lines you expect to move when they're first released is an excellent way to lock in or save extra funds.
Importance of Betting on the Sportsbook with the Best Odds
The house always holds an edge to start, but that doesn't mean you can't get it back.
Some of us are new to how odds work or are just happy to be betting legally, while others are sportsbook brand loyalists, either way, we can get stuck in our ways.
Giving up less and taking in more from sports betting sites seems simple enough, and actually, it is.
Knowing different odds on the same event exist and how popular online sportsbooks position around key numbers is a game-changer.
Over time, these gains will compound and lead to a more enjoyable betting experience on the best sports betting sites.
Value Betting is Vital
You have likely read this article looking to find the best odds sportsbook and we have provided an excellent list of these sites above. We have also given you betting tips before you place your sports bet that will help you find the best possible odds before you place that moneyline or prop bet.
However, none of that will help you make profits if your whole sports wagering strategy is based on guessing. It is important that bettors get a grasp of learning how to work based on probabilities and finding value in a wager.
The only way you can generate some cash from sports betting is to put down your own money on outcomes with a higher probability than the odds indicate. A quick example of a value bet would be you and your friend betting on a match with a 50-50 outcome. You wager $10.10 on team A while your friend bets $10.00 on Team B. You will lose over the long run as you are wagering with a negative expectation. Lots of people do this and even if the odds are the most competitive around it still won't help them.
Finding value is essential in any betting strategy, even if you think you are really knowledgeable about a certain sport. For example, you may be a soccer fanatic and think you can make lots of money betting on the FIFA World Cup, but if you don't find value, you won't.
Take advantage of Futures Odds
A futures bet is a type of wager where you are predicting the outcome of a league or a tournament that hasn't started yet. Instead of placing a prop on an individual or betting on a single event, futures require you to pick the eventual champions or trophy winners.
You should remember that outright odds are usually far higher than other markets. Because it is much more challenging to predict the winner of an entire league or tournament that a one off match, future odds will present more value. For example, the San Francisco 49ers could be priced at +900 to win the Super Bowl, but they may have odds of +100 to win the games in the playoffs leading up to the big event. If you have a lot of belief that the 49ers will win the Super Bowl even at an early stage, you should take advantage of the higher odds.
Some sportsbooks will also provide futures entertainment markets such as TV shows and awards ceremonies. As we have mentioned, the best odds online sports betting is all about finding value. When looking for what sportsbook has the best odds, do some research and compare before betting.
FAQ's
Where can I find the best odds online?
We have provided a list of the best betting sites in the US on this page. These sportsbooks compete against each other to appeal to players, so you will discover some sites offer more appealing odds than others. The best odds are typically those that payout the most. Have a shop around before you decide to bet online.
What are betting lines?
Betting lines are the odds by a sportsbook or mobile sports betting app. They are represented by odds that determine how likely a team is to win a game. These are typically presented as + or - numbers starting at 100.