Gamble USA strives to improve your online gambling experience. We aim to help you play safely, make informed decisions when gambling, and increase your betting knowledge through our guides.
We adhere to strict editorial integrity; our content may contain links to products from our licensed & legal US partners.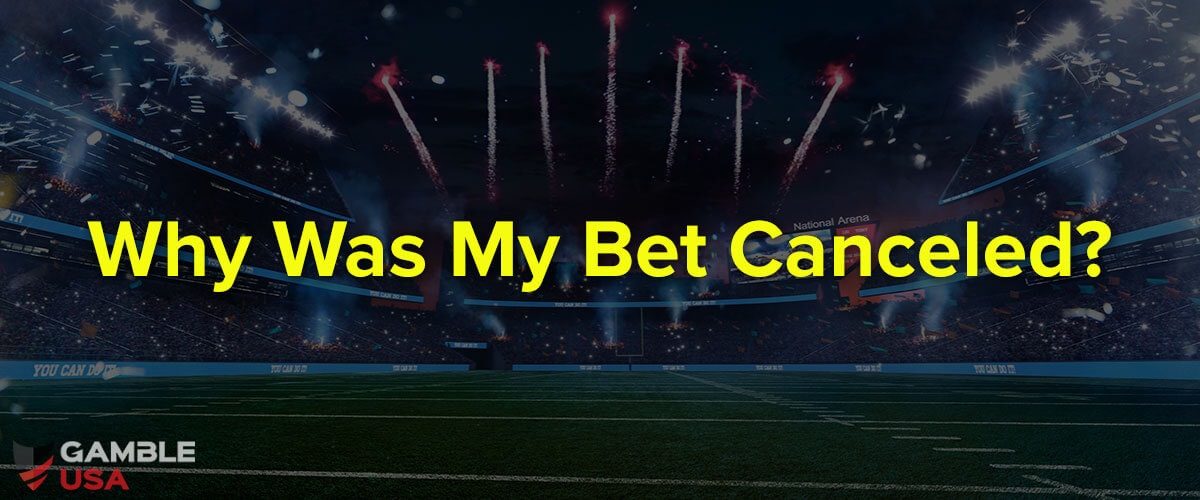 When you open a betting account with a sportsbook, you are required to sign a statement that you agree to the sportsbook's terms and conditions, one of which is that once you place a bet, it is binding. In other words, once you place a bet and the sportsbook accepts it, you cannot take it back.
Yet sportsbooks and online bookmakers are within their rights to cancel the customer's bet under certain circumstances. Although these situations do not arise often, they do occur. How is this possible?
One recent example readily comes to mind. Those of you who placed a bet on the January 12, 2023 NFL game between the Buffalo Bills and the Cincinnati Bengals had their bet on either side canceled. After the game was interrupted, the league decided that this game would not be completed or rescheduled and the existing score would not count. So, all bets were off.
Once a bet is canceled, any money that the customer paid the sportsbook or bookmaker to make the bet will be returned in full. So, the customer does not lose anything, but not having the desired action is still frustrating. However, when the player uses a bet credit rather than paying for the bet with cash, it is even more frustrating because the bet credit is then lost. It cannot be used on another wager.
This article will describe some different reasons why sportsbooks cancel bets.
Sportsbook miscalculated odds
One of the many reasons why your bets might be canceled is that the sportsbook accidentally posted the wrong odds. It does not happen often, but it is possible due to human error. For example, the sportsbook might have accidentally posted odds for one team or player that were intended for another team or player.
These kinds of mistakes are most likely to occur in prop bets. Naturally, it is frustrating for a player with a winning bet, expecting to be paid, only to have the bet voided. However, any attempt to dispute the ruling will almost certainly fail. Sportsbooks take the position that if they post an erroneous line, they have the right to cancel all bets based on that line.
Therefore, if you see a prop bet that looks too good to be true, it probably is. It would be better to pass and spare yourself the disappointment if your bet is canceled than jump all over a line that might not hold up.
The outcome of the bet is hard to verify
Occasionally, a bet has to be canceled because the sportsbook cannot clearly verify the outcome. This type of problem is usually limited to future props bets.
For example, suppose you place a bet that the next goal will be scored in the upper right quadrant. However, the goal is scored on the border between the top right quadrant and the bottom right quadrant. Given those results, you did not clearly win your bet, but you did not clearly lose either, so the fair way to treat it would be to cancel your bet and have your stake refunded.
Your bet was on a suspicious game
These are situations when a sportsbook obtains late information that a particular game might have been rigged or where evidence strongly suggests that one team or player gained an unfair advantage. However, it is highly unlikely that you will encounter this problem in major US betting markets like the NFL, NBA, MLB, or NHL. Suspicious activity pointing to game fixing is usually confined to small, not strongly regulated overseas markets such as Russian ping pong and amateur sports.
The match was canceled or postponed
Whereas inclement weather is frequently a sufficient reason to postpone MLB games, and many of these games are "rained out," NFL games are not only played during torrential downpours but even in blizzard-like conditions. However, playing during a hurricane would be deemed unsafe and necessitate postponement or cancellation.
The NFL Commissioner has the power to postpone or cancel certain games, including games that are already in progress, but only in dire emergencies. As we pointed out in the introduction, such an emergency situation arose in the 1/6/23 NFL game between the Buffalo Bills and the Cincinnati Bengals. The game came to an abrupt halt during the first quarter when Damar Hamlin, a safety for the Bills, was critically injured. At the time, the Bengals were ahead by a score of 7-3, so a decision had to be made whether the action would pick up where it left off on another date, be rescheduled as a new game, or be canceled completely. The Commissioner elected to cancel the game completely, which meant that all bets on it were voided and sportsbooks were obligated to return the full costs of all of these voided bets to their customers.
During the height of the COVID-19 outbreak in 2020, competitive sports in this country came to a virtual standstill, and entire seasons had to be put on hold. Later, even after American and professional and collegiate teams resumed playing, many individual games had to be canceled and rescheduled due to one of the teams involved being temporarily decimated by new outbreaks of the virus.
Postponed or Suspended Games Cancelation Rules
The specific rules regarding the maximum amount of time that can elapse before a canceled or interrupted game can resume or be rescheduled varies for different sports. However, according to FanDuel Sportsbook, unless clearly specified otherwise, if a sporting event is not completed within 48 hours of the date on which it was originally scheduled, sportsbooks need to void bets on that event and issue refunds.
If a major league baseball game that is already in progress cannot be completed, at least five innings must be played for it to count (both officially in the W-L records and as bets). On the other hand, at least 55 minutes of an NFL game must have been played. Each sport has its own rules regarding the minimum time of play required for the game to count.
Parlay not following the sportsbook rules
The fifth reason why sportsbooks might cancel a bet – a parlay not following the sportsbook rules – is clearly an example of a sports bettor trying to put one over on the sportsbook.
One exception might be a novice bettor parlaying the point spread favorite with the moneyline favorite on the same game for $5. That would be (or at least should be) treated as an innocent error.
But if an experienced bettor were to try the same parlay for $1,000 and the sportsbook made the mistake of accepting it, not only would the bet be canceled, but the sportsbook would probably keep the player's money.
Even though many betting sites allow same game parlays (SGPs), the basic rule is that they cannot involve components with connected odds. Thus, for example, you can parlay a moneyline or point spread bet with an over/under bet, but you cannot parlay a moneyline bet with a point spread bet.
What happens when a bet is canceled?
One feature that three reasons why your bet might be canceled have in common is that the bettor has done nothing wrong (miscalculated odds, outcome is hard to verify, and postponed games). That is why sportsbooks will invariably refund the full cost of your voided tickets, no questions asked.
The same may or may not apply to the first reason for canceled bets – betting into an erroneous line. If it is a normal size bet, the sportsbook will give you the benefit of the doubt, but if it is uncharacteristically extremely large, even though you will probably also get a full refund, the sportsbook could restrict or even terminate your future betting privileges.
FAQ's
Why are bets canceled at sportsbooks?
There are many reasons why sportsbooks cancel bets. The following are the most common:

The sportsbook miscalculated the odds.



It is in the sportsbook's best interest to cancel the bet under these circumstances rather than give astute players an unfair advantage.


The outcome of the bet is hard to verify.


Futures props bets occasionally fall into this category where the sportsbook cannot clearly determine one way or the other whether the bet has won or lost.


The bet was on a suspicious game.


Activity of this nature will rarely happen in major US betting markets. However, to protect the integrity of all sports on which betting action is accepted, any indication of tampering with the outcome of any competitive sports event necessitates canceling all betting action on that game.


The match was canceled or postponed.


If a scheduled game is either not played at all or terminated before the playing time was sufficient to be counted and the game is not resumed or rescheduled, all bets are considered void.


A parlay does not follow the sportsbook rules.


Lastly, if a customer breaks the sportsbook's rules, i.e., by placing a parlay including both a moneyline and a point spread on the same game, the sportsbook has the right to cancel the bet. If the sportsbook also decides that the customer knowingly and deliberately violated the rules, the cost of the canceled bet will not be refunded.


What does canceled bet mean?
A canceled bet means that you no longer have any action on it. Assuming that the reason for the bet being canceled is not any deliberate wrongdoing on your part, the full cost you incurred to make the bet will be promptly returned to you.
What happens if a game is canceled on my bet?
If the game on which you have a bet is canceled, your bet is automatically canceled as well, and the sportsbook is obligated to promptly return to you the full amount it cost you to make the bet.
Can DraftKings cancel my bet?
Yes, DraftKings can cancel a bet if a game was not played or terminated early without being completed, or for any of the other reasons mentioned in this article.
What happens if a game is canceled in a BetMGM parlay?
If your BetMGM parlay consists of three or more games, the leg pertaining to the canceled game will be removed from the bet and the odds will be adjusted with a lower payout based on the ticket including one game less. If the original parlay only includes one other game besides the canceled game, the parlay will revert to a single bet on the game that was not canceled. However, if your bet is a single game parlay and that game is canceled, the entire bet will be canceled as well, and the cost of the wager will be refunded.
Can a sportsbook cancel a free bet?
Yes, a sportsbook can cancel a bet made with a bet credit rather than with the customer's own money. Furthermore, in any such instance, the bet credit is not reinstated for the customer to use again on another bet. The result is the same as when the bet plays out and it loses.
Can I edit my DraftKings bet?
Prior to confirming your bet and the amount and clicking on the "place bet" tab, you can edit your DraftKings bet as you wish. After you place your bet on DraftKings Sportsbook, it is considered 'locked in" and you can no longer take it back or change it. However, if you feel you might have made a mistake you can make an in-play bet on the opposite side or exercise the early cashout option.