Gamble USA strives to improve your online gambling experience. We aim to help you play safely, make informed decisions when gambling, and increase your betting knowledge through our guides.
We adhere to strict editorial integrity; our content may contain links to products from our licensed & legal US partners.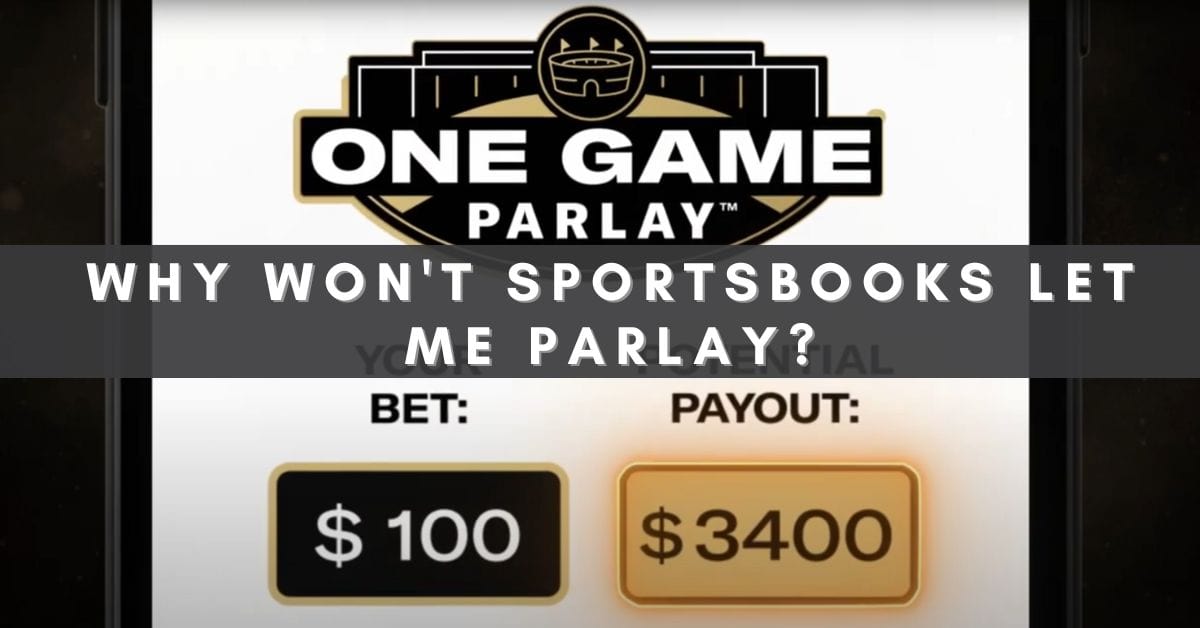 Parlay betting is one of the most popular bet types available, but customers are facing increasing problems that their sportsbook won't allow them to place a parlay bet.
As legal sports betting continues to grow in the United States, there are many different types of bets and sports markets available to bettors. Players can choose to place a moneyline bet, point spread, over/under, or place a parlay bet. There are numerous ways you can gamble on a game involving your favorite team. With the online gambling industry now extremely competitive, sports betting apps must ensure they are offering enough betting options in addition to providing bonuses and promotions such as free bets.
One form of betting that emerged and became prominent among gamblers is parlays. It is now commonplace to find people wanting to place a team parlay on games or a parlay with numerous legs for a potential big win. One of the big attractions of a parlay is that there is the potential to win big from a small outlay.
However, parlay betting isn't as straightforward as it sounds, and a lot of customers are having problems with parlays. We are hearing a lot of customers seeing error messages such as "sorry, unfortunately, your picks cannot be parlayed," or "FanDuel parlay not working", which is causing a few of them to scratch their heads and wonder why.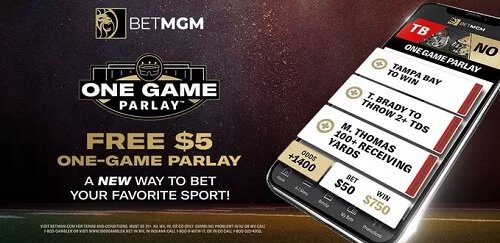 Because a parlay wager has become so popular, inevitably, some issues have started to be reported with bettors trying to get their bets in. We have seen and heard examples of a site stating they won't allow a parlay and players asking why can't I parlay this? It can be really frustrating if you can't place prop bets, a straight bet or any type of multiple bets combination.  If you are continually blocked in your efforts, you may be wondering 'why cant I parlay?' This article covers some of the common issues people experience with parlay wagering, and we list some of the issues with operators' own parlay builders and unique parlay offerings.
Hopefully for those wondering 'why won't sportsbooks let me parlay', things are a bit clearer from reading this article.
What Is a Parlay?
We thought it would be wise to first delve into what a parlay bet looks like. Parlays can also be known as a round robin. Round robins are just smaller multiple parlays but you are still betting on multiple games. Essentially, it is a single sports bet that involves two or more wagers combined into one. Rather than placing two bets, this single bet could include moneylines, futures, and point spreads. They are an attractive proposition because they offer the possibility of a higher payout over choosing a single team to win. However, this is countered by an increase in risk because every leg of the parlay needs to succeed. If only one loses, the entire parlay is unsuccessful.
With a parlay, you are not just wagering on team A or team B as you would in a single event such as the Super Bowl. Betting parlays means betting on several games which means the parlay odds are much higher than an individual bet. This means the potential payout for a bettor who places a parlay bet is much larger, as they are more difficult to win. One of the reasons parlays are so attractive is the parlay payout can be massive, which makes betting on sport more exciting.
Another appealing aspect of parlays to bettors is the flexibility provided. Bettors can choose to combine several sports into their parlay bet. For example, you could include the Cowboys from the NFL, the Bulls from the NBA, and the Ducks from the NHL into one single bet. If they all win, so do you, and the odds will reflect the likelihood of that happening, which means a potentially higher payout.
Most sportsbook operators offer parlay as a bet type, but not all books are equal, and some are better than others. You may want to read our guide to finding the best parlay betting sites and apps.
What Is a Same Game Parlay?
If you are a regular sports bettor, you will know that there are more types of bets than ever before. A simple prop bet has developed to include multiple player props, there are now numerous round robin bet options and more. As parlay betting is one of the most popular wagering types on an online sportsbook, operators have used this to create new and exciting ways for customers to parlay. One of these new parlay wagers is a same game or single game parlay (SGP).
An SGP is a parlay with several bets from the same game. Like always, unless you have parlay insurance, every leg of the bet must hit for it to win. Online sportsbooks have developed the SGP as they have grown more popular and placed certain rules on them. You can't parlay everything a book has to offer, buy you can typically utulize the following options:
Player prop bets
Totals
Spreads (Including first half total, alternate spreads)
Game props
FanDuel was one of the first operators to recognize the value in offering an SGP wager. They have an entire tab dedicated to SGP bets and these wagers will populate in your bet slip. However, you can only parlay wagers from this tab and not everything offered in the game you are betting on.
SGP's are available for most sports but they are particularly prominent for big NBA and NFL games as it makes every play during the game more exciting as you watch on considering whether you should cash out or not. A single game parlay has become a big moneymaker for sportsbooks and they often encourage users to use bonus bets on a parlay. Although you are never really getting fair odds on an SGP, you could potentially land a bit payout, which makes them all the more enticing.
Why You Can't Parlay Certain Bets
You may come across an instance where you think bet online parlay not working. For example, if you use DraftKings, you might get a message stating, 'sorry, the selected outcomes cannot be combined with DraftKings.' Well, there is one significant reason why DraftKings won't let you parlay or any other sportsbook for that matter.
When certain outcomes are considered "correlated," an operator will not accept a parlay bet. This means the sportsbook believes those bets cannot be parlayed together. Let's look at a hypothetical example if you wanted to place a parlay on an NFL match:
Let's say, in this instance, the Tennessee Titans are playing at home against the San Francisco 49ers. You believe that Derrick Henry will have over 4.5 catches, plus 70.5 rushing yards. You want to parlay those two bets, but the sportsbook won't allow it. Instead, the site will only allow you to place two separate bets on Derrick Henry rushing yards, and Derrick Henry catches.
Rather than making this bet, you choose to wager the over on Henry catches (4.5) and also decide to bet on the Titans to win the game straight up. You again want to parlay these two bets. However, like in the first scenario, the sportsbook will not allow you to parlay these bets, requiring you to place two separate wagers. Instead, you decide to bet the over on Henry while also betting on the Seattle Seahawks to beat the Jacksonville Jaguars, and the sportsbook allows you o parlay these two wagers.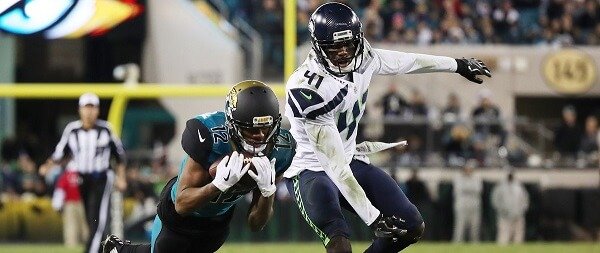 So why won't the sportsbook let you include two bets on the same game in the same parlay? The answer is quite simple; they want to make as much money as possible. From the sportsbook's perspective, the two Henry bets and the Henry Titans wagers are both linked. If Henry catches over four passes, there is more chance the Titans will win the game because Henry is one of the best players in the NFL.
So, in the eyes of the sportsbook, they need only to allow bets in a parlay that are utterly unrelated to each other. By doing this, the operators massively increase their chances of winning the parlay. Attempting to predict the results of five entirely separate outcomes is much more challenging than guessing the results of outcomes that are linked in some way.
Same Game Parlay On FanDuel is Not Working
One of the most common questions we come across is 'why can't I parlay on FanDuel', and many queries on the FanDuel same game parlay. Same game parlays on the FanDuel app are one of the operator's best betting features, but they have been causing a lot of confusion among customers. A lot of players are seeing same game parlays locked or unavailable and thinking this is an error on part of the book. Which, in some cases, it is. Other times it is just that the bet is unavailable as certain outcomes are considered correlated, and, therefore, unavailable as selections and can't be parlayed together.
The FanDuel same game parlays are actually very good, and generally, we don't have any issues with them. If the option is locked out, try and sign out, then back in and see if that works. Just remember that the majority of books heavily restrict parlay bets. Why do they do this? Well, as we explained above, they don't want to give players any more of an edge than they have to.
There is a lot of math and odds at work during a parlay, particularly during a same game parlay, and they won't all be available. They aren't necessarily true odds when you bet a same game parlay, the correlated bets get taken into account, and it can and does affects the available odds and outcome. If  you feel like 'FanDuel wont let me parlay' contact the customer support team.

BetMGM Same Game Parlay Builder Problems
The BetMGM sports app has become one of the most popular sportsbook apps on the market. They offer one of the best choices of betting markets, an awesome, easy-to-use design, good odds, and a lot of unique features, like the BetMGM same game parlay builder. But a lot of players are finding they are having issues with the one-game parlay not working properly.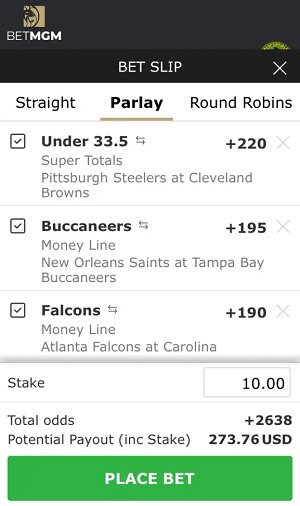 Similar to the issues with FanDuel, offering same game parlays is no straightforward task. There are a lot of variables and correlations that happen across parlays, and they won't always be available. Sometimes this can be a technical issue, and if it is, it's usually resolved very quickly. Other times this can be because the bets are too closely correlated and therefore not available to be parlayed.
DraftKings Parlay not working
Like FanDuel, parlays are extremely popular on DraftKings. However, not everything always goes smoothly. You may be thinking because you are using one of the most prominent sportsbooks in the US, nothing can possibly go wrong. Unfortunately, that is not the case, and there are times we have received messages that DraftKings parlays don't work on the sportsbook.
There could be a couple of reasons for this. Your betting account might not have enough money in to bet, you could be trying to bet in a state without legal sports betting, or the app just might need updating.
Sportsbooks with Parlay Options
Whether you are playing on the DraftKings sportsbook, FanDuel sportsbook or the Caesars sportsbook, you will have access to numerous parlay options. Of course, most licensed US betting sites offer many different bets, but they recognize bettors want that potentially huge parlay bet payout and offer markets accordingly. When you build your parlay, each leg will appear on your bet slip, and you can also bet same game parlays with the the best US sportsbooks.
If you want to bet parlays, we recommend looking at the top sportsbooks we have listed on this site. Sports bettors will discover lots of ways to place straight bets in addition to options for wagering on multiple games. The good news is, if it is a technical issue it can be resolved quickly by contacting customer support.
If it issue isn't technical, it could be that you are trying to bet on markets that are too closely correlated. You should receive an error message stating you can't place the wager before adding it to the betslip in this instance. Alternatively, a game in your parlay bet might be suspended and the sportsbook is simply recalculating your odds.
Pros and Cons of Parlay Betting
Before you read any parlay review of a sportsbook or use your free bet on a parlay wager, you might want to know the pros and cons of choosing this bet type. A parlay is the most common and common type of bet on a betting app and if you want to bet parlay it is worth doing some research first. First, let's look at some pros of parlay wagering.
Pros
Parlays are considered to be exciting and exotic bets. As you are unlikely to win, if you are successful you will be the toast of the town.
If you strike gold and all of your legs in a parlay win, the payout will be huge.
Certain sports bettors are attracted to parlays including those looking for some serious cash and beginners. As beginners don't know any better and haven't got a grasp of odds properly, a parlay makes sense. If any new player sees they could potentially win a large amount from a small outlay they will jump at the chance.
For any new bettor who is an NFL fan, they could bet on the New York Giants, Buffalo Bills, New England Patriots and Seattle Seahawks to win on any NFL week. Alternatively, if you would prefer single game parlays, you could make a prop pick on a Monday Night Football or Thursday Night Football game. A game between Green Bay and Chicago could see you bet on Aaron Rodgers throwing over a certain amount of yards or David Montgomery running over a stated amount of yards.
Cons
The biggest drawback of parlays is quite clear. Even if you think you are extremely knowledgeable about a market, things can go wrong and it is unlikely all of your legs will win. Any professional gambler will say there isn't a great margin when parlay betting. For this reason, making a parlay bet with a small stake is great, but betting a lot on parlays regularly will see your bankroll decrease quickly.