Gamble USA strives to improve your online gambling experience. We aim to help you play safely, make informed decisions when gambling, and increase your betting knowledge through our guides.
We adhere to strict editorial integrity; our content may contain links to products from our licensed & legal US partners.
You're all set to put on that winning bet but your William Hill sportsbook won't work. So what can you do to fix it?
Sports betting in the US is expanding at a rapid pace and sportsbook operators and now available in over 14 states throughout the US. Technology now means we can wager on the go, but this doesn't always go to plan. William Hill has been one of the most successful online sports betting operators to launch in the US and is not available in several states.
As they rapidly expand across the US, they are relating more features, more updates, more markets, and offers, but sometimes that leads to more complications and more issues with the William Hill app not working and causing issues for players.
Before we tell you how to fix your William Hill Sportsbook app, we will point out that if you are serious about making money betting online, you should always use 2 or 3 Sportsbook apps. First of all, you can claim more free bets, second, you can compare odds and offers, and thirdly, if any of the apps ever go down, you always have a backup.
A couple of good sportsbooks to run alongside William Hill in case you run into problems are:
DraftKings Sportsbook – $1,000 free new player bet – sportsbook.draftkings.com
BetMGM sports – $1,000 risk free bet – betmgm.com
William Hill is one of the oldest and most trusted sports betting operators on the planet. They have an amazing sport betting app, but it can throw up some faults every now and then. Even the best sportsbooks apps freeze and crash which isn't ideal.

Fixing your William Hill Sportsbook & betting app
All big tech companies have problems every now and then. Think Instagram, Call Of Duty, and Verison to name a few. They all go down, they all have times when you can't use the service. Sometimes it is a problem on their end, most of the time it is something you can do.
Yeh, it sucks when your William Hill app is not working. The good news is there are steps you can take to fix it and get back betting. So let's break down what you need to do so you can get back to laying that winning bet.
1. Are you using a VPN?
Trying to wager at a licensed sportsbook in a state where sports betting is not legal is not allowed. You can't use a VPN or a proxy server to try and spoof your location. Operators have technology in place to detect if you are using a VPN and will block you. If you manage to sign up and bet with a book and are then caught using a VPN, your account will be suspended and you can be banned from betting with the operator.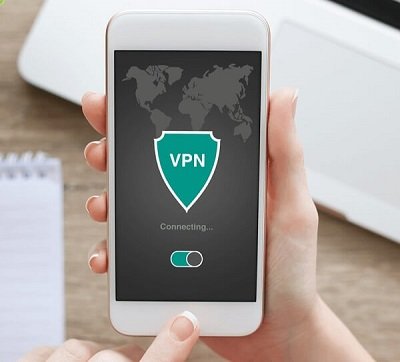 2. Is your account blocked?
If you haven't used an operator in a long time or requested for your account to be closed, your account will be shut down. You will need to contact customer support on caesars.com/sportsbook-and-casino/us or email at customersupport@williamhill.us who can check the status of your betting account.
3. Are you betting in a legal state?
William Hill may be one of the fastest-growing names in the US sports betting market, but, they aren't available in all states that allow sports betting.
The states you can legally bet with William Hill online & mobile are: AZ, CO, IN, IA, IL, LA, MI, NJ, NY, TN, VA, & WV
You may be in a legal state such as Colorado but are experiencing geolocation problems. Your cell may be using a tower in a neighboring state and as such, the operator can't confirm your location. If you are having location problems, then our separate geolocation sportsbook guide will help to fix this problem.
While you can join the operator from any state, you do need to be in one where the operator is licensed before your wager can be placed.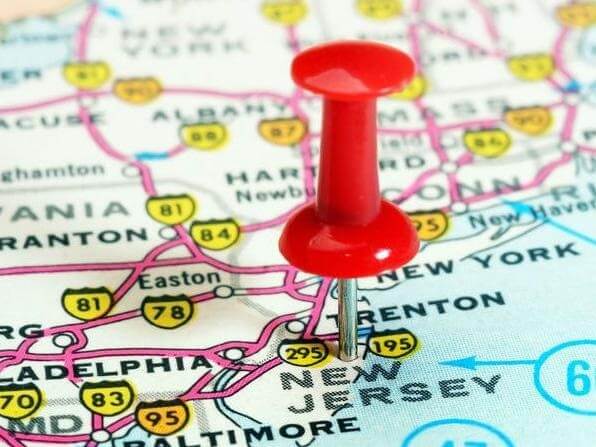 4. Check for an alternative sportsbook
If you are having repeated problems in using the app and sportsbook, you can always bet with an alternative sportsbook instead. We can recommend the 3 operators below and you can sign up, download the app, and be placing your wager in less than 5 minutes. Why not try:
5. White or black screen on the William Hill app
Sooner or later, every app will crash or have problems. That's just how technology works. If you load up the app and are stuck on a white or black screen, try to force close the app and re-open it. Sometimes the app doesn't load due to memory shortages on your smartphone so close all your apps and try and open it again. If you do and this doesn't work, uninstall the app, then re-install it. You can download the app for iPhone and Android on the William Hill US website caesars.com/sportsbook-and-casino – iOS users will be sent to the iTunes app store, Android users can download the latest app directly from the mobile site.
6. Is William Hill down?
The problem may not be your app, it may be a server issue affecting the WH website and mobile apps. The operator has data centers all over the US and in different states where they are available. One of these data centers may have problems and that can result in the whole platform going down. If this is the case, you will just need to sit tight and wait for the site and app to come back online. Yes, we know this isn't ideal, and that is why we recommend using a couple of different apps just in case.
7. Is your account properly funded?
Most of the time you can log in and go to place a bet but can't, it's because your account has no funds. If you have only just made a deposit, depending on the cashier method, you may need to wait until funds clear.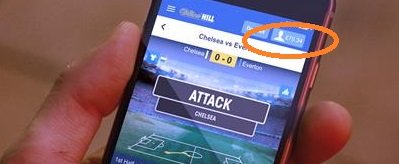 8. Go mobile
If you are trying the app and can't use it, try the mobile site at caesars.com/sportsbook-and-casino to see if you can log in. Sometimes when the app is down, you can still log in on the regular desktop and mobile site to put your wager down. Apps go down all the time but hopefully, the normal site will still work.
9. Log in problems
If you can get to the log-in screen and are adding the right username and password but it won't work, do a password reset. We have logins for everything online and sometimes we are convinced that we are using the right combo, we may not be. Hit the reset password option and set a new password and login that way.
If you are having any of these problems with your sports app from William Hill on either Android or iPhone, you are not alone. Reddit users have posted quite a few problems when using the app and we hope our troubleshooting guide has been able to help you.
If you have a device that is running dodgy software or has been jailbroken, then this can really affect the app and how it interacts with William Hill. You will always have problems logging in and using the app if you use a jailbroken iPhone.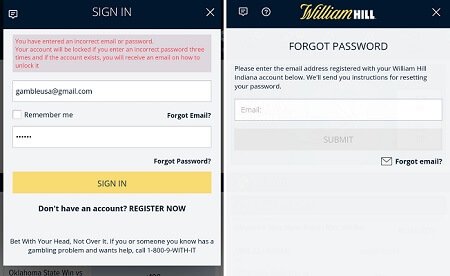 William Hill app running slow
You may be able to load the sports betting app ok but placing a bet on it is another story. All apps run slowly from time to time. The majority of the time, this is temporary and can be caused by a surge in traffic. If your app has been running slow for quite some time, try force stop all your apps and clear your iPhone or Android mobile's memory. Running too many apps at once can cause them to lag and go slow and your phone's processor cant handle all the requests.

You should also check what version of the app you are using. Most apps get updated several times a month for performance improvements and security enhancements. If you are using a dated version then this can be slow and you need to update.
William Hill has been purchased by Caesars entertainment, and this move has led to Caesars rebranding WH as the Caesars Sportsbook app. If you are still running the old William Hill app, when you open the app, you should be asked automatically to update. If this doesn't happen, go to iTunes or the Google Play Store and make sure to update to the latest version. You can also download the latest app build from the mobile site on caesars.com/sportsbook-and-casino.
Does the app keep crashing?
Similar to the app running slow, there have been occasions where the WH betting app keeps crashing or refusing to load a bet slip. We have seen the "unable to load bet slips" message a few times, then the app freezes and crashes. Sometimes we have only been able to get to the login screen and the app crashes. The cause of the problem……using an old version of the app. We removed the app completely and then downloaded the latest, updated version, logged in and that seemed to do the trick. Every now and then, there can be technical issues with the software and the server talking to the app properly. Luckily this is usually resolved pretty quickly but it's always good to have a backup sportsbook just in case.

Some common error terms
If you are trying to use the app and having issues, you can expect to see  any of these common error terms below:
502 Bad Gateway error
Error 103: Unauthorized Location for Nevada Wagering
Error 105: Insufficient accuracy to verify your location
Error 109: Our location provider cannot locate your device.
William Hill internal service error
William Hill network connection error
From the bat we have always found William Hill to offer a pretty seamless betting experience online and when using the mobile app. But just like we have problems with the DraftKings app and some issues with FanDuel's app, most of the time, there is an easy fix.
If you have any further suggestions or ideas that you feel we have missed, we would love to hear from you. Get in touch on twitter @Gamble_USA