Gamble USA strives to improve your online gambling experience. We aim to help you play safely, make informed decisions when gambling, and increase your betting knowledge through our guides.
We adhere to strict editorial integrity; our content may contain links to products from our licensed & legal US partners.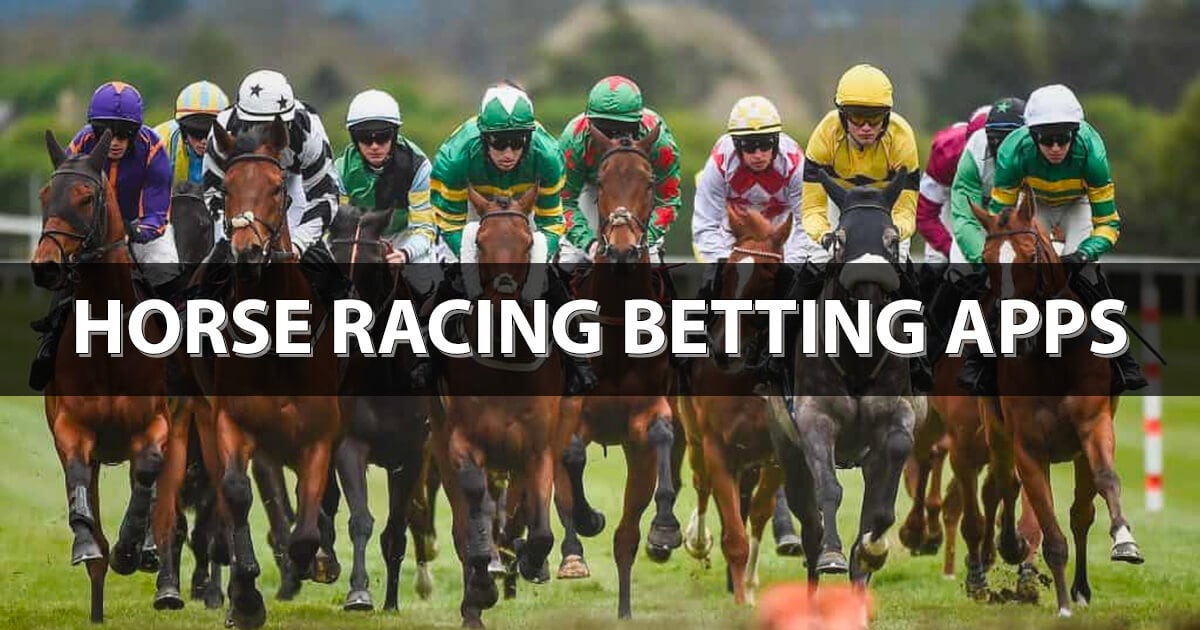 Any keen racing fan will know there is no better feeling than placing a wager at a track and holding your winning slip. But if you can't get to the track, using a Horse Racing Betting app is the next best thing.
Horse racing gambling has been around in the United States for a long time. People have enjoyed being able to watch horse racing for hundreds of years, leading to the US having some of the biggest horse races globally. To add to the excitement of watching these races, in the early 20th century, residents of the US began choosing their favorite horses and betting on them. This snowballed as people realized they could make some money from wagering on a horse race.
Several years on, horse racing betting has developed enormously, and bettors today have more options than ever before. As more states legalize online gambling, sports betting apps and online casinos are now available in many locations. This has led to a variety of horse racing apps also launching, allowing bettors to wager on the go, watch live races and receive the latest news about racetracks and the runners and riders.
As more horse betting apps appear, it can be challenging to find one that is suitable. Each horse betting app will offer bonuses and promotions such as free horse racing bets or unique perks focused on significant events such as the Kentucky Derby. Whatever horse racing betting app you choose, whether you are in Pennsylvania in the PA horse betting market or in New Jersey, there are fantastic options in the online horse racing world.
This article covers the best horse betting apps available in the US. We will look at the horse racing apps for Android and iOS devices, and rank them by their bonuses, available bet types, supported races, and other relevant metrics. Let's dig in.
---
Best Horse Racing Betting Apps – August 2023
Finding an online horse racing betting app that is ideal for you can be challenging. With so many apps for horse racing now available, some research is required before you sign up and start betting on horse racing online. Even the New York Racing Association gives detailed information on races such as the Belmont Stakes at Belmont park via its NYRA Bets site. Additionally, there are off-track betting app and free horse racing app options available for players.
You will probably want to know some features before you choose any horse racing betting app. We have listed the best horse racing mobile app options below, along with some features they offer, which makes them an excellent choice.
These are the top horse racing betting apps currently available:
TVG🥇
AmWager🥈
TwinSpires Racebook🥉
BetAmerica
Xpressbet App
Each of the above platforms is available as a horse racing app for both Android and iPhone. They all contain features such as free daily picks, detailed track information lists, live stream options, and more. Additionally, TwinSpires is a partner of the Kentucky Derby, so punters will have the opportunity of some unique betting options for the world-famous race.
---
Top Horse Betting Apps Reviewed
To give you a clearer idea of which official betting app is the best option for you, we are going to give you a more in-depth look at each option. A good horse racing betting site or app must offer tips, strategies, a promo code and more before you make a horse racing bet. Let's take a look at the best horse racing apps currently available in the US.
---
🥇#1. TVG Racebook App
Promo Code: GET250
Get A $250 Bonus Bet
21+. T&C Apply
21+. T&C Apply
Legal US Racebook
Extensive U.S. track coverage
Promo Code: GET250
Get A $250 Bonus Bet
21+. T&C Apply
21+. T&C Apply
The TVG mobile site and app have the extra benefit of being safe and secure for all your horse racing betting needs. Additionally, bettors can view track odds as they would for an in-person wager. All of the wagers will then be combined with bets that are placed at the track.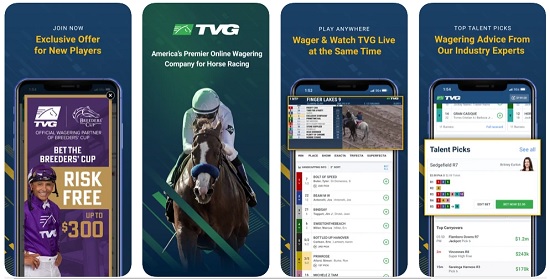 Customers who use TVG can set alerts, so they never miss a race they are interested in. Additionally, players can check the results tab at any point to see if they have won the race and how much cash they have made. The app also offers a detailed list of races and horses, which can then be filtered by time, track, featured, and favorites.
You can keep your eye on your bets at any time through the My Bets tab in the TVG app. Plus, you can watch your chosen races live. There are over 120 track feeds that you can choose from, including the option of watching a race on full screen. This means you can create your own version of a horse racing show on the move.
Another great feature of this app is that instant deposit and cash-out options are available in the cashier section. This makes funding your account quick and efficient.
Please note that you must be within the confines of a state that allows legal gambling and be of legal gambling age to bet on this app. TVG is available in Pennsylvania as PABets and in New Jersey as 4NJBets. TVG is also the official partner of the Breeder's Cup
📱 Download the app: tvg.com
---
🥈#2. AmWager Racebook App
Get A $500 Sign Up Bonus
21+. T&C Apply
21+. T&C Apply
Legal US Racebook
Cash back rewards system
Get A $500 Sign Up Bonus
21+. T&C Apply
21+. T&C Apply
AmWager may not be as big a name as some of its competitors, but they still have an amazing racebook app. The operator runs a licensed and well-established horse betting website that is based here in the United States. They have been taking horse racing bets since 2009 and accept wagers on around 500 tracks worldwide, including up to 1,000 horse racing events a day.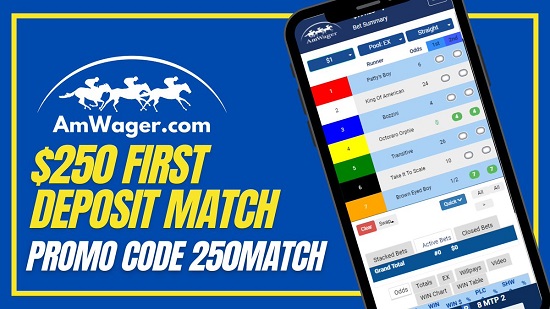 It is free to create an account with the racebook and all new customers can get a $250 free deposit match bonus when they join. The AmWager app is easy to use and has one of the best, most user-friendly interfaces of any legal horse betting app. You can watch Live Videos and Race Replays on the platform, as well as set your favorite tracks and personalize the app.
📱 Download the app: amwager.com
---
🥉#3. TwinSpires Horse Racing App
Promo Code: BET1000
New Player $1,000 Risk-Free Bet
21+. T&C Apply
21+. T&C Apply
Huge free bet offer
Live betting & Odds boosts
Promo Code: BET1000
New Player $1,000 Risk-Free Bet
21+. T&C Apply
21+. T&C Apply
TwinSpires is trying to appeal to those bettors who want to see horse racing action 24/7. The app offers races worldwide, and both iOS and Android users can download the TwinSpires mobile site.
The menu is clean and simple, and you can browse the different racecards and the markets they are in with ease. Also, you can make multi-leg wagers all in one place; there is no need to switch between different screens or menus. The TwinSpires TV option gives you the ability to look through their huge race replay library if you need to carry out some research. You can filter by date, racetrack, or horse.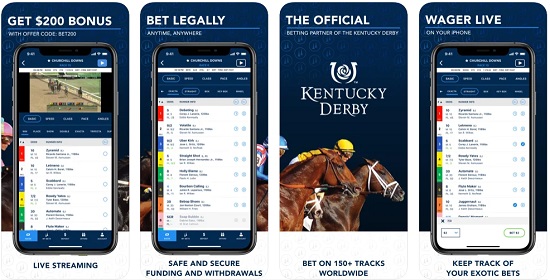 The app is also very detailed in terms of handicapping info, analysis, and expert picks, and all of this information is free. Be sure to set up notifications, so you don't miss out on any action.
📱 Download app: twinspires.com
---
🎖️#4. BetAmerica Racebook App
The BetAmerica app has been thriving since its launch and is available for both iOS and Android users.
In terms of navigation, the BetAmerica app is more straightforward to use than several other apps. It also offers all of the same features as the desktop version of the site; you can switch between both. You also have the option of betting on greyhound racing or horse racing.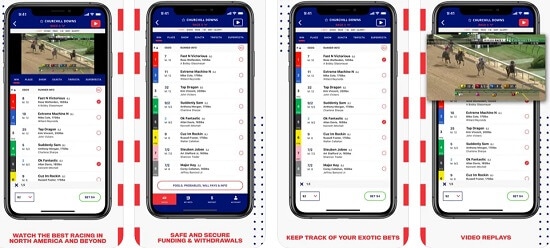 BetAmerica offers numerous types of wagers such as place, trifecta, exacta, superfectas, show, and all multi-race exotics. As with most top racebook apps, you can also watch most races live as BetAmerica offers an excellent streaming service.
Users can choose races from the United States, Canada, New Zealand, United Kingdom, Australia, and more. You can click the relevant buttons to find out more information about the races and also about the history of horse races.
You must be 21 to use this app in most states, but as always, check your state's restrictions.
---
🏅#5. Xpressbet Racing App
Please be aware that some potential players will not be able to open Xpressbet accounts depending on how close they are to particular gambling locations.
With that said, Xpressbet offers excellent features, including over 300 races to choose from. The variety of wagers available is also impressive. In addition, the app allows you to place bets on a wide range of races. It is incredibly user-friendly with one-click access to things such as banking, tracklist, horse race replays, account balance, and more.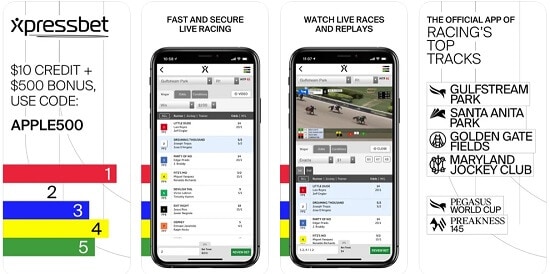 One of the most exciting options when using the Xpressbet app is the live video module that comes integrated with the platform. Consequently, you can watch and keep up to date with all the races and events you have wagered on, a fantastic feature for any horse betting app.
You can also customize your bets and diversify them however you wish. Because the 300 racetracks offered are located internationally, you can find a race that will cater to your needs at any time. Additionally, Xpressbet has a three-part welcome bonus offer when you download and sign up. New players can claim up to $20, $100, or $500 in maximum bonus credit
---
Top Horse Racing Betting Apps Comparison
Horse Racing Betting Site🏇
Horse Betting Bonus🎁
FanDuel Racing
$20 No Sweat First Bet
Xpressbet Racing App
$100 signup bonus
BetAmerica Racebook App
up to $100 in bonus bets
DK Horse
100% deposit match bonus of up to $250
TwinSpires Horse Racing
$200 deposit match bonus
TVG Horse Racing
$200 No Sweat First Bet
AmWager Horse Racing
$150
Deposit Match

Biggest US Horse Races
Now that we have listed each betting site we think you should sign up for, let's take a look at the biggest races in the sport in the US.
Betting On The Triple Crown Races
For any bettor looking to get in on the action, the first stop will be the races that make up the Triple Crown, which is a series of races for thoroughbreds, typically restricted to three-year-old horses. The best betting app will provide horse racing tips and detailed horse racing odds for these races. Horse race betting sites and horse race betting apps should also offer incentives such as free bets and odds boosts to keep players engaged. These are the races that make up the Triple Crown:
Kentucky Derby (Churchill Downs)
Preakness Stakes
Belmont Stakes
Other Popular US Horse Racing Events
Besides the Triple Crown, the US is home to a large number of popular horse races. These are:
Breeders Cup
Travers Stakes
Pegasus World Cup
Arlington Million
Arkansas Derby
Kentucky Oaks
---
Horse Race Betting Bet Types
Horse racing is a somewhat unique phenomenon in the US sports betting market, both in its legality and in the way it operates. Another distinction from sports like soccer, football, or hockey is in the horse race betting bet types available, which are distinct from the usual moneylines and other wagers you've probably gotten used to.
The horse racing bet types can be divided into two groups: single horse wagers and multi-horse wagers.
Single Horse Wagers
As their name implies, single horse wagers encompass bets where you try to predict the race results for a single horse. These are:
Win – you predict the selected horse will be the winner of the race
Place  – you predict the selected horse will be second-placed
Show – you predict the selected horse will come in third
Multi-Horse Wagers
Multi-horse wagers, also referred to as "exotic bets" encompass wagers in which you aim to predict the placement of multiple horses within a race. These are:
Exacta – predict the two top-placed horses, as well as the exact order they finished the race in.
Trifecta – guess the three top-placed horses, including the exact order they will finish the race.
Superfecta – same as the previous two, just with four horses minimum.
Quinella – predict the first and second-place winners regardless of the order those two horses finish in.
All of the exotic wagers can also be "boxed", meaning you can cover all possible placement combinations in order to safeguard your horse selection if you're unsure of the exact order they'll come in.
---
Is Online Horse Race Betting Legal in the US?
Due to its unique pari-mutuel betting system, in which the bettors play against each other and not against the "house", horse race betting is legal in more states than regular sports betting and predates the legalization of sports betting. However, the lax regulations surrounding horse race betting are due to change after the 2020 horse racing doping scandal, with the US Congress drafting the Horseracing Safety and Integrity Act.
---
States With Legal Horse Betting
As we've mentioned, horse race betting is legal in more states than regular sports betting. Legal horse betting states are:
Alabama
Arkansas
California
Connecticut
Delaware
Florida
Illinois
Iowa
Kansas
Kentucky
Louisiana
Maryland
Massachusetts
Montana
New Hampshire
New York
North Dakota
Ohio
Oklahoma
Oregon
Pennsylvania
Rhode Island
South Dakota
Tennessee
Vermont
Virginia
Washington
West Virginia
Wisconsin