When you feel you've mastered the basic aspects of horse race wagering, you may want to move to more complex, exotic bets such as Trifecta betting.
A Trifecta wager gives modest bettors the opportunity to win big from a small outlay of cash. The definition of a Trifecta bet is players picking the correct selection of the first, second, and third-place finishers in the exact order. The reason Trifecta horse betting is so popular is that there is a chance of winning massive amounts of cash with a relatively small stake.
A Trifecta bet payout often reaches five figures, and in significant horse racing events such as the Kentucky Derby, the payouts can often be six figures.
This article will cover how to bet a Trifecta, what a good Trifecta strategy is, the average Trifecta payout, how Trifecta combinations work, and how to box bet in horse racing. You can of course use trifecta betting in conjunction with one of the free horse racing bets available from licensed racebooks.
---
Types of Trifecta Bets
There are four different methods of betting the Trifecta, which are:
Straight Trifecta Bet – a standard trifecta where you aim to predict the top 3 horses in a race, as well as the correct order they finish.
Trifecta Box Bet – a box variant of the trifecta bet with which you guard your selection of top three horses by placing a bet on all possible placement combinations for those three horses.
Trifecta Wheel Bet – a bet in which you're certain about the winner (which will remain the same across all your bets) but aim to cover all the combinations for the other horses in your selection.
Trifecta Key Bet – here you're certain your "key" horse will be the winner, and the rest of your selections need to come in second and third, in any order.
The Trifecta box bet is the most prominent method of betting with the Trifecta, even though it is the most inefficient.
---
What is a Trifecta Bet?
A trifecta bet is a horse racing wager in which you predict which three horses will finish in the top three positions in the race (win, place, show), as well as guessing the correct order in which they will finish. Picking the correct horses but not predicting their correct placement order will result in a lost bet, which is what makes placing a trifecta tricky. The trifecta falls into the exotic wagers category, next to the exacta, quinella, and superfecta.
When it comes to horse race betting, a Trifecta is relatively new compared to boxed betting or Exacta bets. Consequently, Trifectas are not well-known among the general betting public. One of the reasons for this is that Trifecta payouts are not displayed on the tote board prior to the beginning of a race. This means most bettors are guessing and over-betting combinations that have a very small chance of winning. In addition to people having a bad Trifecta betting strategy and lazy handicapping, it means Exacta pools have fewer inefficiencies.
These inefficiencies are exploited daily by intelligent handicappers. These handicappers know what is the smartest bet in horse racing and structure their Trifecta bets based on probability and profit.
The difficulty of the trifecta wager can be alleviated by "boxing" your selections, which is where the trifecta box comes in.
---
What Is A Trifecta Box Bet?
Also referred to as a boxed trifecta bet, the trifecta box is the most used and straightforward method of Trifecta betting. Trifecta boxes allow bettors to play multiple Trifecta combinations on a single ticket. These are typically offered at most racetracks in denominations as low as $1. For example, a $1 Trifecta box of horses 4-5-6 would include six $1 combinations at the cost of $6.
Trifecta boxes mean you can choose more than three runners, typically three or more horses. You could even cover the whole field and play every possible Trifecta combination in a single race if you like, although we would not recommend doing this as you are unlikely to see any long-term profits.
By placing a trifecta box, you aim to cover all possible placement combinations of your selected horses. As such, this type of bet comes in handy when you're confident you can pick out the top 3 horses, but you're unsure of the exact order they'll come in. However,  the downside is that a trifecta box is more expensive to place, as you'll have to place a stake for each combination.
Trifecta Box Example
Let's take a look at how a trifecta box bet would look like in practice. Let's say you predict that horses 4, 5, and 6 will place in the top three positions, but you're unsure of who will be the winner and the exact order they'll finish in. In order to box your selections, you'll place a bet for all possible placement combinations of those three horses. Those are:
4-5-6
4-6-5
5-4-6
5-6-4
6-5-4
6-4-5
For a three-horse trifecta box there are a total of 6 possible combinations for your choice of horses, and you'll have to place a bet for each one to cover all your bases.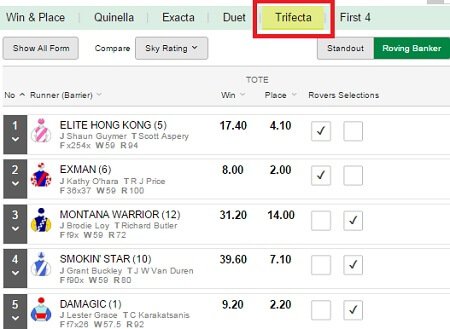 ---
How Do You Calculate Trifecta Bet Costs?
If you want to calculate your Trifecta box payout or your 6-horse trifecta box, it is essential to know each type of Trifecta wager is calculated slightly differently. This is why it is crucial to know how much money you need to place and compare it to the risks involved. Let's take a look at our Trifecta box calculator for a breakdown of the costs of a Trifecta Bet.
Trifecta Box Costs
To work out the cost of a trifecta box bet, you need to multiply the number of horses used by the number of horses used minus one. For example:
$1 Trifecta Box with three horses: $6 (6 possible combinations)
$1 Trifecta Box with four horses: $24 (24 possible combinations)
$1 Trifecta Box with five horses: $60 (60 possible combinations)
You can do the same if you want to wager more money with a $2 trifecta box etc. As with any form of exotic bets, such as an Exacta, the more horses you add, so does the number of possible combinations increase, leading to higher trifecta box costs. Exotic bets like these are exciting but very difficult to win. This is why if we were to look at other simpler bets like place, show, win, and exactas vs. a Trifecta, we would recommend Trifecta as best for experienced handicappers.
Trifecta Wheel Costs
For this type of Trifecta, multiply the number of horses used on top or the win position of the exacta with the horses in second. Make sure you minus one if the same number is used on top in the exacta.
This can be broken down as follows:
X amount of horses in first position multiplied by X of horses in second minus 1 of X horses in third minus 2.
For example, a $1 Trifecta Part Wheel 1 with 2,3,4 with 2,3,4,5 would equate to 1 x 3 x 3 = $9 (9 possible combinations)
The best way to play full wheels is when you like a horse who is an underdog, and you are confident that the first and second favorites will finish out of the money.
Trifecta Key Costs
To work out the cost of a Trifecta Key, you can use this equation: $ x Number of horses x number of horses minus one. For example, if you place a $1 Trifecta Key 1 with 2,3,4,5, this would equate to 1 x 4 x 3, which gives you 12 possible combinations at the cost of $12
---
Trifecta Box Payout
Each trifecta bet comes with its own flexi percentage which depends on the number of your selections, the type of the trifecta you're placing, and the size of your stake.
Your trifecta box payout will then be that percentage of the declared dividend. Usually, a 3-horse trifecta box will pay out 24 times your original bet.
---
Best Trifecta Strategies
While a detailed guide for a trifecta or a trifecta box strategy warrants its own article, there are some baseline pointers you need to keep in mind. First is that trifecta box bets are highly inefficient.
One of the main reasons for this is that all the combinations in your trifecta box simply do not have an equal chance of coming true. This is where your handicapping skills and odds analysis become key, as you should aim to eliminate the less-likely combinations to cut down your costs. However, if you're a beginner bettor, a trifecta box is simple and can give you peace of mind and a higher chance of getting a payout than with a trifecta key or trifecta wheel.
---
What Are The Most Common Trifecta Numbers?
If you believe patterns play a big role in sports betting, you may want to take a look at the most common Trifecta numbers. You can look at form and progress going into each race which could sway your decision. However, we wouldn't get too lost in the numbers. The only time you should consider placing a Trifecta box, or large Trifecta wheel is when you feel the two favorites have a decent chance of finishing out of the money.
Otherwise, you will lose vast amounts of money over time with different strategies. After all, predicting the correct order in a horse race is far from easy. If you are entirely bemused by a race and can't separate the contenders from the non-contenders, you shouldn't wager. It is best not to play Trifecta boxes just so you can cash a ticket at a loss.
Structuring your bets using Trifecta key part wheels is a far wiser strategy than looking for the most common numbers.
Sites Offering Trifecta Bets
If you don't want to visit a race track and would rather place a combination trifecta from home, you can do so. You can place a wager on multiple horses or submit a simple place bet on the following sites:
All of the above sites will offer odds on stakes races such as the Belmont Stakes and offer different bet type such as boxed trifecta and other multiple bet options. You will also find lost of horse racing news and the latest key horse info on these dedicated horse betting sites.
FAQs
What does Trifecta mean in horse racing?
A Trifecta bet is a type of wager placed on a horse race in which the bettor must predict which horses finish first, second and third in the exact order.
How much does a trifecta pay?
This depends on how much money you place and how many combinations you choose. Refer to our Trifecta calculator above to work out the potential payout for each form of Trifecta wager.
How much does a $2 trifecta box cost with 4 horses?
A $2 Trifecta wager  1/2,4,6,8 would cost $36. The 1 in this instance is the key, so it must finish in the top three positions.
What pays more exacta or Trifecta?
This depends on the odds of the horse combinations in relation to the total amount wagered in each of these pools. Occasionally the payoff from the exacta pool will generate more money than the returns from the trifecta pool, but typically the Trifecta pays more.