Illinois Fighting Illini vs Penn State Nittany Lions Betting Preview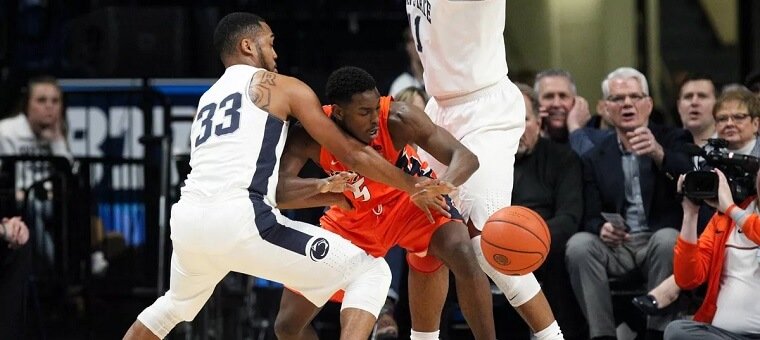 The season has turned for the worse for some teams in the Big Ten Conference. Traditional powerhouse schools are falling by the wayside as new blood takes over.
But even that new blood is now struggling to put it all together. There are a number of question marks surrounding the Big Ten and who the best team is.
Fortunately for college basketball fans everywhere, there is still plenty of time to get all of that sorted.
On Tuesday, the Illinois Fighting Illini will be on the road to take on the No. 9 Penn State Nittany Lions.
These two teams are towards the top of the conference standings, and it should be a good matchup across the board.
With them both being at opposite ends of their seasons, it will be interesting to see how it all shakes out. Let's break down the game between these two programs.
An entire season's worth of peaks and valleys
The Fighting Illini had transformed their program this season. Housing one of the best recruiting classes in ages, it looked as if they were ready to take a leap.
It turns out that they did, and they ripped off a seven-game winning streak in conference play. Since then, it has been nothing but a struggle for this team.
Losses to Iowa and Maryland, along with a back-breaking last-second loss to Michigan State at home seems to have derailed this team.
Ayo Dosunmu was also hurt on the last play of the game against Michigan State. Luckily, there was no structural damage to his knee, but he sat out in their game Saturday against Rutgers.
If Dosunmu sits out again, it will be up to Trent Frazier and Andres Feliz to carry the workload on offense for the Fighting Illini.
Without Dosunmu, this team is not nearly as threatening, so these games will be an important test to see what kind of strength they have without their leading scorer.
What Penn State has is what everybody wants
The best thing about this Penn State basketball team this season is how low the expectations are for them. There is next to zero pressure for them to succeed.
What's great about that is they can play freely and loosely without worrying too much about being under scrutiny.
The program has come a long way in recent years, and with scorers like Lamar Stevens, Myreon Jones and Mike Watkins, they have balance across the board.
Playing with an upbeat style of pace is what they love to do. Getting out and running in transition is what is best for this ball club, so expect to see that worked into their game plan.
Still, even with the potential of an injury-ridden Ayo, Illinois will not roll over for this Penn State team.
If Dosunmu sits out and Kofi Cockburn gets aggressive in the paint, they could have some trouble finding ways to stop him.
All that to say, this Penn State team is legitimately good, and there is a reason why they will be knocking on the door of first place for the rest of the Big Ten regular season.
Betting Preview
With their team being at home in this game, the Nittany Lions find themselves favored at -5.5. Illinois has been reeling, so this line makes perfect sense for them to be the underdog.
Everything that Penn State has been doing this season has been successful. There are not a lot of holes in their team, and they have been able to claw their way to the top of the standings.
The Nittany Lions will get it done on Tuesday night, and lock in the W. Make sure to put in your bets before tip-off!
Hit us up up on Twitter @Gamble_usa for more game previews and news.
Relevant news