Illinois Sports Betting Here For March Madness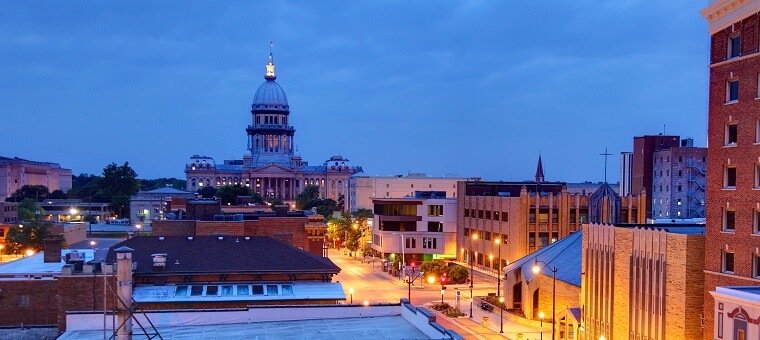 Illinois has become the 15th state with legal sports betting after the first-ever wagers were made at the BetRivers Sportsbook.
The retail sportsbook, which is located inside the Rivers Casino in Des Plaines. opened its doors for business at noon Monday, following an open ceremony which saw Chicago Blackhawks great Eddie Olczyk make the first wager: $100 on the White Sox to win the AL pennant at 16/1.
Gathering of gaming industry personnel, lawmakers and journalist at the unveiling of the BetRivers Sportsbook — @RiversCasinoCHI first legal sportsbook in the state. #sportsbetting #illinois pic.twitter.com/J3XxzKe4IE

— Nick Garcia (@reporternickg) March 9, 2020
The BetRivers sportsbook, operated by Rush Street Gaming and powered by Kambi's sports betting technology, features a 4,840-square-foot sports bar with a 47-foot video wall. It has five betting windows and 30 kiosks.
The timing of the launch means that the sportsbook can take bets on the upcoming NCCA's men's basketball tourney, widely known as March Madness, a fact acknowledged by Corey Wise, Senior Vice President and General Manager of Rivers Casino.
"The BetRivers Sportsbook will take March Madness out of the office pool and into an exciting, elevated live sports wagering experience," he said. "We are grateful to the Illinois Gaming Board staff for their work approving our sportsbook in time for the college basketball tournament—one of the greatest sports events of the year."
"Whether you are a seasoned sportsbook player or a casual sports fan interested in this new entertainment option, we're dedicated to an environment where all customers will enjoy themselves in this great venue within our premier casino," said Greg Carlin, chief executive, and co-founder of Rush Street Gaming.
Let the Madness begin
The American Gaming Association (AGA) expects that $10.4 billion in wagers will be put down on March Madness this year, up from the $8.5 billion in 2019, when 47 million Americans reportedly placed a wager.
However, the AGA estimates that just 3% ($295 million) of this year's wagers will be placed legally, with illegal offshore books taking the remainder.
The percentage of legal handle can only increase as more and more states begin hosting regulated sports betting markets, with currently just eight having online sports betting apps in addition to retail sportsbooks.
They are Indiana, Iowa, New Jersey, Oregon, Pennsylvania, Rhode Island, West Virginia, and Nevada.
If you live in one of the states listed above, apart from Oregon, which has banned online bets on collegiate sports, you can wager on March Madness right from your mobile device through an online sportsbook.
The tourney begins with Selection Sunday on March 15, followed by the official first round four days later.
Rivers the first to market
Rivers was one of three casinos to apply for a sports betting license at the earliest opportunity, along with Penn National's Argosy Casino Hilton and Eldorado Resorts' Grand Victoria Casino Elgin.
All three were granted a temporary operating permit by the Illinois Gaming Board (IGB) in early February, and just days after the IGB had issued the second round of emergency rules concerning Illinois sports betting.
Since then, three further casinos – Penn's Hollywood Aurora and Hollywood Joliet and Boyd's Par-A-Dice – have received permits, along with one of the state's three horse racing venues, Fairmount Park.
A sportsbook is under construction at the Hollywood Aurora property, located in the Chicago area, but an opening date has yet to be announced.
So the likelihood is that only the BetRivers Sportsbook will be open for business during March Madness, and there's still no timeline for the launch of online sports betting in Illinois.
Mobile situation not ideal
While sports betting in Illinois was legalized in June 2019, it has taken this long for the first retail sportsbook to open, and bettors now face an even longer wait for mobile betting to begin.
Rivers have said they will launch the online version of their sportsbook (betrivers.com) and mobile app later this year, but no online operators have submitted a license application to the IGB so far – and there's a reason.
Under Illinois state law, bettors are required to register in-person at a brick-and-mortar property before being able to wager, and that requirement stands until the first standalone mobile license is approved.
As that can only happen 18 months after the start of retail betting, there's no chance of any standalone operators – such as DraftKings or FanDuel – launching their mobile platforms before the start of 2021 football season.
And such operators are hardly going to be queuing up for the standalone licenses given they cost $20 million each.
IL residents hungry for sports betting
The slow rollout is going to frustrate IL bettors further and those in those in the downtown Chicago area specifically will continue to take their cash over the border into neighboring Indiana, where statewide mobile wagering is allowed.
While there's no need to trek to a casino in the Hoosier State to wager – a parking lot or truck stop will do – it's no coincidence that the two casinos closest to the Illinois border are leading the way in terms of retail sports betting numbers.
Clearly there is a huge appetite for sports betting in the Prairie State and the sooner it rolls out mobile betting the better, given its massive success in states such as New Jersey, where around 85% of bets are placed by digital means.
The good news is that legal sports betting is finally underway in Illinois and in time for March Madness, albeit at a single property for the time being, and there's a silver lining behind the wait for mobile to begin.
Under Illinois' gambling expansion bill, residents & visitors will eventually be able to enjoy sports betting throughout the state, including at sports stadiums that seat more than 17,000 people, such as Wrigley Field and the United Center.
Come and follow us over on Twitter @Gamble_usa for more legal sports betting news across the US.
Relevant news