Indianapolis Colts at Kansas City Chiefs Betting Preview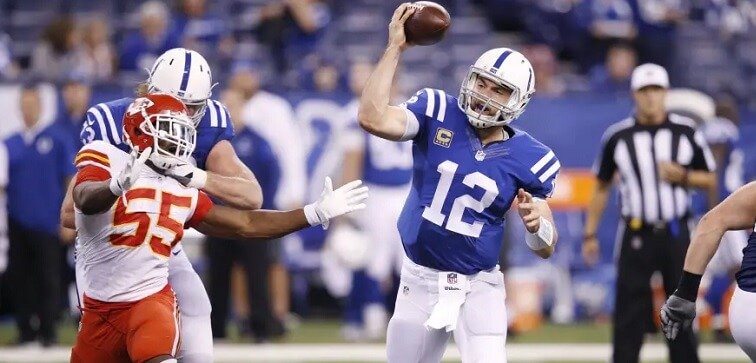 The 2019 NFL season has been electric so far, and we are only a quarter of the way into it. We still have three undefeated teams and six teams that have yet to achieve a win.
Game time: Sunday October 6th @ 8:20pm
More byes are coming into play in Week 5, as the Detroit Lions and the Miami Dolphins have themselves a week off.
This article will cover the matchup of one of the remaining undefeated teams, as the Indianapolis Colts will travel to Arrowhead Stadium and take on Patrick Mahomes and the Kansas City Chiefs.
Mahomes and Kansas City have been lighting up the scoreboard in every game, while the Colts have been able to remain relevant even after the sudden retirement of Andrew Luck.
In any case, we will help breakdown the matchup between these two teams and help you to determine the best bets.
DraftKings –
Brissett Is Colts Quarterback Of The Future
Most teams would have hit the panic button after the sudden retirement of their franchise quarterback, but not the Indianapolis Colts.
The Colts lost Luck and handed the keys to their backup, Jacoby Brissett. The team surrounding Brissett was well built: They had a run game set, and their defense had a number of blue-chippers at all positions.
The star of the Colts has to be their offensive line. This line was built entirely to protect a franchise quarterback, and so far Brissett has looked like the guy for the Colts. He has accounted for 10 touchdowns, two interceptions and nearly 1,000 yards through four games.
The Colts have two big injury concerns right now at the skill positions. Running back Marlon Mack left their last game against the Raiders with an ankle injury but has not been ruled out of this contest. He seems to be on track to play Sunday night but will have to be monitored throughout the week.
T.Y. Hilton sat out against the Raiders and is still questionable with a quad injury. If he suits up, this greatly helps the Colts' chances.
KC On Super Bowl Pace
The Kansas City Chiefs have the best offense in the NFL. Patrick Mahomes seems like the frontrunner for a back-to-back MVP award.
The Chiefs lost their All-Pro wide receiver Tyreek Hill in the first week, but it has not made a difference for Mahomes. He has turned rookie receivers and people that some of us have never heard of into stars.
LeSean McCoy has also revitalized his career as the Chiefs' lead running back. Damien Williams went down a couple of weeks ago, and McCoy has been dominant in the interim.
The real problem with Kansas City is its defense. The Chiefs have been allowing over 400 yards of offense per game and have not been able to create consistent stops.
Even with a questionable defense, the offense led by Mahomes has been able to carry Kansas City to a 4-0 start.
Betting Preview
The Kansas City Chiefs are a massive home favorite here against the Colts at -11. The Chiefs are going to be favorites in any game they play this season, especially at home.
The Colts have played well, but they just lost a home contest against the Oakland Raiders. Had they have won that game, I think there would be a higher level of confidence in this team, but it is hard to justify they will go into Kansas City and walk out with a victory when they could not take care of business at home.
Take Kansas City in this matchup at -11. It seems like the obvious choice, but the Chiefs have yet to prove us wrong this season. Betting against Mahomes is not a smart choice.
Make sure to lock in your bets before Sunday night's kickoff!
Check back for more Free Football picks and follow us on Twitter @Gamble_usa
Relevant news