Iowa Hawkeyes at Iowa State Cyclones Betting Preview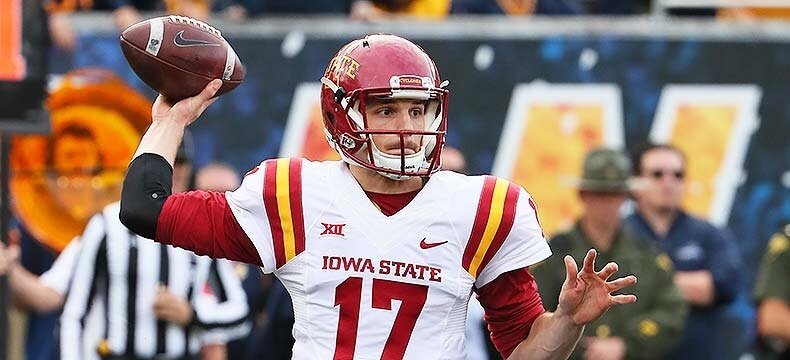 This year's college football season has presented us with some classic games so far. There will be another one coming in Week 3 as an old rivalry will get renewed.
The Iowa Hawkeyes will be traveling to Ames, Iowa, to take on the Iowa State Cyclones. The Hawkeyes enter this game ranked No. 19 in the country, though both teams are currently undefeated.
In this article, we will be taking a dive into this in-state rivalry and looking closely at the matchup between the Hawkeyes and Cyclones. We will cover the betting trends and assist with picking the best bet for this game.
Hawkeyes Have Eyes On Big Ten Title
The Iowa Hawkeyes have experienced a modest amount of success in this decade. Head coach Kirk Ferentz is in his 20th season coaching the Hawkeyes and has coached through all the ups and downs of the last two decades of Iowa football.
Iowa has played two games this season and played exceptional in both matchups. In Week 1, the Hawkeyes took on Miami of Ohio and beat them 38-14. Week 2 brought another home game featuring Rutgers.
In the matchup against the Scarlet Knights, the Hawkeyes held Rutgers to only 125 yards of total offense. Their defense also forced three turnovers and shut out Rutgers entirely, winning the game 30-0.
Quarterback Nate Stanley threw for 236 yards and three touchdowns against the Rutgers defense. While Rutgers is no powerhouse, the Iowa offense was clicking in all positions and looked poised and competent.
The Hawkeyes' offense will be the key in their matchup against Iowa State. Stanley should be able to get good protection in the pocket and make more throws downfield to his receivers.
How Good Is Iowa State?
Iowa State is in a little bit of a different position than Iowa. Cyclones head coach Matt Campbell took over the position in 2015 and has yet to experience a large amount of success in this head coaching stint.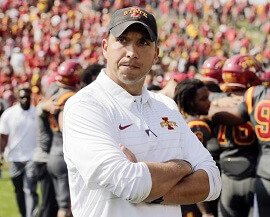 Iowa State has only played one game in this 2019 season, taking on the Northern Iowa Panthers. This game was a triple-overtime heart-stopper, which the Cyclones won on a field goal 29-26.
Quarterback Brock Purdy finished the game with 278 yards passing and two touchdowns. The Cyclones' rushing attack saw three different backs get over 10 carries and combine for 185 yards. It was a balanced effort that helped propel them to victory.
The defense was the big question mark, and why we are wondering how good Iowa State really is. They had a hard time coming up with stops against the Panthers, and the Hawkeyes' offense they are about to face will be much better.
Still, a week off in between these two games might be just the boost that the Cyclones need to help them get over the edge.
Battle Of Iowa; Only One Team Will Survive
The spread for this game opens up at Iowa -1.5 on the road. This game will be about as evenly matched as it gets. It is really about the little things in this matchup: maintaining time of possession and cutting down on turnovers.
With all the variables in place, the game could go either way, but I like that the Cyclones are at home and that they have had an extra week to help them prepare against the Hawkeyes.
The Hawkeyes are good on both sides of the ball, but I am going with Iowa State to win the battle for Iowa in a close contest, 17-14. Take the under on the point total because there will be a whole lot of defense between these two rivals.
Lock it in before kickoff!
Check back for more Free Football picks and follow us on Twitter @Gamble_usa
Relevant news