Iowa Hawkeyes at Michigan State Spartans Betting Preview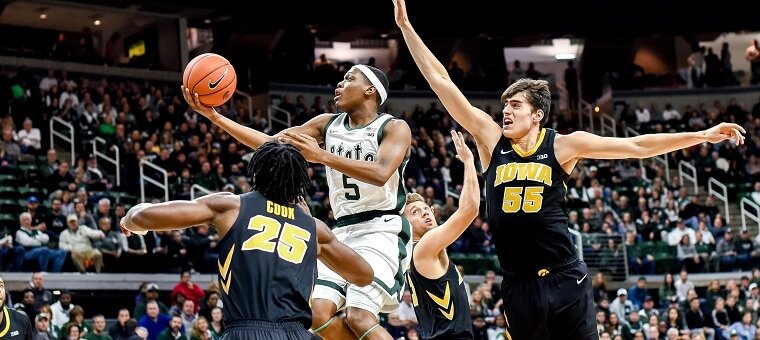 What a wild ride this year's Big Ten Conference basketball season has been so far. There has been considerable change nearly every week.
Maryland has been the most consistent team by far, but that is not to say other teams have not been good.
The group of Penn State, Iowa, Michigan State, and Wisconsin are all tied in second place, a group Illinois had a chance to join with a win in its game on Monday night.
Two of those second-place teams will find themselves in action on Tuesday when the No. 18 Iowa Hawkeyes will be traveling on the road to take on the No. 24 Michigan State Spartans.
They have both been up and down but share similar records at 19-8 and 18-9, respectively. Both teams also boast a Wooden Award candidate, so seeing them in action will be a treat.
Let's break down the matchup between these two teams and help make a prediction for where you should be betting your money on Tuesday night.
Garza National Player of the year?
What a leap Luke Garza has made for this Iowa Hawkeyes team. A towering 6-11 junior center, Garza has nearly doubled his scoring average from the previous season.
His game is that of a wrecking ball, and he has been wrecking his way through Big Ten conference play, scoring 24 points in each of his last two games.
For the season, he is averaging 23 and 9 on 56% shooting. Those are incredible splits for any player, let alone for college basketball.
He is making his case for being the player of the year, and this Iowa Hawkeyes team will go as far as his back can carry them.
Contrary to many of the Iowa teams of the past, they have an incredibly explosive offense between Garza and guards Joe Wieskamp and CJ Frederick.
This trio is as good as any team in the country and Michigan State will have to find a way to hone in on them to limit their potential.
What has been going on with the Spartans?
Look, I considered Michigan State one of the best teams in their conference partly because of their previous success.
There is a lot to love on this team, but lately, they have been reeling. It has been a struggle, and they have lost four of their last six games.
Most recently, they blitzed Nebraska for a double-digit victory, which had to feel good to help get them back on track. Picking up any victory in this kind of struggle is important to bring back confidence.
Cassius Winston has still found a way to be an incredible leader for this team. He is truly the heart and soul of this Spartans' basketball team, and he also happens to be their leading scorer.
When it comes to Michigan State, everything begins and ends with Winston, so Iowa is going to have to figure out a way to stop him and make the other players beat him.
If Winston can get downhill attacks towards the basket to put the Hawkeyes on their heels, Michigan State should have an incredibly high chance to win.
Betting Preview
Coming into this game, the Michigan State Spartans are favored at home at -7.5.
I would say, all in all, these two teams are fairly even across the board. They both have a standout player, but I think Garza is set up to completely dominate this game.
Garza has averaged nearly 27 a game on the road this season, so expect the Iowa Hawkeyes to win this game on the backs of his big game.
Make sure you are locking in your bets before Tuesday night!
Come and follow us over on Twitter @Gamble_usa for more free basketball and sports previews.
Relevant news