Iowa State Cyclones at Oklahoma Sooners Betting Preview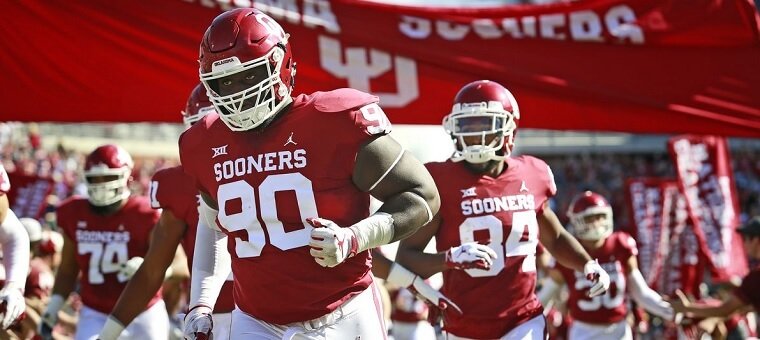 College football is poised for one of the biggest weekends of the season, highlighted by the matchup between No. 1 LSU and No. 2 Alabama.
Game time: Saturday, November 9th @ 8:00pm
But believe it or not, there is still other football happening outside of the Southeastern Conference. There is a lot of turnover after a bunch of the top teams lost recently, and the College Football Playoff is more wide open than it has ever been.
The Big 12 has a chance to send a team to the final four, but with Oklahoma's most recent loss, it is going to be tough. The No. 9 Sooners will be home this Saturday night taking on the Iowa State Cyclones and looking to bounce back after losing to Kansas State two weeks ago.
This matchup should feature a lot of offense, and both teams will be ready to put a lot of points on the board. Let's break down these two teams and help you figure out where you should be betting.
Can The Cyclones Break Through?
Iowa State's football season has been a series of peaks and valleys throughout the year. The Cyclones' offense has been able to maintain a lot of consistency, and their three losses on the season are by a combined total of 10 points.
This team might be sneaky good, and they will easily find a spot for itself in the bowl season. Finding a way to stop the Sooners is a completely different story, though.
The Cyclones' defense has struggled mightily against the stronger offenses they have played this season, and stringing together consistent stops is not really in their game.
Oklahoma is ready to put points on the board nearly every time down the field. The real question for the Cyclones is if they can keep up.
Brock Purdy has been a solid threat at quarterback all season. I think in this game, the Cyclones will end up going as far as Purdy can take them. They are going to need a huge game in order to match Jalen Hurts' production on the other side.
Are Oklahoma's Playoff Hopes Finished?
A lot of experts were ready to crown Oklahoma after their opening weeks of the college football season. Hurts was looking like he was going to give the university three straight Heisman Trophies.
Well, the season changes throughout the year, and as Hurts' production was still solid, a lot of people were questioning how good Oklahoma was going to be by the end of the year.
The loss everyone was waiting for finally arrived at the hands of Kansas State. The final score was 48-41, but the game was not as close as the score indicates.
The Sooners were absolutely dominated on both sides of the ball and struggled to keep up all game until the fourth quarter, where they almost rallied back. It was too little too late, and now the Sooners' destiny for the College Football Playoff is in jeopardy.
Just because they lost one game does not mean they are all of a sudden a bad offense, but they definitely look more vulnerable than ever before.
Betting Overview
It was no secret that Oklahoma was still going to be favored in this game. Iowa State is a little bit better than its 5-3 record indicates, but the Sooners are still favorites in this one at home at -13.5.
This game will 100 percent serve as a bounce-back game for Oklahoma after its last game. I expect Hurts to come out and silence all of the doubters and put 50 points up on the scoreboard. I am Oklahoma all the way in this matchup, and there is no reason for you to be scared to bet on them.
Make sure you lock in your bets before Saturday night's kickoff.
Be sure to check back for more Free NFL & NCAA Football picks and hit us up on Twitter @Gamble_usa
Relevant news