Lamar Jackson Back With Ravens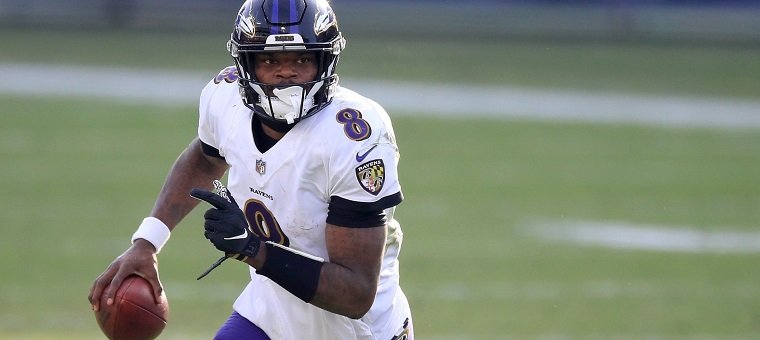 The ongoing COVID-19 pandemic continues to be one of the biggest storylines facing the National Football League, and it just won't go away.
This time it was Baltimore Ravens quarterback Lamar Jackson that was receiving questions from the press after returning from a bout with the virus.
Jackson has now contracted COVID-19 twice in a span of eight months, and he has made it known that he is not vaccinated. This is where much of the attention focused on Monday, but Jackson continued to answer all of the questions that he was asked.
When asked about his intentions to get vaccinated or not, Jackson responded by saying, "I got to talk to my team about this and see how they feel about it. Keep learning as much as I can about it. We'll go from there."

21+. T&C Apply
21+. T&C Apply
Jackson has been away from the team for a total of 10 days as that is the length of quarantine time required y the league for players that are not vaccinated. Even though Jackson has missed some important parts of Training Camp, it isn't likely to have any effect on the field.
During the 2020 season, Jackson tested positive for COVID-19 and was forced to miss just one game. The quarterback told the media that he was experiencing similar symptoms this time around, which includes fatigue.
The entire NFL is still working on getting more players vaccinated, but that is not an issue when it comes to the Ravens. Head coach John Harbaugh has made it clear that at least 90 percent of the Ravens' roster has received the vaccine.
Baltimore is expected to be one of the top teams in the NFL this season, but only if Jackson is on the field. The Ravens are also in talks with Jackson on a long-term contract extension, but those have been stalled of late. Sportsbooks already have the Ravens well price for those looking to bet on the NFL this season.
The NFL has implemented new COVID-19 protocols for this season, and unvaccinated players could receive hefty fines if they violate these new rules.
Texans Still Dealing with Watson
Houston Texans quarterback Deshaun Watson was in the news this offseason for all of the wrong reasons, and that has continued into Training Camp. Watson was back with Houston on Monday after missing five straight days of practice.
The tumultuous offseason for Watson and the Texans began when the quarterback requested a trade from the team. Houston was not willing to move Watson initially, but the team is now willing to listen to trade talks for their quarterback.
Watson is also facing sexual assault allegations from more than 20 different women, but the QB has not yet been charged with any crimes. This process is still playing out in the state of Texas, and the NFL continues to investigate these claims as well.
It's unclear why Watson has been missing time from the team, and it's also unclear if he will be the starting quarterback when the 2021 season begins. What is clear is that both sides would like to move on and start over with a different player and team.
Be sure to check back for more sports betting and casino news across the US. Follow us over on Twitter @Gamble_usa for the latest news, operator offers, and promos.
Relevant news