Kansas City Chiefs vs. Chicago Bears Betting Preview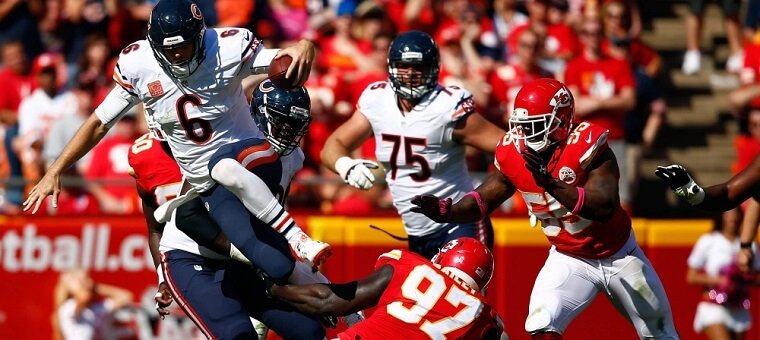 For the entirety of the season, the fans of the Chicago Bears were holding on to hope for their team to make the playoffs.
Date: Sunday, December 22nd, 2019
Time: 8:20pm
Location: Soldier Field, Chicago, Illinois.
Watch: NBC

Lines are provided by DraftKings Sportsbook – Sign up now and claim a $200 risk free first bet.
Last week brought about a matchup against the rival Packers, but the Bears ultimately fell short on a last-chance miracle lateral play.
After that loss, the Bears are officially eliminated from playoff contention, and now they will have to figure out what they are going to do with quarterback Mitch Trubisky.
They will get a test this weekend when the Kansas City Chiefs come to town. The Chiefs locked up the AFC West last weekend but could leap into a bye spot if they keep winning.
Let's break down the matchup between these two teams.
Is This The Year Of The Super Bowl For KC?
The Chiefs have had question marks surrounding their team all season long, but they are currently in the midst of a four-game winning streak.
Patrick Mahomes sat out the middle part of the year with a knee injury, but now seems like he is back to full strength.
Even in the midst of a blizzard on Sunday, Mahomes took care of business against a soft Denver defense that has looked hopeless at times this season.
Where the Chiefs have a little bit of difficulty is in their run game. That is not entirely their fault, as injuries have plagued Damien Williams all season long.
When Williams was first injured, they picked up LeSean McCoy, who has looked decent enough as a filler. The two players would provide a strong one-two punch out of the backfield, but they need to be healthy together.
Kansas City's defense has looked good in spurts this season, but that's about it. The Chiefs are average at best and can struggle to get stops consistently.
Even with some of these questions, the Chiefs have a strong chance of making the Super Bowl this year.
Can The Bears Really Trust In Trubisky?
Trubisky will be rolling into a contract year next season, and the Bears can choose whether or not they want to extend him to further his tenure in Chicago.
Lots of quarterbacks receive that extension, but some notable ones didn't for this season, including Jameis Winston and Marcus Mariota.
Mariota ended up benched, and Winston might finish the season as the leader in passing yards, so it's hard to tell all the time where a quarterback ends up.
Trubisky has come alive of late and used his legs to propel him. He has finally found a connection with wide receiver Allen Robinson III.
He's taken a lot of flack this season and rightfully so, as some of the Bears' losses have put Trubisky at blame.
While the Bears don't have much left to play for, they do need to figure out whether or not they are going to pay their quarterback.
Against the Chiefs, the Bears do have a fighting chance. The Chiefs' run defense has been their weakest link, and David Montgomery and Trubisky should be able to have their way attacking the defensive line.
Betting Overview
Let's not get anything twisted, the Chiefs are the better football team in this game, as they have been all season long. With that, the Chiefs are favored in this game at -5.5.
The Bears' defense is tough against any team in the league, but they lost Roquan Smith with a torn pectoral muscle.
Even with some of the positives of the Bears, I like Kansas City in this game, and I don't think there is any reason to pick against them. Make sure you lock in your bets before kickoff!
Hit us up up on Twitter @Gamble_usa for more big game previews and news. Make sure to check back for more Free NFL & NCAA Football picks.
Relevant news