Kansas City Chiefs at Denver Broncos Betting Preview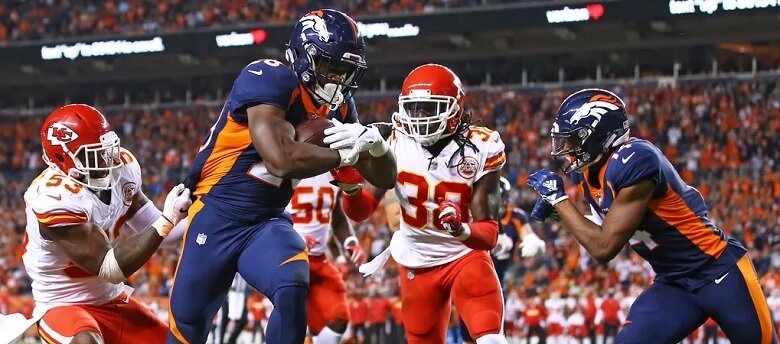 Oh, what a difference a couple of weeks makes in the NFL. If you would have talked to us then, we would have told you that the Kansas City Chiefs were a lock for a top playoff spot in the AFC.
Game Time: Thursday October 17th @ 8:20pm
But after two straight losses and a banged-up Patrick Mahomes, the Chiefs find themselves on a short week to take on their division rival, the Denver Broncos, on Thursday Night Football.
Traveling to Denver is never an easy task, and the Broncos are catching Kansas City at the best of times. Denver is on a two-game winning streak after the loss of Bradley Chubb in its game against Jacksonville.
This is another strong Thursday night matchup, and we will help you break it down to determine your best bets.
What Is Wrong With Kansas City?
After such a strong and dominating start to the season, the Chiefs have lost back-to-back games at Arrowhead Stadium. Both of the losses have been gut-wrenching, back-and-forth, one-score games.
Mahomes and Deshaun Watson had a duel this past Sunday, where Watson and the Houston Texans won the game. The problem with this duel, was it mostly was the Chiefs defense holding everything back.
The Chiefs defense constantly gave up big play after big play to the Texans and keeping them in the game the whole time. Carlos Hyde rushed for over 100 yards in the contest, and the defensive line for the Chiefs could not get it done.
Not to mention the ankle problem for Mahomes, as he was hobbling around much of the second half. This caused him to miss throws left and right, and he really looked like he was struggling. It is a far cry from the MVP-caliber performance we had seen the first four weeks of the season.
In any case, the Chiefs offense can still score at will, but this game will be tough on such a quick turnaround.
Is Denver A Sneaky Good Team?
Denver was picked by some experts at the beginning of the year to take one of the AFC Wild Card spots.
That prediction left a sour taste in some people's mouth as the Broncos started their season 0-4. Joe Flacco looked abhorrent, and while he has not improved much in their two-game win streak, the defense has improved greatly.
Denver was initially struggling with its defense the first couple of games because of its pass rush. The Broncos had not logged a sack in their first four games. It seemed like it was going to take a turn for the worst when Chubb went down.
But Denver has found its stride, holding the Chargers to 13 points in a victory and pitching a shutout against the Tennessee Titans.
Betting Preview
This game has all of the makings of a trap game for the Kansas City Chiefs. Even though they are on a two-game losing skid, the Chiefs are still everyone's favorite team, and Mahomes can still win the MVP for the second year in a row.
But a trip to Denver is no easy task, and with how many injuries the Chiefs have, they might find themselves struggling in the altitude. Tyreek Hill made his return last week and showed up in a big way, but I don't think it will be enough to put them over the hump in this contest.
The Chiefs are favored in this game at -3.5, but I think Denver on its home turf will shock everybody with the upset at home.
Take the Denver Broncos on a short week at +3.5 on Thursday Night Football. This is my bold prediction of the week.
Make sure to lock in your bets before kickoff!
Check back for more Free Football picks and follow us on Twitter @Gamble_usa

Get Up To $500 In Bet Credits
New customers only. Make a qualifying deposit (min $10), place bets to deposit value, once they are settled, matched amoun...
Relevant news