Kansas Jayhawks at Iowa State Cyclones Betting Preview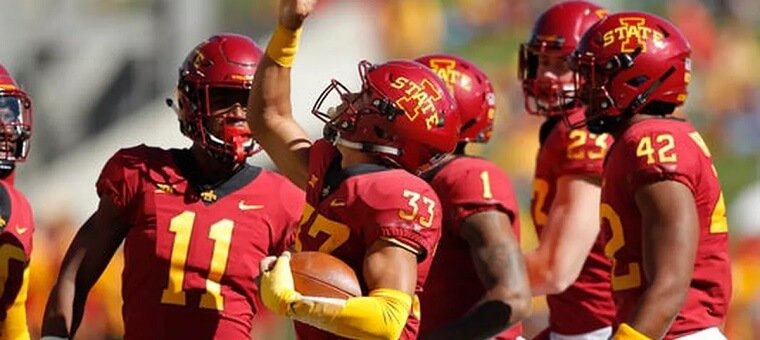 College football is creeping towards its dramatic conclusion to the 2019 season. Teams are fighting back and forth for the last four spots of the season.
Game time: Saturday, November 23rd @ 12:00pm
While the teams at the top are fighting it out for the final standings, there are still others who are trying to make the most of their season and get themselves into better bowl games.
Two of those teams are in the Big 12, and they will be going against each other Saturday as the Kansas Jayhawks will be heading a little bit north to take on the Iowa State Cyclones.
These two teams no longer have any hope of winning the Big 12, but they can look to spoil the rest of their league and build upon their seasons. Let's break down the matchup and help you determine your best bets.
Jayhawks Taking Baby Steps Forward
When Les Miles took over the head coaching vacancy at Kansas this offseason, no one expected the Jayhawks to make any significant improvements.
The Jayhawks have not had a winning season in nearly a decade, and it was time for a culture change. Miles, in his first coaching gig since leaving LSU, was just the man that they needed to lay the foundation for a revamped program.
The Jayhawks offense has been looking fairly consistent, averaging around 25 points per game. Carter Stanley has led this offense with 21 touchdown passes and only eight interceptions.
Stanley looks like the kind of player to build a program on, but the Jayhawks come up short on the defensive side of the ball. They have holes in all three layers of their defense, and I think Iowa State will be able to take advantage of this. For Kansas to stay in this one, the defense will have to step up.
Stanley does have the potential to lead this Jayhawks team to the upset, but that is going to be a difficult challenge. He will have his work cut out for him going against the Cyclones.
Cyclones Keep On Spinning
After back-to-back losses to Oklahoma and Oklahoma State, the Cyclones' season was looking bleak. They only needed to secure one more victory to guarantee a bowl game, and they managed to down the 19th-ranked Texas Longhorns at home last week.
Brock Purdy looked incredible on Saturday night, and he was lighting it up all over the field on the Texas defense. Purdy was electric, using both his legs and his arm to make life hard for the Longhorns.
Iowa State's season has been up and down, but Purdy should have no trouble against this Jayhawks defense. The Jayhawks have been giving up over 34 points per game, and Purdy is just the man to keep the Cyclones rolling.
While they have not been able to finish the season as strong as they had hoped, the Cyclones have a chance to make some noise as a Big 12 team and secure a good bowl game. They still have every incentive to compete day in and day out.
Betting Preview
Seeing how poor Kansas has been all season, it comes as no surprise that Iowa State ends up favored in this game at -23.5.
This spread is entirely due to how bad the Jayhawks' defense has been all season, and the thought that Purdy is going to run and pass all over them.
Don't make this one too hard on yourself and take the Cyclones to come out on top. There should be a large number of points put up in this game. Make sure you lock in your bets before Saturday's kickoff.
Be sure to check back for more Free NFL & NCAA Football previews & picks and why not follow us on Twitter @Gamble_usa
Relevant news