Kentucky Wildcats at Vanderbilt Commodores Betting Preview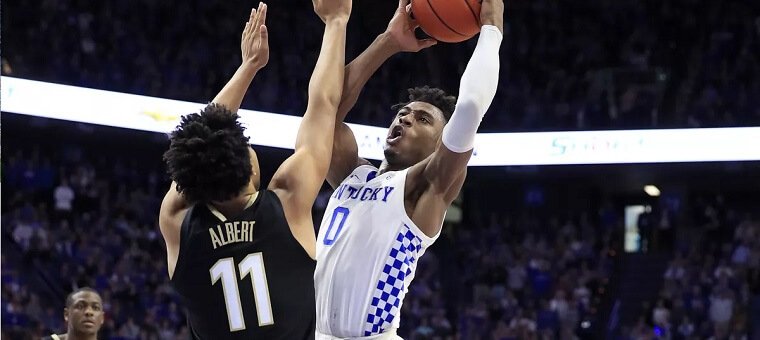 The No. 12 Kentucky Wildcats hit the road on Tuesday to take on the last-place but dangerous Vanderbilt Commodores in an SEC contest.
Kentucky is in a three-way tie for first in the conference standings with LSU and Auburn, while Vanderbilt has just one win in league play, though it was over LSU last week.
Granted, Vanderbilt has not had a great season so far, but we will breakdown the matchup between these two and give you our predictions.
Turning It Around?
The Commodores have been an abomination in conference play for a long time. They had lost a whopping 26 SEC games in a row at one point.
That streak went up until their game against LSU on Feb. 5. LSU came in ranked No. 18 in the country, but Vanderbilt took it to the Tigers, winning 99-90.
Guard Saben Lee had a career-high 33 points against the Tigers, marking head coach Jerry Stackhouse's first conference win.
Unfortunately for Vanderbilt, that success was followed by a loss to Mississippi State on the road on Saturday.
Either way, these Commodores are full of upset potential. Even with all of the disappointment in the last couple of seasons, it seems like there are big changes heading in a positive direction for this program.
With how great of a game Lee played against LSU, he has the potential to explode again and go off for a similar type of game.
Kentucky will have to make sure that they lock down Lee and make him its No. 1 target defensively.
Typical Wildcats
This year's version of the Wildcats has been better than expected. They have managed to pick up a couple of strong victories in their schedule.
Beating Michigan State, Louisville, and Texas Tech is not a fluke by any means, and it shows just how great this team can be when everything is working in its favor.
Led by Immanuel Quickley and Nick Richards, these Wildcats are not the freshmen-five standouts that they have been in previous years.
They still have a pretty darn good freshmen guard in Tyrese Maxley, and all three of those players, along with Ashton Haggins, average double-digit scoring.
The main concern with the Wildcats' roster is finding a fifth guy. When it comes down to it, who are the five players that are going to be on the court in crunch time?
Figuring that out in this next month of conference play will be the top priority for this program because I believe that they have the legs and the guard play to go the distance.
This team can be scary good, and hopefully, it stays that way for the rest of the year.
Betting Preview
Kentucky will roll into this road game favored at -11. That's no surprise, seeing that it is ranked nationally, and Vanderbilt is well under .500.
I think Kentucky will be able to unleash itself in this game and go into Vanderbilt, walking away with a victory.
This Wildcats team is just far too talented to lose a game like this. They are dynamic and explosive, so lock them in to win this game.
Make sure you get your bets in before tip-off on Tuesday night!
Join us over on Twitter @Gamble_usa for more big game previews.
Relevant news