Lions, Rams Swap Quarterbacks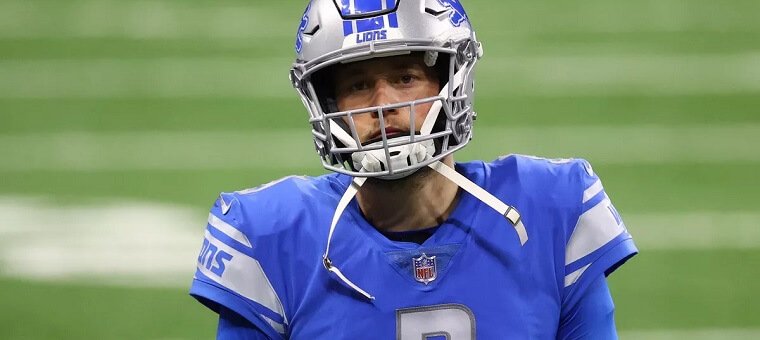 The Detroit Lions and Los Angeles Rams completed a blockbuster trade on Saturday night, swapping Pro Bowl quarterbacks.
Matthew Stafford will be heading to the Los Angeles Rams, while Jared Goff will be heading to Detroit.
The Lions will also be receiving first-round draft picks in both 2022 and 2023, and also a third-round pick in 2021. This deal cannot be completed until the new league year starts on March 17, but all of the final details are already in place.
Both Stafford and Goff were No. 1 overall draft picks, and this is the first time that players drafted in that position have ever been swapped. Detroit has been looking for a trade partner to get rid of Stafford, and they found one in an unlikely source.

21+. T&C Apply
21+. T&C Apply
Brad Holmes was recently hired as the new general manager of the Lions after previously working in the Rams organization. Holmes played a large role in selecting Goff with the No. 1 overall pick in the 2016 NFL Draft.
Stafford has played his entire career in Detroit but was looking for a change of scenery after another disappointing season. The Lions understood his frustration and promised the quarterback that they would pursue a trade this offseason.
Stafford leads the Lions franchise in a number of passing categories and is one of the best players to ever wear a Lions uniform. Stafford is also 16th all-time in NFL passing yards and is expected to thrive in Los Angeles under head coach Sean McVay.
Goff led the Rams to an appearance in Super Bowl LIII, but the team failed to score a touchdown in that game. The Rams were a playoff team in 2020, but Goff has failed to live up to the lofty expectations.
There were at least seven teams interested in trading for Stafford, but the Rams were able to deliver the best trade package.
Watson Staying in Houston?
Houston Texans quarterback Deshaun Watson was expected to be the first quarterback traded this offseason, but it's unclear if that will end up happening at all. Watson has submitted a formal trade request, but the team might not be willing to meet his demands.
The Pro Bowl quarterback has expressed frustration as to how the franchise is running the organization, especially as it pertains to hiring a new head coach. Insiders report that Watson has no plans to play another down for the Texans and is looking to force himself out of town.
David Culley was recently hired by the Texans as the new head coach, and he spoke on the trade rumors during his introductory press conference. Culley announced that he took the job knowing that Watson is the starting quarterback and is not expecting that to change.
General manager Nick Caserio also made it clear that the team was not looking to trade Watson and anticipates him starting under center to begin the 2021 season. Two teams are now out of the quarterback market, but there are still several teams in the league interested in trading for Watson.
Want to stay up to date on the latest legal sports betting news across the US? Then come and follow us over on Twitter @Gamble_usa.
Relevant news