LuckyLand Slots Casino
Gamble USA strives to improve your online gambling experience. We aim to help you play safely, make informed decisions when gambling, and increase your betting knowledge through our guides.
We adhere to strict editorial integrity; our content may contain links to products from our licensed & legal US partners.
With an excellent 7,777 gold coins and 10 sweeps coins no-deposit bonus, LuckyLand Slots has steamrolled its way to the very top of the online sweepstakes casino rankings. Should you play at LuckLand? We take a look with our in-depth LuckyLand Slots Casino review.
Established in 2019 by Virtual Gaming Worlds (the same company behind Chumba Casino), LuckyLand Slots has shown itself to be something of a trailblazer by not only using the sweepstakes model, but also by recognizing and choosing to prioritize its service to slot players with over 70 unique machines — including progressive jackpots, thrilling megaways, and even some that allow you to control volatility. Plus, with their dual currency, you can play for free. Just use our secure links.
Available in 48 states to everyone over 18, LuckyLand Slots' dual currency system caters not only to casual players who want free play games with their gold coins, but also to those who want cash prizes with sweeps coins. This review will detail precisely why LuckyLand has garnered so much success.
Our Expert Findings on LuckyLand Slots
| The Good Stuff | The Bad Stuff |
| --- | --- |
| ✅Great no-deposit bonus | ❌Mediocre RTP on slots |
| ✅Certified by the MGA | ❌None of the conventional table games |
| ✅Long history | ❌Limited slots from lesser known providers |
| ✅Parent company VGW pioneered sweepstakes casinos | |
| ✅Great social media following | |
| ✅Amazing user reviews | |
| ✅Available on all mobile devices | |
| ✅Regular promotions | |
| ✅Available in 48 states | |
Most LuckyLand Slots sister casinos share the same benefits, but also drawbacks. For players who do not fancy sites like Chumba Casino, LuckyLand, or Funzpoints, here are a few other top sweepstakes casinos:
What is LuckyLand Slots Casino?
LuckyLand Slots is an online casino that operates under the sweepstakes model. What this means is that it doesn't follow gambling laws. Rather sweepstakes laws. Therefore, it doesn't have to limit itself to the few states that allow online gambling; instead, it is allowed to offer itself to nearly every state across the US.
This is achieved with their "free to play" model. With this model, you can enjoy their site without spending a single dime by using their gold coins which are awarded every four hours. Of course, if you wish to purchase gold coins, you'll be awarded free SC coins. It's these sweeps coins that can then be gambled with and then traded for cash prizes. If it sounds like a loophole, it's because it is.
But don't let that stop you. Sweepstakes casinos, or social casinos as they are sometimes known as, have been around for a long time, and so long as they don't mistreat their player, the US government has shown them leniency. Plus, with their no-deposit bonus of 7,777 gold coins and 10 sweeps coins, you can play with real money for free by using our links. Plus, being a sweepstakes casino means you need only be 18 years old. The only exclusion to this is for residents in Washington and Idaho, for which all sweepstakes casinos are still illegal.
How to Play at LuckyLand Casino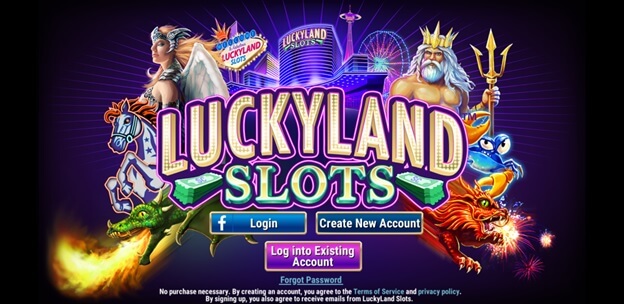 Playing at LuckyLand Slots is simple. No VPN needed. Just follow the basic steps below, and you'll be playing online slots within 10 minutes.
Visit https://play.luckylandslots.com/ and click the "Play Now!" button.
From here, either log in via your Facebook or register a new LuckyLand Slots account.
If you choose to register, the only personal details you need to provide are your date of birth, and email.
Done. If you used our links, your account will now be credited with 7,777 gold coins, and 10 sweeps coins free.
You're now free to play whichever games at LuckyLand Slots that you like. However, as only sweeps coins can be converted to cash prizes, we recommend you start off with gold coins to get a feel for the ideal strategy before switching over to sweeps coins when you've got it on lock.
With so many slots to choose from, you might be wondering where you should start. Well, if in doubt, you can check out our guide for 10 Top Slots to Play at LuckyLand Online Casino.
Who can Play at LuckyLand?
Who can play at LuckyLand? Almost everyone. Being a sweepstakes casino means that it's not only limited to New Jersey, Pennsylvania, West Virginia, Delaware, Michigan, and Connecticut, but that it's available in almost every state across the US. In fact, the only two states that aren't legally allowed to operate social casinos are Washington and Idaho.
Plus, since LuckyLand Slots uses the sweepstakes model, the 21+ age limit that applies to all other online casinos does not apply here. Instead, you need only to be 18 years or older. So, if you're 18 or older and live in any state other than Washington and Idaho, you can not only play at LuckyLand, but also you can get access to their welcome bonus of 7,777 gold coins, and 10 sweeps coins when you sign up using our links.
Additionally, LuckyLand Slots isn't just restricted to your PC. If you have a mobile device, you'll be able to access their mobile site. Plus, for Android devices, they even have an Android casino app.
Is LuckyLand Casino Legit?
LuckyLand Slots Company Info
🌐Website
https://play.luckylandslots.com/
📱Mobile Support?/ Type
Yes. Mobile Website & App for Android
🏢Parent Company
Virtual Gaming Worlds
💲Deposit Options
Credit Card, Bank Transfer, Skrill, Paysafecard
💵Withdrawal Options
Bank Transfer
🎰Software
VGW
If you've grown up in the US, then you've no doubt seen the country fight tooth and nail against casinos. And when there has been any progress, it's been minor. Usually limited to a specific state. As such, it's completely understandable why you may have doubts about such a casino that claims to legally navigate through the minefield of online gambling in the US to offer their services to 48 states. But the truth is they have. Their parent company VGW (Virtual Gaming Worlds), pioneered the sweepstakes casino model, first with Chumba Casino, and now with LuckyLand Slots.
Digging into their history, you can see that VGW was established over a decade ago, in 2010. Since the very beginning, they had this idea for social casinos that could be available for the entire US rather than just a few specific states. Predictably, this idea was met with a lot of backlash. While it did slow them, it most certainly didn't stop them. Since then, they've been licensed by the MGA (Malta Gaming Authority), one of the most respected gaming institutions in the world. Then in 2012, they launched Chumba Casino — thereby making their plan for sweepstakes casinos a reality. Because of this, VGW has obtained a near legendary status in the online gambling world.
But, it's not just our opinion.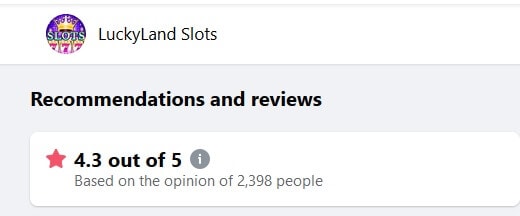 From 2,398 people, they've achieved a 4.3 rating out of a possible 5. Given that online reviews tend to be unfairly skewed towards the negative, this is an astounding achievement.

Reading through them, you'll see the same things repeated. Great bonuses. Great customer service. Fun and fair slots. Plus, an easy cashout system for when you win cash prizes. As such, it's an easy assessment to say that LuckyLand Slots Casino is 100% legit.
LuckyLand Slots Welcome Bonus
LuckyLand Slots Bonus Codes
🎁Bonus Code
NA / Use Links
💰No-Deposit Bonus
7,777 Gold Coins, 10 Sweeps Coins
💵💰First Deposit Bonus
10 Sweeps Coins for $5
🇺🇸 Availability
Nationwide excl. Washington, Idaho
LuckyLand Slots has one of the best welcome bonuses that you'll find in all of sweepstakes casinos. 7,777 gold coins and 10 sweeps coins — free. With one sweeps coin being equivalent to $1, that's $10 free simply for signing up using our links. On top of this, LuckyLand Slots offers a first deposit casino bonus.

$10 of value for only $4.99. While this bonus doesn't scale up, when combined with the no-deposit bonus, it allows you to start with 20 sweeps coins for only $5. It's a perfect way to give LuckyLand a try, without breaking the bank. No bonus code is required for either; just register using our links — and when it's time to deposit, click the big orange "buy" button in the top left corner of the screen. From there, the above banner will display, and you'll be able to take advantage of their offer.
LuckyLand Slots Free Daily Rewards and Promotions
But it's not just for first-time users as LuckyLand Slots offers a daily reward system for returning users valued at 0.3 sweeps coins, just for logging in with their LuckyLand Slots Login Bonus.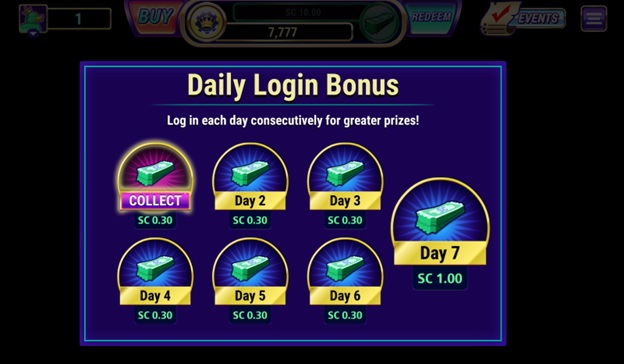 Plus, on the seventh day, this is bumped up to 1 sweeps coins. On top of this, users also get 400 gold coins for free play every four hours. These are the free daily rewards. However, there are plenty of other promotions always on at LuckyLand.
For all deposits over $20, players will get a small bonus on top of their deposit of about 5%. This isn't massive, but it is essentially free sweeps coins for no additional cost. For better bonuses, players can look forward to the weekly "Quacky Hour" flash sale. For this, players can temporarily buy a certain amount of sweeps coins available at half price. This promo is only available for two hours, so you need to be ready for it.
These as well as other promos will be sent to your email; however, users can also find them regularly on the LuckyLand Slots Facebook and Twitter page.
LuckyLand Slots Mobile Site Layout & Features
The LuckyLand mobile site has an identical layout to its desktop variant.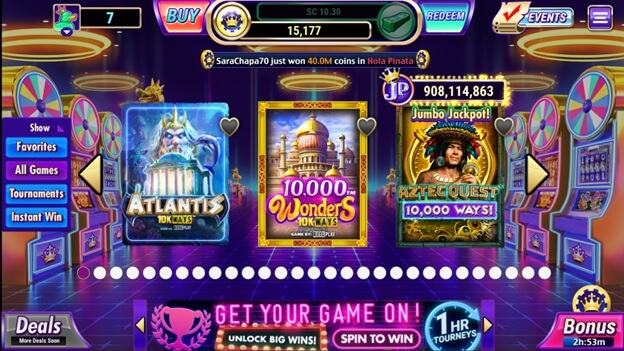 From it, players can navigate through it via its default "all game" page by swiping across. However, if they have favorited their games, they can also select "favorites" to view them exclusively.
Players can visit the mobile site by going to play.luckylandslots.com/mobileweb for Android devices and https://play.luckylandslots.com/ios1 for iOS devices. However, users of Android devices can also access it via the Android App, which can be downloaded directly from their site by following these steps:
Android Download
Visit the LuckyLand Slots download page at https://play.luckylandslots.com/download/via your android device and hit the blue "Download Now" button.
Once it has finished downloading, navigate to the downloaded files section of your device and tap the "LuckyLandSlots.apk" file.
Depending on your device, the specifics of what will happen next will differ, though you'll want to accept any prompts and allow installs from outside the Google play store.
You're done. The app can now be accessed like any other.
The free casino app has an identical layout to the above links, just more convenient. As such, this app isn't mandatory if you have an Android device. Even if you do, you may find it simpler to bookmark the above page and visit it at your convenience. The same can be done for users of iOS devices.
You may be wondering why LuckyLand doesn't offer their app on the play store. The reason for this as listed in their FAQs is that the Google play store takes a cut out of all profits, and as such, rather than paying these fees, LuckyLand Slots cuts them out to offer bigger cash prizes.
LuckyLand Casino Games Lobby
Of course, the main draw of LuckyLand is to play slots. However, there are other games. In the LuckyLand lobby, players can choose to visit their instant win games for a selection of 11 games. These include an assortment of scratch cards, a keno-like game, and a bunch of other guessing games. These games aren't something that I personally play a lot, but they all have fun themes, and if you're looking for something different, they can be worth a try. They even have a pachinko machine.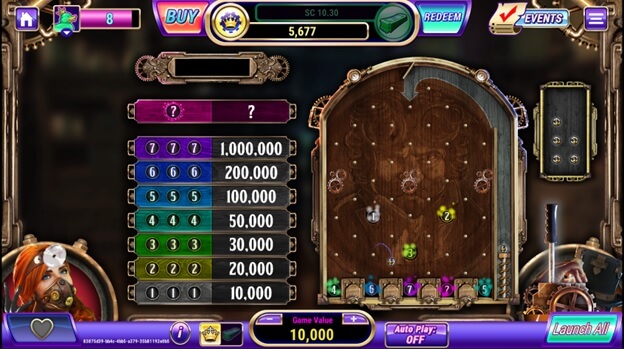 Without a doubt though, LuckyLand is mainly known for their in-house developed slots. At writing, there are over 70 to choose from with a range of themes from Alice in Wonderland & Frozen clones to classic Egyptian themes like Power of Ra — and even some unique titles like Madame Tarot, which allows users to control volatility.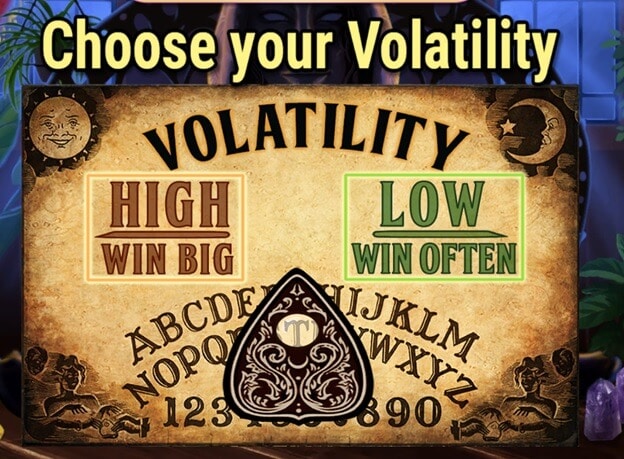 Below we'll give you a quick summary of our favorites for various criteria.
| LuckyLand Games | Top Picks |
| --- | --- |
| Best RTP | Mayan Gold (96%), Snow Queen in 3D (96%), Aztec Quest (96%) |
| Best Progressive Jackpots | Aztec Quest (871,750), Winner & a Movie (871,700), Adventure Party (871,500) |
| Most Popular | Snow Queen in 3D, Mayan Gold, Madame Tarot |
| Newest | A Blessed Journey, 10,000 Wonders, Alice in LuckyLand |
| Best Games Non-Slots | Amazing Pachinko, Lucky Numbers, Victoria's Cash Spectacular |
Top 5 Slot Machines at LuckyLand
Mayan Gold — RTP 96%
Aztec Quest — RTP 96%
Madame Tarot — RTP 94-95%
Snow Queen in 3D — RTP 96%
Alice in LuckyLand —RTP 94.5%
*LuckyLand does not publically list individual machine's RTP other than a mention that they are between 90-96%. As such all estimates are provided by our expert team.
Of course what makes LuckyLand so great is that using the social casino model means you can try all of these for free using their play money of gold coins. Then when you've found one that you love and have the strategy down pat, you can switch to sweeps coins for cash prizes.
Are LuckyLand Casino Games Fair?
Yes.
LuckyLand's parent company VGW is licensed by the MGA, which is one of the most reputable gaming authorities. To maintain this license, VGW are subject to random testing to ensure that their games are fair. While LuckyLand does not publicly list the RTP of their slots, they have stated that all slots have an RTP of between 91% and 96%. As such, if any of the testing by MGA were to show anything below these ranges, VGW would lose their license, and a decade's worth of hard work gathering users' trust would be gone.
In short, it wouldn't be worth it. While this is often a concern with illegal offshore companies that pop up overnight, a company like VGW is after a steady stream of profit rather than a cash grab. Further, when checking reviews, the only issues we could find regarding unfairness were people struggling with withdrawals due to failures of KYC verification. The solution to which is to ensure that all information provided to LuckyLand Slots is current and accurate.
In-App Purchase Methods
To fund your account through the LuckyLand Slots app is simple. However, one thing to keep in mind is that to keep LuckyLand Slots legal, gold coin purchases are the only type of currency you can buy, with the sweeps coins being provided as a free bonus. For example, $10 will get you 37,000 gold coins plus a free bonus of 10 sweeps coins. This may seem strange. However, it's a necessary step for a sweepstakes casino to follow in accordance with their "No Purchase Required" policy.
On the top left-hand corner of your screen, hit the "Buy" button. Then select the package you want to purchase. Since LuckyLand has no promo codes, any promos will be applied automatically as a purchase bonus.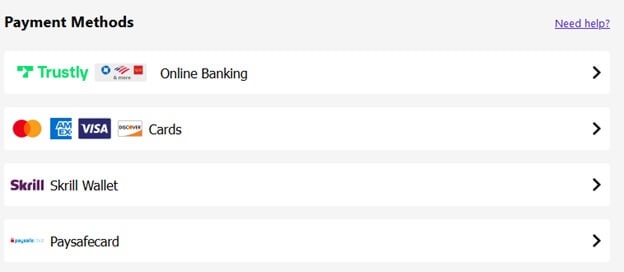 Then select one of the four payment methods of either online banking, credit & debit cards, Skrill, or Paysafecard. From here, you'll be taken to the relevant payment portal, where you'll need to enter your relevant details. Once that's done, your funds will be credited instantly.
There is an alternative method to receive five sweeps coins for free by sending a request via post to the following address: VGW LUCKYLAND INC, LUCKYLAND SLOTS SWEEPSTAKES DEPARTMENT, PO BOX #8486, PORTSMOUTH, NH 03801. It's legit. Though there are a lot of little things you have to do to receive sweeps coins this way, such as including a request card, writing specific words, and ensuring that your handwriting is legible. As such, if you use this method, you'll need to carefully read through their terms and conditions for the full details.
Redemptions at LuckyLand Casino
Once you've gotten at least 50 sweeps coins, you'll be able to redeem them for a cash prize. As with all online casinos, you'll need to follow their KYC (Know Your Customer) verification process. Once that's done, they'll be able to process your withdrawal via electronic banking. This process is relatively straightforward, and you can expect your funds within 48 hours after the request is made. Though once you've done this a few times, it gets quicker and can take less than an hour for your funds to appear.
Customer Support & Contacts
If you have any issues, the customer support team at LuckyLand Slots will be able to address any of your issues. Their FAQ section is comprehensive and should be able to address most of your concerns; however, if you need to, you can reach them directly via their email support@luckylandslots.com. They usually take about 48 hours to respond.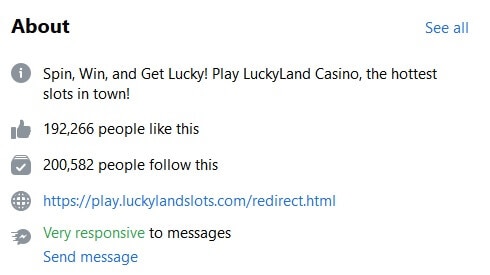 Of course, with over 200,000 followers, their Facebook page is the best place to get quick help. With a "very responsive" rating, you can expect responses generally within the hour. They do have other social media like Instagram and Twitter. However, in our opinion, the Facebook page is the best place to go, as in addition to excellent customer support, you'll also find regular exclusive promotions.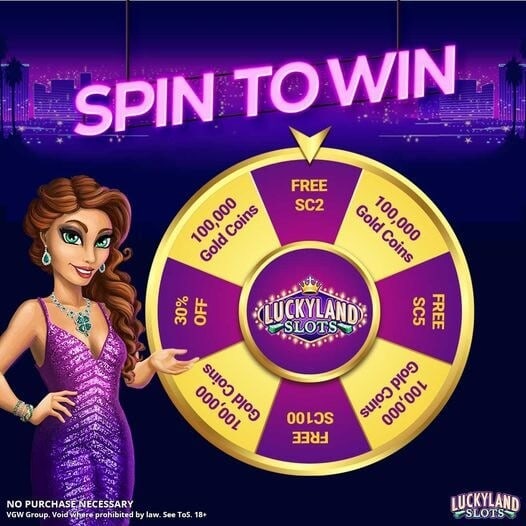 Verdict From Our LuckyLand Casino Review
Overall it's fair to say that when it comes to sweepstakes casinos, you're not going to find many better than LuckyLand Slots. A great no-deposit sweepstakes bonus, first purchase bonus, as well as regular promotions appearing on their social media pages or sent directly to your email. Plus, it's available in 48 different states. If there is one drawback, it's that there are currently no slots that give an RTP above 96%, but even that trumps land-based casinos, which average at around 90% RTP.
So overall, it's a thumbs-up. LuckyLand Slots is a great casino, and if you want to try it for yourself with zero risk, follow our secure links for 7,777 gold coins and 10 sweeps coins free.
LuckyLand Casino FAQ
Can I win real cash prizes for playing at LuckyLand Casino?
Yes. LuckyLand Slots awards cash prizes when you redeem sweeps coins winnings. The only caveat is that you need at least 50 sweeps coins to redeem cash prizes. Just click the blue "Redeem" button on the top right-hand side of your screen.
Are LuckyLand Casino games fair?
Yes. Their parent company VGW is certified by the MGA (Maltese Gaming authority; we can definitively say that none of LuckyLand's games are rigged. For independent research, you can check their Facebook page, which has a 4.3-star review from over 2000 player reviews.
Do I need to use a LuckyLand Casino promo code?
LuckyLands Slots does not offer any promo codes. However, they do have a whole host of promotions, and by following our exclusive links, users will get a sign-up bonus of 7,777 gold coins and 10 sweeps coins. For even more, you can take advantage of their "1st purchase exclusive offer" for 10 sweeps coins for only $5. A 100% match bonus.
Is LuckyLand Slots Casino free play?
Yes. Users can play all of their games for free by using their gold coins. Even if you do want to play for real money, it's recommended that you take advantage of this unique bonus by playing for free so you can get a good feel for the games before you switch over to sweeps coins for the chance of winning cash prizes.
Where can I legally play at LuckyLand Casino?
Being a social casino means LuckyLand Slots are available across the US (excluding Washington & Idaho). Plus, since they don't follow conventional gambling laws, they can offer their services to anyone over the age of 18.

What casino and slot games can I play at LuckyLand?
At LuckyLand, users can take part in a large variety of slots, including progressive jackpot slots, and
megaways machines
. While they don't have any conventional table games like blackjack and
roulette
, they offer things outside of slots, including keno and pachinko.
How long do real money redemptions take at LuckyLand slots?
Following verification via KYC redemption usually takes less than 48 hours, with about 24 hours being the average. As you withdraw more often, this process tends to speed up.
Can I play LuckyLand games on mobile?
Yes. Users of iOS devices can play LuckyLand Slots by following https://play.luckylandslots.com/ios1, while Android users have the option to download their exclusive app directly from the website or follow their own link of play.luckylandslots.com/mobileweb. Either way, users of both devices can expect identical layouts to the desktop-based site.
Is LuckyLand Casino legit and safe?
Yes. With LuckyLand's parent company VGW having over a decade of positive reviews, we can definitively say the LuckyLand casino is safe. This means you cannot use any of the LuckyLand Slots hacks going around the web, but that you are also safe while playing there.
Are there better alternatives to LuckyLand slots?
LuckyLand Slots is one of the very best social casinos. Whether it's the best, though, will come down to personal preference. Before committing to a single casino, it's always worth considering your options, especially when so many new sweeps cash casinos have emerged. Pulsz, Fortune Coins, and BetRivers.net are other great social casino sites that are well worth considering.

10 Free SC + 7,777 GC No Deposit
Get Bonus