Phil Mickelson Wins PGA Championship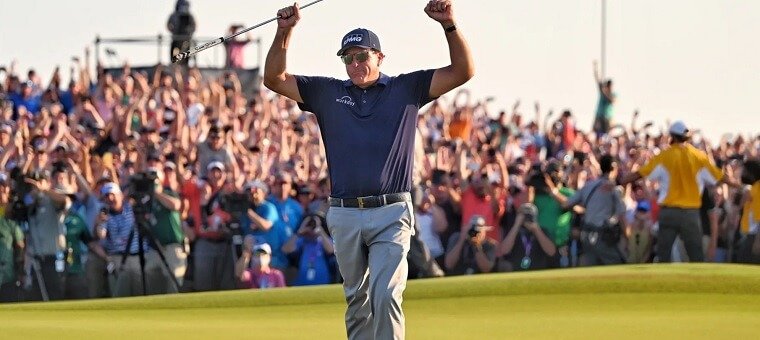 Phil Mickelson made history on Sunday, becoming the oldest player in history to win a major golf tournament on the PGA Tour.
Mickelson won the PGA Championship at Kiawah Island on Sunday, in what was one of the most shocking victories in golf history.
The win gave Mickelson his sixth career major championship and his first since he won the Open Championship in 2013. Mickelson had not recorded a top-20 finish in more than nine months and was a massive betting underdog heading into the week.
Mickelson broke the record that was previously held by Julius Boros, who won the 1968 PGA Championship in San Antonio. That record had stood for 53 years, but the current number 115th ranked player in the world set a new mark.

This victory also put Mickelson on two other lists that show just how impressive his career has been. He is now just the 10th player in PGA Tour history to win a major championship in three different decades, a list that also includes Tiger Woods.
Mickelson has now won a PGA Tour event in four different decades and is the first player in history to win a tournament at least 30 years apart. He had some shaky moments in the final round on Sunday, but so did the golfers that were trying to track him down.
Without receiving a special exemption from the PGA Championship, Mickelson would not even have been in the field this weekend. Mickelson was able to deal with the adverse weather conditions through the first three rounds to give him a lead heading into Sunday.
Brooks Koepka was Mickelson's playing partner on Sunday, and there were some tense moments and big momentum swings between the golfers. Ultimately, Mickelson was able to build up a big enough lead heading into the final few holes to hold off all challengers.
For the week, Mickelson shot a six-under 282, finishing two shots ahead of both Louis Oosthuizen and Koepka.
Koepka Not Happy With Fans
The scene on the 18th fairway and green was not typical of a normal golf tournament as fans flooded the course. This event reportedly had 10,000 fans in attendance, and nearly all of them were following the final group.
Security was needed to get Mickelson and Koepka through the mob on the 18th fairway, but only one of the golfers seemed to enjoy the celebration. Mickelson noted that the scene was a bit hectic at times but did seem okay with being surrounded.
Koepka had this to say of the incident, "It's cool for Phil. But getting dinged a few times isn't exactly my idea of fun." He has been trying to get his knee back to full strength after undergoing surgery just a few months ago on a displaced knee cap.
Koepka was clearly in pain and discomfort throughout the tournament, but he was healthy enough to stay atop the leaderboard and contend. The PGA Tour has not issued a statement yet on the fan behavior, but one will likely be coming.
Want to stay up to date on the latest legal sports betting news across the US? Then come and follow us over on Twitter @Gamble_usa.
Relevant news