Detroit Tigers Miguel Cabrera hits his 500th home run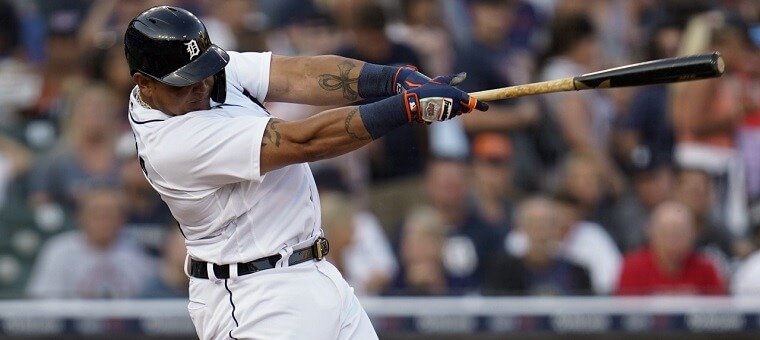 The 500-home run club of Major League Baseball now has a new member, and it is the 28th time a player has reached the milestone.
Miguel Cabrera of the Detroit Tigers belted a home run in the 6th inning of a game against the Toronto Blue Jays on Sunday afternoon to join the club.
Cabrera, 38, has seen his production tail off a bit now that he is at the end of his career, but his 400-foot last proves that he still has plenty of power in that bat. Unfortunately for the Tigers fans in Detroit, this accomplishment occurred in Toronto and there were less than 15,000 fans in attendance to witness it.
This has been a long wait for number 500 as it was a total of 31 at bats between number 499 and the homer on Sunday. Only two other players have had a longer drought between those career home runs.

Cabrera made his Major League debut back on June 20, 2003, with the Florida Marlins and immediately became a major part of that team. He also hit his first career home run in this game, and it was of the walk-off variety to give his team a victory.
Many people around baseball believed that Cabrera would have reached the 500 career home run mark years ago as his total climbed to 446 by the end of the 2016 season. That year, Cabrera belted 38 home runs and it was the 10th time in his career that he hit that many long balls in one season.
Injuries have started to take a toll on Cabrera, and he hasn't hit more than 16 home runs in any season since 2016. Cabrera has a career .311 batting average and that is the fifth-best mark among any member of the 500 home run club.
Can He Get to 3,000 Hits?
The next career milestone for Cabrera to try and reach is to become the 33rd member of the 3,000 hit club. At the beginning of the season, Cabrera needed 134 hits to reach 3,000, but it doesn't seem possible that he will get there this season.
At the end of the day on Sunday, the career hit total for Cabrera stood at 2,955 and he just won't have enough time. A stint on the injured list earlier this year hurt his chances of joining both clubs this year, but that was a goal of Cabrera's before the season.
Cabrera said, "It's one of my goals this year. Mentally, I feel good. I feel mentally strong. I'm trying to go day by day and trying to play hard." The Detroit Tigers have signed Cabrera through the 2023 season, but he is not expected to continue seeing regular playing time.
There are just six players in MLB history with at least 500 home runs and 3,000 RBIs and they are some of the legends of the game. Los Angeles Dodgers' first baseman Albert Pujols is the only active player on this list.
For more legal casino and sports betting news across the US, follow us on twitter @Gamble_usa for the latest news and offers.
Relevant news