Mobile Driving Pennsylvania Sportsbooks To Another Record Month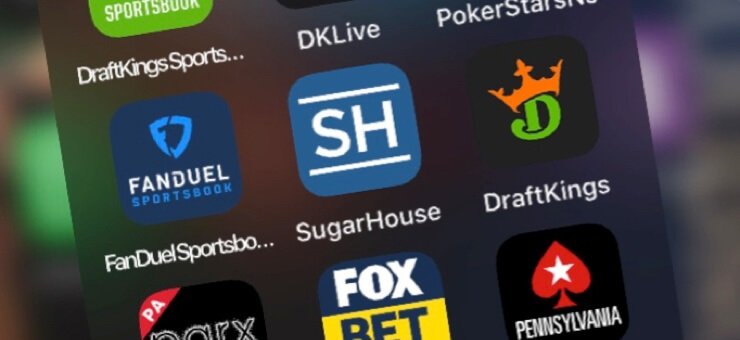 The Pennsylvania sports betting market reached new heights in December and it was mostly mobile driven.
Sportsbooks in the Keystone State reported a record handle of $342.56 million in the final month of 2019, with almost $297.74 million of that (87%) being placed via the internet.
That was an 11% jump on November's online handle figure of $266.74 million, meaning the total monthly handle has increased each month since April.
Revenue from sports betting was down 15% last month, however, with operators pocketing $17.5 million compared to $20.6 million in the previous month.
December's handle pushed last year's total sports betting handle to $1.49 billion, with total revenue for the year rising to $92.1 million.
Over 70% of all handle in 2019 came online, despite mobile offerings only launching from May on-wards.
That retail betting handle dipped around 9% from November to December – when the football season was in full swing – is a clear indication that bettors much prefer the convenience of digital wagering, as opposed to trekking to a physical sportsbook.
Online options ramping up
The Pennsylvania public's acceptance and growing hunger for online PA sportsbooks has seen operators flocking to the state, with competition gradually swelling as 2019 wore on.
Rush Street Interactive's SugarHouse sports betting app was the first to go live in May and by the end of October PA bettors had five online sportsbooks to choose from.
This had risen to seven by the end of November and eight by the end of the year following the launch of Churchill Downs Inc.'s BetAmerica sportsbook in partnership with the Presque Isle Downs & Casino in Erie.
FanDuel the top dog
FanDuel, which made its debut in Pennsylvania in March 2019 through its land-based sportsbook at Valley Forge Casino Resort, released its mobile app in July, and the company has quickly grown into the state's market leader.
FanDuel's total online handle of $154.5 million in December marked its best-ever month since launch, and that was good for 45% of the state's total online handle last month.
SugarHouse and BetRivers, Rush Street's online sportsbooks for Rivers Philadelphia and Rivers Pittsburgh respectively, combined for $58.9 million in handle to take a distant second spot.
DraftKings, which only went live at the beginning of November through Penn National's Meadows casino, came in third with $35.9 million – an impressive jump from November's figure of $16.2 million.
Pennsylvania online casino and poker ramping too
Pennsylvania is one of just two states (along with New Jersey) with regulated online casinos and poker rooms up and running, in addition to sports betting.
Since going live in July 2019, the number of Pennsylvania online casinos has grown to five and they totaled some $7.6 million in revenue in November, an increase of $2.75 million from October.
As for online poker, its debut was postponed until November with the launch of PokerStars, which is owned by The Stars Group, in partnership with the Mount Airy Casino Resort in the Poconos.
It made $2.5 million in December from rake and tournament fees and while that accounted for less than 1% of the state's gambling revenue for the month, its a decent start.
Pennsylvania vs New Jersey
While PA's gambling market is booming, it's still very much in its infancy and trails behind its East Coast rival New Jersey.
The Garden State was quicker off the mark in implementing online/mobile sports betting following the repeal of PASPA in May 2018, and is still benefiting from its neighbor New York being stuck in retail mode.
NJ sportsbooks had a stellar 2019, the state's first full year of legal and regulated sports betting, handling a combined total of $4.58 billion in wagers and generating $299.4 million in revenue.
Like PA, the vast majority of wagers were placed via the Internet – 84% overall – and taxes on revenue won by sportsbooks over the course of the year delivered over $36.5 million to state coffers.
Operators in New Jersey have to hand over 13% of their revenue from online sports betting (8.5% for retail) and that contrasts sharply with PA's 36% – only Delaware and Rhode Island have higher rates and they operate through one-sided revenue share agreements with their state lotteries.
That sky-high tax rate has clearly not put dissuaded operators from setting up in PA, but it remains a serious disincentive for some and may ultimately prevent the state's gambling industry from reaching its full potential.
For more legal US gambling news, follow us over on Twitter @Gamble_usa
Relevant news