Nevada sportsbooks smash record for Super Bowl handle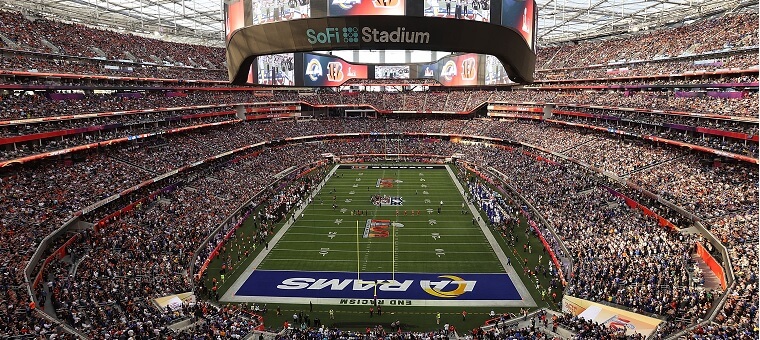 Gamble USA strives to improve your online gambling experience. We aim to help you play safely, make informed decisions when gambling, and increase your betting knowledge through our guides.
We adhere to strict editorial integrity; our content may contain links to products from our licensed & legal US partners.
Nevada Sportsbooks Shatter State Record for Super Bowl handle
The 179 sportsbooks in Nevada set a new state record on Sunday for the amount of money wagered on a Super Bowl. The Los Angeles Rams, playing in their home stadium, overcame the underdog Cincinnati Bengals, 23-20 after a late comeback. According to the state Gaming Control Board, the contest generated $179.8 million in bets at Nevada sportsbooks.
Across the Silver State, the sportsbooks won $15.4 million, resulting in a win percentage of 8.6%. The volume of Super Bowl betting last Sunday is the most in Nevada during the past decade.
The previous record was the 2018 Super Bowl when players put $158.8 million on the game between the New England Patriots and the Philadelphia Eagles. The Eagles were crowned world champions, winning 41-33. Once the winning gamblers were paid that year, Nevada sportsbooks collected $1.17 million.

California Teams Boost Numbers in Nevada
Having a California team compete in Sunday's game helped boost the numbers in Nevada for the NFL's 56th marquee event. The 'handle' is the amount of money wagered on a game.
Nevada sportsbooks typically see heavy betting action when California teams are playing. Sports betting is currently illegal in California, but many residents in the Golden State traveled next door to Nevada to bet legally. There is also a huge number of former Californians living there.
Los Angeles is the country's second-most populous metropolitan area, and is only around four hours from Las Vegas. To the north, San Francisco is fewer than four hours from Reno.
Craig Mucklow, Caesars Entertainment vice president of trading, said that California teams can be expected to draw the most Super Bowl betting action, unless the Las Vegas Raiders end up in the big game one day.
Mucklow stated that when a California team is involved, "Nevada will always see an astronomical handle." He added that if the Raiders ever reach the Super Bowl, "that will be the record I doubt will ever see beaten."
The third highest Super Bowl handle during the last ten years also involved a California team, the San Francisco 49ers. In 2020, players bet $154.6 million on the game, contributing to an $18.7 million win for sportsbooks throughout Nevada. In the 2020 Super Bowl, the Kansas City Chiefs defeated the 49ers, 31-20.
Relevant news