New Orleans Saints at Carolina Panthers Betting Preview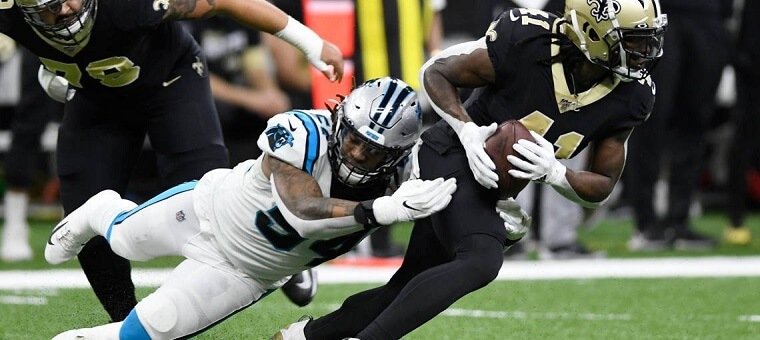 We have one final weekend in the NFL regular season, and there is still a lot of position fighting for the final seeds in the NFC.

Date: Sunday, December 29th, 2019
Time: 1:00pm
Location: Bank of America Stadium, Charlotte, North Carolina
Watch: FOX

Lines are provided by DraftKings Sportsbook – Sign up now and claim a $200 risk free first bet.
The New Orleans Saints have looked nothing short of incredible in their last two games, and Drew Brees has the boys ready to make another run at the Super Bowl.
They will be on the road to take on the Carolina Panthers, who are in the middle of a terrible losing streak with frustration across the board.
The Panthers have problems at quarterback, but they still remain competitive with Christian McCaffrey at running back.
Let's take a look at this matchup and figure out where you should be placing your bets.
Are The Saints The Best Team In The League?
The Saints finally have everyone healthy and playing at full strength on their roster, and it is a scary sight for anyone else in the NFL.
With Brees at quarterback and playing at full strength, the Saints will be nearly impossible to beat at home.
Alvin Kamara finally got going in New Orleans' last game as well. Kamara had not scored a touchdown since Week 2 of the regular season but managed to grab two in the Saints' win on Sunday.
Michael Thomas is the best receiver in the league and just set the record for most receptions in a single season with over 145 catches on the year.
The Saints' defense has been solid and has been able to put together consistent stops, which helps set up their offense with good field position.
When It Rains, It Pours
The Carolina Panthers started the year out on a promising run but have since put together one of the worst losing streaks in the NFL this season.
The Panthers fired Ron Rivera a couple of weeks ago and still have not found a way to pick up all of the pieces that they need to.
With McCaffrey at running back, it's hard to believe that Carolina's offense struggles as much as it does. McCaffrey is an absolute gem and is the only reason this team has any wins this season.
Last weekend saw the first career start for quarterback Will Grier, and he did not look great with three interceptions in his debut.
It is unclear why Kyle Allen was benched, but Grier did not look like the answer for this Panthers offense.
Everybody has been able to eat against the Carolina defense, as this once formidable team is as vulnerable as it has ever been.
There isn't much to play for for the Panthers, so I am not sure how they are able to get up for this game on Sunday.
Betting Preview
The Saints have found themselves (which sounds crazy to say with their record) at the right time of the year.
Everyone is healthy for them, and that is why the Saints are pulling the -12.5 favorite on the road. They are better than the Panthers at every level, and they should not be struggling in this game.
There will be a lot of points from New Orleans, and I think they will get up big early and take most of the second half off. Take the Saints and don't look back.
Taysom Hill has been a jack of all trades and played just about every position on offense. Hill is a great wildcard that the Saints can deploy at any time.
With all of these weapons that they have on their team, the Saints have a chance to lock in a first-round bye and jump ahead to one of the top seeds.
Follow us up up on Twitter @Gamble_usa for more big game previews and news. Make sure to check back for more Free NFL & NCAA Football picks.
Relevant news