New Orleans Saints at Tampa Bay Buccaneers Betting Pick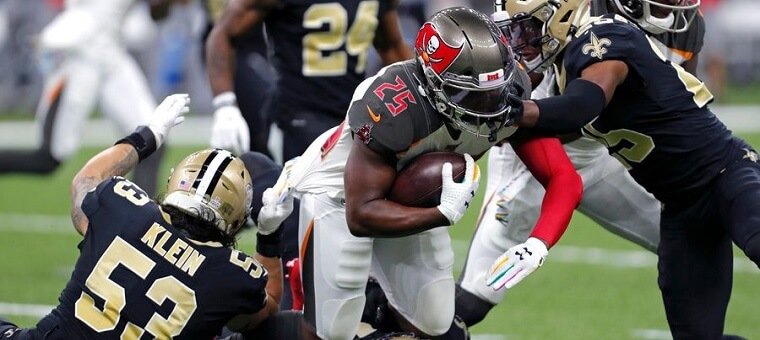 After Halloween is the time of year where we get into the real football season, as stakes are higher than ever, and teams are trying to carve a path for themselves to the playoffs.
Game time: Sunday, November 17th @ 1:00pm
Some teams are pulling away from the pack, and other teams are falling back to earth. This past Sunday, we watched the New Orleans Saints lose their winning streak against the Atlanta Falcons.
It just goes to show that no team is untouchable, and anybody can snag a win in any given week. This week we will watch New Orleans go on the road to Tampa, Fla., to take on the Tampa Bay Buccaneers.
While the Bucs do not boast a strong record, they are still one of the most exciting teams in the league, so let's break down the matchup and help get you going for your best bets.
Is It Time To Start Wondering About Brees' Age?
The Saints looked rough in all areas of their team on Sunday against the Falcons. Drew Brees was having a hard time finding any receiver downfield and spent most of the game on the ground, being sacked six times in the loss.
Another major concern was the lack of a run game shown by New Orleans. Alvin Kamara and Latavious Murray combined for nine carries and a total of 36 yards. That is not going to get it done.
I would be pumping the brakes on shipping Brees out or even benching him to bring back Teddy Bridgewater. Brees still has a perfect receiver in Michael Thomas, and Thomas already has over 1,000 yards on the season.
The New Orleans defense is still only giving up around 20 points per game, and it has blue-chippers at all levels of the defense. The Saints' kicking is sound too with Will Lutz, which these days might be more important than ever.
Last Sunday seems like it was just a fluke, and the Saints are still one of the best teams in the NFL.
The Best Receiving Corps In The League
There are a number of question marks when it comes to the Tampa Bay Buccaneers, but no one is questioning the talent of their receivers.
Mike Evans and Chris Godwin have combined for 1,764 yards receiving through nine games this season. Both of them are looking like All-Pro receivers and could be a No. 1 wide receiver on just about any team in the league.
The problem is having Jameis Winston deliver the ball. Sometimes, he delivers the ball to the other team and has been really up and down this season, like most of his career.
The Bucs defense overall has not been great, giving up around 30 points per game, but they do have one of the best run defenses in the NFL. That will serve them nicely going against Kamara and Murray.
Seeing as this is a division game, and the Bucs are at home, they will not go down without swinging in this matchup.
Betting Overview
Even after their poor showing last Sunday, the Saints have still earned the right to be favored in this contest, and they are favored at -6.
This game might be tough for Brees, as he has never been successful outside of domes. However, I think this will be the game he is able to hook up with Kamara in the passing game and get him going for the rest of the season.
I would take New Orleans in this game. As much I like the Bucs offense, I just don't think their defense will be able to hold up. Make sure you lock in your bets before kickoff!
Be sure to check back for more Free NFL & NCAA Football picks and hit us up over on Twitter @Gamble_usa. We post regular betting previews and picks for free!
Relevant news