New York Giants at New England Patriots Betting Preview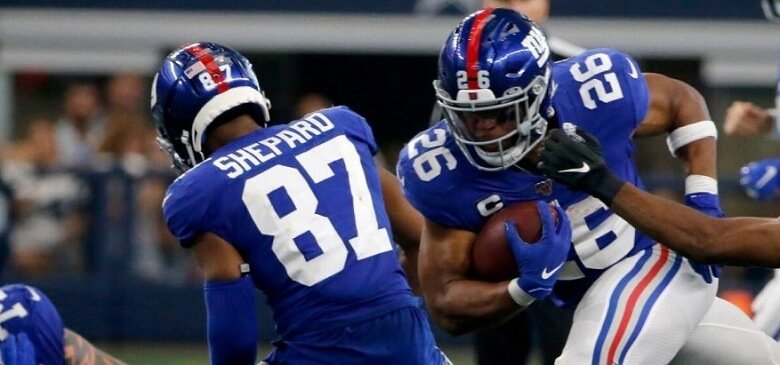 What a season so far in 2019 for the NFL. Everything seems to be turned upside down, as we have had expectations every year going into the season that get proven wrong in a hurry.
Game time: Thursday October 10th @ 7:20pm
There are way more questions than answers through five weeks of 2019, but we do have a good collection of game data to help us determine who some of the favorites are so far.
Two teams on two entirely different sides of the season will be featured in our Thursday Night Football matchup. It will be a rematch of Super Bowls past as the New York Giants travel into Foxboro to take on Tom Brady and the New England Patriots.
The Patriots will likely be a heavy favorite at home for this game, but we will break down what has been going with these two teams and help you determine your best bets.
What Can The Giants Do Without Saquon?
This is an interesting question. Saquon Barkley went out in the first game that rookie Daniel Jones was the Giants' starting quarterback over Eli Manning.
Barkley went out with a high ankle sprain, and Wayne Gallman was named starting running back in the interim. Gallman dazzled everyone with his performance against the Redskins, finishing with two touchdowns and over 100 yards from scrimmage.
He was looking like a solid replacement until an injury this past week against the Minnesota Vikings. This poses a serious question for the Giants. Do they rush Barkley for Thursday night's contest, or do they wait an extra week?
Barkley was originally listed to be out for six to eight weeks with his ankle sprain but is recovering faster than usual for an injury of this caliber. If he plays Thursday night, it most certainly gives the Giants a much better chance with his breakout-play potential.
Jones has been making a lot of use of Evan Ingram in the passing game, and now has more weapons with the return of Golden Tate and the possible return of Barkley.
Injuries Can Never Be A Problem For The Patriots
The Patriots seem to be having another typical Patriots season as they are undefeated to start 2019. This has been one of the most atypical seasons yet personnel-wise.
It was only a few weeks ago that the Patriots signed former All-Pro wideout Antonio Brown to a season-long contract, only to cut him two weeks later.
Offensively speaking, the Pats have not really impressed so far, but their defense has been absolutely lights out to start the year. They are allowing less than 100 yards rushing per game and have 12 turnovers forced through five games.
This matchup Thursday night will likely be the game where the Patriots can get back on track. On Sunday against the Redskins, Brady threw for three touchdowns, and Sony Michel ran in one and had over 120 yards from scrimmage.
The schedule has been easy to start the year, and their schedule will get harder in the second half of the season, but the Patriots will likely already have their division locked up by that point.
It should not be much of a contest Thursday night, as Brady will look to get ahead early, and the Patriots' defense will maintain that lead.
Betting Preview
The Patriots are favored at home at -17. There is no reason to bet against Brady and the Patriots in this game, seeing as their defense has been what has carried them so far.
Take the Pats at home and don't think twice about it. Make sure to lock in your bets before Thursday night!
Check back for more Free Football picks and follow us on Twitter @Gamble_usa
Relevant news