NFC Divisional Game: Vikings at 49ers Betting Preview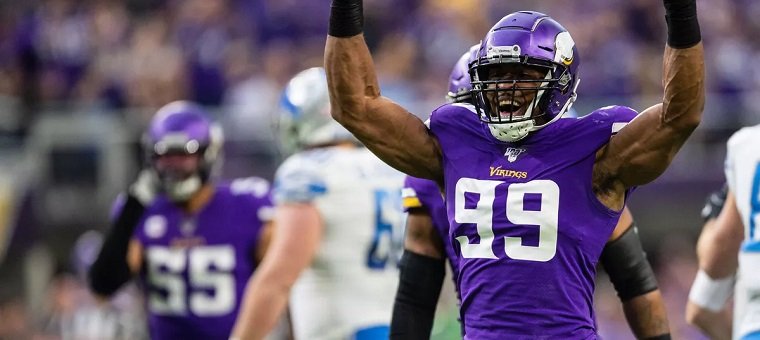 What a crazy weekend we just experienced in the Wild Card round of the NFL Playoffs.
Date: Saturday, January 11th, 2020
Time: 4:35pm
Location: Levi's Stadium, Santa Clara, California
Watch: NBC

Lines are provided by DraftKings Sportsbook – Sign up now and claim a $200 risk free first bet.
There were upsets in both conferences, and now we are set up for one of the craziest finishes we have seen to a season.
With all of the up and down and changing of position amongst the top teams all season, it just goes to show that you can never be too sure about what is going to happen.
In any case, we have another good NFC matchup coming your way, as the Minnesota Vikings will be on the road to take on the top-seeded San Francisco 49ers on Saturday.
There is a lot to cover, so let's break down the matchup and help you determine your best bets.
The Blossoming Of Kirk "You Like That" Cousins
We all knew the stats: Kirk Cousins had yet to win a primetime Monday Night Football game. It seems like he would shrink in the bigger moments.
That wasn't the case on Sunday, as Cousins marched into the Superdome in New Orleans and put together an incredible game.
I'm no longer worried about Cousins or this Vikings offense in general. With Dalvin Cook leading the backfield, there is no telling how many points they could score.
What is concerning is the Vikings' defense. Granted, the Saints had a number of strong receivers and offensive weapons, so maybe it was a fluke.
The Minnesota defense consistently was letting receivers get behind them for big yardage plays.
Going against the Niners with George Kittle, Emmanuel Sanders and Deebo Samuel, the Vikings will have to patch up that secondary and make sure they are keeping their opponent in front of them.
Still, what an incredible win for Minnesota. It was as impressive as any win all season long, and it is going to be a treat to see how far the Vikings can go.
The 49ers Are The New Favorite
While all of these teams were battling it out last weekend, the 49ers were getting their much-needed rest, thanks to their last-second victory over the Seahawks in Week 17.
It is time to prove whether or not this team is for real. They have a much easier pathway to the Super Bowl now and could easily make a run.
Jimmy Garoppolo has been lighting it up all season long, but in the playoffs, those windows are going to get smaller, and he is going to have to prove that he is one of the best quarterbacks in the NFL.
Judging by Minnesota's weak secondary last week, the Niners can easily pick apart its defense and follow it up with their run game.
It will be interesting to see who earns the majority of the touches out of the backfield and whether or not they share it with each other.
The 49ers were my favorite team even before all of the madness that took place this past weekend, so I like what they have going on, and I think they are the most complete team in the NFC.
Betting Preview
I told you I like the 49ers as the most complete team, and Vegas likes them too. The 49ers draw the favorite for this game at -7.
A whole touchdown favorite is a lot to get over, but I think the 49ers are too strong. They have all the tools on both sides of the ball to overpower the Minnesota Vikings.
Even with how much I'm liking Cousins, I have to go with Jimmy G and the 49ers in this contest to win at home and begin their run to the Super Bowl.
Make sure to lock in your bets before kickoff!
Hit us up up on Twitter @Gamble_usa for more big game previews and news. Make sure to check back for more Free NFL & NCAA Football picks.
Relevant news