NFL Extends Strategic Agreement with Genius Sports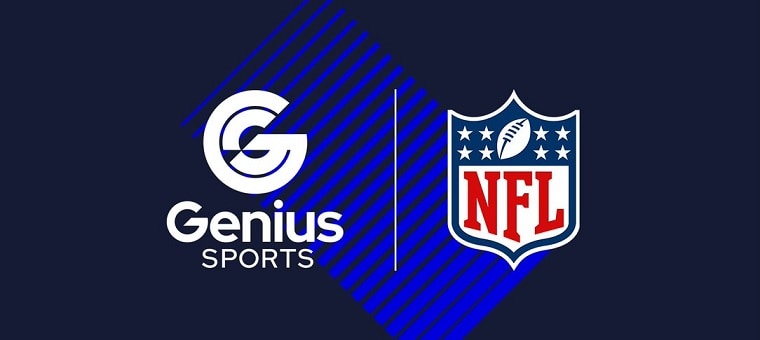 Gamble USA strives to improve your online gambling experience. We aim to help you play safely, make informed decisions when gambling, and increase your betting knowledge through our guides.
We adhere to strict editorial integrity; our content may contain links to products from our licensed & legal US partners.
The NFL and Genius Sports have agreed to expand their current sports wagering data deal, which will see their partnership continue through the end of the 2027-28 NFL season, both parties have announced. 
The initial deal was struck in 2021 and has been successful for both so far. The extension means Genius Sports will remain partners with the NFL through Super Bowl LXII in 2028.
Genius Sports and NFL Expand Relationship
As well as signing a longer-term deal, the NFL and Genius will both see more value from their partnership. Genius now holds exclusive rights to distribute numerous NFL digital advertising assets to the leading sports betting sites in the country. These assets include logos for international sportsbooks.
Also as per the terms of the deal, Genius will run the NFL low latency Watch & Bet live game video. These channels are able to extend to international sportsbooks. There will be no changes to the work Genius Sports will do in relation to its integrity monitoring for all NFL games.

Brent Lawton, VP of Strategic Investments for the NFL, said they are "excited" to build on the existing relationship they have with Genius Sports. He added that they are looking to "develop the next generation of NFL fans."
Genius has played a large role in bringing the NFL into the sports betting world. In addition to providing a range of league data which is important for sportsbooks, Genius' technology is also utilized to ensure best practice is carried out revolving around NFL betting. There have been several stories recently of NFL players receiving suspensions due to betting. These are an example of how the data Genius provides will crack down on illegal wagering. As sports betting grows ever more popular, this technology will become more important.
Deal Suits all Parties
The NFL isn't the only one who will see many benefits from this partnership. Genius has recorded a 3.1% increase in pre-market trading following the announcement. This adds to the steady climb the company has made each year to date.
Mark Locke, CEO of Genius Sports, said that the NFL and Genius Sports have "set a new standard for data-driven fan engagement" since they signed their initial deal. Locke also mentioned the role Genius will play in safeguarding the integrity of the sport, emphasizing that this is a critical factor for the NFL.
Before this deal, Genius struggled. Its stock prices fell through the floor from a peak of $24 a share in July 2021 to as little as $2 by July 2022. With the company now locked into this deal for the next few years, the company's trajectory may continue to be upward.
Relevant news