NFL Week 10 Odds, Best Bets & Predictions for Key Games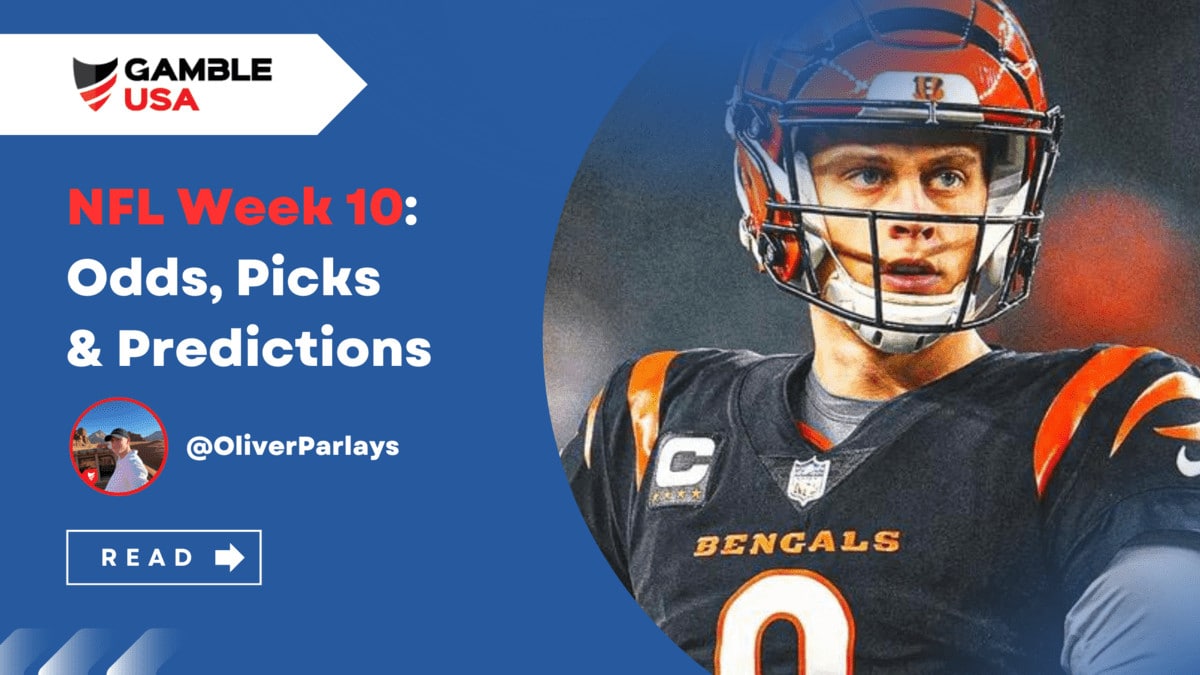 There were some statement wins in week 9 as teams begin to flex their muscles. The Baltimore Ravens, in particular, showed they mean business, battering the Seattle Seahawks 37-3. Elsewhere, the Eagles overcame bitter rivals the Dallas Cowboys as they cemented themselves as the team to beat in the entire NFL, with their current record now 8-1.
Joe Burrow and Josh Allen renewed hostilities with 'Joe Cool' coming out on top as the Bengals continue to gather momentum. There was also a win in his first game as Raiders interim head coach for Antonio Pierce, as he kicked off his spell in charge with a resounding victory over the New York Giants.
As we approach week 10, which teams will continue their surge for the playoffs and who looks like they are tanking and just want the season to end? Let's take a look as some key games.

---
NFL Sunday, November 12
Baltimore Ravens 🆚 Cleveland Browns
Apart from the Eagles, the Ravens are arguably the hottest team in the NFL right now. They sit at 7-2, Lamar Jackson is playing at an MVP level and they are finding key contributions from everywhere. In their 37-3 shellacking of the Seahawks, little known running back Keaton Mitchell led the way, with 9 carries for 138 yards and a TD. Tight end Mark Andrews added 80 yards through the air as the Ravens offense continues to impress under first year offensive coordinator Todd Monken. With their defense also playing at an elite level, they look a force. This week they welcome division rivals the Cleveland Browns to Baltimore, who are off the back of a good win over the Cardinals. Deshaun Watson was back and threw for 219 yards and 2 TDs, and their swarming defense once again proved they are one of the best units in the NFL, shutting the Cardinals out completely in the 27-0 rout. They will need that defense at their best again to take the W in this game.
Bet Type
Wager
Odds
Moneyline
Baltimore Ravens to Win
-250
Cleveland Browns to Win
+200
Spread
Baltimore Ravens (-5.5)
-110
Cleveland Browns (+5.5)
-110
🔥 Expert Pick:
Baltimore Ravens (-5.5)
-110
Jacksonville Jaguars 🆚 San Francisco 49ers
This is a huge game for both of these teams. The Jaguars lead the AFC South and currently sit at 6-2 with QB Trevor Lawrence getting better each week and running back Travis Etienne pounding teams on the ground. Coming off a bye week, the Jags will feel refreshed and ready to face a 49ers team who were also on a bye in week 9, but are trending in a very different direction. After storming out to a 5-0 start, they have lost their last 3 with Brock Purdy showing weakness for the first time in his young NFL career. They have lost first place in the NFC West and will want to get back on track ASAP. Still, they boast fantastic weapons on both sides of the ball and will feel their recent run is more a bump in the road than anything to be extremely concerned about. Week 10 will tell us a lot.
Bet Type
Wager
Odds
Moneyline
Jacksonville Jaguars to Win
+125
San Francisco 49ers to Win
-150
Spread
Jacksonville Jaguars (+3)
-115
San Francisco 49ers (-3)
-105
🔥 Expert Pick:
San Francisco 49ers (-3)
-105
Cincinnati Bengals 🆚 Houston Texans
If there was any doubt that the Bengals were back, beating the 49ers and the Bills in consecutive weeks should see those doubts extinguished. Joe Burrow will currently be in the discussion for MVP as he certainly looks fully over his early season injury issues. In their 24-18 win over the Bills, Burrow threw for 384 yards and 2 TDs, with Tee Higgins his favorite target of the day, recording 110 receiving yards. With Higgins, Boyd Chase forming a lethal wide receiver trio, the Bengals look unstoppable. The Houston Texans are a nice story this season, and the main reason for that is rookie QB CJ Stroud. He looks the real deal and last week, the no2 overall pick from the 2023 draft posted stats of 30-42, 472 yards and 5 TDs in their 39-37 win over the Bucs. Receiver Noah Brown had 153 yards and 1 TD as the Texans are proving to be a feisty outfit in head coach DeMeco Ryans's first year.
Bet Type
Wager
Odds
Moneyline
Cincinnati Bengals to Win
-400
Houston Texans to Win
+310
Spread
Cincinnati Bengals (-8)
-110
Houston Texans (+8)
-110
🔥 Expert Pick:
Cincinnati Bengals to Win
-400
Minnesota Vikings 🆚 New Orleans Saints
When Kirk Cousins went down with a season ending injury, most thought that was the Vikings season over and done with. Last week proved to be chaotic, bizarre and ultimately amazing if you're a Vikings fan. Cousins' replacement, Jaren Hall, left the game early with a concussion so Joshua Dobbs, who had been signed from the Cardinals during the week, took to the field not knowing the playbook at all and barely knowing the names of his teammates. Staggeringly, Dobbs engineered a 31-28 win over the Falcons, rushing for 66 yards throwing for 158 yards. Bear in mind the Vikings are still missing all-star wideout Justin Jefferson, in fact, they have won all 4 games Jefferson has been missing. New Orleans visit Minnesota this week on the back of a win over the Bears. QB Derek Carr threw for 211 yards and 2 TDs as he tries to find some consistency in his new surroundings. New Orleans have been very up and down so far, but at 5-4 are very much in the playoff mix.
Bet Type
Wager
Odds
Moneyline
Minnesota Vikings to Win
+120
New Orleans Saints to Win
-145
Spread
Minnesota Vikings (+2.5)
-110
New Orleans Saints (-2.5)
-110
🔥 Expert Pick:
Minnesota Vikings to Win
+120
Dallas Cowboys 🆚 New York Giants
Whenever Dallas loses a game, the pressure is on everyone associated with the Cowboys organization as America's team continues to draw headlines. They weren't dominated against the Eagles. Dak Prescott played well, throwing for 374 yards and 3 TDs while his favorite target, CeeDee Lamb had a great day, with 11 recs for 191 yards. However, close doesn't cut it with Dallas fans across the world expecting them to win every game. With the Eagles running away with the division, Dallas sits comfortably in second place with a 5-3 record and will surely be in the playoffs. However, another NFC West team, the Giants, will not. Their season is going from bad to worse with the latest low point coming in the 30-6 defeat against the Raiders last week. Saquon Barkley did run for 90 yards but QB Tommy Devito struggled with two interceptions. More bad news followed as starting QB Daniel Jones was confirmed as out for the season with an ACL injury. This was supposed to be a building year for the Giants after their success of winning a playoff game last year, but they are going backwards.
Bet Type
Wager
Odds
Moneyline
Dallas Cowboys to Win
-1100
New York Giants to Win
+700
Spread
Dallas Cowboys (-15.5)
-110
New York Giants (+15.5)
-110
🔥 Expert Pick:
Dallas Cowboys to Win
-1100
---
Parlay Picks for Week 10
@OliverParlays Week 10
Odds
Full Moneyline
+600
Full Spreads
+2439
Expert Picks🔥
[-5.5 Spread][-3 Spread][ Moneyline][ Moneyline][ Moneyline]
+1018
Relevant news