NFL Week 11 Odds, Best Bets & Predictions for Key Games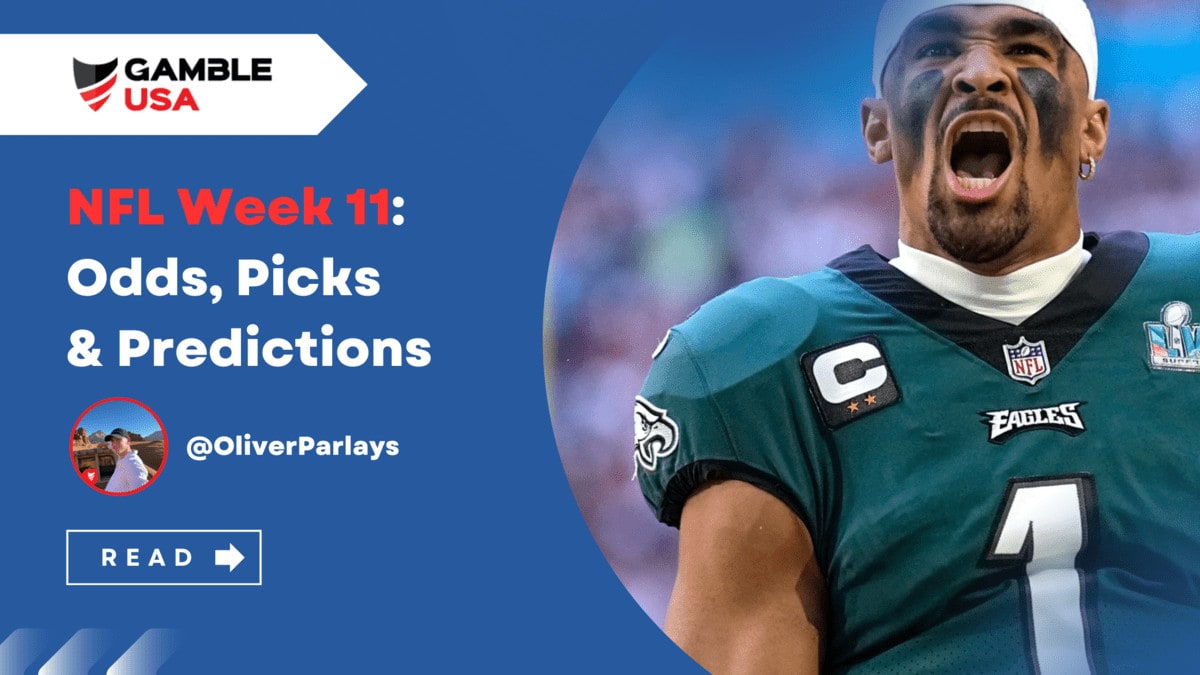 There were high scoring games, slugfests, late drama and plenty more in week 10. Just when we all thought the Baltimore Ravens would cruise their way to the playoffs and win their division, Cleveland went into Baltimore and grabbed a win thanks to a walk off field goal. The Lions and the Chargers served up great entertainment with both teams putting up huge numbers with Detroit claiming a win in L.A, while the less said about the Thursday Night Football Game between Chicago and Carolina, the better.
We have now passed the halfway mark of this NFL season, and the contenders will now start to make their moves. Most of us believe we have a general idea of who will be there when it counts, but this league has a habit of proving you wrong. Let's take a look at what twists and turns week 11 will provide with some key matches.

---
NFL Thursday, November 16
Baltimore Ravens 🆚 Cincinnati Bengals
We just can't stay away from these two teams at the moment, and there is good reason for that. These AFC North rivals had the whole league on notice entering week 10, but, as we keep saying in this space, this league is tough! The Ravens were extremely hot going into their home game with the Browns, coming off a hammering of the Seahawks the week before with Lamar Jackson purring and a ground game featuring Gus Edwards and rookie Keaton Mitchell racking up yards at will. Add in an elite defense, and you have Super Bowl potential. However, despite scoring 31 points, the defense allowed the Browns to stay in the contest and a last minute field goal saw them lose, 33-31. Meanwhile, the Bengals, with Joe Burrow getting healthier by the week, were expected to comfortably despatch the Texans at home. They didn't count on C.J Stroud continuing to put together a rookie season for the ages, though, and they succumbed to Houston, 30-27. With both coming off a loss, this week is vital as the AFC North is firmly up for grabs.
Bet Type
Wager
Odds
Moneyline
Baltimore Ravens to Win
-188
Cincinnati Bengals to Win
+158
Spread
Baltimore Ravens (-3.5)
-110
Cincinnati Bengals (+3.5)
-110
🔥 Expert Pick:
Cincinnati Bengals (+3.5)
-110
---
NFL Sunday, November 19
Miami Dolphins 🆚 Las Vegas Raiders
The Dolphins were on a bye in week 10, getting some rest in following their trip to Frankfurt. Despite a second half fightback, they lost in Germany to the Chiefs and will be looking to rebound with a home tilt against the Raiders. Jaylen Waddle was struggling with injury and should be fully healthy this week, and with Tyreek Hill on course to break the receiving yards record and De'Von Achane another week closer to returning, the Dolphins could soon be back to their electric best. It has been an eventful season in Las Vegas to say the least. Head Coach Josh McDaniels and General Manager Dave Ziegler got fired after a poor start to the season with players such as star Devante Adams clearly unhappy. Interim coach Antonio Pierce has come in and led the Raiders to 2 straight wins, including a 16-12 triumph over the Jets last week. Josh Jacobs ran for 116 yards and while they are still not firing, there is at least hope the season is not over for Vegas. They will need to improve immensely in Florida to get the W, though.
Bet Type
Wager
Odds
Moneyline
Miami Dolphins to Win
-480
Las Vegas Raiders to Win
+380
Spread
Miami Dolphins (-9.5)
-115
Las Vegas Raiders (+9.5)
-105
🔥 Expert Pick:
Miami Dolphins to Win
-480
Cleveland Browns 🆚 Pittsburgh Steelers
We know, the AFC North again! But it is possibly the toughest and most exciting division in the whole NFL. The Ravens currently sit in first place with a 7-3 record, while the Bengals are in last position at 5-4. Both the Browns and Steelers are 6-3 which makes this week's game even more crucial. The Browns will be full of confidence after winning in Baltimore. Jerome Ford ran for 107 yards while Amari Cooper picked up 98 through the air as the Browns flexed their muscles. Their defense will always give them a chance so if they can find some consistency at Quarterback they have a chance. The Steelers may not be the prettiest team to watch, but they are getting the job done. QB Kenny Pickett isn't putting up huge numbers but they have found some pop from Jaylen Warren, who had 15 carries for 101 yards and a TD last week. The Steelers are the only team to be outgained in 2023 but have a winning record, can they keep that up?
Bet Type
Wager
Odds
Moneyline
Cleveland Browns to Win
-190
Pittsburgh Steelers to Win
+160
Spread
Cleveland Browns (-4)
-110
Pittsburgh Steelers (+4)
-110
🔥 Expert Pick:
Cleveland Browns (-4)
-110
San Francisco 49ers 🆚 Tampa Bay Buccaneers
Uh-oh! That is what the rest of the NFL will be saying after the 49ers came off their bye, rolled into Jacksonville who themselves were on a 5 game win streak, and steamrolled the Jaguars, 34-3. The downfall of the 49ers was greatly exaggerated! With Trent Williams and Deebo Samuel back in the lineup, San Francisco looked much more like the team people were talking about as Super Bowl contenders early on. Brock Purdy but doubts about his quality to one side and threw for 296 yards and 3 TDs. Tight End George Kittle racked up an impressive 116 yards from just 3 receptions for a TD, and the defense proved it is elite, only allowing 3 points. The Bucs also had an impressive win in week 10, beating the Titans 20-6 with the ever reliable Mike Evans posting yet another 100 + yard game (143) and a TD. Their defense will once again need to come to the party in the Bay Area.
Bet Type
Wager
Odds
Moneyline
San Francisco 49ers to Win
-590
Tampa Bay Buccaneers to Win
+440
Spread
San Francisco 49ers (-10.5)
-110
Tampa Bay Buccaneers (+10.5)
-110
🔥 Expert Pick:
San Francisco 49ers to Win
-590
---
NFL Monday, November 20
Kansas City Chiefs 🆚 Philadelphia Eagles
Well, they say leave the best for last, and this is undoubtedly the game of the week. 'The Kelce Bowl' is on tap for week 11. Kansas City welcomes the team with the best record in the NFL, the Eagles, for what should be a Monday night cracker. Both these teams were on a bye last week. The last time we saw the Chiefs, they were beating the Dolphins in Germany while the Eagles were taking care of business against rivals the Dallas Cowboys, cementing themselves as kings of the NFC East. There are so many storylines. Will Jalen Hurts gain revenge over Mahomes following Super Bowl LVII? Which Kelce brother will be celebrating? Will Taylor Swift be there? Stand by for this heavyweight clash.
Bet Type
Wager
Odds
Moneyline
Kansas City Chiefs to Win
-142
Philadelphia Eagles to Win
+120
Spread
Kansas City Chiefs (-2.5)
-114
Philadelphia Eagles (+2.5)
-106
🔥 Expert Pick:
Philadelphia Eagles to Win
+120
---
Parlay Picks for Week 11
@OliverParlays Week 11
🔥Odds
Full Moneyline
+1124
Full Spreads
+2428
Expert Picks
[ +3.5 Spread][ Moneyline][ -4 Spread][ Moneyline][ Moneyline]
+1033
Relevant news