NFL Week 12 Odds, Best Bets & Predictions for Key Games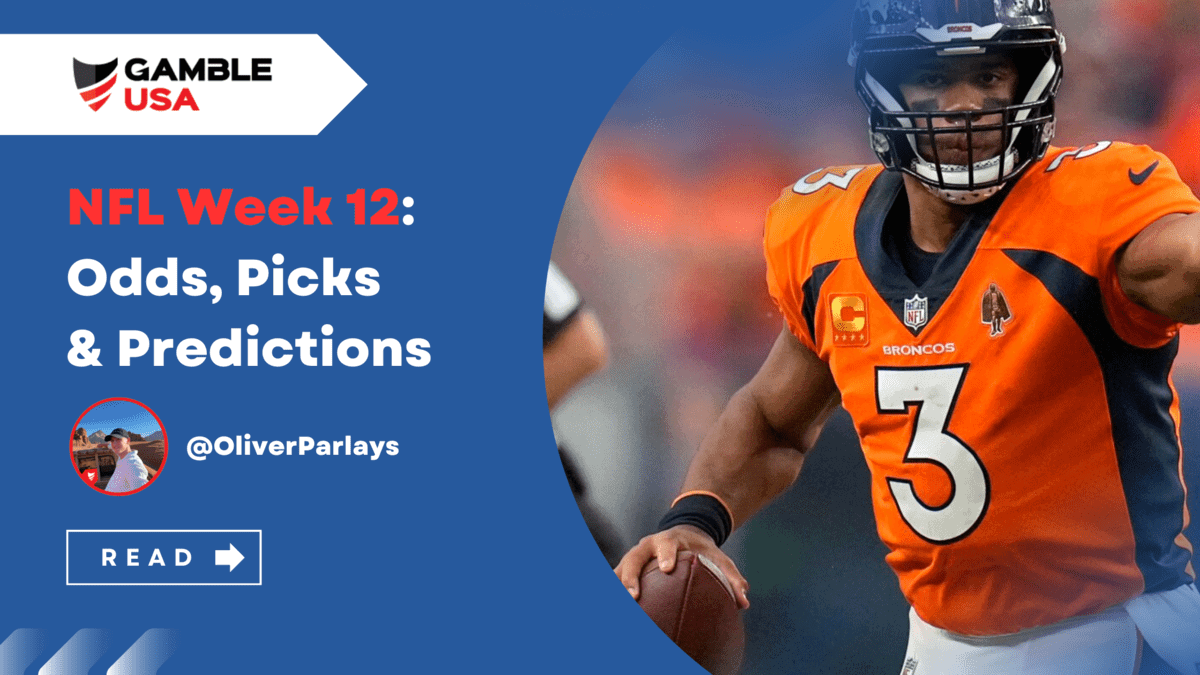 It's Thanksgiving week, which is always a huge milestone on the NFL calendar and boy do we have a lot to be thankful for! Well, maybe not if you are a fan of a franchise whose season is pretty much already over. However, there is still a lot of football left ahead of us and surely that is a good enough reason to raise a glass.
As always, there will be a Thanksgiving triple header this week and there are some mouth-watering games on Thursday. All three games will see divisional rivals go head to head as the stretch run begins. As we enter week 12, those teams with a .500 record will now need to start making moves if they want a ticket to the postseason. Let' take a look at some key games this turkey week.

---
NFL Thursday, November 23 (🦃Thanksgiving Day)
Detroit Lions 🆚 Green Bay Packers
For so long, the Lions have been the butt of the joke in the NFC North. Looked upon as a poor franchise that was never a threat to NFL royalty like the Packers and were an afterthought when it came to playoff consideration. Well, times, they are a changin and these Lions are serious. They sit comfortably atop the NFC North and are currently the no2 seed in the entire NFC conference with an 8-2 record. They didn't have it all their own way last week, winning 31-26 against the Bears with the usually reliable Jared Goff throwing 2 interceptions. However, they got big plays when they needed them and with the likes of Amon-Ra St. Brown, David Montgomery and Jahmyr Gibbs, they have weapons everywhere. Things are not so rosy for Green Bay. For so long their fans have been used to MVP calibre quarterback play with Brett Favre followed by Aaron Rodgers. Current incumbent Jordan Love may reach those heights, but there has been little sign of that so far. They do enter this on the back of a good win against the Chargers, though, with Love throwing for 322 yards and 2 TDs. He will need to be elite again to overcome Detroit on the road.
Bet Type
Wager
Odds
Moneyline
Detroit Lions to Win
-375
Green Bay Packers to Win
+300
Spread
Detroit Lions (-7.5)
-110
Green Bay Packers (+7.5)
-110
🔥 Expert Pick:
Detroit Lions (-7.5)
-110
San Francisco 49ers 🆚 Seattle Seahawks
The last of the turkey day triple header sees these NFC West foes battle it out which will go a long way to deciding who will win the division. Since their 3 game losing skid, the 49ers have rebounded and made it 2 straight wins last week, beating the Bucs 27-14. Brock Purdy was excellent, throwing for 333 yards and 3 TDs while receiver Brandon Aiyuk had a day, with 5 receptions for 156 yards and a TD. With all of their key pieces back to full health and Christian McCaffrey running all over people, they look back to their best and will take some stopping. Despite holding a winning record, the Seahawks have never really convinced in recent weeks. Geno Smith has come up clutch to win games late, and nearly did so again last week against the Rams, but a missed field goal saw them lose, 17-16. More worrying for the Hawks were injuries picked up by Smith and running back Kenneth Walker III as they look to bounce back. They will need players like DK Metcalf to step up massively to have any chance this week.
Bet Type
Wager
Odds
Moneyline
San Francisco 49ers to Win
-300
Seattle Seahawks to Win
+240
Spread
San Francisco 49ers (-7)
-110
Seattle Seahawks (+7)
-110
🔥 Expert Pick:
San Francisco 49ers to Win
-300
---
NFL Friday, November 24
New York Jets 🆚 Miami Dolphins
The hope was high in Gotham that this year the Jets would finally return to the postseason, riding off of a wave of optimism with Aaron Rodgers as the new quarterback alongside a roster full of young and exciting talent. We all know what happened to Rodgers mere minutes into his debut, but there was still hope they could sneak in and there has even been talk of Rodgers returning for a playoff run. Well, following a 32-6 beatdown at the hands of the Bills, that noise should die down now. The Jets sit at 4-6 and it is looking increasingly unlikely their season will be extended. Maybe their eyes should be on next year and how they can give Rodgers more talent to end their playoff drought. Division rivals the Dolphins, meanwhile, are top of the standings and while Tyreek Hill is healthy (he left last week's game with a wrist injury) they always have a chance. Hill scorched the Raiders for 146 yards and a TD in the Dolphins 20-13 victory. At 7-3, the Dolphins will be looking to enter the playoffs with as high a seeding as possible.
Bet Type
Wager
Odds
Moneyline
New York Jets to Win
+275
Miami Dolphins to Win
-350
Spread
New York Jets (+7.5)
-110
Miami Dolphins (-7.5)
-110
🔥 Expert Pick:
Miami Dolphins to Win
-350
NFL Sunday, November 26
Denver Broncos 🆚 Cleveland Browns
Something is happening in Denver. After the embarrassing loss to the Dolphins in September, where they gave up 70 points, many questioned the appointment of Sean Payton as Head Coach and they were the laughing stock of the entire NFL. Fast forward to November and they have won 4 straight, including wins over the Chiefs and the Bills, sit at 5-5 and have a genuine chance of making the playoffs. Russell Wilson is playing very well, and suddenly this looks more like the team we all envisioned when Payton took over in the summer. They won a nail-biter, 21-20, over the Vikings last week and with the defense playing as well as it is they are giving themselves a chance to win games. They welcome the Browns to the Mile High City this week, who themselves boast one of the best defenses in the league. With starting QB DeShaun Watson out for the season, rookie Dorian Thompson-Robinson is now the starter. With DTR finding his feet, the Browns will lean on their run game to grind games out. They did that last week, beating the Steelers in a gutsy 13-10 victory. This could be a low scoring game.
Bet Type
Wager
Odds
Moneyline
Denver Broncos to Win
-125
Cleveland Browns to Win
+105
Spread
Denver Broncos (-1.5)
-110
Cleveland Browns (+1.5)
-110
🔥 Expert Pick:
Denver Broncos to Win
-125
Philadelphia Eagles 🆚 Buffalo Bills
It felt like the Eagles were outplayed for large periods of their Super Bowl Super Bowl LVII rematch against the Chiefs in Kansas. But, they did what the Eagles do, they got the job done and now move to 9-1 on the season. Even with Jalen Hurts not fully healthy and missing their stat tight end Dallas Goedert, they found just enough to escape from the home of the Super Bowl champs with a 21-17 victory. They are going to be a really tough out in the playoffs, and are rightly Super Bowl favorites as things stand. It hasn't been as plain sailing for Buffalo, but boy, did the Bills need that! Following a week where they fired their offensive co-ordinator to try and get the offense moving, Josh Allen and co answered the call. They hammered the Jets, 32-16, with Josh Allen throwing for 275 yards and 3 TDs while receiver Khalil Shakir racked up 115 yards from 3 receptions and a TD. It has been a rollercoaster so far for the Bills, but at 6-5 they are firmly still in the hunt. They have the talent to make a big run in the postseason, they will just need to stop getting in their own way.
Bet Type
Wager
Odds
Moneyline
Philadelphia Eagles to Win
-175
Buffalo Bills to Win
+145
Spread
Philadelphia Eagles (-3)
-120
Buffalo Bills (+3)
+100
🔥 Expert Pick:
Philadelphia Eagles (-3)
-120
---
Parlay Picks for Week 12
@OliverParlays Week 12
🦃Thanksgiving Special
🔥Odds
Full Moneyline
+514
Full Spreads
+2335
Expert Picks
[-7 Spread -110]
[Moneyline -300]
[Moneyline -350]
[Moneyline -125]
[-3 Spread -120]
+979
Relevant news