2023 NFL Week 3 Odds, Best Bets & Predictions for Key Games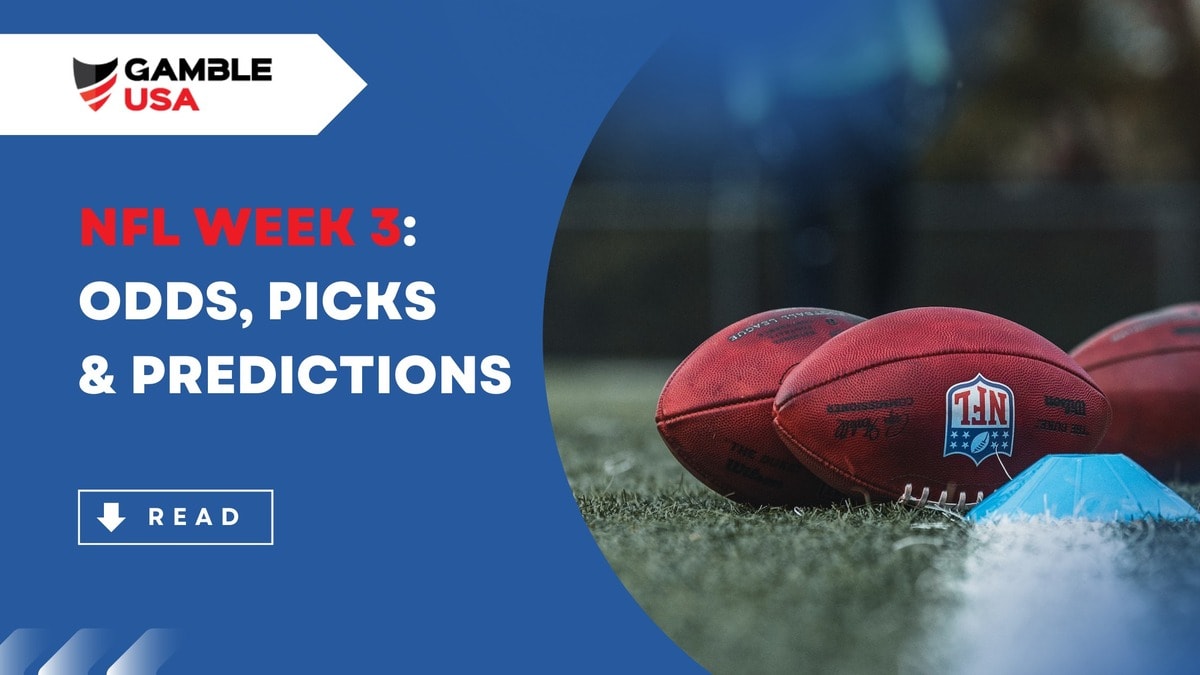 Gamble USA strives to improve your online gambling experience. We aim to help you play safely, make informed decisions when gambling, and increase your betting knowledge through our guides.
We adhere to strict editorial integrity; our content may contain links to products from our licensed & legal US partners.
There were more thrills and spills in week 2 as the NFL season continues to excite and surprise in equal measure. If week 1 is indeed a liar, week 2 is where we should find out more about who means business this season and who is shaping up for a season of struggle. There were stunning comebacks, with the Giants, in particular, storming back to get a big victory on the road in Arizona. The 49ers cemented their credentials as one of the early Super Bowl candidates with a hard fought win over the Rams, while Patrick Mahomes and the Chiefs got back on track in Jacksonville.
It's breathless, intense and for some, agonizing. The action continues this week as some franchises look for their first win while others look to carry on rolling. Let's take a look at our picks and predictions for the games of the 2023 NFL season.
---
NFL Thursday, September 21
San Francisco 49ers 🆚 New York Giants
Thursday Night Football comes from San Francisco as the red hot 49ers host the New York Giants. The 49ers come into this contest 2-0, however, they didn't have everything their own way against the feisty LA Rams last time out. Many expected a blowout, but some complacency perhaps crept in as they allowed the Rams to come back into the contest time and time again before eventually securing a 30-23 victory. Still, they say it's the sign of a good team to win without playing well and that is exactly what San Fran did. The Giants, on the other, hand, will be breathing a mighty sigh of relief. After an opening night humbling by the Cowboys, they were looking down the barrel in Arizona after going behind big early. However, from 20-0 down they found some resolve and came storm back to take it, 30-28. They will need all of that and more this week.
Bet Type
Wager
Odds
Moneyline
San Francisco 49ers to Win
-470
New York Giants to Win
+360
Spread
San Francisco 49ers (-10)
-110
New York Giants (+10)
-110
🔥 Expert Pick:
San Francisco 49ers (-10)
-110
---
NFL Sunday, September 24
Miami Dolphins 🆚 Denver Broncos
There is a lot of excitement in Miami. They have an enigmatic, eccentric young coach, the speediest wideouts in the game and have won the first 2 games in what many are hoping will be a successful season in South Beach. Tyreek Hill continues to dazzle, and the ground game got going last week in New England as running back Raheem Mostert finished the game with 18 carries for 121 yards and 2 TDs. They can beat you in the air and on the ground. Things aren't looking as good in Denver. The Sean Payton era has got off to an 0-2 start in what many were predicting would be a bounce back season after the disaster last year. The good news is Russell Wilson looks better (he couldn't have looked worse) but the defense has just given up 35 points to the Commanders. When your defense is struggling, Miami is not a team you want to face.
Bet Type
Wager
Odds
Moneyline
Miami Dolphins to Win
-305
Denver Broncos to Win
+245
Spread
Miami Dolphins (-7)
-110
Denver Broncos (+7)
-110
🔥 Expert Pick:
Miami Dolphins to Win
-305
---
New York Jets 🆚 New England Patriots
Unfortunately, the post Aaron Rodgers injury era has started how many predicted it would for the Jets, with defeat. Of course, the Cowboys are a very good team with an elite defense, but Zach Wilson didn't help himself. He threw three interceptions which will only heighten calls for him to replaced with a veteran from the free agent market. The Jets roster contain some fantastic pieces, with brilliant running backs and a defense that can get after you. But you feel their ceiling is low with Wilson under center. This is new territory for the Patriots. They have lost their first two opening home games for the first time since 1975, and there are even calls for this to be the great Bill Belichick's last season. This could be a low scoring, tight affair. If Wilson starts, New England will fancy their chances.
Bet Type
Wager
Odds
Moneyline
New York Jets to Win
+110
New England Patriots to Win
-130
Spread
New York Jets (+2)
-108
New England Patriots (-2)
-112
🔥 Expert Pick:
New England Patriots (-2)
-112
---
Washington Commanders 🆚 Buffalo Bills
Sam Howell is doing himself no harm as he seeks to become the long-term answer at quarterback for the Commanders. He was excellent in their comeback win over the Broncos, with 299 passing yards and two touchdown passes. The defense will need to step up, Although Chase Young did have a good day last week, with three tackles and 1.5 sacks in his 2023 debut. The Bills were looking to get right after a shocking opening night loss to the Aaron Rodgers-less Jets, and get right they did. There were no turnovers from Josh Allen, and they looked strong in a comfortable win over the Raiders. This version of the Bills will be a force.
Bet Type
Wager
Odds
Moneyline
Washington Commanders to Win
+220
Buffalo Bills to Win
-270
Spread
Washington Commanders (+6.5)
-110
Buffalo Bills (-6.5)
-110
🔥 Expert Pick:
Buffalo Bills (-6.5)
-305
---
NFL Monday, September 25
Cincinnati Bengals 🆚 Los Angeles Rams
The alarm bells are ringing loud and clear in Cincinnati. All of the offseason talk was about Joe Burrow's calf. He didn't participate in any pre-season matches, but said he felt good heading into the regular season. He certainly didn't look himself in the loss against the Browns in week 1, and he followed that up with another unconvincing display in a 27-24 defeat to the Ravens. What's worse, he said he tweaked his calf and admits "concern". Next up is a Rams team who have looked impressive in both games so far, pushing the 49ers close last week. They have found some rookies who are excelling and look better than many pundits predicted. The outcome of this game could depend on Burrow's health.
Bet Type
Wager
Odds
Moneyline
Cincinnati Bengals to Win
-230
LA Rams to Win
+190
Spread
Cincinnati Bengals (-5.5)
-110
LA Rams (+5.5)
-110
🔥 Expert Pick:
Cincinnati Bengals to Win
-230
---
🔥Biggest Offers For Betting On NFL Gameweek 3:
Relevant news