2023 NFL Week 5 Odds, Best Bets & Predictions for Key Games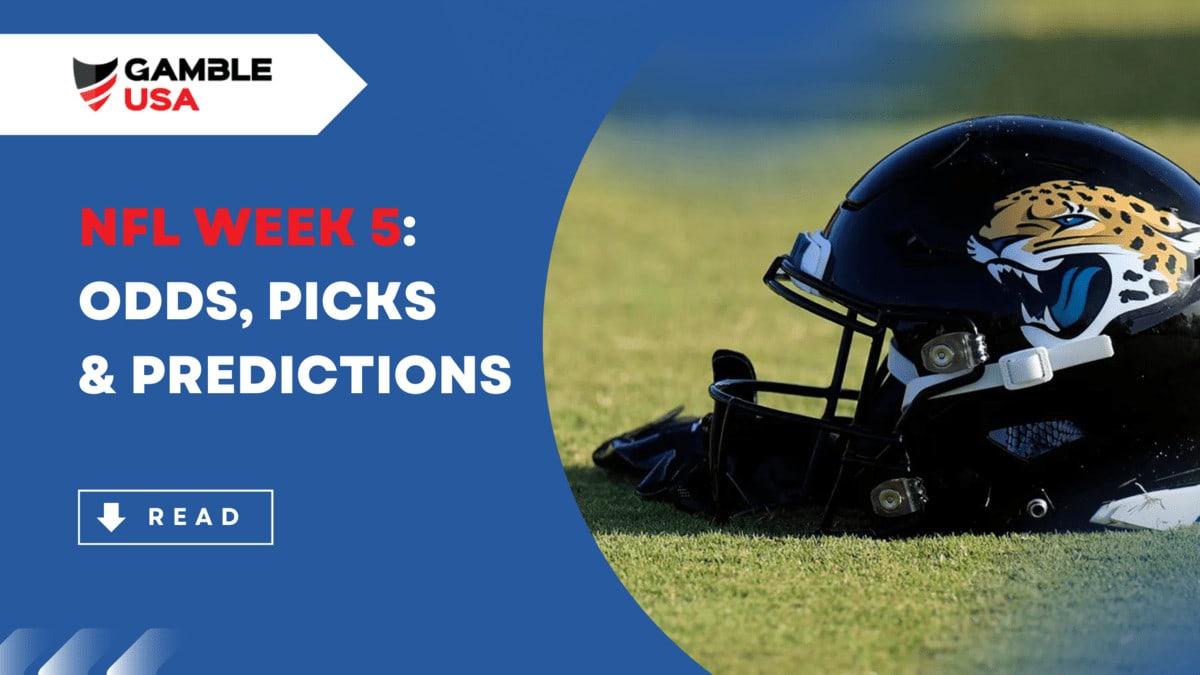 All eyes were on Western New York in week 4 as the undefeated, free scoring Miami Dolphins traveled to Buffalo hoping to defeat Josh Allen and co on their own patch. Most people expected this to be a high scoring game and it duly delivered, with the Bills becoming the first team to defeat the Dolphins, 48-20. There were also the usual shocks, the Titans piling more misery on Joe Burrow and the Bengals, hammering them 27-3 while the Texans continue to prove the doubters wrong, this time with a convincing win against the Steelers.
Despite the Dolphins losing, there are still a few undefeated teams remaining. Some bettors may feel the path is already opening up for a few franchises to reach the Super Bowl. Will week 5 change any opinions? Let's take a look.

---
NFL Sunday, October 8
 Minnesota Vikings 🆚 Kansas City Chiefs
There was a huge sigh of relief for the Vikings after they picked up their first win of the season in Carolina last week. Turnovers, mistakes and general bizarre play had plagued the franchise heading into week 4, which saw questions asked of everyone after a dreadful 0-3 start. They weren't great against the Panthers, mistakes were still there but Mr reliable, Justin Jefferson, once again came to the rescue with 2 TDs. Next up, the Champs are in town. Patrick Mahomes was far from his usual self against the Jets last week, throwing two interceptions and looking uncomfortable all afternoon despite setting a new TD record. The Chiefs have bounced back from their opening night loss to the Lions and will be looking to make a statement that they aren't going anywhere.
Bet Type
Wager
Odds
Moneyline
Minnesota Vikings to Win
+185
Kansas City Chiefs to Win
-225
Spread
Minnesota Vikings (+5.5)
-110
Kansas City Chiefs (-5.5)
-110
🔥 Expert Pick:
Kansas City Chiefs (-5.5)
-110
Los Angeles Rams 🆚 Philadelphia Eagles
The Rams have found huge success so far this season with a second year running back and a rookie wide receiver. Running back Kyren Williams continues to put up big numbers, with a line of 25 cars, 103 yds and 2 TDs in their win over the Colts last week. Rookie receiver Puka Nacua has been one of the biggest stories in the early stages of 2023. Drafted in the fifth round of this year's draft, he was the leader in the whole league for targets and catches after the first two weeks. He had another massive game last week, with 9 recs, 163 yds and a TD. They will both have to be on form this week as the unbeaten Eagles head to town. They didn't have it all their own way in week 3, squeaking past the Commanders, 34-31. Jalen Hurts was impressive, throwing for 2 TDs while A.J Brown had a big game with 9 recs, 175 yds and a 2 TDs. A lot of people still feel the Eagles haven't hit top gear yet. That is ominous, as they head to LA unbeaten and looking to head back to the Super Bowl.
Bet Type
Wager
Odds
Moneyline
Los Angeles Rams to Win
+185
Philadelphia Eagles to Win
-225
Spread
Los Angeles Rams (+5.5)
-110
Philadelphia Eagles (-5.5)
-110
🔥 Expert Pick:
Philadelphia Eagles (-5.5)
-110
Buffalo Bills 🆚 Jacksonville Jaguars
Josh Allen put on a clinic last week. He has faced criticism for being too erratic with the ball and throwing too many interceptions, but he silenced those in week 3. His final stat line read 21-55 passing, 320 yds and 4 TDs as he took apart the Dolphins defense. Star wide receiver Stefon Diggs caught 3 of those TD passes and when he and Allen are in sync, they are extremely hard to stop. The Bills are rolling and will now hop across the pond to face the Jaguars in their second home of London. Jacksonville won a scruffy game at Wembley stadium last week, beating the Falcons to get back on track following successive defeats. Trevor Lawrence looked far better and they have already acclimated to the surroundings in London, which could play a factor.
Bet Type
Wager
Odds
Moneyline
Buffalo Bills to Win
-225
Jacksonville Jaguars to Win
+180
Spread
Buffalo Bills (-4.5)
-115
Jacksonville Jaguars (+4.5)
-105
🔥 Expert Pick:
Buffalo Bills to Win
-225
 

Pittsburgh Steelers

🆚

Baltimore Ravens
The top two teams in the AFC North meet this week in very contrasting moods. The Steelers had a shocker on the road, getting pummeled 30-6 to the Texans with QB Kenny Pickett suffering a knee injury. We await to find out his health going forward, but if he is out long term, it completely changes the outlook on the Steelers season. If Pickett can't go this week, backup QB Mitch Trubisky will be thrust into action looking to get the Steelers season back on track. That will be no easy task this week, as the Ravens head to Pittsburgh following a thumping of the Browns in Cleveland with Lamar Jackson looking every bit the MVP caliber player many believe him to be. These fierce rivals could be heading in very different directions, but you never know with the NFL.
Bet Type
Wager
Odds
Moneyline
Pittsburgh Steelers to Win
+150
Baltimore Ravens to Win
-185
Spread
Pittsburgh Steelers (+3.5)
-110
Baltimore Ravens (-3.5)
-110
🔥 Expert Pick:
Baltimore Ravens to Win
-185
---
NFL Monday, October 9
San Francisco 49ers 🆚 Dallas Cowboys
This NFC battle is the game of the week. The 49ers enter the contest unbeaten and look like an absolute juggernaut. Christian McCaffrey is already looking like an early MVP candidate, enhancing those shouts with 20 cars, 106 yds and 3 TDs last week against the Cardinals. They can pound you on the ground or through the air with receiver Brandon Aiyuk also putting up big numbers so far this season. Aligned with one of the best defenses in the NFL, it is not hard to see why many people are tipping them for success. They welcome a Dallas Cowboys squad who bounced back in a big way last week following a shocking loss in week 3, smashing the Patriots, 38-3. They boast all-star linebacker Micah Parsons and a swarming defense led by co-ordinator Dan Quinn. This will be a battle in the trenches in what could be a rehearsal for the NFC championship game.
Bet Type
Wager
Odds
Moneyline
San Francisco 49ers to Win
-165
Dallas Cowboys to Win
+140
Spread
San Francisco 49ers (-3.5)
-110
Dallas Cowboys (+3.5)
-110
🔥 Expert Pick:
San Francisco 49ers to Win
-165
Relevant news