2023 NFL Week 6 Odds, Best Bets & Predictions for Key Games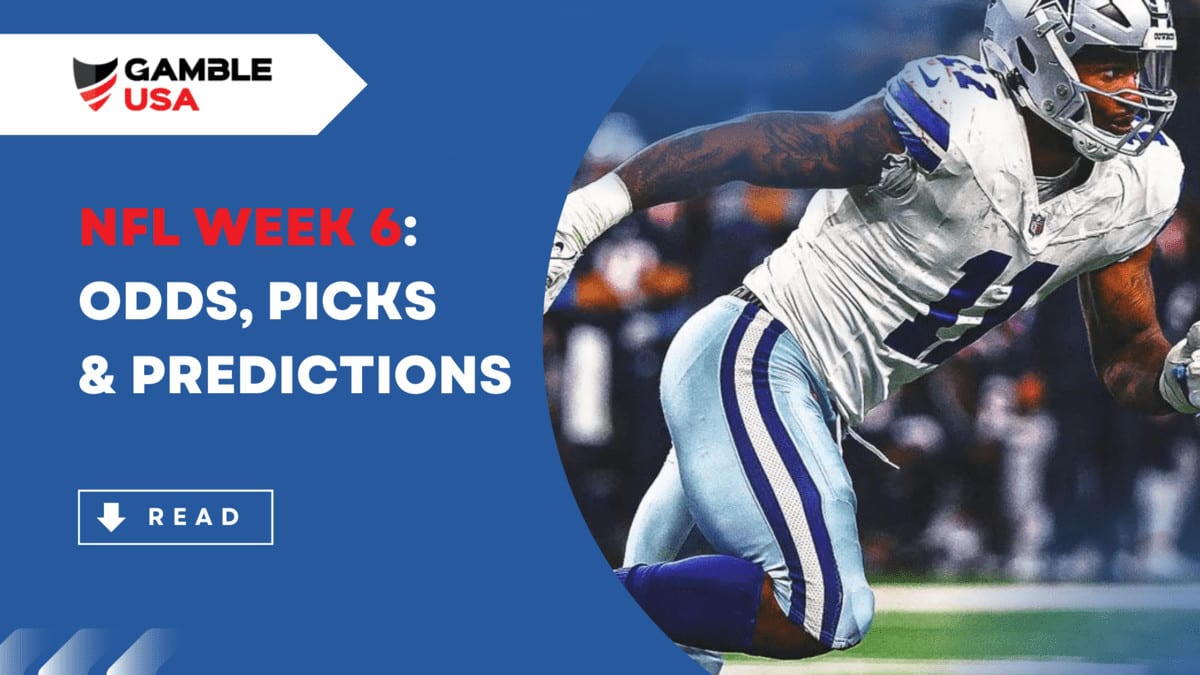 Week 5 saw two NFC heavyweights collide in the game of the weekend with one strengthening their credentials as the current Super Bowl favorites. The San Francisco 49ers hammered the Dallas Cowboys, 42-10, with Brock Purdy once again shining (17-24, 252 yds, 4TDs). A lot has been said about Purdy following his breakout campaign last year. The last pick of the 2022 NFL Draft, he has been anything but 'irrelevant' ever since he stepped foot onto an NFL field. He has even been likened to a robot in that he never makes mistakes. These 49ers look the real deal.
However, the 49ers are not the only undefeated team heading into week 6. Another NFC team, the Philadelphia Eagles, picked up a win in L.A over the Rams and are going about their business in an ominous fashion. As the weeks go by, we are starting to understand who the contenders and pretenders are.
Let's see if things change in week 6.

---
NFL Thursday, October 12
Kansas City Chiefs 🆚 Denver Broncos
The big question heading into this game is, will Taylor Swift be at Arrowhead? She wasn't seen in Minnesota last week as the Chiefs picked up a win against the Vikings. Travis Kelce picked up his usual TD while Patrick Mahomes threw for 281 yds and 2 TDS. The Chiefs are rolling on but questions remain about their receiving corps. Kelce is as reliable as ever and Isiah Pacheco is a solid runner, but you feel these Chiefs need more from their receivers. Yet, despite that, they keep winning and must fancy their chances against a Denver Broncos team in a mess. Coach Sean Payton was brought to the Mile High City to bring success, but another loss last week, against the Zach Wilson led New York Jets, sees Denver at 1-4 and facing another lost season. Russell Wilson does at least look better than he did last season, but he will need to have his best game in years to cause an upset here.
Bet Type
Wager
Odds
Moneyline
Kansas City Chiefs to Win
-500
Denver Broncos to Win
+390
Spread
Kansas City Chiefs (-10.5)
-110
Denver Broncos (+10.5)
-110
🔥 Expert Pick:
Kansas City Chiefs (-10.5)
-110
---
NFL Sunday, October 15
Jacksonville Jaguars 🆚  Indianapolis Colts
I don't think many NFL pundits were predicting this AFC South clash would be a big deal in week 6. But here we are, both teams sitting at 3-2 and the Jaguars coming off the back of successive wins in London. In week 5, Jacksonville took down Josh Allen and the Bills at the Tottenham Hotspur Stadium in very impressive fashion. Trevor Lawrence looked firmly in control all afternoon and RB Travis Etienne had a day, finishing with 26 cars, 136 yds and 2 TDs. After an indifferent start, the Jaguars look back on track and will like their chances of winning this division. The Colts were seen as rebuilding in the summer, with rookie QB Anthony Richardson a wildcard option under center. So Far, they have been a fun watch, with Richardson proving to be box office, making the seemingly impossible throws look effortless and using his huge frame to great effect. Unfortunately he got injured in the week 5 win over the Titans, so we await to see his status for this game. The good news for Colts fans is, they now have two premier running backs. Jonathan Taylor has signed a new deal and Zack Moss was fantastic last week, running for 165 yds and 2 TDS.
Bet Type
Wager
Odds
Moneyline
Jacksonville Jaguars to Win
-205
Indianapolis Colts to Win
+170
Spread
Jacksonville Jaguars (-4.5)
-110
Indianapolis Colts (+4.5)
-110
🔥 Expert Pick:
Jacksonville Jaguars to Win
-205
Tampa Bay Buccaneers 🆚 Detroit Lions
Tampa Bay were written off by many in the summer as a team in transition and unlikely to make any waves during the season. However, they have proven a lot of the doubters wrong so far and currently lead the wide open AFC South with a 3-1 record. The much maligned Baker Mayfield won the starting QB job in the Summer, and the team are currently riding the Mayfield rollercoaster alongside a tough defense as they hope to get back to the playoffs in post Tom Brady world. The Detroit Lions continue to be a serious contender following their 42-24 win over the Panthers last week. Jared Goff remains consistent, throwing for 236 yds and 3 TDs in the blowout victory. This was done without star wide receiver Amon-Ra St. Brown with others stepping up to the plate. Both these teams head into this contest with winning records but these Lions are loaded.
Bet Type
Wager
Odds
Moneyline
Tampa Bay Buccaneers to Win
+136
Detroit Lions to Win
-162
Spread
Tampa Bay Buccaneers (+3)
-102
Detroit Lions (-3)
-118
🔥 Expert Pick:
Detroit Lions to Win
-162
New York Jets 🆚 Philadelphia Eagles
You felt it was an emotional victory for the Jets over the Broncos in week 5. Much has been said about the current Jets OC, and former Broncos head coach, Nathaniel Hackett and the job he did in Denver. Broncos head coach Sean Payton said it "might have been one of the worst coaching jobs in the history of the NFL", which did not go down well in Jets circles. They responded by beating Denver, 31-21, with Zach Wilson putting in a gutsy display and RB Breece Hall running for 177 yds and a TD. Even without Aaron Rodgers, the Jets still feel they can make the playoffs and they will need more performances like this to make it happen. The Eagles, on the other hand, just keep ploughing on, posting a perfect record so far without even playing at their best. They may not be pleasing to the eye, and Jalen Hurts hasn't caught fire yet, but they get the job done.
Bet Type
Wager
Odds
Moneyline
New York Jets to Win
+220
Philadelphia Eagles to Win
-270
Spread
New York Jets (+6.5)
-110
Philadelphia Eagles (-6.5)
-110
🔥 Expert Pick:
Philadelphia Eagles (-6.5)
-270
---
NFL Monday, October 16
Los Angeles Chargers 🆚 Dallas Cowboys
The Chargers go into Monday Night Football fresh from a week 5 bye sitting at 2-2 following a week 4 win over the Raiders. Justin Herbert and Keenan Allen have built up a great understanding and under OC Kellen Moore, who went to L.A from Dallas, it is widely expected this team will be a powerful offensive unit as the season progresses. The big question mark over the Chargers has been the defense but in the last game, Kahlil Mack posted 6 sacks as they swarmed all over Raiders QB Aidan O'Connell. If the Chargers head into this one confident, the Cowboys are anything but. They got humbled by the 49ers in week 5 and although San Francisco are a powerhouse, it was still embarrassing for this proud franchise. Dak Prescott threw 3 INTs as questions about him ramp up again, the running game was non existent and the previous stellar defense couldn't get off the field. They need to bounce back here, or you feel the talk about these Cowboys will reach boiling point.
Bet Type
Wager
Odds
Moneyline
Los Angeles Chargers to Win
+110
Dallas Cowboys to Win
-130
Spread
Los Angeles Chargers (+2)
-110
Dallas Cowboys (-2)
-110
🔥 Expert Pick:
Dallas Cowboys (-2)
-110
Relevant news