2023 NFL Week 7 Odds, Best Bets & Predictions for Key Games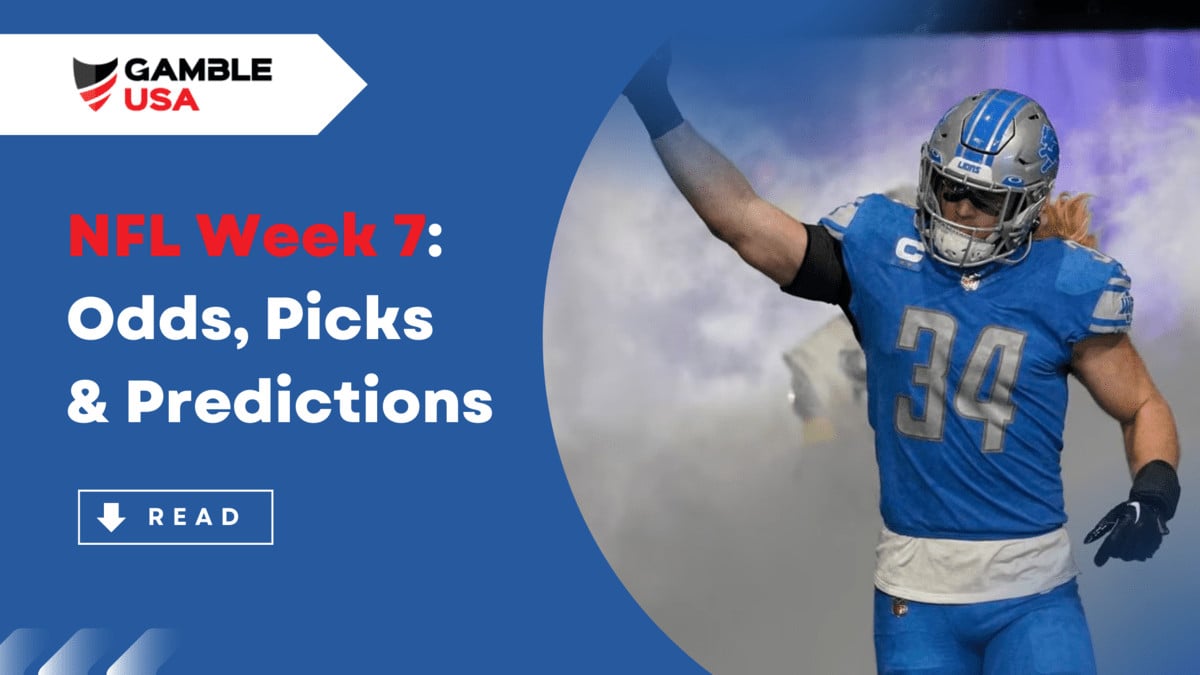 The last two remaining undefeated teams heading into week 6 both lots their records as this NFL season continues to throw up surprises. The San Francisco 49ers, who were already crowned by some as potential Super Bowl winners, lost to the PJ Walker led Cleveland Browns and also picked up some worrying injuries. Also tasting defeat for the first time was the Philadelphia Eagles, who lost to the Jets in New York as Jalen Hurts struggled.
That is the beauty of the NFL. In a league that strives for parity, anything can happen on any given Sunday. Just when you think you have the powerhouses and favorites all figured out, someone will throw a spanner in the works leading many pundits to re-think their predictions and re-assess the current landscape. Of course, it was only one week, and there will certainly be no panic in San Fran or Philly. However, how will they react and will there be more surprises in week 7?

---
NFL Sunday, October 22
Baltimore Ravens
 

🆚

Detroit Lions

Lamar Jackson and the Ravens traveled over the pond last week to face the Titans in London and emerged victorious. There was a first TD for rookie wideout Zay Flowers but their MVP for the day was kicker Justin Tucker. He kicked 6 field goals to help Baltimore to a 24-16 win in a scrappy contest that was short on explosive plays. When you have arguably the best kicker in football history on your side, it sure helps when your offense is struggling to find rhythm. There are no such problems on offense for the Detroit Lions. QB Jared Goff continues to put in excellent displays, throwing for 353 yds and 2 TDs against the Bucs in week 6. These Lions are not the same as previous iterations, their defense has improved and they can put up points at will. That week 6 victory sees their record improve to 5-1 and they have emerged as a serious contender in the NFC.
Bet Type
Wager
Odds
Moneyline
Baltimore Ravens to Win
-138
Detroit Lions to Win
+118
Spread
Baltimore Ravens (-2.5)
-112
Detroit Lions (+2.5)
-108
🔥 Expert Pick:
Detroit Lions to Win
+118
New England Patriots 🆚 Buffalo Bills
These are dark days in New England. The days of starting slowly and recovering with Tom Brady under center are long gone. This franchise reigned supreme in the 2000s, winning the Super Bowl in 2002, 2004, 2005, 2015, 2017 and 2019. Since then, Brady has left and now head coach Bill Belichick is coming under fire, something nobody would have predicted a few years ago. Their offense is stuck in the mud, Mac Jones is struggling and with a 1-5 record they look more likely be picking first in the 2024 draft then putting a run together, something unheard of in the Belichick era. After last week's defeat to the Raiders they take on division rivals the Buffalo Bills who themselves recovered from a bad defeat in week 5 to beat the Giants last week, 14-9. It wasn't a stellar performance but it was a win with WR Stefon Diggs recording 10 recs for 100 yds and Josh Allen throwing for 2 TDs. Injuries to linebacker Matt Milano and corner Tre'Davious White hurt, but if the offense can catch fire and Von Miller returns healthy they can still make a splash this season.
Bet Type
Wager
Odds
Moneyline
New England Patriots to Win
+315
Buffalo Bills to Win
-400
Spread
New England Patriots (+9)
-110
Buffalo Bills (-9)
-110
🔥 Expert Pick:
Buffalo Bills (-9)
-110
New York Giants 🆚  Washington Commanders
This was supposed to be the year the Giants pushed on from a successful season last year and made inroads into the playoffs. Head coach Brian Daboll won the coach of the year as they won a playoff game and QB Daniel Jones excelled. Jones was rewarded with a four-year, $160 million extension, but that contract now looks like a hasty decision. Jones has struggled badly so far, in fairness he hasn't been helped by terrible O line play, and the Giants find themselves in a big hole at 1-5 and looking at a lost season. Star running back Saquon Barkey did at least return from injury last week and ran for 93 yds, and they will need him going forward. In week 7 face a Commanders team still searching for consistency but coming off the back of an impressive 24-16 win over the Falcons in week 6. Sam Howell threw for 3 TDs and the offense looked much better. If Washington can utilize the weapons it has at wider receiver, they could be a sneaky shout for a playoff run.
Bet Type
Wager
Odds
Moneyline
New York Giants to Win
+104
Washington Commanders to Win
-122
Spread
New York Giants (+1.5)
-110
Washington Commanders (-1.5)
-110
🔥 Expert Pick:
Washington Commanders (-1.5)
-110
Philadelphia Eagles 🆚 Miami Dolphins
All eyes will be on Philly this week to see if their first defeat of the season was merely a blip or something more serious. Jalen Hurts had a game to forget in week 6, throwing 3 interceptions and looking out of sorts. Even leading up to that game there was talk the Eagles were winning without playing well, and that talk will now intensify following their first loss. Of course there is no panic, they are still sitting pretty on top of their division, WR A.J Brown continues to put up huge numbers every week and they have an elite defense. They will need that defense this week as the most exciting team rolls into town. The Dolphins continue to light up the scoreboard. Last week, they beat the Panthers, 42-21. QB Tua Tagovailoa threw for 262 yds and 3 TDs, Tyreek Hill had 6 recs for 163 yds and a TD and RB Raheem Mostert ran for 115 yds and 2 TDs. They are fast, imaginative and exciting to watch. It will be interesting to see if they can put up points against one of the best defenses in the league.
Bet Type
Wager
Odds
Moneyline
Philadelphia Eagles to Win
-142
Miami Dolphins to Win
+120
Spread
Philadelphia Eagles (-2.5)
-110
Miami Dolphins (+2.5)
-110
🔥 Expert Pick:
Philadelphia Eagles (-2.5)
-110
---
NFL Monday, October 23
Minnesota Vikings 🆚 San Francisco 49ers
The Vikings picked up a much needed win in week 6 against the Bears, moving their record to 2-4. With star receive Justin Jefferson currently on IR, Tight End T J Hockenson and rookie wideout Jordan Addison stepped up, helping QB Kirk Cousins throw for 181 yds and a TD. The numbers don't jump of the sheet but they ground out a gutsy 19-13 win with the defense stepping up in a big way. They welcome a 49ers team in week 7 reeling from their first defeat of the season and sweating on the fitness of some key players. All star running back Christian McCaffrey went out with an oblique injury and didn't return while WR Deebo Samuel left with a shoulder problem. Their status for week 7 will be something to track heading into the weekend, as the 49ers will be hoping to bounce back instantly.
Bet Type
Wager
Odds
Moneyline
Minnesota Vikings to Win
+245
San Francisco 49ers to Win
-300
Spread
Minnesota Vikings (+7)
-115
San Francisco 49ers (-7)
-105
🔥 Expert Pick:
San Francisco 49ers to Win
-300
Relevant news